Abstract
Animal-assisted therapy is a complementary medicine intervention, typically utilizing dogs trained to be obedient, calm, and comforting. Several studies have reported significant pain relief after participating in therapy dog visits. Objective reports of reduced pain and pain-related symptoms are supported by studies measuring decreased catecholamines and increased endorphins in humans receiving friendly dog visits. Mirror neuron activity and disease-perception through olfactory ability in dogs may also play important roles in helping dogs connect with humans during therapeutic encounters. This review will explore a variety of possible theories that may explain the therapeutic benefits that occur during therapy dog visits.
Access options
Buy single article
Instant access to the full article PDF.
US$ 39.95
Tax calculation will be finalised during checkout.
Subscribe to journal
Immediate online access to all issues from 2019. Subscription will auto renew annually.
US$ 79
Tax calculation will be finalised during checkout.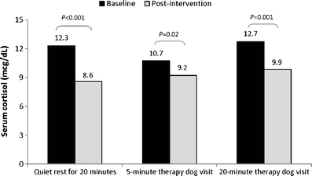 References
Papers of particular interest, published recently, have been highlighted as: • Of importance •• Of major importance
1.

Muñoz Lasa G, Ferriero G, Brigatti E, Valero R, Franchignoni F. Animal-assisted interventions in internal and rehabilitation medicine: a review of the recent literature. Panminerva Med. 2011;53:129–36.

2.

Kniseley JS, Barker SB, Barker RT. Research on benefits of canine-assisted therapy for adults in nonmilitary settings. US Army Med Dep J. 2012, Apr–Jun:30–37.

3.

Lefebvre SL, Golab GC, Christensen E, et al. Guidelines for animal-assisted interventions in health care facilities. Am J Infect Control. 2008;36:78–85.

4.

• Marcus DA, Bernstein CD, Constantin JM, et al. Animal-assisted therapy at an outpatient pain management clinic. Pain Med. 2012;13:45–57. Prospective, controlled study investigating impact of a therapy dog on patients, visitors, and staff in an outpatient pain clinic.

5.

Halm MA. The healing power of the human–animal connection. Am J Crit Care. 2008;17:373–6.

6.

Allen K, Shykoff BE, Izzo JL. Pet ownership, but not ACE inhibitor therapy, blunts home blood pressure responses to mental stress. Hypertension. 2001;38:815–20.

7.

Allen K, Blascovich J, Mendes WB. Cardiovascular reactivity and the presence of pets, friends, and spouses: the truth about cats and dogs. Psychosom Med. 2002;64:727–39.

8.

Charnetski CJ, Riggers S, Brennan FX. Effect of petting a dog on immune system function. Psychol Rep. 2004;95:1087–91.

9.

Baird AD, Scheffer IE, Wilson SJ. Mirror neuron system involvement in empathy: a critical look at the evidence. Soc Neurosci. 2011;6:327–35.

10.

Sobo EJ, Eng B, Kassity-Krich N. Canine visitation (pet) therapy: pilot data on decreases in child pain perception. J Holist Nurs. 2006;24:51–7.

11.

Lust E, Ryan-Haddad A, Coover K, Snell J. Measuring clinical outcomes of animal-assisted therapy: impact on resident medication usage. Consult Pharm. 2007;22:580–5.

12.

Coakley AB, Mahoney EK. Creating a therapeutic and healing environment with a pet therapy program. Complement Ther Clin Pract. 2009;15:141–6.

13.

Braun C, Stangler T, Narveson J, Pettingell S. Animal-assisted therapy as a pain relief intervention for children. Complement Ther Clin Pract. 2009;15:105–9.

14.

Marcus DA, Bernstein CD, Constantin JM, et al. Impact of animal-assisted therapy for outpatients with fibromyalgia. Pain Med. 2013;14:43–51.

15.

Celiker R, Borman P, Oktem F, Gökçe-Kutsal Y, Başgöze O. Psychological disturbance in fibromyalgia: relation to pain severity. Clin Rheumatol. 1997;16:179–84.

16.

Bair MJ, Robinson RL, Katon W, Kroenke K. Depression and pain comorbidity: a literature review. Arch Intern Med. 2003;163:2433–45.

17.

Kroenke K, Wu J, Bair MJ, et al. Reciprocal relationship between pain and depression: a 12-month longitudinal analysis in primary care. J Pain. 2011;12:964–73.

18.

Consoli G, Marazziti D, Ciapparelli A, et al. The impact of mood, anxiety, and sleep disorders on fibromyalgia. Compr Psychiatry. 2012;53:962–7.

19.

Banks MR, Banks WA. The effects of animal-assisted therapy on loneliness in an elderly population in long-term care facilities. J Gerontol A Biol Sci Med Sci. 2002;57:M428–32.

20.

Kawamura N, Niiyama M, Niiyama H. Long-term evaluation of animal-assisted therapy for institutionalized elderly people: a preliminary result. Psychogeriatrics. 2007;7:8–13.

21.

Odendaal JJ, Meintjes RA. Neurophysiological correlates of affiliative behaviour between humans and dogs. Vet J. 2003;165:296–301.

22.

Barker SB, Knisely JS, McCain NL, Best AM. Measuring stress and immune response in healthcare professionals following interaction with a therapy dog: a pilot study. Psychol Rep. 2005;96:713–29.

23.

Beetz A, Uvnäs-Moberg K, Julius H, Kotrschal K. Psychosocial and psychophysiological effects of human-animal interactions: the possible role of oxytocin. Front Psychol. 2012;3:234.

24.

Miller SC, Kennedy C, Devoe D, et al. An examination of changes in oxytocin levels in men and women before and after interaction with a bonded dog. Anthrozoös. 2009;22:31–42.

25.

Handlin L, Hydbring-Sandberg E, Nilsson A, et al. Short-term interaction between dogs and their owners—effects on oxytocin, cortisol, insulin and heart rate—an exploratory study. Anthrozoös. 2011;24:301–16.

26.

Kanamori M, Suzuki M, Yamamoto K, Kanda M, et al. A day care program and evaluation of animal-assisted therapy (AAT) for the elderly with senile dementia. Am J Alzheimers Dis Other Dement. 2001;16:234–9.

27.

Haubenhofer DK, Kirchengast S. Physiological arousal for companion dogs working with their owners in animal-assisted activities and animal-assisted therapy. J Appl Anim Welf Sci. 2006;9:165–72.

28.

Zamir T. The moral basis of animal-assisted therapy. Soc Anim. 2006;14:179–99.

29.

Fabbri-Destro M, Rizzolatti G. Mirror neurons and mirror systems in monkeys and human. Physiology. 2008;23:171–9.

30.

• Oztop E, Kawato M, Arbib MA. Mirror neurons: functions, mechanism and models. Neurosci Lett. In press. Recent review describing mirror neurons and the models that may utilize them.

31.

•• Molenberghs P, Cunnington R, Mattingley JB. Brain regions with mirror properties: a meta-analysis of 125 human fMRI studies. Neurosci Biobehav Rev. 2012;36:341–9. Meta-analysis of human fMRI studies investigating mirror neurons for motor and non-motor stimuli.

32.

Hennenlotter A, Schroeder U, Erhard P, et al. A common neural basis for receptive and expressive communication of pleasant facial affect. NeuroImage. 2005;26:581–91.

33.

Buccino G, Lui F, Canessa N, et al. Neural circuits involved in the recognition of actions performed by nonconspecifics: an fMRI study. J Cogn Neurosci. 2004;16:114–26.

34.

Wells DL. Dogs as a diagnostic tool for ill health in humans. Altern Ther Health Med. 2012;18:12–7.

35.

Wells DL, Lawson SW, Siriwardena AN. Canine responses to hypoglycemia in patients with type 1 diabetes. J Altern Complement Med. 2008;14:1235–41.

36.

Marcus DA, Bhowmick A. Survey of migraine sufferers with dogs to evaluate for canine migraine-alerting behaviors. J Altern Complement Med. In press.

37.

Marcus DA. The power of wagging tails: a doctor's guide to dog therapy and healing. New York: Demos Health; 2011.

38.

Lippi G, Cervellin G. Canine olfactory detection of cancer versus laboratory testing: myth or opportunity? Clin Chem Lab Med. 2012;50:435–9.

39.

Alabama A&M and Auburn Universities. The dog's sense of smell. Available at www.aces.edu/pubs/docs/U/UNP-0066/UNP-0066.pdf. Accessed January 2013.

40.

• Wilson AD, Baietto M. Advances in electronic-nose technologies developed for biomedical applications. Sensors. 2011;11:1105–76. Comprehensive review of the development and application of electronic nose technology toward detecting and analyzing a broad range of medical conditions.

41.

Miller DB, O'Callaghan JP. Neuroendocrine aspects of the response to stress. Metabolism. 2002;6 suppl 1:5–10.

42.

Anisman H, Hayley S. Inflammatory factors contribute to depression and its comorbid conditions. Sci Signal. 2012;5:pe45.

43.

Åsberg M, Nugren A, Leopardi R, et al. Novel biomarkers of psychosocial stress in women. PLoS One. 2009;4:e3590.

44.

Johnson RA, Meadows RL, Haubner JS, Sevedge K. Human-animal interaction: a complementary/alternative medical (CAM) intervention for cancer patients. Am Behav Sci. 2003;47:55–69.

45.

Cole KM, Gawlinski A, Steers N, Kotlerman J. Animal-assisted therapy in patients hospitalized with heart failure. Am J Crit Care. 2007;16:575–85.
Disclosure
Dr. Dawn Marcus reported no potential conflicts of interest relevant to this article.
Additional information
This article is part of the Topical Collection on Cancer Pain
About this article
Cite this article
Marcus, D.A. The Science Behind Animal-Assisted Therapy. Curr Pain Headache Rep 17, 322 (2013). https://doi.org/10.1007/s11916-013-0322-2
Keywords
Catecholamines

Electronic nose

Empathy

Endorphin

Mirror neurons

Therapy dog