Abstract
Several empirical studies have shown that personal characteristics act as differential variables, which determine how pain is experienced and how the chronic pain patient adjusts to pain. The main aim of the present research is to review the relationships between some dispositional characteristics and pain adjustment. Taking into account the empirical literature, 6 personality traits that are relevant to the pain experience have been selected: neuroticism, anxiety sensitivity, and experiential avoidance as risk factors that increase the probability of patients experiencing a disability; and extraversion, optimism, and resilience as personal resources that increase their capacity to manage pain effectively. The results suggest that it would be useful to include an assessment of normal personality structure during the multi-dimensional evaluation of a person with chronic pain. Understanding these individual personality characteristics will aid in designing pain intervention programs and help predict possible treatment outcomes.
Access options
Buy single article
Instant access to the full article PDF.
USD 39.95
Price includes VAT (USA)
Tax calculation will be finalised during checkout.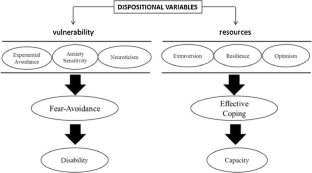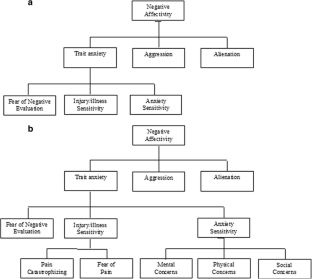 References
Papers of particular interest, published recently, have been highlighted as: • Of importance •• Of major importance
1.

Gatchel RJ, Weisberg JN. Personality characteristics of patients with pain. Washington: American Psychological Association; 2000.

2.

Asmundson GJG, Norton PJ, Norton GR. Beyond pain: the role of fear and avoidance in chronicity. Clin Psychol Rev. 1999;19:97–119.

3.

Asmundson GJG, Norton PJ, Vlaeyen JWS. Fear-avoidance models of chronic pain: an overview. In: Asmundson GJG, Vlaeyen JWS, Crombez G, editors. Understanding and treating fear of pain. Oxford: Oxford University Press; 2004. p. 3–24.

4.

Norton PJ, Asmundson GJG. Amending the fear-avoidance model of chronic pain: what is the role of physiological arousal? Behav Ther. 2003;34:17–30.

5.

Vlaeyen JWS, Linton SJ. Fear avoidance and its consequences in chronic musculoskeletal pain: a state of the art. Pain. 2000;85:317–32.

6.

Asghari A, Nicholas MK. Personality and pain-related beliefs/coping strategies: a prospective study. Clin J Pain. 2006;22:10–8.

7.

Esteve MR, Ramírez-Maestre C, López AE. Adjustment to chronic pain: the role of pain acceptance, coping strategies and pain-related cognitions. Ann Behav Med. 2007;33:179–88.

8.

Ramírez-Maestre C, Esteve R, López AE. Neuroticismo, afrontamiento y dolor crónico. Anales de Psicología. 2001;17:129–37.

9.

Ramírez-Maestre C, López AE, Esteve R. Personality characteristics as differential variables of the pain experience. J Behav Med. 2004;27:147–65.

10.

Ramírez-Maestre C, Esteve R, López AE. Cognitive appraisal and coping in chronic pain patients. Eur J Pain. 2008;12:749–56.

11.

•• Ramírez-Maestre C, Esteve R, López AE. The paths to capacity: resilience and spinal chronic pain. Spine. 2012;37:251–8. This recent study analyzed the relationship between resilience, acceptance, coping, and adjustment in a sample of 299 patients with spinal chronic pain.

12.

•• Ramírez-Maestre C, Esteve R, López AE. The role of optimism and pessimism in chronic pain patients' adjustment. Spn J Psychol. 2012;15:286–94. This study analyzes the relationships between patients' dispositional optimism and pessimism, the coping strategies they use, and their adjustment to chronic pain.

13.

Friborg O, Hjemdal O, Rosenvinge JH, et al. Resilience as a moderator of pain and stress. J Psychosom Res. 2006;61:213–9.

14.

Smith BW, Tooley EM, Montague EQ, et al. The role of resilience and purpose in life in habituation to heat and cold pain. J Pain. 2009;10:493–500.

15.

Evers AWM, Zautra A, Thieme K. Stress and resilience in rheumatic diseases: a review and glimpse into the future. Nat Rev Rheumatol. 2011;7:409–15.

16.

Velasco Furlong LV, Zautra A, Puente CP, et al. Cognitive-affective assets and vulnerabilities: two factors influencing adaptation to Fibromyalgia. Psychol Health. 2010;25:197–212.

17.

Peters ML, Vancleef LMG. The Role of personality traits in pain perception and disability. Rev Analg. 2008;10:11–22.

18.

Yeung EWH, Arewasikporn A, Zautra AJ. Resilience and Chronic Pain. J Soc Clin Psychol. 2012;31:593–617.

19.

Affleck G, Tennen H, Zautra A, et al. Women's pursuit of personal goals in daily life with fibromyalgia: a value-expectancy analysis. J Consult Clin Psychol. 2001;69:587–96.

20.

Cannella DTL, Lobel M, Glass P, et al. Factors associated with depressed mood in chronic pain patients: the role of interpersonal coping resources. J Pain. 2007;8:256–62.

21.

• Carver CS, Scheier MF, Segerstrom SC. Optimism. Clin Psychol Rev. 2010;30:879–89. This recent study reviews the role of optimism and pessimism in coping behaviors and physical health.

22.

Ferreira VM, Sherman AM. The relationship of optimism, pain, and social support to well-being in older adults with osteoarthritis. Aging Ment Health. 2007;11:89–98.

23.

Geers AL, Wellman JA, Fowler SL, et al. Dispositional optimism predicts placebo analgesia. J Pain. 2010;11:1165–71.

24.

Huber A, Suman AL, Biasi G, Carli C. Predictors of psychological distress and well-being in women with chronic musculoskeletal pain: two sides of the same coin? J Psychosom Res. 2008;64:169–75.

25.

Smith BW, Zautra AJ. Vulnerability and resilience in woman with arthritis: test of a two-factor model. J Consult Clin Psychol. 2008;76:799–810.

26.

Wright LJ, Zautra AJ, Going S. Adaptation to early knee osteoarthritis: the role of risk, resilience, and disease severity on pain and physical functioning. Ann Behav Med. 2008;36:70.

27.

Zautra AJ, Johnson LM, Davis MC. Positive affect as a source of resilience for women in chronic pain. J Consult Clin Psychol. 2005;73:212–20.

28.

Eysenck HJ. Biological bases of personality. Nature. 1963;199:1031–4.

29.

Rhudy JL, Meagher MW. Fear and anxiety: divergent effects on human pain thresholds. Pain. 2000;84:65–75.

30.

Wasan AD, Davar G, Jamison R. The association between negative affect and opioid analgesia in patients with discogenic low back pain. Pain. 2005;117:450–61.

31.

Vossen HG, van Os J, Hermens H, Lousberg R. Evidence that trait-anxiety and trait-depression differentially moderate cortical processing of pain. Clin J Pain. 2006;22:725–9.

32.

Paine P, Kishor J, Worthen SF, et al. Exploring relationships for visceral and somatic pain with autonomic control and personality. Pain. 2009;144:236–44.

33.

Soriano J, Monsalve V, Gómez-Carretero P, Ibáñez E. Vulnerable personality profile in patients with chronic pain: relationship with coping, quality of life and adaptation to disease. Int J Psychol Res. 2012;5:42–51.

34.

Schmidt W, Hooten M, Carlson CR. Utility of the NEO-FFI in multi-dimensional assessment of orofacial pain conditions. J Behav Med. 2011;34:170–81.

35.

Soriano J, Monsalve V, Ibáñez E, Gómez-Carretero P. Personalidad y afrontamiento en dolor crónico neuropático: un divorcio previsible. Psicothema. 2010;22:537–42.

36.

Lin RF, Chang JJ, Lu YM, et al. Correlations between quality of life and psychological factors in patients with chronic neck pain. Kaohsiung J Med Sci. 2010;26:13–9.

37.

Liang W, Zhang Y, Li H, et al. Personality and Primary Dysmenorrhea: a study using a five-factor model in Chinese university women. Arch Neuropsychiatry. 2012;49:92–5.

38.

Malin K, Littlejohn GO. Neuroticism in young women with fibromyalgia links to key clinical features. Pain Res Treat. 2012. doi:10.1155/2012/730741.

39.

Razali SM, Khalib AQ. Pain symptoms in Malay patients with major depression. Asian J Psych. 2012;5:297–302.

40.

Connor-Smith J, Flachsbart C. Relations between personality and coping: a meta-analysis. J Pers Soc Psychol. 2007;93:1080–1107.

41.

Lightsey OR, Wells AG, Wang MC, et al. Emotion-oriented coping, avoidance coping, and fear of pain as mediators of the relationship between positive affect, negative affect, and pain-related distress among African American and Caucasian college women. Con Psychol. 2009;37:116–46.

42.

Janowski K, Steuden S, Kuryłowicz J. Factors accounting for psychosocial functioning in patients with low back pain. Eur Spine J. 2010;19:613–23.

43.

Martínez MP, Sánchez AI, Miró E, et al. The relationship between the Fear-Avoidance Model of Pain and personality traits in fibromyalgia patients. J Clin Psychol Med Settings. 2011;18:380–91.

44.

Goubert L, Crombez G, Van Damme S. The role of neuroticism, pain catastrophizing and pain-related fear in vigilance to pain: a structural equations approach. Pain. 2004;107:234–41.

45.

Lee JE, Watson D, Law LAF. Lower-order pain-related constructs are more predictive of cold pressor pain ratings than higher-order personality traits. J Pain. 2010;11:681–91.

46.

Reiss S, McNally RJ. Expectancy model of fear. In: Reiss S, Bootzin RR, editors. Theoretical issues in behavior therapy. San Diego: Academic Press; 1985. p. 107–21.

47.

Lilienfeld SO, Turner SM, Jacob RG. Anxiety sensitivity: an examination of theoretical and methodological issues. Adv Behav Res Ther. 1993;15:147–83.

48.

Vancleef LMG, Vlaeyen JWS, Peter ML. Dimensional and componential structure of a hierarchical organization of pain-related anxiety constructs. Psychol Assess. 2009;21:340–51.

49.

Stewart SH, Asmundson GJG. Anxiety sensitivity and its impact on pain experiences and conditions: a state of the art. Cogn Behav Ther. 2006;35:185–8.

50.

•• Ocáñez KLS, McHugh RK, Otto MW. A meta-analytic review of the association between anxiety sensitivity and pain. Dep Anx. 2010;27:760–7. This recent meta-analytic review article summarizes the research on the relationship between anxiety sensitivity and pain in clinical and nonclinical samples.

51.

Asmundson GJG, Hadjistavropoulos HD. Is high fear of pain associated with attentional biases for pain-related or general threat? A categorical reanalysis. J Pain. 2007;8:11–8.

52.

Esteve R, Camacho L. Anxiety sensitivity, body vigilance and fear of pain. Behav Res Ther. 2008;46:715–27.

53.

Esteve R, Muñoz M. Fear of pain and anxiety sensitivity: related or redundant constructs? In: Colombus AM, editor. Advances in psychology research. New York: Nova Science Publishers; 2010. p. 25–42.

54.

González A, Zvolensky MJ, Hogan J, et al. Anxiety sensitivity and pain-related anxiety in the prediction of fear responding to bodily sensations: a laboratory test. J Psychosom Res. 2011;70:258–66.

55.

Ochsner KN, Ludlow DH, Knierim K, et al. Neural correlates of individual differences in pain-related fear and anxiety. Pain. 2006;120:69–77.

56.

Hayes SC, Wilson KG, Gifford E, et al. Emotional avoidance and behavior disorders: a functional dimensional approach to diagnosis and treatment. J Consult Clin Psychol. 1996;64:1152–68.

57.

Berman NC, Wheaton MG, McGrath P, Abramowitz JS. Predicting anxiety: the role of experiential avoidance and anxiety sensitivity. J Anxiety Disord. 2010;24:109–13.

58.

Kämpfe CK, Gloster AT, Wittchen HU, et al. Experiential avoidance and anxiety sensitivity in patients with panic disorder and agoraphobia: do both constructs measure the same? Int J Clin Health Psychol. 2012;12:5–22.

59.

Álvarez N, Esteve R. Deshabituación en drogodependientes y dolor crónico. Psicothema. 2009;21:204–10.

60.

McCracken LM, Keogh E. Acceptance, mindfulness, and values-based action may counteract fear and avoidance of emotions in chronic pain: an analysis of anxiety sensitivity. J Pain. 2009;10:408–15.

61.

•• Esteve R, Ramírez-Maestre C, López-Martínez AE. Experiential avoidance and anxiety sensitivity as dispositional variables and their relationship to the adjustment to chronic pain. Eur J Pain. 2012;16:718–26. This recent study investigated the relationship between anxiety sensitivity and experiential avoidance and the association of both constructs with pain fear-avoidance.

62.

Masedo AI, Esteve R, Van Damme S. The role of anxiety sensitivity, fear of pain and experiential avoidance in experimental pain. Psychology. 2011;2:817–23.

63.

Feldner MT, Hekmat H, Zvolensky MJ, et al. The role of experiential avoidance in acute pain tolerance: a laboratory test. J Behav Ther Exp Psychiatr. 2006;37:146–58.

64.

Zettle RD, Hocker TR, Mick KA, et al. Differential strategies in coping with pain as a function of level of experiential avoidance. Psychol Rec. 2005;55:511–24.

65.

Costa J, Pinto-Gouveia J. The mediation effect of experiential avoidance between coping and psychopathology in chronic pain. Clin Psychol Psychother. 2011;18:34–47.

66.

Elliot AJ, Thrash TM. Approach and avoidance temperament as basic dimensions of personality. J Pers. 2010;78:865–905.

67.

Lengua LJ, Sandler IN, West SG, Wolchik SA, Curran PJ. Emotionality and self-regulation, threat appraisal, and coping in children of divorce. Dev Psychopathol. 1999;11:15–37.

68.

Vollrath M. Personality and stress. Scand J Psychol. 2001;42:335–47.

69.

Lynn R, Eysenck HJ. Tolerance for pain, extraversion and neuroticism. Percept Mot Skill. 1961;12:161–2.

70.

de Carolis A, Ferracuti S. Extraversion and accuracy of aspects of memory for pain in the Cold Water Pressor Test. Percept Mot Skills. 2010;111:91–104.

71.

Phillips JM, Gatchel RJ. Extraversion – Introversion and chronic pain. In: Gatchel RJ, Weisberg JN, editors. Personality characteristics of patients with chronic pain. Washington: American Psychological Association; 2000. p. 181–202.

72.

Harkins SW, Price DD, Braith J. Effects of extraversion and neuroticism on experimental pain, clinical pain, and illness behavior. Pain. 1989;36:209–18.

73.

Dubayova T, Nagyova I, Havlikova E, et al. Neuroticism and extraversion in association with quality of life in patients with Parkinson's disease. Qual Life Res. 2009;18:33–42.

74.

Scheier MF, Carver CS. Effects of optimism in psychological well-being: theoretical overview and empirical update. Cognit Ther Res. 1992;16:210–28.

75.

Scheier MF, Carver CS, Bridge MW. Distinguishing optimism from neuroticism (and trait anxiety, self-mastery, and self-esteem): a re-evaluation of the Life Orientation Test. J Pers Soc Psychol. 1994;67:1063–78.

76.

Segerstrom SC. Optimisms and immunity: do positive thoughts always lead to positive effects? Brain Behav Immun. 2005;19:195–200.

77.

Goodin BR, Kronfli T, King CD, et al. Testing the relation between dispositional optimism and conditioned pain modulation: does ethnicity matter? J Behav Med. 2012;2.

78.

Peters ML, Sommer M, de Rijke JM, et al. Somatic and psychological predictors of long-term unfavorable outcome after surgical intervention. Ann Surg. 2007;245:487–94.

79.

Rasmussen HN, Scheie MF, Greenhouse JB. Optimism and physical health: a meta-analytic review. Ann Behav Med. 2009;37:239–56.

80.

Rosenberger PH, Kerns R, Jokl P, Ickovics JR. Mood and attitude predict pain outcomes following arthroscopic knee surgery. Ann Behav Med. 2009;37:70–6.

81.

Matusiewicz K, Krzyszkowska A. Dispositional optimism and coping with pain. Eur J Med Res. 2009;14:271–4.

82.

Geers AL, Wellman JA, Helfer SG, et al. Dispositional optimism and thoughts of well-being determine sensitivity to an experimental pain task. Ann Behav Med. 2008;36:304–13.

83.

Morton DL, Watson A, El-Deredy W, Jones AKP. Reproducibility of placebo analgesia: effect of dispositional optimism. Pain. 2009;146:194–8.

84.

Goodin SB, McGuire BL. Dispositional optimism buffers the negative influence of catastrophizing on pain response. J Pain. 2009;10:S68.

85.

Vassend O, Quale AJ, Røise O, Schanke AK. Predicting the long-term impact of acquired severe injuries on functional health status: the role of optimism, emotional distress, and pain. Spinal Cord. 2011;49:1193–7.

86.

Wright MA, Wren AA, Somers TJ, et al. Pain acceptance, hope, and optimism: relationships to pain and adjustment in patients with chronic musculoskeletal pain. J Pain. 2011;12:1155–62.

87.

Haddadi P, Besharat MA. Resilience, vulnerability and mental health. Procedia Soc Behav Sci. 2010;5:639–42.

88.

Davydov DM, Steward R, Ritchie K, Chaudieu I. Resilience and mental health. Clin Psychol Rev. 2010;30:479–95.

89.

Karoly P, Ruehlman LS. Psychological "resilience" and its correlates in chronic pain: findings from a national community sample. Pain. 2006;123:90–7.

90.

• Sturgeon JA, Zautra AJ. Resilience: a new paradigm for adaptation to chronic pain. Curr Pain Headache Rep. 2010;14:105–12. This paper offers resilience as an integrative perspective that can illuminate the traits and mechanisms underlying the sustainability of a good life and recovery from distress for individuals with chronic pain.

91.

Ong AD, Zautra AJ, Reid MC. Psychological resilience predicts decreases in pain catastrophizing through positive emotions. Psychol Aging. 2010;25:516–23.

92.

Ruiz-Párraga GT, López-Martínez AE, Gómez-Pérez L. Factor structure and psychometric properties of the Resilience scale in a Spanish chronic musculoskeletal pain sample. J Pain. 2012 (in press). http://dx.doi.org/10.1016/j.jpain.2012.08.005.

93.

Watt MC, Stewart SH, Lefaivre MJ, Uman LS. A brief cognitive-behavioral approach to reducing anxiety sensitivity decreases pain-related anxiety. Cogn Behav Ther. 2006;35:248–56.

94.

Thompson M, McCracken LM. Acceptance and related processes in adjustment to chronic pain. Curr Pain Headache Rep. 2011;15:144–51.

95.

Steinhardt M, Dolbier C. Evaluation of a resilience intervention to enhance coping strategies and protective factors and decrease symptomatology. J Am Coll Health. 2008;4:445–53.

96.

Quiceno JM, Vinaccia S, Remor E. Programa de potenciación de la resiliencia para pacientes con artritis reumatoide. Revista de Psicopatología y Psicología Clínica. 2011;16:27–471.

97.

Costa PT, McCrae RR. NEO-PI-R Professional manual. Revised NEO Personality Inventory (NEO-PIR) and NEO Five Factor Inventory (NEO-FFI). Odessa, FL: Psychological Assessment Resources; 1992.

98.

Peterson RA, Reiss S. Anxiety Sensitivity Index Manual. 2nd ed. Worthington, OH: International Diagnostic Systems; 1992.

99.

Hayes SC, Stronsahl K, Wilson KG, Bissett RT, Pistorello J, Toarmino D, et al. Measuring experiential avoidance: a preliminary test of a working model. Psychol Rec. 2004;54:553–78.

100.

Sullivan MJL, Bishop SC, Pivik J. The pain catastrophizing scale: development and validation. Psychol Assess. 1995;7:524–32.

101.

McCracken LM, Zayfert C, Gross RT. The pain anxiety symptoms scale: development and validation of a scale to measure fear of pain. Pain. 1992;50:67–73.

102.

Vancleef LMG, Peters ML. Pain catastrophizing, but not injury/illness sensitivity or anxiety sensitivity, enhances attentional interference by pain. J Pain. 2006;7:23–30.

103.

Scheier MF, Carver CS. Optimisms, coping, and health: assessment and implications of generalized outcome expectancies. Health Psychol. 1985;4:219–47.

104.

Wagnild GM, Young HM. Development and psychometric evaluation of the Resilience Scale. J Nurs Meas. 1993;1:165–78.
Disclosure
No potential conflicts of interest relevant to this article were reported.
Additional information
This article is part of the Topical Collection on Psychiatric Management of Pain
About this article
Cite this article
Ramírez-Maestre, C., Esteve, R. Disposition and Adjustment to Chronic Pain. Curr Pain Headache Rep 17, 312 (2013). https://doi.org/10.1007/s11916-012-0312-9
Keywords
Personality

Extraversion

Neuroticism

Optimism

Resilience

Anxiety Sensitivity

Experiential avoidance

Chronic pain

Adjustment