Abstract
This article explores possible relationships between migraine, irritable bowel syndrome (IBS), celiac disease (CD), and gluten sensitivity. These seemingly distinct medical entities curiously share many common epidemiological, psychosocial, and pathophysiological similarities. Considerable evidence is emerging to support a concept that experiencing significant threatening adverse events creates a state of hypervigilance in the nervous system, which associates with exaggerated response to future threats and episodic attacks of migraine and IBS. While this sensitizing response is generally considered to reside in the central nervous system, it may be possible that the initiation resides in the enteric nervous system as well. What appears to link migraine, IBS, and CD is a disease model of a genetically sensitive nervous system transformed into one that is hypervigilant, and that over time can often develop disabling and pervasive disease.
Access options
Buy single article
Instant access to the full article PDF.
US$ 39.95
Tax calculation will be finalised during checkout.
Subscribe to journal
Immediate online access to all issues from 2019. Subscription will auto renew annually.
US$ 79
Tax calculation will be finalised during checkout.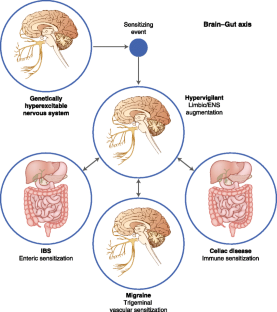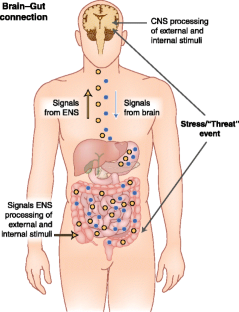 References
Papers of particular interest, published recently, have been highlighted as: • Of Importance •• Of Major Importance
1.

Bedell AW, Cady RK, Diamond ML, et al. Patient-centered strategies for effective management of migraine. Springfield: Primary Care Network; 2000.

2.

Mathew NT, Stubits E, Nigam MP. Transformation of episodic migraine into daily headache: analysis of factors. Headache. 1982;22:66–8.

3.

Scher AI, Stewart WF, Ricci JA, et al. Factors associated with the onset and remission of chronic daily headache in a population-based study. Pain. 2003;106:81–9.

4.

Bigal ME, Lipton RB. The epidemiology, burden, and comorbidities of migraine. Neurol Clin. 2009;27(2):321–34.

5.

Stewart WF, Wood C, Reed ML, Roy J, Lipton RB, AMPP Advisory Group. Cumulative lifetime migraine incidence in women and men. Cephalalgia. 2008;28(11):1170–8.

6.

Porta-Etessam J, García-Cobos R, Cuadrado ML, et al. Neuro-otological symptoms in patients with migraine. Neurologia. 2011;26(2):100–4.

7.

Evans RW, Evans RE, Kell HJ. A survey of family doctors on the likeability of migraine and other common diseases and their prevalence of migraine. Cephalalgia. 2010;30(5):620–3.

8.

Cady RK, Dodick DW, Levine HL, et al. Sinus headache: a neurology, otolaryngology, allergy, and primary care consensus on diagnosis and treatment. Mayo Clin Proc. 2005;80(7):908–16.

9.

Boivin M. Socioeconomic impact of irritable bowel syndrome in Canada. Can J Gastroenterol. 2001;15(Suppl B):8B–11.

10.

Quigley EM, Locke GR, Mueller-Lissner S, et al. Prevalence and management of abdominal cramping and pain: a multinational survey. Aliment Pharmacol Ther. 2006;24(2):411–9.

11.

Danese A, McEwen BS. Adverse childhood experiences, allostasis, allostatic load, and age-related disease. Physiol Behav 2011, Aug 25. [Epub ahead of print].

12.

• Tietjen GE, Peterlin BL. Childhood abuse and migraine: epidemiology, sex differences, and potential mechanisms. Headache. 2011;51(6):869–79. This article provides epidemiological evidence supporting the possible neurobiological role of early life stress in the pathogenesis of migraine..

13.

Halvorson HA, Schlett CD, Riddle MS. Postinfectious irritable bowel syndrome—a meta-analysis. Am J Gastroenterol. 2006;101:1894–9.

14.

Ruigomez A, Garcia Rodriguez LA, Panes J. Risk of irritable bowel syndrome after an episode of bacterial gastroenteritis in general practice: influence of comorbidities. Clin Gastroenterol Hepatol. 2007;5:465–9.

15.

Spiller RC. Is IBS caused by infectious diarrhea? Nat Clin Pract. 2007;4:642–3.

16.

• Seminowicz DA, Labus JS, Bueller JS, et al. Regional gray matter density changes in brains of patients with irritable bowel syndrome. Gastroenterology. 2010;139:48–57. The changes in density of gray matter among regions involved in cognitive/evaluative functions are specifically observed in patients with IBS..

17.

•• Myers B, Greenwood-Van Meerveld B. Role of anxiety in the pathophysiology of irritable bowel syndrome: importance of the amygdala. Auton Neurosci. 2009;3:47. This article identified the impact of anxiety and affective disorders on the gastrointestinal tract..

18.

Mazzone L, Reale L, Spina M, et al. Compliant gluten-free children with celiac disease: an evaluation of psychological distress. BMC Pediatr. 2011;11:46.

19.

Hadjivassiliou M, Sanders DS, Grünewald RA, et al. Gluten sensitivity: from gut to brain. Lancet Neurol. 2010;9(3):318–30.

20.

Mayer EA. Spinal and supraspinal modulation of visceral sensation. Gut. 2000;47 Suppl 4:iv69–72.

21.

Gershon MD. The second brain: a groundbreaking new understanding of nervous disorders of the stomach and intestine. New York: Harper Collins; 1998.

22.

Zhang R, Zou N, Li J, et al. Elevated expression of c-fos in central nervous system correlates with visceral hypersensitivity in irritable bowel syndrome (IBS): a new target for IBS treatment. Int J Colorectal Dis. 2011;26(8):1035–44.

23.

Yunus MB. Central sensitivity syndromes: a new paradigm and group nosology for fibromyalgia and overlapping conditions, and the related issue of disease versus illness. Semin Arthritis Rheum. 2008;37(6):339–52.

24.

Rubio-Tapia A, Kyle RA, Kaplan EL, et al. Increased prevalence and mortality in undiagnosed celiac disease. Gastroenterology. 2009;137(1):88–93.

25.

Tajuddin T, Razif S, Dhar R, et al. Clinical presentation of adult coeliac disease. Ir Med J. 2011;104(1):20–2.

26.

Zelnik N, Pacht A, Obeid R, et al. Range of neurologic disorders in patients with celiac disease. Pediatrics. 2004;113:1672–6.

27.

Jadallah KA, Khader YS. Celiac disease in patients with presumed irritable bowel syndrome: a case-finding study. World J Gastroenterol. 2009;15(42):5321–5.

28.

•• Kahn WI, Ghia JE. Gut hormones: emerging role in immune activation and inflammation. Clin Exp Immunol. 2010;161:19–27. This article provides better understanding of the role of gut hormone in the pathogenesis of both GI and non-GI inflammatory diseases..

29.

Li Z, Chalazonitis A, Huang Y-Y, et al. Essential roles of enteric neuronal serotonin. J Neurosci. 2011;31:8998–9009.

30.

Wang S-J, Chen P-K, Fuh J-L. Comorbidities of migraine. Front Neurol. 2010;1:16.

31.

Silverthrom DU. Human physiology. San Francisco: Pearson Education Inc; 2007.

32.

Benarroch EE. Enteric nervous system: functional organization and neurologic implications. Neurology. 2007;69(20):1953–7.

33.

Maslowski KM, Mackay CR. Diet, gut microbiota and immune responses. Nat Immunol. 2011;12(1):5–9.

34.

Bartley J. Could glial activation be a factor in migraine? Med Hypotheses. 2009;72:255–7.

35.

Hadjivassiliou M, Gibson A, Davies-Jones GAB, et al. Does cryptic gluten sensitivity play a part in neurological illness? Lancet. 1996;347:369–71.

36.

Hadjivassiliou M, Grunewald RA, Lawden M, et al. Headache and CNS white abnormalities associated with gluten sensitivity. Neurology. 2001;56:385–8.

37.

Teschemacher H. Opioid receptor ligands derived from food proteins. Curr Pharm Des. 2003;9:1331–44.

38.

Millichap JG, Yee YM. The diet factor in pediatric and adolescent migraine. Pediatr Neurol. 2003;28:9–15.

39.

Alpay K, Ertas M, Orhan EK, et al. Diet restriction in migraine based on IgG against foods. Cephalalgia. 2010;30(7):829–37.

40.

Pascual J, Oterino A. IgG mediated allergy: a new mechanism for migraine attacks. Cephalalgia 2010;1–3.

41.

Lionetti E, Francavilla R, Maiuri L, et al. Headache in pediatric patients with celiac disease. J Pediatr Gastroenterol Nutr. 2009;49:202–7.

42.

Marks J, Shuster S, Watson AJ. Small bowel changes in dermatitis herpetiformis. Lancet 1966;1280–1282.

43.

Cooke WT, Thomas-Smith W. Neurological disorders associated with adult coeliac disease. Brain. 1966;89:683–722.

44.

Verdu E. Editorial: can gluten contribute to irritable bowel syndrome? AJG. 2011;106:516–8.

45.

Fan X, Sellin JH. Small intestinal bacterial overgrowth, bile acid malabsorption and gluten intolerance as possible causes of chronic watery diarrhoea. Ailment Pharmacol Ther. 2009;29:1069–77.

46.

Biesiekierski JR, Sci BA, Newnham ED, et al. Gluten causes gastrointestinal symptoms in subjects without celiac disease: a double-blind, randomized, placebo-controlled trial. Am J Gastroenterol 2011;106(3):508–514.

47.

• Verdu EF, Armstrong D, Murray JA. Between celiac disease and irritable bowel syndrome: the "no man's land" of gluten sensitivity. Am J Gastroenterol. 2009;104(6):1587–94. The authors discuss predictors in gluten sensitive (GS) pathophysiology and made the connection, which supports increasing evidence that GS is a real entity in some patients..

48.

Alehan F, Ozçay F, Erol I, et al. Increased risk for coeliac disease in paediatric patients with migraine. Cephalalgia. 2008;28(9):945–9.

49.

Ford AC, Chey WD, Talley NJ, et al. Yield of diagnostic tests for celiac disease in individuals with symptoms suggestive of irritable bowel syndrome: systematic review and meta-analysis. Arch Intern Med. 2009;169(7):651–8.

50.

Wahnschaffe U, Ullrich R, Riecken EO, et al. Celiac disease like abnormalities in a subgroup of patients with irritable bowel syndrome. Gastroenterology. 2001;121:1329–38.

51.

Wahnschaffe U, Schulzke JD, Zeitz M, et al. Predictors of clinical response to gluten-free diet in patients diagnoses with diarrhea-predominant irritable bowel syndrome. Clin Gastroenterol Hepatol. 2007;5(7):844–50.

52.

• Versino M, Franciotta D, Colnaghi S, et al. Cerebellar signs in celiac disease. Neurology. 2009;72:2046–8. This article supports the possibility that a gluten-sensitive diet might be cause for discussion. There is a mention of gluten ataxia..

53.

Thom S, Longo BM, Running A, et al. Celiac disease: a guide to successful diagnosis and treatment. JNP 2009;243–53.

54.

American Dietetic Association. Celiac Disease. Available at: http://www.eatright.org/Public/content.aspx?id=5542. Accessed December 23, 2011.
Acknowledgment
The authors thank Candace Shade and Scott Farmer for their assistance.
Disclosures
No potential conflicts of interest relevant to this article were reported.
About this article
Cite this article
Cady, R.K., Farmer, K., Dexter, J.K. et al. The Bowel and Migraine: Update on Celiac Disease and Irritable Bowel Syndrome. Curr Pain Headache Rep 16, 278–286 (2012). https://doi.org/10.1007/s11916-012-0258-y
Keywords
Migraine

Celiac disease

Irritable bowel syndrome

Nervous system sensitization

Gluten sensitivity

Brain-Gut axis

Enteric nervous system

The second brain

Food allergies