Abstract
About half of cancer patients experience pain, most commonly due to their primary cancer. Pain severity is at least moderate for most patients experiencing cancer-related pain. Pain may also persist in long-term cancer survivors. Cancer-related pain adds to mood disturbance and disability in cancer patients. Despite the frequent occurrence and substantial impact from cancer pain, both patient and provider barriers limit the identification and treatment of pain in cancer patients.
Access options
Buy single article
Instant access to the full article PDF.
USD 39.95
Price excludes VAT (USA)
Tax calculation will be finalised during checkout.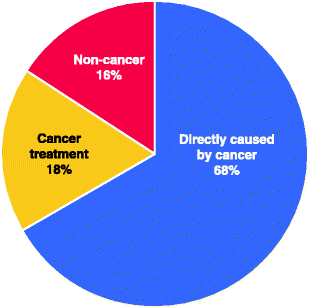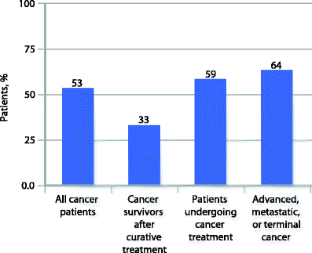 References
World Health Organization website. Available at http://www.who.int/cancer/en/. Accessed April 2011.

National Cancer Institute website. Available at http://seer.cancer.gov/statfacts/html/all.html. Accessed April 2011.

Gutgsell T, Walsh D, Zhukovsky DS, Gonzales F, Lagman R. A prospective study of the pathophysiology and clinical characteristics of pain in a palliative medicine population. Am J Hosp Palliat Care. 2003;20:140–8.

Fischer DJ, Villines D, Kim YO, Epstein JB, Wilkie DJ. Anxiety, depression, and pain: differences by primary cancer. Support Care Cancer. 2010;18:801–10.

Shaheen PE, Legrand SB, Walsh D, et al. Errors in opioid prescribing: a prospective survey in cancer pain. J Pain Symptom Manage. 2010;39:702–11.

van den Beuken-van Everdingen MH, de Rijke JM, Kessels AG, et al. Prevalence of pain in patients with cancer: a systematic review of the past 40 years. Ann Oncol. 2007;18:1437–49.

Green CR, Hart-Johnson T. Cancer pain: an age-based analysis. Pain Med. 2010;11:1525–36.

Kroenke K, Theobald D, Wu J, et al. The association of depression and pain with health-related quality of life, disability, and health care use in cancer patients. J Pain Symptom Manage. 2010;40:327–41.

Dhingra L, Lam K, Homel P, et al. Pain in underserved community-dwelling Chinese American cancer patients: demographic and medical correlates. Oncologist. 2011;16:523–33.

Harrington CB, Hansen JA, Moskowitz M, Todd BL, Feuerstein M. It's not over when it's over: long-term symptoms in cancer survivors – a systematic review. Int J Psychiatry Med. 2010;40:163–81.

O'Mahony S, Goulet JL, Payne R. Psychosocial distress in patients treated for cancer pain: a prospective observational study. J Opioid Manag. 2010;6:211–22.

Laird BJ, Boyd AC, Colvin LA, Fallon MT. Are cancer pain and depression interdependent? A systematic review. Psychooncology. 2009;18:459–64.

Chapman S. Chronic pain syndromes in cancer survivors. Nurs Stand. 2010;25:35–41.

Jacobsen R, Liubarskienė Z, Møldrup C, et al. Barriers to cancer pain management: a review of empirical research. Medicina. 2009;45:427–33.

Peker L, Celebi N, Canbay O, et al. Doctors' opinions, knowledge and attitudes towards cancer pain management in a university hospital. Agri. 2008;20:20–30.

MacDonald N, Ayoub J, Farley J, et al. A Quebec survey of issues in cancer pain management. J Pain Symptom Manage. 2002;23:39–47.

Eun-Ok I, Seung HL, Yi L, et al. A national online forum on ethnic differences in cancer pain experience. Nurs Res. 2009;58:86–94.

Chen CH, Tang ST, Chen CH. Meta-analysis of cultural differences in Western and Asian patient-perceived barriers to managing cancer pain. Palliat Med, in press.

Edrington J, Sun A, Wong C, et al. barriers to pain management in a community sample of Chinese American patients with cancer. J Pain Symptom Manage. 2009;37:665–75.
Disclosure
No potential conflicts of interest relevant to this article were reported.
About this article
Cite this article
Marcus, D.A. Epidemiology of Cancer Pain. Curr Pain Headache Rep 15, 231–234 (2011). https://doi.org/10.1007/s11916-011-0208-0
Published:

Issue Date:

DOI: https://doi.org/10.1007/s11916-011-0208-0
Keywords
Barrier

Meta-analysis

Prevalence

Survivors

Cancer pain

Epidemiology of cancer pain