Abstract
Most of the world's population has suffered from a tension-type headache (TTH) at some point in their lives. The pathophysiology of this disease is not well understood, but TTH shares many features with migraine, leading to the belief that TTH and migraine may be on different ends of the same disease spectrum. There are many shared triggers between migraine and TTH, menstruation being one of them. Does menses being a trigger for TTH make TTH more like migraine, or does the role of sex hormones in TTH give us insight into the unique pathophysiology of this disease? This article will review TTH, concentrating on the role of sex hormones as a trigger for TTH.
Access options
Buy single article
Instant access to the full article PDF.
USD 39.95
Price includes VAT (USA)
Tax calculation will be finalised during checkout.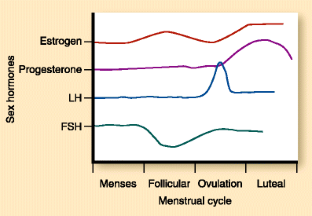 References
Papers of particular interest, published recently, have been highlighted as: • Of importance •• Of major importance
1.

Headache Classification Subcommittee of the International Headache Society: The International Classification of Headache Disorders: 2nd edition. Cephalalgia 2004, 24(Suppl 1):9–160.

2.

Solomon GD: Chronic tension-type headache: advice for the viselike-headache patient. Cleve Clin J Med 2002, 69:167–172.

3.

Rasmussen BK, Jensen R, Schroll M, Olesen J: Epidemiology of headache in a general population: a prevalence study. J Clin Epidemiol 1991, 44:1147–1157.

4.

•• Stovner LJ, Hagen K, Jensen R, et al.: The global burden of headache: a documentation of headache prevalence and disability worldwide. Cephalalgia 2007, 27:193–210. This article is a good overview of headache burden .

5.

Rasmussen BK, Jensen R, Olesen J: Epidemiology of tension-type headache in a general population. In Tension-type Headache: Classification, Mechanisms, and Treatment. Edited by Olesen J, Schoenen J. New York: Raven Press; 1993:9–13.

6.

Lyngberg AC, Rasmussen BK, Jørgensen T, Jensen R: Has the prevalence of migraine and tension-type headache changed over a 12 year period? A Danish population survey. Eur J Epidemiol 2005, 20:243–249.

7.

Zivadinov R, Willheim K, Sepic-Grahovac D, et al.: Migraine and tension-type headache in Croatia: a population-based survey of precipitating factors. Cephalalgia 2003, 23:336–343.

8.

•• Bendtsen L, Jensen R: Tension-type headaches. Neurol Clin 2009, 27:525–535. This article is an outstanding overview of tension-type headache .

9.

Andlin-Sobocki P, Jönsson B, Wittchen HU, Olesen J: Cost of disorders of the brain in Europe. Eur J Neurol 2005, 12:1–27.

10.

Jensen R: Pathophysiological mechanisms of tension-type headache: a review of epidemiological and experimental studies. Cephalalgia 1999, 19:602–621.

11.

Ashina M, Stallknecht B, Bendtsen L, et al.: In vivo evidence of altered skeletal muscle blood flow in chronic tension-type headache. Brain 2002, 125:320–326.

12.

Mørk H, Ashina M, Bendtsen L, et al.: Possible mechanisms of pain perception in patients with episodic tension-type headache. A new experimental model of myofascial pain. Cephalalgia 2004, 24:466–475.

13.

Silberstein SD: Endocrinology of the female life cycle. In Sex Hormones and Headaches. Edited by Silberstein SD. Philadelphia: Current Medicine Group; 2008:45–59.

14.

Silberstein SD: The role of sex hormones in headache. Neurology 1992, 42(3 Suppl 2):37–42.

15.

Spierings EL, Ranke AH, Honkoop PC: Precipitating and aggrevating factors of migraine versus tension-type headache. Headache 2001, 41:554–558.

16.

• Aegidius K, Zwart JA, Hagen K, Stovner L: The effect of pregnancy and parity on headache prevalence: the Head-HUNT study. Headache 2009, 49:851–859. This is one of the few articles examining the effect of pregnancy on headache .

17.

Silberstein SD: Sex hormones and headache. Rev Neurol (Paris) 2000, 156(Suppl 4):4 S30–4 S41.

18.

Marcus DA: Sex hormones and chronic headache in women. Expert Opin Pharmacother 2001, 2:1839–1848.

19.

• Arjona A, Rubi-Callejoin J, Guardado-Santervas P, et al.: Menstrual tension-type headache: evidence for its existence. Headache 2007, 47:100–103. This is one of the few articles discussing menstrual cycle and tension headaches .
Disclosures
No potential conflicts of interest related to this article were reported.
About this article
Cite this article
Ailani, J. Tension-Type Headache and Women: Do Sex Hormones Influence Tension-Type Headache?. Curr Pain Headache Rep 14, 436–440 (2010). https://doi.org/10.1007/s11916-010-0144-4
Keywords
Tension-type headache

Episodic tension-type headache

Sex hormones