Abstract
Periods of deliberate fasting with restriction to intake of solid food are practiced worldwide, mostly based on a traditional, cultural, or religious background. Recent evidence from clinical trials shows that medically supervised modified fasting (200–500 kcal nutritional intake/day) with periods from 7 to 21 days is efficacious in the treatment of rheumatic diseases and chronic pain syndromes. Here, fasting is frequently accompanied by increased alertness and mood enhancement. The beneficial claims of fasting are supported by experimental research, which has found fasting to be associated with increased brain availability of serotonin, endogenous opioids, and endocannabinoids. Fasting-induced neuroendocrine activation and mild cellular stress response with increased production of neurotrophic factors may also contribute to the mood enhancement of fasting. Fasting treatments may be useful as an adjunctive therapeutic approach in chronic pain patients. The mood-enhancing and pain-relieving effect of therapeutic fasting should be further evaluated in randomized clinical trials.
Access options
Buy single article
Instant access to the full article PDF.
USD 39.95
Price excludes VAT (USA)
Tax calculation will be finalised during checkout.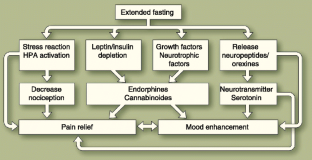 References
Papers of particular interest, published recently, have been highlighted as: • Of importance •• Of major importance
Wang T, Hung CC, Randall DJ: The comparative physiology of food deprivation: from feast to famine. Annu Rev Physiol 2006, 68:223–251.

Lützner H: Fasten. Bindlach: Gondrom Verlag; 2002.

Fahrner H: Fasten als Therapie. Stuttgart: Hippokrates; 1991.

Buchinger A: Fasting. In Clinician's Complete Reference to Complementary and Alternative Medicine. Edited by Nowey DW. St. Louis: Mosby; 2000.

Owen OE, Smalley KJ, D'Alessio DA, et al.: Protein, fat, and carbohydrate requirements during starvation: anaplerosis and cataplerosis. Am J Clin Nutr 1998, 68:12–34.

Varady KA, Hellerstein MK: Alternate-day fasting and chronic disease prevention: a review of human and animal trials. Am J Clin Nutr 2007, 86:7–13.

• Varady KA, Bhutani S, Church EC, Klempel MC: Short-term modified alternate-day fasting: a novel dietary strategy for weight loss and cardioprotection in obese adults. Am J Clin Nutr 2009, 90:1138–1143. This review summarizes metabolic and cardioprotective effects of calorie restriction.

Lützner H: Fasten/Fastentherapie. In Naturheilverfahren und Unkonventionelle Medizinische Richtungen. Edited by Bühring M, Kemper FH. Berlin: Springer; 1998:1–26.

Exton MS: Infection-induced anorexia: active host defence strategy. Appetite 1997, 29:369–383.

Shelton H: The Hygienic System. Fasting and Sun Bathing. San Antonio, TX: Dr. Shelton's Health School; 1963.

• Johnstone AM: Fasting: the ultimate diet? Obes Rev 2007, 8:211–222. This review gives an overview of clinical and physiological effects of fasting used for weight loss in obese patients.

Michalsen A, Hoffmann B, Moebus S, et al.: Incorporation of fasting therapy in an integrative medicine ward: evaluation of outcome, safety, and effects on lifestyle adherence in a large prospective cohort study. J Altern Complement Med 2005, 11:601–607. (Published erratum appears in J Altern Complement Med 2005, 11:1121.)

Hartel U, Volger E: Inanspruchnahme und Akzeptanz klassischer Naturheilverfahren und alternativer Heilmethoden in Deutschland—Ergebnisse einer reprasentativen Bevolkerungsstudie. Forsch Komplementarmed Klass Naturheilkd 2004, 11:327–334.

Stange R, Amhof R, Moebus S: Complementary and alternative medicine: attitudes and patterns of use by German physicians in a national survey. J Altern Complement Med 2008, 14:1255–1261.

Wilhelmi de Toledo F: Fasten/Fastentherapie: physiologie des fastens. In Fasten/Fastentherapie: Physiologie des Fastens. Edited by Springer LoseblattSammlung. Berlin; 1998.

Müller H, de Toledo FW, Resch KL: Fasting followed by vegetarian diet in patients with rheumatoid arthritis: a systematic review. Scand J Rheumatol 2000, 30:1–10.

Kjeldsen-Kragh J, Haugen M, Borchgrevink CF, et al.: Controlled trial of fasting and one-year vegetarian diet in rheumatoid arthritis. Lancet 1991, 338:899–902.

Michalsen A, Riegert M, Lüdtke R, et al.: Mediterranean diet or extended fasting's influence on changing the intestinal microflora, immunoglobulin A secretion and clinical outcome in patients with rheumatoid arthritis and fibromyalgia: an observational study. BMC Complement Altern Med 2005, 5:22.

Lipecki R: Klinische Studie zur Effizienz einer kombinierten Heilfastenbehandlung als Migränetherapie. Inaugural Dissertation 1990, Universität Würzburg:1–53.

Hargraves WA, Hentall ID: Analgesic effects of dietary caloric restriction in adult mice. Pain 2005, 114:455–461.

de los Santos-Arteaga M, Sierra-Dominguez SA, Fontanella GH, et al.: Analgesia induced by dietary restriction is mediated by the kappa-opioid system. J Neurosci 2003, 23:11120–11126.

Müller H, Wilhelmi de Toledo F, Schuck P, Resch KL. Blutdrucksenkung durch Fasten bei adipösen und nichtadipösen Hypertonikern. Perfusion 2001, 14:108–112.

Goldhamer AC, Lisle DJ, Sultana P, et al.: Medically supervised water-only fasting in the treatment of borderline hypertension. J Altern Complement Med 2002, 8:643–650.

Horne BD, May HT, Anderson JL, et al.: Usefulness of routine periodic fasting to lower risk of coronary artery disease in patients undergoing coronary angiography. Am J Cardiol 2008, 102:814–819.

Michalsen A, Weidenhammer W, Melchart D, et al. Short-term therapeutic fasting in the treatment of chronic pain and fatigue syndromes: well-being and side effects with and without mineral supplements [in German]. Forsch Komplementarmed Klass Naturheilkd 2002, 9:221–227.

Peper E, Rogner J, Hettwer H: Stationäres Heilfasten. Prä-/Post-Befragung zum körperlichen und emotionalen Befinden sowie erlebten Veränderungen. Präv.-Rehab 1996, 8:129–136.

•• Michalsen A, Kuhlmann MK, Lüdtke R, et al.: Prolonged fasting in patients with chronic pain syndromes leads to late mood-enhancement not related to weight loss and fasting-induced leptin depletion. Nutr Neurosci 2006, 9:195–200. This report describes the mood-enhancing effect of extended fasting as observed in a controlled study in patients with chronic pain syndromes.

Michalsen A, Schlegel F, Rodenbeck A, et al.: Effects of short-term modified fasting on sleep patterns and daytime vigilance in non-obese subjects: results of a pilot study. Ann Nutr Metab 2003, 47:194–200.

Michalsen A, Frey UH, Merse S, et al.: Hunger and mood during extended fasting are dependent on the GNB3 C825T polymorphism. Ann Nutr Metab 2009, 54:184–188.

Schwartz MW, Seeley RJ: Seminars in medicine of the Beth Israel Deaconess Medical Center. Neuroendocrine responses to starvation and weight loss. N Engl J Med 1997, 336:1802–1811.

Palmblad J, Levi L, Burger A, et al.: Effects of total energy withdrawal (fasting) on the levels of growth hormone, thyrotropin, cortisol, adrenaline, noradrenaline, T4, T3 and rT3 in healthy males. Acta Med Scand 1977, 201:15–22.

Michalsen A, Schneider S, Rodenbeck A, et al.: The short-term effects of fasting on the neuroendocrine system in patients with chronic pain syndromes. Nutr Neurosci 2003, 6:11–18.

Bergendahl M, Evans WS, Pastor C, et al.: Short-term fasting suppresses leptin and (conversely) activates disorderly growth hormone secretion in midluteal phase women: a clinical research center study. J Clin Endocrinol Metab 1999, 84:883–894.

Ahima RS, Prabakaran D, Mantzoros C, et al.: Role of leptin in the neuroendocrine response to fasting. Nature 1996, 382:250–252.

Silva JP, von Meyenn F, Howell J, et al.: Regulation of adaptive behavior during fasting by hypothalamic Foxa2. Nature 2009, 462:646–650.

Göhler L, Hahnemann T, Michael N, et al.: Reduction of plasma catecholamines in humans during clinically controlled severe underfeeding. Prev Med 2000, 30:95–102.

Spark RF, Arky RA, Boulter PR, et al.: Renin, aldosterone and glucagon in the natriuresis of fasting. N Engl J Med 1975, 292:1335–1340.

Maoz E, Shamiss A, Peleg E, et al.: The role of atrial natriuretic peptide in natriuresis of fasting. J Hypertens 1992, 10:1041–1044.

Horowitz JF, Coppack SW, Paramore D, et al.: Effects of short-term fasting on lipid kinetics in lean and obese woman. Am J Physiol 1999, 276:E278–E284.

• Ahima RS, Lazar MA: Adipokines and the peripheral and neural control of energy balance. Mol Endocrinol 2008, 22:1023–1031. This report describes the role of leptin and adipokines in the regulation of nutritional energy balance.

Tichomirowa MA, Keck ME, Schneider HJ, et al.: Endocrine disturbances in depression. J Endocrinol Invest 2005, 28:89–99.

Fulton S, Woodside B, Shizgal P: Modulation of brain reward circuitry by leptin. Science 2000, 287:125–128. (Published erratum appears in Science 2000, 287:1931.)

Schweiger U, Broocks A, Tuschl RJ, Pirke KM: Serotonin turnover in rat brain during semistarvation with high-protein and high-carbohydrate diets. J Neural Transm 1989, 77:131–139.

Curzon G, Joseph MH, Knott PJ: Effects of immobilization and food deprivation on rat brain tryptophan metabolism. J Neurochem 1972, 19:1967–1974.

Huether G, Zhou D, Schmidt S, et al.: Long-term food restriction down-regulates the density of serotonin transporters in the rat frontal cortex. Biol Psychiatry 1997, 41:1174–1180.

Mattson MP: Energy intake, meal frequency, and health: a neurobiological perspective. Annu Rev Nutr 2005, 25:237–260.

Goggi J, Pullar IA, Carney SL, Bradford HF: Modulation of neurotransmitter release induced by brain-derived neurotrophic factor in rat brain striatal slices in vitro. Brain Res 2002, 941:34–42.

Rumajogee P, Madeira A, Vergé D, et al.: Up-regulation of the neuronal serotoninergic phenotype in vitro: BDNF and cAMP share Trk B-dependent mechanisms. J Neurochem 2002, 83:1525–1528.

Komaki G, Tamai H, Sumioki H, et al.: Plasma beta-endorphin during fasting in man. Horm Res 1990, 33:239–243.

Molina PE, Hashiguchi Y, Meijerink WJ, et al.: Modulation of endogenous opiate production: effect of fasting. Biochem Biophys Res Commun 1995, 207:312–317.

Hanus L, Avraham Y, Ben-Shushan D, et al.: Short-term fasting and prolonged semistarvation have opposite effects on 2-AG levels in mouse brain. Brain Res 2003, 983:144–151.

Mattson MP, Wan R: Beneficial effects of intermittent fasting and caloric restriction on the cardiovascular and cerebrovascular systems. J Nutr Biochem 2005, 16:129–137.

Mattson MP, Chan SL, Duan W: Modification of brain aging and neurodegenerative disorders by genes, diet, and behavior. Physiol Rev 2002, 82:637–672.

• Maalouf MA, Rho JM, Mattson MP: The neuroprotective properties of calorie restriction, the ketogenic diet, and ketone bodies. Brain Res Rev 2009, 59:293–315. This review gives an overview of the potential neuroprotective effects of calorie restriction, fasting, and ketone bodies.

•• Fontán-Lozano A, López-Lluch G, Delgado-Garcîa JM, et al.: Molecular bases of caloric restriction regulation of neuronal synaptic plasticity. Mol Neurobiol 2008, 38:167–177. This review discusses the effects of fasting and calorie restriction on brain function and cellular/synaptic processes underlying analgesia and cognitive function.

• Taylor BK, Abhyankar SS, Vo NT, et al.: Neuropeptide Y acts at Y1 receptors in the rostral ventral medulla to inhibit neuropathic pain. Pain 2007, 131:83–95. This report illustrates how neuropeptide Y, which is also modified by fasting, is involved in the spinal transmission of pain.

Ito N, Yabe T, Gamo Y, et al.: I.c.v. administration of orexin-A induces an antidepressive-like effect through hippocampal cell proliferation. Neuroscience 2008, 157:720–732.

• Mehta LH, Roth GS: Caloric restriction and longevity: the science and the ascetic experience. Ann N Y Acad Sci 2009, 1172:28–33. This review discusses the ascetic background of fasting tradition and implications for current research on the effects of caloric restriction.

Wilhelmi de Toledo F, Buchinger A, Burggrabe H, et al.: Guidelines of fasting therapy. Forsch Komplementarmed 2002, 189–199.
Disclosure
No potential conflicts of interest relevant to this article were reported.
About this article
Cite this article
Michalsen, A. Prolonged Fasting as a Method of Mood Enhancement in Chronic Pain Syndromes: A Review of Clinical Evidence and Mechanisms. Curr Pain Headache Rep 14, 80–87 (2010). https://doi.org/10.1007/s11916-010-0104-z
Published:

Issue Date:

DOI: https://doi.org/10.1007/s11916-010-0104-z
Keywords