Abstract
Cluster headache is a primary neurovascular headache. It is a strictly unilateral head pain that is associated with cranial autonomic symptoms and usually follows circadian and circannual patterns. Chronic cluster headache, which accounts for about 10% to 15% of patients with cluster headache, lacks the circadian pattern and is often resistant to pharmacological management. The sphenopalatine ganglion (SPG), located in the pterygopalatine fossa, is involved in the pathophysiology of cluster headache and has been a target for blocks and other surgical approaches. Percutaneous radiofrequency ablation of the SPG was shown to have encouraging results in those patients with intractable cluster headaches.
Access options
Buy single article
Instant access to the full article PDF.
US$ 39.95
Tax calculation will be finalised during checkout.
Subscribe to journal
Immediate online access to all issues from 2019. Subscription will auto renew annually.
US$ 79
Tax calculation will be finalised during checkout.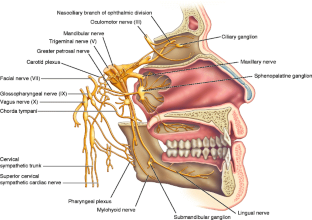 References
Papers of particular interest, published recently, have been highlighted as: •• Of major importance
1.

Headache Classification Subcommittee of the International Headache Society: The International Classification of Headache Disorders, 2nd edn. Cephalalgia 2004, 24(Suppl 1):1–160.

2.

Goadsby P: Pathophysiology of cluster headache: a trigeminal autonomic cephalgia. Lancet Neurol 2002, 1:251–257.

3.

Freitag FG: Cluster headache. Prim Care 2004, 31:313–329.

4.

Salar G, Ori C, Iob I, Fiore D: Percutaneous thermocoagulation for sphenopalatine ganglion neuralgia. Acta Neurochir (Wien) 1987, 84:24–28.

5.

Sanders M, Zuurmond W: Efficacy of sphenopalatine ganglion blockade in 66 patients suffering from cluster headaches: a 12- to17-month follow-up evaluation. J Neurosurg 1997, 87:876–880.

6.

Day M: Neurolysis of the trigeminal and sphenopalatine ganglions. Pain Pract 2001, 1:171–182.

7.

•• Narouze S, Kapural L, Casanova J, Mekhail N: Sphenopalatine ganglion radiofrequency ablation for the management of chronic cluster headache. Headache 2009, 49:571–577. This article explains the rationale for SPG RFA as well as the technique and complications of RFA.

8.

Narouze S. Complications of head and neck procedures. Tech Reg Anesth Pain Manag 2007, 11:171–177.

9.

Konen A: Unexpected effects due to radiofrequency thermocoagulation of the sphenopalatine ganglion: two case reports. Pain Digest 2000, 10:30–33.

10.

Shah RV, Racz GB: Long-term relief of posttraumatic headache by sphenopalatine ganglion pulsed radiofrequency lesioning: a case report. Arch Phys Med Rehabil 2004, 85:1013–1016.

11.

Bayer E, Racz GB, Miles D, Heavner J: Sphenopalatine ganglion pulsed radiofrequency treatment in 30 patients suffering from chronic face and head pain. Pain Pract 2005, 5:223–227.
Disclosure
No potential conflicts of interest relevant to this article were reported.
About this article
Cite this article
Narouze, S.N. Role of Sphenopalatine Ganglion Neuroablation in the Management of Cluster Headache. Curr Pain Headache Rep 14, 160–163 (2010). https://doi.org/10.1007/s11916-010-0100-3
Keywords
Cluster headache

Sphenopalatine ganglion

Radiofrequency ablation