Abstract
The greatest cause of preventable morbidity and mortality is smoking, and one of the often-underappreciated effects of smoking is profound bone loss. The existing clinical paradigm for smoking is that there is a low turnover osteoporosis. This review highlights findings from recent clinical trials and animal research demonstrating either support or conflict with the existing paradigm. Clinically, it is noted that markers of bone formation are often normal in smokers; these clinical findings conflict with well-conducted animal research demonstrating that carcinogens acting on the aryl hydrogen receptor can significantly reduce osteoblast formation and function. Regarding bone resorption, highlights from recent clinical studies suggest that bone remodeling is increased in smokers. Directly contradicting this enhanced osteoclastogenesis are several animal studies all demonstrating significant inhibition of osteoclast formation and function upon exposure to smoke carcinogens. Future research is needed to clarify whether smoking is truly a low bone remodeling osteoporosis, or an osteoclast-driven bone destruction, with inappropriately normal bone formation.
Access options
Buy single article
Instant access to the full article PDF.
USD 39.95
Price excludes VAT (USA)
Tax calculation will be finalised during checkout.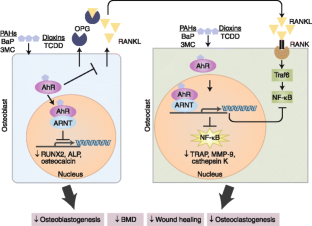 References
Papers of particular interest, published recently, have been highlighted as: • Of importance •• Of major importance
Wipfli H, Samet JM. Global economic and health benefits of tobacco control: part 1. Clin Pharmacol Ther. 2009;86(3):263–71.

Ward KD, Klesges RC. A meta-analysis of the effects of cigarette smoking on bone mineral density. Calcif Tissue Int. 2001;68(5):259–70.

Kanis JA, Johnell O, Oden A, Johansson H, De Laet C, Eisman JA, et al. Smoking and fracture risk: a meta-analysis. Osteoporos Int. 2005;16(2):155–62.

Cornuz J, Feskanich D, Willett WC, Colditz GA. Smoking, smoking cessation, and risk of hip fracture in women. Am J Med. 1999;106(3):311–4.

Hopper JL, Seeman E. The bone density of female twins discordant for tobacco use. N Engl J Med. 1994;330(6):387–92.

MacInnis RJ, Cassar C, Nowson CA, Paton LM, Flicker L, Hopper JL, et al. Determinants of bone density in 30- to 65-year-old women: a co-twin study. J Bone Miner Res. 2003;18(9):1650–6.

Krall EA, Dawson-Hughes B. Smoking and bone loss among postmenopausal women. J Bone Miner Res. 1991;6(4):331–8.

Law MR, Hackshaw AK. A meta-analysis of cigarette smoking, bone mineral density and risk of hip fracture: recognition of a major effect. BMJ. 1997;315(7112):841–6.

Szulc P, Garnero P, Claustrat B, Marchand F, Duboeuf F, Delmas PD. Increased bone resorption in moderate smokers with low body weight: the Minos study. J Clin Endocrinol Metab. 2002;87(2):666–74.

Nguyen TV, Kelly PJ, Sambrook PN, Gilbert C, Pocock NA, Eisman JA. Lifestyle factors and bone density in the elderly: implications for osteoporosis prevention. J Bone Miner Res. 1994;9(9):1339–46.

Walker LM, Preston MR, Magnay JL, Thomas PB, El Haj AJ. Nicotinic regulation of c-fos and osteopontin expression in human-derived osteoblast-like cells and human trabecular bone organ culture. Bone. 2001;28(6):603–8.

Haverstock BD, Mandracchia VJ. Cigarette smoking and bone healing: implications in foot and ankle surgery. J Foot Ankle Surg. 1998;37(1):69–74. discussion 78.

Olofsson H, Byberg L, Mohsen R, Melhus H, Lithell H, Michaelsson K. Smoking and the risk of fracture in older men. J Bone Miner Res. 2005;20(7):1208–15.

Jamsa T, Viluksela M, Tuomisto JT, Tuomisto J, Tuukkanen J. Effects of 2,3,7,8-tetrachlorodibenzo-p-dioxin on bone in two rat strains with different aryl hydrocarbon receptor structures. J Bone Miner Res. 2001;16(10):1812–20.

Miettinen HM, Pulkkinen P, Jamsa T, Koistinen J, Simanainen U, Tuomisto J, et al. Effects of in utero and lactational TCDD exposure on bone development in differentially sensitive rat lines. Toxicol Sci. 2005;85(2):1003–12.

Blanco GA, Cooper EL. Immune systems, geographic information systems (GIS), environment and health impacts. J Toxicol Environ Health B Crit Rev. 2004;7(6):465–80.

Ilvesaro J, Pohjanvirta R, Tuomisto J, Viluksela M, Tuukkanen J. Bone resorption by aryl hydrocarbon receptor-expressing osteoclasts is not disturbed by TCDD in short-term cultures. Life Sci. 2005;77(12):1351–66.

Ramp WK, Lenz LG, Galvin RJ. Nicotine inhibits collagen synthesis and alkaline phosphatase activity, but stimulates DNA synthesis in osteoblast-like cells. Proc Soc Exp Biol Med. 1991;197(1):36–43.

Ortego-Centeno N, Munoz-Torres M, Jodar E, Hernandez-Quero J, Jurado-Duce A, de la Higuera Torres-Puchol J. Effect of tobacco consumption on bone mineral density in healthy young males. Calcif Tissue Int. 1997;60(6):496–500.

Gracia MC. Possible influence of nicotine on osteoporosis. Med Hypotheses. 2010;75(1):133–4.

Rothem DE, Rothem L, Soudry M, Dahan A, Eliakim R. Nicotine modulates bone metabolism-associated gene expression in osteoblast cells. J Bone Miner Metab. 2009;27(5):555–61.

Naruse M, Ishihara Y, Miyagawa-Tomita S, Koyama A, Hagiwara H. 3-Methylcholanthrene, which binds to the arylhydrocarbon receptor, inhibits proliferation and differentiation of osteoblasts in vitro and ossification in vivo. Endocrinology. 2002;143(9):3575–81.

• Korkalainen M, Kallio E, Olkku A, Nelo K, Ilvesaro J, Tuukkanen J, Mahonen A, Viluksela M. Dioxins interfere with differentiation of osteoblasts and osteoclasts. Bone 2009;44(6):1134–42. This paper shows that OCN and ALP are lower in arylhydrocarbon knockout mice, thus suggesting a role in the normal development of bone cells.

Lian JB, Stein GS. The developmental stages of osteoblast growth and differentiation exhibit selective responses of genes to growth factors (TGF beta 1) and hormones (vitamin D and glucocorticoids). J Oral Implantol. 1993;19(2):95–105. discussion 136–107.

Stein GS, Lian JB. Molecular mechanisms mediating proliferation/differentiation interrelationships during progressive development of the osteoblast phenotype. Endocr Rev. 1993;14(4):424–42.

• Wejheden C, Brunnberg S, Larsson S, Lind PM, Andersson G, Hanberg A. Transgenic mice with a constitutively active aryl hydrocarbon receptor display a gender-specific bone phenotype. Toxicol Sci. 2010;114(1):48–58. This paper shows that in vivo measures reflecting osteoclast activity are increased in female mice with a CA-AhR.

Singh SU, Casper RF, Fritz PC, Sukhu B, Ganss B, Girard Jr B, et al. Inhibition of dioxin effects on bone formation in vitro by a newly described aryl hydrocarbon receptor antagonist, resveratrol. J Endocrinol. 2000;167(1):183–95.

• Voronov I, Li K, Tenenbaum HC, Manolson MF. Benzo[a]pyrene inhibits osteoclastogenesis by affecting RANKL-induced activation of NF-kappaB. Biochem Pharmacol. 2008;75(10):2034–44. This paper explores the mechanism of action of carcinogens on osteoclasts, demonstrating that they suppress osteoclastogenesis.

Naruse M, Otsuka E, Ishihara Y, Miyagawa-Tomita S, Hagiwara H. Inhibition of osteoclast formation by 3-methylcholanthrene, a ligand for arylhydrocarbon receptor: suppression of osteoclast differentiation factor in osteogenic cells. Biochem Pharmacol. 2004;67(1):119–27.

Lees RL, Sabharwal VK, Heersche JN. Resorptive state and cell size influence intracellular pH regulation in rabbit osteoclasts cultured on collagen-hydroxyapatite films. Bone. 2001;28(2):187–94.

•• Wong PK, Christie JJ, Wark JD. The effects of smoking on bone health. Clin Sci (Lond) 2007;113(5):233–41. This is an excellent review detailing many clinical studies on smoking and bone loss.

Bruno RD, Njar VC. Targeting cytochrome P450 enzymes: a new approach in anti-cancer drug development. Bioorg Med Chem. 2007;15(15):5047–60.

Tsuchiya Y, Nakajima M, Yokoi T. Cytochrome P450-mediated metabolism of estrogens and its regulation in human. Cancer Lett. 2005;227(2):115–24.

Safe S, Wang F, Porter W, Duan R, McDougal A. Ah receptor agonists as endocrine disruptors: antiestrogenic activity and mechanisms. Toxicol Lett. 1998;102–103:343–7.

Boverhof DR, Kwekel JC, Humes DG, Burgoon LD, Zacharewski TR. Dioxin induces an estrogen-like, estrogen receptor-dependent gene expression response in the murine uterus. Mol Pharmacol. 2006;69(5):1599–606.

Rapuri PB, Gallagher JC, Balhorn KE, Ryschon KL. Smoking and bone metabolism in elderly women. Bone. 2000;27(3):429–36.
Acknowledgments
J. Iqbal acknowledges prior research support from the American Federation of Aging Research.
Disclosure
No potential conflicts of interest relevant to this article were reported.
About this article
Cite this article
Yan, C., Avadhani, N.G. & Iqbal, J. The Effects of Smoke Carcinogens on Bone. Curr Osteoporos Rep 9, 202–209 (2011). https://doi.org/10.1007/s11914-011-0068-x
Published:

Issue Date:

DOI: https://doi.org/10.1007/s11914-011-0068-x
Keywords
Tobacco smoking

Carcinogens

Bone

Osteoporosis

Bone remodeling