Abstract
Purpose of Review
Qigong and Tai Chi are two increasingly popular mind-body interventions with the potential to address the multifaceted needs of cancer survivors. The aim of this updated review and meta-analysis was to quantitatively evaluate the treatment effects of Qigong/Tai Chi on cancer survivors since 2014.
Recent Findings
There were statistically significant and clinically meaningful effects in favor of Qigong/Tai Chi interventions for symptoms of fatigue and sleep quality. There were positive trends, but not statistically significant effects, observed for anxiety, stress, depressive symptoms, and overall quality of life (QOL). Cancer-related cognitive impairment is a common complaint among cancer survivors that has received increasing attention in this area in recent years.
Summary
Qigong/Tai Chi in cancer care shows great promise with short-term effects in treating many cancer-related symptoms. Further methodologically sound trials with longer follow-up periods and more active control conditions are required, before definitive conclusions can be recommended for cancer patients.
This is a preview of subscription content, log in to check access.
Access options
Buy single article
Instant access to the full article PDF.
US$ 39.95
Price includes VAT for USA
Subscribe to journal
Immediate online access to all issues from 2019. Subscription will auto renew annually.
US$ 99
This is the net price. Taxes to be calculated in checkout.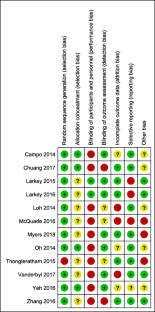 References
Papers of particular interest, published recently, have been highlighted as: • Of importance •• Of major importance
1.

Siegel RL, Miller KD, Jemal A. Cancer statistics, 2018. CA Cancer J Clin. 2018;68:7–30.

2.

Wefel JS, Kesler SR, Noll KR, Schagen SB. Clinical characteristics, pathophysiology, and management of noncentral nervous system cancer-related cognitive impairment in adults. CA Cancer J Clin. 2015;65:123–38.

3.

• Wayne PM, Lee MS, Novakowski J, Osypiuk K, Ligibel J, Carlson LE, et al. Tai chi and qigong for cancer-related symptoms and quality of life: a systematic review and meta-analysis. J Cancer Surviv. 2018;12(2):256–67 This review is of importance as it provides recent summary of the benefits of tai chi and qigong in cancer.

4.

• Carlson LE, Zelinski E, Toivonen K, Flynn M, Qureshi M, Piedalue KA, et al. Mind-body therapies in cancer: what is the latest evidence? Curr Oncol Rep. 2017;19(10):67 This review is of special importance as it provides recent and comprehensive summary of the benefits of all mind-body therapies in cancer care.

5.

• Zeng Y, Luo T, Xie H, Huang M, Cheng AS. Health benefits of qigong or tai chi for cancer patients: a systematic review and meta-analyses. Complement Ther Med. 2014;22(1):173–86 This study is of special importance as this updated review is based on this review, which provides its depth and breadth of outcomes associated with the health benefits of Qigong/Tai Chi in cancer care.

6.

• Greenlee H, DuPont-Reyes MJ, Balneaves LG, Carlson LE, Cohen MR, Deng G, et al. Clinical practice guidelines on the evidence-based use of integrative therapies during and after breast cancer treatment. CA Cancer J Clin. 2017;67(3):194–232 This review is of importance because it provides a comprehensive resource of integrative therapies in cancer care.

7.

Jahnke R, Larkey L, Rogers C, Etnier J, Lin F. A comprehensive review of health benefits of qigong and tai chi. Am J Health Promot. 2010;24(6):e25.

8.

Campo RA, Agarwal N, LaStayo PC, O'Connor K, Pappas L, Boucher KM, et al. Levels of fatigue and distress in senior prostate cancer survivors enrolled in a 12-week randomized controlled trial of qigong. J Cancer Surviv. 2014;8(1):60–9.

9.

Chuang TY, Yeh ML, Chung YC. A nurse facilitated mind-body interactive exercise (Chan-Chuang Qigong) improves the health status of non-Hodgkin lymphoma patients receiving chemotherapy: randomised controlled trial. Int J Nurs Stud. 2017;69:25–33.

10.

Loh SY, Lee SY, Murray L. The Kuala Lumpur qigong trial for women in the cancer survivorship phase-efficacy of a three-arm RCT to improve QOL. Asian Pac J Cancer Prev. 2014;15(19):8127–34.

11.

Myers JS, Mitchell M, Krigel S, Steinhoff A, Boyce-White A, Van Goethem K, et al. Qigong intervention for breast cancer survivors with complaints of decreased cognitive function. Support Care Cancer. 2018. https://doi.org/10.1007/s00520-018-4430-8.

12.

Oh B, Butow P, Boyle F, Costa DSJ, Pavlakis N, et al. Effects of qigong on quality of life, fatigue, stress, neuropathy, and sexual function in women with metastatic breast cancer: a feasibility study. Int J Phys Med Rehabil. 2014;2:217.

13.

Vanderbyl BL, MayerMJ NC, Tran AT, Windholz T, Swanson T, et al. A comparison of the effects of medical qigong and standard exercise therapy on symptoms and quality of life in patients with advanced cancer. Support Care Cancer. 2017;25(6):1749–58.

14.

Yeh ML, Chung YC. A randomized controlled trial of qigong on fatigue and sleep quality for non-Hodgkin's lymphoma patients undergoing chemotherapy. Eur J Oncol Nurs. 2016;23:81–6.

15.

Larkey LK, Roe DJ, Weihs KL, Jahnke R, Lopez AM, Rogers CE, et al. Randomized controlled trial of qigong/tai chi easy on cancer-related fatigue in breast cancer survivors. Ann Behav Med. 2015;49(2):165–76.

16.

Larkey LK, Roe DJ, Smith L, Millstine D. Exploratory outcome assessment of qigong/tai chi easy on breast cancer survivors. Complement Ther Med. 2016;29:196–203.

17.

McQuade JL, Prinsloo S, Chang DZ, Spelman A, Wei Q, Basen-Engquist K, et al. Qigong/tai chi for sleep and fatigue in prostate cancer patients undergoing radiotherapy: a randomized controlled trial. Psychooncology. 2017;26(11):1936–43.

18.

Thongteratham N, Kanaungnit P, Olson K, Adune R, Dechavudh N, Doungrut W. Effectiveness of tai chi qi qong program for Thai women with breast cancer: a randomized control trial. Pac Rim Int J Nurs Res. 2015;19:280–94.

19.

Zhang LL, Wang SZ, Chen HL, Yuan AZ. Tai chi exercise for cancer-related fatigue in patients with lung cancer undergoing chemotherapy: a randomized controlled trial. J Pain Symptom Manag. 2016;51(3):504–11.

20.

Rosenthal DS, Doherty-Gilman AM. Integrative medicine and cancer care. Virtual Mentor. 2011;13:379–83.

21.

• Klein P, Qigong in cancer care: theory, evidence-base, and practice, Medicines (Basel) 2017; 4(1). This study is noteworthy because it provides theory and evidence-base of how Qigong works.

22.

Adler R, Felten DL, Cohen N. Psychoneuroimmunology. 4th ed. San Diego: Academic Press; 2007.

23.

Benson H. The relaxation response: updated and expanded. New York: Harper Collins; 2008.

24.

Grolleau-Julius A, Ray D, Yung RL. The role of epigenetics in aging and autoimmunity. Clin Rev Allergy Immunol. 2010;39:42–50.
Ethics declarations
Conflict of Interest
Yingchun Zeng, Xiaohua Xie, and Andy S.K. Cheng declare that they have no conflict of interest.
Human and Animal Rights and Informed Consent
This article does not contain any studies with human or animal subjects performed by any of the authors.
Additional information
Publisher's Note
Springer Nature remains neutral with regard to jurisdictional claims in published maps and institutional affiliations.
This article is part of the Topical Collection on Integrative Care
About this article
Cite this article
Zeng, Y., Xie, X. & Cheng, A.S.K. Qigong or Tai Chi in Cancer Care: an Updated Systematic Review and Meta-analysis. Curr Oncol Rep 21, 48 (2019). https://doi.org/10.1007/s11912-019-0786-2
Keywords
Integrative oncology

Qigong

Tai Chi

Fatigue

Sleep

Anxiety

Stress

Depression

Cognitive function

Quality of life (QOL)