Abstract
Purpose of Review
We provide a review of the movement disorders that complicate selected metabolic disorders, including the abnormal movements that may appear during or after their treatment.
Recent Findings
Movement disorders may be underrecognized when arising in the context of a broad range of metabolic disorders.
Summary
Abnormal movements may occur as the initial manifestation of a systemic disease, at any time during its course, or as a result of the medical interventions required for its management. Ascertaining movement phenomenology in acute and subacute presentations may assist in the determination of the specific underlying metabolic disorder. The management of movement disorders associated with metabolic disorders depends on the underlying pathophysiology.
This is a preview of subscription content, log in to check access.
Access options
Buy single article
Instant access to the full article PDF.
US$ 39.95
Price includes VAT for USA
Subscribe to journal
Immediate online access to all issues from 2019. Subscription will auto renew annually.
US$ 99
This is the net price. Taxes to be calculated in checkout.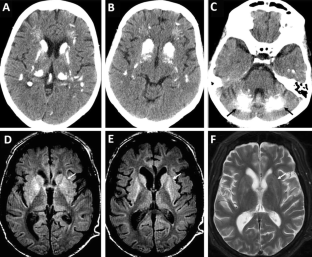 References
Papers of particular interest, published recently, have been highlighted as: • Of importance
1.

Stoessl AJ, Mckeown MJ. Movement disorders. Handb Clin Neurol. 2016;136:957–69.

2.

• Poewe W, Djamshidian-Tehrani A. Movement disorders in systemic diseases. Neurol Clin. 2015;33(1):269–97 Movement disorders may be the initial manifestation of selected systemic diseases. In this review the authors discuss the most common movement disorders which may present in infectious, autoimmune, paraneoplastic, and also in metabolic and endocrine diseases.

3.

Riggs JE. Neurologic manifestations of electrolyte disturbances. Neurol Clin. 2002;20(1):227–39.

4.

Dallocchio C, Matinella A, Arbasino C, Arno' N, Glorioso M, Sciarretta M, et al. Movement disorders in emergency settings: a prospective study. Neurol Sci. 2019;40(1):133–8

5.

Chen C, Zheng H, Yang L, Hu Z. Chorea-ballism associated with ketotic hyperglycemia. Neurol Sci. 2014;35(12):1851–5.

6.

Seifter JL, Samuels MA. Uremic encephalopathy and other brain disorders associated with renal failure. Semin Neurol. 2011;31(2):139–43.

7.

Ellul MA, Cross TJ, Larner AJ. Asterixis. Pract Neurol. 2017;17(1):60–2.

8.

Munhoz RP, Teive HA, Troiano AR, Hauck PR, Herdoiza Leiva MH. Parkinson's disease and thyroid dysfunction. Parkinsonism Relat Disord. 2004;10(6):381–3.

9.

Baizabal-Carvallo JF, Jankovic J. Movement disorders in autoimmune diseases. Mov Disord. 2012;27(8):935–46.

10.

Miranda M, Bustamante ML, Campero M, Wainstein E, Toche P, Espay AJ, et al. Movement disorders in non-encephalopathic Hashimoto's thyroiditis. Parkinsonism Relat Disord. 2018;55:141–2.

11.

Tan EK, Chan LL. Movement disorders associated with hyperthyroidism: expanding the phenotype. Mov Disord. 2006;21(7):1054–15.

12.

Tan EK, Lo YL, Chan LL. Graves disease and isolated orthostatic tremor. Neurology. 2008;70(16 Pt 2):1497–8.

13.

Orija IB, Gupta M, Zimmerman RS. Graves' disease and stiff-person (stiff-man) syndrome: case report and literature review. Endocr Pract. 2005;11(4):259–64.

14.

Kim HT, Edwards MJ, Lakshmi Narsimhan R, Bhatia KP. Hyperthyroidism exaggerating parkinsonian tremor: a clinical lesson. Parkinsonism Relat Disord. 2005;11(5):331–2.

15.

Yu JH, Weng YM. Acute chorea as a presentation of Graves disease: case report and review. Am J Emerg Med. 2009;27(3):369.e1–3.

16.

Kondziella D, Brederlau A, Asztely F. Choreathetosis due to abuse of levothyroxine. J Neurol. 2009;256(12):2106–8.

17.

Gálvez-Jiménez N, Hanson MR, Cabral J. Dopa-resistant parkinsonism, oculomotor disturbances, chorea, mirror movements, dyspraxia, and dementia: the expanding clinical spectrum of hypoparathyroidism. A case report. Mov Disord. 2000;15(6):1273–6.

18.

Micheli F, Pardal MF, Parera IC, Giannaula R. Idiopathic hypoparathyroidism and paroxysmal kinesigenic choreoathetosis. Ann Neurol. 1989;26(3):415.

19.

Quintáns B, Oliveira J, Sobrido MJ. Primary familial brain calcifications. Handb Clin Neurol. 2018;147:307–17.

20.

Vaamonde J, Legarda I, Jimenez-Jimenez J, Zubieta JL, Obeso JA. Levodopa-responsive parkinsonism associated with basal ganglia calcification and primary hypoparathyroidism. Mov Disord. 1993;8(3):398–400.

21.

Uncini A, Tartaro A, Di Stefano E, Gambi D. Parkinsonism, basal ganglia calcification and epilepsy as late complications of postoperative hypoparathyroidism. J Neurol. 1985;232(2):109–11.

22.

Song CY, Zhao ZX, Li W, Sun CC, Liu YM. Pseudohypoparathyroidism with basal ganglia calcification: a case report of rare cause of reversible parkinsonism. Medicine (Baltimore). 2017;96(11):e6312.

23.

Dure LS 4th, Mussell HG. Paroxysmal dyskinesia in a patient with pseudohypoparathyroidism. Mov Disord. 1998;13(4):746–8.

24.

De Rosa A, Rinaldi C, Tucci T, Pappatà S, Rossi F, Morra VB, et al. Co-existence of primary hyperparathyroidism and Parkinson's disease in three patients: an incidental finding? Parkinsonism Relat Disord. 2011;17(10):771–3.

25.

Ohya Y, Osaki M, Sakai S, Kimura S, Yasuda C, Ago T, et al. A case of hyperparathyroidism-associated parkinsonism successfully treated with cinacalcet hydrochloride, a calcimimetic. BMC Neurol. 2018;18(1):62.

26.

Singh TD, Fugate JE, Rabinstein AA. Central pontine and extrapontine myelinolysis: a systematic review. Eur J Neurol. 2014;21(12):1443–50.

27.

Tan AH, Lim SY, Ng RX. Osmotic demyelination syndrome with evolving movement disorders. JAMA Neurol. 2018;75(7):888–9.

28.

de Souza A. Movement disorders and the osmotic demyelination syndrome. Parkinsonism Relat Disord. 2013;19(8):709–16.

29.

Seah ABH, Chan LL, Wong MC, Tan EK. Evolving spectrum of movement disorders in extrapontine and central pontine myelinolysis. Parkinsonism Relat Disord. 2002;9(2):117–9.

30.

Espay AJ. Neurologic complications of electrolyte disturbances and acid–base balance. In: Biller J, Ferro JM, editors. Handbook of Clinical Neurology, Vol. 119 (3rd series) Neurologic Aspects of Systemic Disease Part I: Elsevier B.V.; 2014.

31.

Grasso D, Borreggine C, Perfetto F, Bertozzi V, Trivisano M, Specchio LM, et al. Lentiform fork sign: a magnetic resonance finding in a case of acute metabolic acidosis. Neuroradiol J. 2014;27(3):288–92.

32.

Lin JJ, Chang MK. Hemiballism-hemichorea and non-ketotic hyperglycaemia. J Neurol Neurosurg Psychiatry. 1994;57(6):748–50

33.

Duker AP, Espay AJ. Images in clinical medicine. Hemichorea–hemiballism after diabetic ketoacidosis. N Engl J Med. 2010;363(17):e27.

34.

Li JY, Chen R. Increased intracortical inhibition in hyperglycemic hemichorea-hemiballism. Mov Disord. 2015;30(2):198–205.

35.

Atay M, Yetis H, Kurtcan S, Aralasmak A, Alkan A. Susceptibility weighted imaging features of nonketotic hyperglycemia: unusual cause of hemichorea-hemiballismus. J Neuroimaging. 2015;25(2):319–24.

36.

Wolz M, Reichmann H, Reuner U, Storch A, Gerber J. Hypoglycemia-induced choreoathetosis associated with hyperintense basal ganglia lesions in T1-weighted brain MRI. Mov Disord. 2010;25(7):966–8.

37.

Renjen PN, Khanna L, Rastogi R, Khan NI. Acquired hepatocerebral degeneration. BMJ Case Rep. 2013;18:2013.

38.

Ferrara J, Jankovic J. Acquired hepatocerebral degeneration. J Neurol. 2009;256(3):320–32.

39.

Thobois S, Giraud P, Debat P, Gouttard M, Maurizi A, Perret-Liaudet A, et al. Orofacial dyskinesias in a patient with primary biliary cirrhosis: a clinicopathological case report and review. Mov Disord. 2002;17(2):415–9.

40.

Klos KJ, Ahlskog JE, Josephs KA, Fealey RD, Cowl CT, Kumar N. Neurologic spectrum of chronic liver failure and basal ganglia T1 hyperintensity on magnetic resonance imaging: probable manganese neurotoxicity. Arch Neurol. 2005;62(9):1385–90.

41.

Stracciari A, Guarino M, Pazzaglia P, Marchesini G, Pisi P. Acquired hepatocerebral degeneration: full recovery after liver transplantation. J Neurol Neurosurg Psychiatry. 2001;70(1):136–7.

42.

Fernández-Rodriguez R, Contreras A, De Villoria JG, Grandas F. Acquired hepatocerebral degeneration: clinical characteristics and MRI findings. Eur J Neurol. 2010;17(12):1463–70.

43.

Lee PH, Shin DH, Kim JW, Song YS, Kim HS. Parkinsonism with basal ganglia lesions in a patient with uremia: evidence of vasogenic edema. Parkinsonism Relat Disord. 2006;12(2):93–6.

44.

Badhwar A, Berkovic SF, Dowling JP, Gonzales M, Narayanan S, Brodtmann A, et al. Action myoclonus-renal failure syndrome: characterization of a unique cerebro-renal disorder. Brain. 2004;127(Pt 10):2173–82.

45.

Janzen L, Rich JA, Vercaigne LM. An overview of levodopa in the management of restless legs syndrome in a dialysis population: pharmacokinetics, clinical trials, and complications of therapy. Ann Pharmacother. 1999;33(1):86–92.

46.

Finelli PF, Singh JU. A syndrome of bilateral symmetrical basal ganglia lesions in diabetic dialysis patients. Am J Kidney Dis. 2014;63(2):286–8.

47.

Berkovic SF, Dibbens LM, Oshlack A, Silver JD, Katerelos M, Vears DF, et al. Array-based gene discovery with three unrelated subjects shows SCARB2/LIMP-2 deficiency causes myoclonus epilepsy and glomerulosclerosis. Am J Hum Genet. 2008;82(3):673–84.

48.

Fugate JE. Anoxic-ischemic brain injury. Neurol Clin. 2017;35(4):601–11.

49.

Venkatesan A, Frucht S. Movement disorders after resuscitation from cardiac arrest. Neurol Clin. 2006;24(1):123–32.

50.

Wijdicks EF, Parisi JE, Sharbrough FW. Prognostic value of myoclonus status in comatose survivors of cardiac arrest. Ann Neurol. 1994;35(2):239–43.

51.

Aicua Rapun I, Novy J, Solari D, Oddo M, Rossetti AO. Early Lance-Adams syndrome after cardiac arrest: prevalence, time to return to awareness, and outcome in a large cohort. Resuscitation. 2017;115:169–72.

52.

Lance JW, Adams RD. The syndrome of intention or action myoclonus as a sequel to hypoxic encephalopathy. Brain. 1963;86:111–36.

53.

Cho AR, Kwon JY, Kim JY, Kim ES, Kim HY. Acute onset Lance-Adams syndrome following brief exposure to severe hypoxia without cardiac arrest—a case report. Korean J Anesthesiol. 2013;65(4):341–4.

54.

Kirkham FJ, Haywood P, Kashyape P, Borbone J, Lording A, Pryde K, et al. Movement disorder emergencies in childhood. Eur J Paediatr Neurol. 2011;15(5):390–404.

55.

Bisciglia M, London F, Hulin J, Peeters A, Ivanoiu A, Jeanjean A. Choreoathetotic syndrome following cardiac surgery. J Clin Anesth. 2017;36:59–61.

56.

Bruyn GW, Padberg G. Chorea and polycythaemia. Eur Neurol. 1984;23(1):26–33.

57.

Midi I, Dib H, Köseoglu M, Afsar N, Günal DI. Hemichorea associated with polycythaemia vera. Neurol Sci. 2006;27(6):439–41.

58.

Edwards PD, Prosser R, Wells CE. Chorea, polycythaemia, and cyanotic heart disease. J Neurol Neurosurg Psychiatry. 1975;38(8):729–39.

59.

Dusek P, Jankovic J, Le W. Iron dysregulation in movement disorders. Neurobiol Dis. 2012;46(1):1–18.

60.

Russo N, Edwards M, Andrews T, O'Brien M, Bhatia KP. Hereditary haemochromatosis is unlikely to cause movement disorders—a critical review. J Neurol. 2004;251(7):849–52.
Ethics declarations
Conflict of Interest
Orlando Barsottini and José Luiz Pedroso each declare no potential conflicts of interest. Alberto Espay has received grant support from the NIH, Great Lakes Neurotechnologies, and the Michael J Fox Foundation; personal compensation as a consultant/scientific advisory board member for Abbvie, TEVA, Impax, Acadia, Acorda, Cynapsus/Sunovion, Lundbeck, and USWorldMeds; publishing royalties from Lippincott Williams & Wilkins, Cambridge University Press, and Springer; and honoraria from Abbvie, UCB, USWorldMeds, Lundbeck, Acadia, the American Academy of Neurology, and the Movement Disorders Society.
Human and Animal Rights and Informed Consent
This article does not contain any studies with human or animal subjects performed by any of the authors.
Additional information
Publisher's Note
Springer Nature remains neutral with regard to jurisdictional claims in published maps and institutional affiliations.
This article is part of the Topical Collection on Neurology of Systemic Diseases
Section Editor: J Biller
Electronic Supplementary Material
We illustrate with 6 patients selected movement disorders associated with metabolic disorders. Segment 1: chorea in the setting of primary hypoparathyroidism with basal ganglia calcification (Courtesy of Dr. Thiago Cardoso Vale, from the Department of Neurology, Federal University of Juiz de For a, MG, Brazil). Segment 2: Trousseau sign in hypomagnesemia. Segment 3: hemichorea-hemiballism due to non-ketotic hyperglycemia. Segment 4: asterixis in hepatic failure (Courtesy of Dr. Guilherme Felga, from the Albert Einstein Hospital, SP, Brazil). Segment 5: tremor and myoclonus in uremic encephalopathy/renal failure. Segment 6: myoclonus in post-cardiac arrest anoxic encephalopathy. Segment 7: post-pump chorea after cardiac valve replacement surgery. (HTML 268 kb)
About this article
Cite this article
Pedroso, J.L., Barsottini, O.G. & Espay, A.J. Movement Disorders in Metabolic Disorders. Curr Neurol Neurosci Rep 19, 7 (2019). https://doi.org/10.1007/s11910-019-0921-3
Keywords
Movement disorders

Abnormal movements

Metabolic disorders

Electrolytes

Internal medicine