Abstract
Purpose of Review
The sensory neuronopathies are sensory-predominant polyneuropathies that result from damage to the dorsal root and trigeminal sensory ganglia. This review explores the various causes of acquired sensory neuronopathies, the approach to diagnosis, and treatment.
Recent Findings
Diagnostic criteria have recently been published and validated to allow differentiation of sensory neuronopathies from other polyneuropathies. On the basis of serial electrodiagnostic studies, the treatment window for the acquired sensory neuronopathies has been identified as approximately 8 months. If treatment is initiated within 2 months of symptom onset, there is a better opportunity for improvement of the patient's condition.
Summary
Even though sensory neuronopathies are rare, significant progress has been made regarding characterization of their clinical, electrophysiologic, and imaging features. This does not hold true, however, for treatment. There have been no randomized controlled clinical trials to guide management of these diseases, and a standard treatment approach remains undetermined.
Access options
Buy single article
Instant access to the full article PDF.
USD 39.95
Price excludes VAT (USA)
Tax calculation will be finalised during checkout.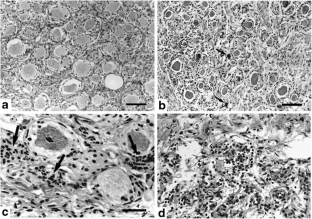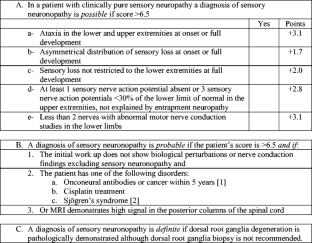 References
Papers of particular interest, published recently, have been highlighted as: • Of importance •• Of major importance
Koeppen AH, Mazurkiewicz JE. Friedreich ataxia: neuropathology revised. J Neuropathol Exp Neurol. 2013;72:78–90.

Lax NZ, Whittaker RG, Hepplewhite PD, Reeve AK, Blakely EL, Jaros E, et al. Sensory neuronopathy in patients harbouring recessive polymerase γ mutations. Brain. 2012;135:62–71.

Szmulewicz DJ, McLean CA, Rodriguez ML, Chancellor AM, Mossman S, Lamont D, et al. Dorsal root ganglionopathy is responsible for the sensory impairment in CANVAS. Neurology. 2014;82:1410–5.

Bejaoui K, Wu C, Scheffler MD, Haan G, Ashby P, Wu L, et al. SPTLC1 is mutated in hereditary sensory neuropathy, type 1. Nat Genet. 2001;27:261–2.

Vucic S, Tian D, Chong PST, Cudkowicz ME, Hedley-Whyte ET, Cros D. Facial onset sensory and motor neuronopathy (FOSMN syndrome): a novel syndrome in neurology. Brain. 2006;129:3384–90.

Colli BO, Carlotti CG, Assirati JA. Lopes L da S, Marques W, Chimelli L, et al. Dorsal root ganglionectomy for the diagnosis of sensory neuropathies. Surgical technique and results. Surg Neurol. 2008;69:266–73. discussion 273

Oh SJ, Gürtekin Y, Dropcho EJ, King P, Claussen GC. Anti-Hu antibody neuropathy: a clinical, electrophysiological, and pathological study. Clin Neurophysiol. 2005;116:28–34.

Antoine JC, Honnorat J, Camdessanché JP, Magistris M, Absi L, Mosnier JF, et al. Paraneoplastic anti-CV2 antibodies react with peripheral nerve and are associated with a mixed axonal and demyelinating peripheral neuropathy. Ann Neurol. 2001;49:214–21.

Ogawa M, Nishie M, Kurahashi K, Kaimori M, Wakabayashi K. Anti-Hu associated paraneoplastic sensory neuronopathy with upper motor neurone involvement. J Neurol Neurosurg Psychiatry. 2004;75:1051–3.

Sillevis Smitt P, Grefkens J, de Leeuw B, van den Bent M, van Putten W, Hooijkaas H, et al. Survival and outcome in 73 anti-Hu positive patients with paraneoplastic encephalomyelitis/sensory neuronopathy. J Neurol. 2002;249:745–53.

Wabbels BK, Elflein H, Lorenz B, Kolling G. Bilateral tonic pupils with evidence of anti-Hu antibodies as a paraneoplastic manifestation of small cell lung cancer. Ophthalmologica. 218:141–3.

Wymenga ANM, Slebos DJ, van der Naalt J, van Putten JWG, Peters FTM. Buikklachten en neurologische symptomen als vroege manifestatie van longkanker: een uiting van het anti-Hu-syndroom. Ned Tijdschr Geneeskd. 2003;147:616–9.

Briellmann RS, Sturzenegger M, Gerber HA, Schaffner T, Hess CW. Autoantibody-associated sensory neuronopathy and intestinal pseudo-obstruction without detectable neoplasia. Eur Neurol. 1996;36:369–73.

Wildhaber B, Niggli F, Stallmach T, Willi U, Stauffer UG, Sacher P. Intestinal pseudoobstruction as a paraneoplastic syndrome in ganglioneuroblastoma. Eur J Pediatr Surg. 2002;12:429–31.

Camdessanché J-P, Antoine J-C, Honnorat J, Vial C, Petiot P, Convers P, et al. Paraneoplastic peripheral neuropathy associated with anti-Hu antibodies. A clinical and electrophysiological study of 20 patients. Brain. 2002;125:166–75.

Taieb G, Renard D, Deverdal M, Honnorat J, Labauge P, Castelnovo G. Pure monomelic sensory neuronopathy associated with anti-yo antibodies. Muscle Nerve. 2012;45:297–8.

Antoine JC, Absi L, Honnorat J, Boulesteix JM, de Brouker T, Vial C, et al. Antiamphiphysin antibodies are associated with various paraneoplastic neurological syndromes and tumors. Arch Neurol. 1999;56:172–7.

Graus F, Keime-Guibert F, Reñe R, Benyahia B, Ribalta T, Ascaso C, et al. Anti-Hu-associated paraneoplastic encephalomyelitis: analysis of 200 patients. Brain. 2001;124:1138–48.

Côté-Mantha E, Savard M. Paraneoplastic anti-HU syndrome associated with uterine tumor. Can J Neurol Sci. 2012;39:254–5.

Fournier CN, Kalra A, Lachance DH, Zarwan C, Srinivasan J. ANNA-1 (anti-Hu) associated sensory neuronopathy with malignant mixed mullerian tumor. Muscle Nerve. 2013;47:776–7.

Sano T, Tanaka K, Ito N. Anti-Hu-antibody-associated paraneoplastic neurological syndrome accompanying testicular cancer. Int J Urol. 2010;17:99.

Lukacs S, Szabo N, Woodhams S. Rare association of anti-Hu antibody positive paraneoplastic neurological syndrome and transitional cell bladder carcinoma. Case Rep Urol. 2012;2012:724940.

Cowley A, Pascoe S. Paraneoplastic subacute sensory neuronopathy in association with adenocarcinoma of the prostate. BMJ Case Rep. 2011; doi:10.1136/bcr.04.2011.4077.

Matsui T, Hori Y, Nagano H, Eguchi H, Marubashi S, Wada H, et al. Poorly differentiated hepatocellular carcinoma accompanied by anti-Hu antibody-positive paraneoplastic peripheral neuropathy. Pathol Int. 2015;65:388–92.

Voltz R, Dalmau J, Posner JB, Rosenfeld MR. T-cell receptor analysis in anti-Hu associated paraneoplastic encephalomyelitis. Neurology. 1998;51:1146–50.

Tomita M, Koike H, Kawagashira Y, Iijima M, Adachi H, Taguchi J, et al. Clinicopathological features of neuropathy associated with lymphoma. Brain. 2013;136:2563–78.

Pignolet BS, Gebauer CM, Liblau RS. Immunopathogenesis of paraneoplastic neurological syndromes associated with anti-Hu antibodies: a beneficial antitumor immune response going awry. Oncoimmunology. 2013;2:e27384.

Manley GT, Smitt PS, Dalmau J, Posner JB. Hu antigens: reactivity with Hu antibodies, tumor expression, and major immunogenic sites. Ann Neurol. 1995;38:102–10.

Dalmau J, Graus F, Cheung NK, Rosenblum MK, Ho A, Cañete A, et al. Major histocompatibility proteins, anti-Hu antibodies, and paraneoplastic encephalomyelitis in neuroblastoma and small cell lung cancer. Cancer. 1995;75:99–109.

Kuntzer T, Antoine J-C, Steck AJ. Clinical features and pathophysiological basis of sensory neuronopathies (ganglionopathies). Muscle Nerve. 2004;30:255–68.

•• Antoine J-C, Robert-Varvat F, Maisonobe T, Créange A, Franques J, Mathis S, et al. Identifying a therapeutic window in acute and subacute inflammatory sensory neuronopathies. J Neurol Sci. 2016;361:187–91. The authors retrospectively studied the electrophysiological study findings of 86 patients with inflammatory sensory neuronopathy. They used the sensory nerve action potentials as a surrogate marker of neuronal degeneration. The sensory responses declined rapidly in the first 2 months, the decline slowed down after 7 months, and stabilized after 10 months. They concluded that there is a brief therapeutic window of 8 months. Abatement of the disease is possible if treatment is initiated in the first 2 months.

Antoine J-C, Camdessanché J-P. Treatment options in paraneoplastic disorders of the peripheral nervous system. Curr Treat Options Neurol. 2013;15:210–23.

Oh SJ, Dropcho EJ, Claussen GC. Anti-Hu-associated paraneoplastic sensory neuropathy responding to early aggressive immunotherapy: report of two cases and review of literature. Muscle Nerve. 1997;20:1576–82.

Rosenfeld MR, Dalmau J. Diagnosis and management of paraneoplastic neurologic disorders. Curr Treat Options Oncol. 2013;14:528–38.

Uchuya M, Graus F, Vega F, Reñé R, Delattre JY. Intravenous immunoglobulin treatment in paraneoplastic neurological syndromes with antineuronal autoantibodies. J Neurol Neurosurg Psychiatry. 1996;60:388–92.

Graus F, Vega F, Delattre JY, Bonaventura I, Reñé R, Arbaiza D, et al. Plasmapheresis and antineoplastic treatment in CNS paraneoplastic syndromes with antineuronal autoantibodies. Neurology. 1992;42:536–40.

Shams'ili S, de Beukelaar J, Gratama JW, Hooijkaas H, van den Bent M, van't Veer M, et al. An uncontrolled trial of rituximab for antibody associated paraneoplastic neurological syndromes. J Neurol. 2006;253:16–20.

de Jongste AH, van Gelder T, Bromberg JE, de Graaf MT, Gratama JW, Schreurs MW, et al. A prospective open-label study of sirolimus for the treatment of anti-Hu associated paraneoplastic neurological syndromes. Neuro Oncol. 2015;17:145–50.

Malinow K, Yannakakis GD, Glusman SM, Edlow DW, Griffin J, Pestronk A, et al. Subacute sensory neuronopathy secondary to dorsal root ganglionitis in primary Sjögren's syndrome. Ann Neurol. 1986;20:535–7.

Pavlakis PP, Alexopoulos H, Kosmidis ML, Mamali I, Moutsopoulos HM, Tzioufas AG, et al. Peripheral neuropathies in Sjögren's syndrome: a critical update on clinical features and pathogenetic mechanisms. J Autoimmun. 2012;39:27–33.

• Pereira PR, Viala K, Maisonobe T, Haroche J, Mathian A, Hié M, et al. Sjögren sensory neuronopathy (Sjögren ganglionopathy): long-term outcome and treatment response in a series of 13 cases. Medicine (Baltimore). 2016;95:e3632. This is a retrospective study of 13 patients with Sjögren's syndrome-associated sensory neuronopathy. Patients presented most often with ataxia and areflexia. They were treated with a number of therapies, including corticosteroids, mycophenolate mofetil, hydroxychloroquine, and intravenous immune globulin. The authors concluded that Sjögren's syndrome-associated sensory neuronopathy is heterogeneous, insidious, chronic, and debilitating despite treatment. The patients treated with immunosuppressive drugs such as mycophenolate mofetil and corticosteroids did well compared with those treated with intravenous immune globulin.

Brito-Zerón P, Akasbi M, Bosch X, Bové A, Pérez-De-Lis M, Diaz-Lagares C, et al. Classification and characterisation of peripheral neuropathies in 102 patients with primary Sjögren's syndrome. Clin Exp Rheumatol. 2013;31:103–10.

Carvajal Alegria G, Guellec D, Devauchelle-Pensec V, Saraux A. Is there specific neurological disorders of primary Sjögren's syndrome? Joint Bone Spine. 2015;82:86–9.

Fauchais A-L, Magy L, Vidal E. Central and peripheral neurological complications of primary Sjögren's syndrome. Presse Med. 2012;41:e485–93.

Griffin JW, Cornblath DR, Alexander E, Campbell J, Low PA, Bird S, et al. Ataxic sensory neuropathy and dorsal root ganglionitis associated with Sjögren's syndrome. Ann Neurol. 1990;27:304–15.

Mori K, Iijima M, Koike H, Hattori N, Tanaka F, Watanabe H, et al. The wide spectrum of clinical manifestations in Sjögren's syndrome-associated neuropathy. Brain. 2005;128:2518–34.

Damasceno A, França MC, Cury H, Nucci A. Autonomic dysfunction in non-paraneoplastic sensory neuronopathy: beyond sensory abnormalities. J Neurol. 2011;258:231–7.

Mellgren SI, Göransson LG, Omdal R. Primary Sjögren's syndrome associated neuropathy. Can J Neurol Sci. 2007;34:280–7.

Chen WH, Yeh JH, Chiu HC. Plasmapheresis in the treatment of ataxic sensory neuropathy associated with Sjögren's syndrome. Eur Neurol. 2001;45:270–4.

Gorson KC, Natarajan N, Ropper AH, Weinstein R. Rituximab treatment in patients with IVIg-dependent immune polyneuropathy: a prospective pilot trial. Muscle Nerve. 2007;35:66–9.

Santosa A, Lim AYN, Vasoo S, Lau TC, Teng GG. Neurosjögren: early therapy is associated with successful outcomes. J Clin Rheumatol. 2012;18:389–92.

Martinez ARM, Nunes MB, Nucci A, França MC. Sensory neuronopathy and autoimmune diseases. Autoimmune Dis. 2012;2012:873587.

Rist S, Sellam J, Hachulla E, Sordet C, Puéchal X, Hatron P, et al. Experience of intravenous immunoglobulin therapy in neuropathy associated with primary Sjögren's syndrome: a national multicentric retrospective study. Arthritis Care Res (Hoboken). 2011;63:1339–44.

Takahashi Y, Takata T, Hoshino M, Sakurai M, Kanazawa I. Benefit of IVIG for long-standing ataxic sensory neuronopathy with Sjögren's syndrome. IV immunoglobulin. Neurology. 2003;60:503–5.

Caroyer J-M, Manto MU, Steinfeld SD. Severe sensory neuronopathy responsive to infliximab in primary Sjögren's syndrome. Neurology. 2002;59:1113–4.

Goodman BP. Immunoresponsive autonomic neuropathy in Sjögren syndrome—case series and literature review. Am J Ther. 2017; doi:10.1097/MJT.0000000000000583.

Hadjivassiliou M, Rao DG, Wharton SB, Sanders DS, Grünewald RA, Davies-Jones AGB. Sensory ganglionopathy due to gluten sensitivity. Neurology. 2010;75:1003–8.

Marsh MN. The natural history of gluten sensitivity: defining, refining and re-defining. QJM. 1995;88:9–13.

Hadjivassiliou M, Williamson CA, Woodroofe N. The immunology of gluten sensitivity: beyond the gut. Trends Immunol. 2004;25:578–82.

Reda H, Chin RL. Peripheral neuropathies of rheumatologic disease and gluten-related disorders. Semin Neurol. 2014;34:413–24.

Brannagan TH, Hays AP, Chin SS, Sander HW, Chin RL, Magda P, et al. Small-fiber neuropathy/neuronopathy associated with celiac disease: skin biopsy findings. Arch Neurol. 2005;62:1574–8.

McKeon A, Lennon VA, Pittock SJ, Kryzer TJ, Murray J. The neurologic significance of celiac disease biomarkers. Neurology. 2014;83:1789–96.

Volta U, De Giorgio R. Gluten sensitivity: an emerging issue behind neurological impairment? Lancet Neurol. 2010;9:233–5.

Merchut MP, Adams EM, Morrissey M. Sensory neuronopathy in autoimmune chronic active hepatitis. Neurology. 1993;43:2410–1.

Magy L, Bassez G, Chassande B, Poynard T, Léger JM. Neuronopathie sensitive associee a une hepatite chronique auto-immune. Rev Neurol (Paris). 1997;153:70–2.

Liedholm LJ, Månsson A, Holmgren H. Subakuta sensoriska neuropatier. Nord Med. 1994;109:296–7. 309

Navinan MR, Piranavan P, Akram AUA, Yudhishdran J, Kandeepan T, Kulatunga A. Sensory neuronopathy complicating systemic lupus erythematosus: a case report. J Med Case Rep. 2014;8:141.

Wang J-C, Lin Y-C, Yang T-F, Lin H-Y. Ataxic sensory neuronopathy in a patient with systemic lupus erythematosus. Lupus. 2012;21:905–9.

Alix JJP, Hadjivassiliou M, Ali R, Slater D, Messenger AG, Rao DG. Sensory ganglionopathy with livedoid vasculopathy controlled by immunotherapy. Muscle Nerve. 2015;51:296–301.

•• Antoine J-C, Boutahar N, Lassablière F, Reynaud E, Ferraud K, Rogemond V, et al. Antifibroblast growth factor receptor 3 antibodies identify a subgroup of patients with sensory neuropathy. J Neurol Neurosurg Psychiatry. 2015;86:1347–55. The authors identified anti-fibroblast growth factor receptor 3 antibodies in 17 patients, 16 of whom had a sensory neuropathy. The authors concluded that these antibodies may be seen in patients with an underlying autoimmune disorder affecting the dorsal root and trigeminal nerve ganglia as 87% of patients had a non-length-dependent neuropathy consistent with sensory neuronopathy.

Kulkantrakorn K. Pyridoxine-induced sensory ataxic neuronopathy and neuropathy: revisited. Neurol Sci. 2014;35:1827–30.

Schaumburg H, Kaplan J, Windebank A, Vick N, Rasmus S, Pleasure D, et al. Sensory neuropathy from pyridoxine abuse. A new megavitamin syndrome. N Engl J Med. 1983;309:445–8.

Xu Y, Sladky JT, Brown MJ. Dose-dependent expression of neuronopathy after experimental pyridoxine intoxication. Neurology. 1989;39:1077–83.

Parry GJ, Bredesen DE. Sensory neuropathy with low-dose pyridoxine. Neurology. 1985;35:1466–8.

Perry TA, Weerasuriya A, Mouton PR, Holloway HW, Greig NH. Pyridoxine-induced toxicity in rats: a stereological quantification of the sensory neuropathy. Exp Neurol. 2004;190:133–44.

Windebank AJ, Grisold W. Chemotherapy-induced neuropathy. J Peripher Nerv Syst. 2008;13:27–46.

Balayssac D, Ferrier J, Descoeur J, Ling B, Pezet D, Eschalier A, et al. Chemotherapy-induced peripheral neuropathies: from clinical relevance to preclinical evidence. Expert Opin Drug Saf. 2011;10:407–17.

Glendenning JL, Barbachano Y, Norman AR, Dearnaley DP, Horwich A, Huddart RA. Long-term neurologic and peripheral vascular toxicity after chemotherapy treatment of testicular cancer. Cancer. 2010;116:2322–31.

Krarup-Hansen A, Helweg-Larsen S, Schmalbruch H, Rørth M, Krarup C. Neuronal involvement in cisplatin neuropathy: prospective clinical and neurophysiological studies. Brain. 2007;130:1076–88.

Kerckhove N, Collin A, Condé S, Chaleteix C, Pezet D, Balayssac D. Long-term effects, pathophysiological mechanisms, and risk factors of chemotherapy-induced peripheral neuropathies: a comprehensive literature review. Front Pharmacol. 2017;8:86.

Podratz JL, Knight AM, Ta LE, Staff NP, Gass JM, Genelin K, et al. Cisplatin induced mitochondrial DNA damage in dorsal root ganglion neurons. Neurobiol. Dis. 2011;41:661–8.

Maj MA, Ma J, Krukowski KN, Kavelaars A, Heijnen CJ. Inhibition of mitochondrial p53 accumulation by PFT-μ prevents cisplatin-induced peripheral neuropathy. Front Mol Neurosci. 2017;10:108.

Novak P, Pimentel DA, Sundar B, Moonis M, Qin L, Novak V. Association of statins with sensory and autonomic ganglionopathy. Front Aging Neurosci. 2015;7:191.

Rance NE, McArthur JC, Cornblath DR, Landstrom DL, Griffin JW, Price DL. Gracile tract degeneration in patients with sensory neuropathy and AIDS. Neurology. 1988;38:265–71.

Scaravilli F, Sinclair E, Arango JC, Manji H, Lucas S, Harrison MJ. The pathology of the posterior root ganglia in AIDS and its relationship to the pallor of the gracile tract. Acta Neuropathol. 1992;84:163–70.

Sghirlanzoni A, Pareyson D, Lauria G. Sensory neuron diseases. Lancet Neurol. 2005;4:349–61.

Rubin DI, Daube JR. Subacute sensory neuropathy associated with Epstein-Barr virus. Muscle Nerve. 1999;22:1607–10.

Ramos F, Monforte C, Luengo Neuronopatia aguda sensitiva asociada a infeccion por virus varicela-zoster. Rev. Neurol. 1999;28:1067–9.

Shimazaki R, Ueyama H, Mori T, Mori M, Fujimoto S, Kumamoto T, et al. Chronic sensory neuronopathy associated with human T-cell lymphotropic virus type I infection. J Neurol Sci. 2002;194:55–8.

Mansukhani KA, Khadilkar SV. Consider leprosy as an etiology of sensory neuronopathy. Muscle Nerve. 2017;55:928.

Chiu C-C, Yang C-Y, Yang T-F, Lin K-P, Huang S-H, Wang J-C. Acute sensory neuronopathy following enterovirus infection in a 3-year-old girl. Neuropediatrics. 2017;48:190–3.

Dalakas MC. Chronic idiopathic ataxic neuropathy. Ann Neurol. 1986;19:545–54.

van Dijk GW, Wokke JH, Notermans NC, van den Berg LH, Bär PR. Indications for an immune-mediated etiology of idiopathic sensory neuronopathy. J Neuroimmunol. 1997;74:165–72.

Camdessanché J-P, Jousserand G, Ferraud K, Vial C, Petiot P, Honnorat J, et al. The pattern and diagnostic criteria of sensory neuronopathy: a case-control study. Brain. 2009;132:1723–33.

• Antoine J-C, Robert-Varvat F, Maisonobe T, Créange A, Franques J, Mathis S, et al. Testing the validity of a set of diagnostic criteria for sensory neuronopathies: a francophone collaborative study. J Neurol. 2014;261:2093–100. The sensory neuronopathy criteria, published in 2009, were validated in 210 patients in a multicenter French study.

Lauria G, Pareyson D, Sghirlanzoni A. Neurophysiological diagnosis of acquired sensory ganglionopathies. Eur Neurol. 2003;50:146–52.

Sterman AB, Schaumburg HH, Asbury AK. The acute sensory neuronopathy syndrome: a distinct clinical entity. Ann Neurol. 1980;7:354–8.

Windebank AJ, Blexrud MD, Dyck PJ, Daube JR, Karnes JL. The syndrome of acute sensory neuropathy: clinical features and electrophysiologic and pathologic changes. Neurology. 1990;40:584–91.

Rothwell JC, Traub MM, Day BL, Obeso JA, Thomas PK, Marsden CD. Manual motor performance in a deafferented man. Brain. 1982;105(Pt 3):515–42.

Molinuevo JL, Graus F, Serrano C, Reñe R, Guerrero A, Illa I. Utility of anti-Hu antibodies in the diagnosis of paraneoplastic sensory neuropathy. Ann Neurol. 1998;44:976–80.

Chalk CH, Windebank AJ, Kimmel DW, McManis PG. The distinctive clinical features of paraneoplastic sensory neuronopathy. Can J Neurol Sci. 1992;19:346–51.

Gultekin SH, Rosenfeld MR, Voltz R, Eichen J, Posner JB, Dalmau J. Paraneoplastic limbic encephalitis: neurological symptoms, immunological findings and tumour association in 50 patients. Brain. 2000;123(Pt 7):1481–94.

Chartrand-Lefebvre C, Howarth N, Grenier P, Keime F, Orcel B, Beigelman C. Association of small cell lung cancer and the anti-Hu paraneoplastic syndrome: radiographic and CT findings. AJR Am J Roentgenol. 1998;170:1513–7.

Bannas P, Weber C, Derlin T, Lambert J, Leypoldt F, Adam G, et al. 18F-FDG-PET/CT in the diagnosis of paraneoplastic neurological syndromes: a retrospective analysis. Eur Radiol. 2010;20:923–30.

Titulaer MJ, Soffietti R, Dalmau J, Gilhus NE, Giometto B, Graus F, et al. Screening for tumours in paraneoplastic syndromes: report of an EFNS task force. Eur J Neurol. 2011;18:19–e3.

Lauria G, Pareyson D, Grisoli M, Sghirlanzoni A. Clinical and magnetic resonance imaging findings in chronic sensory ganglionopathies. Ann Neurol. 2000;47:104–9.

Bao Y-F, Tang W-J, Zhu D-Q, Li Y-X, Zee C-S, Chen X-J, et al. Sensory neuronopathy involves the spinal cord and brachial plexus: a quantitative study employing multiple-echo data image combination (MEDIC) and turbo inversion recovery magnitude (TIRM). Neuroradiology. 2013;55:41–8.

Casseb RF, de Paiva JLR, Branco LMT, Martinez ARM, Reis F, de Lima-Junior JC, et al. Spinal cord diffusion tensor imaging in patients with sensory neuronopathy. Neuroradiology. 2016;58:1103–8.

Gorson KC, Ropper AH. Positive salivary gland biopsy, Sjögren syndrome, and neuropathy: clinical implications. Muscle Nerve. 2003;28:553–60.
Ethics declarations
Conflict of Interest
The authors declare that they have no conflict of interest.
Human and Animal Rights and Informed Consent
This article does not contain any studies with human or animal subjects performed by any of the authors.
Additional information
This article is part of the Topical Collection on Nerve and Muscle
About this article
Cite this article
Crowell, A., Gwathmey, K.G. Sensory Neuronopathies. Curr Neurol Neurosci Rep 17, 79 (2017). https://doi.org/10.1007/s11910-017-0784-4
Published:

DOI: https://doi.org/10.1007/s11910-017-0784-4
Keywords
Sensory neuronopathy

Dorsal root ganglion

Dorsal root ganglionopathy

Paraneoplastic neuropathy

Sjögren's syndrome