Abstract
Rhombencephalitis (RE) is a syndrome of multiple causes and multiple outcomes. Most authors now use the terms "rhombencephalitis" and "brainstem encephalitis" interchangeably even though anatomically they are slightly different. The etiologic categories of RE include infections, autoimmune diseases, and paraneoplastic syndromes (PNS). Listeria is the most common cause of infectious RE. Listeria RE primary occurs in healthy young adults. It usually occurs as a biphasic time course with a flu-like syndrome followed by brainstem dysfunction; 75% of patients have a cerebrospinal fluid (CSF) pleocytosis, and almost 100% have an abnormal brain MRI scan. Positive CSF and blood cultures are the most specific for diagnosis. Treatment primarily is with ampicillin. Enterovirus 71 is probably the second most common infectious cause of RE; however, 95% of cases have occurred in the Asian-Pacific region and there is no specific treatment. Herpes simplex virus (HSV) is the third most common infectious cause of RE, and about 80% of cases are caused by HSV1 and 20% by HSV2. About 50% only had involvement of the brainstem whereas the other 50% also had supratentorial involvement of the temporal and frontal lobes. Mortality with acyclovir treatment was 22% versus those not on acyclovir 75%. Epstein-Barr virus (EBV) and human herpesvirus 6 (HHV6) have caused a few cases. The most common autoimmune etiology is Behçet disease. Over 90% of those with Behçet RE had abnormal MRI scans and 94% had a CSF pleocytosis. Treatment is with corticosteroids and immunosuppressive agents, but only 25% have complete recovery. Paraneoplastic causes are the third category of RE. Brain MRIs are usually normal; there is usually a CSF pleocytosis but the protein is usually normal. Often anti-neuronal antibodies can be found. Prognosis is poor and treatment is only partially beneficial. Because Listeria and HSV are the most common treatable acute causes of RE, we recommend empiric therapy with ampicillin and acyclovir for all cases after samples have been obtained from CSF and blood for cultures and the polymerase chain reaction (PCR). Antibiotics can be changed based upon MRI, culture results, PCR results, and antibody studies.
Access options
Buy single article
Instant access to the full article PDF.
USD 39.95
Price excludes VAT (USA)
Tax calculation will be finalised during checkout.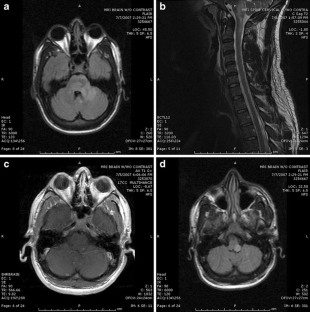 References
Papers of particular interest, published recently, have been highlighted as: • Of importance •• Of major importance
Armstrong RW, Fund PC. Brainstem encephalitis (rhombenecephalitis) due to Listeria monocytogenes: case report and literature review. Clin Infect Dis. 1993;16:689–702.

Reynauld L, Graf M, Gentile I, et al. A rare case of brainstem encephalitis by Listeria monocytogenes with isolated mesencephalic localization. Case report and review. Diagn Microbiol Infect Dis. 2007;58:121–3.

Smiatacz T, Kowalik MM, Hlebowicz M. Prolonged dysphagia due to Listeria-rhombencephalitis with brainstem abscess and acute polyradiculoneuritis. J Infect. 2006;52:e165–c167.

Crawford JR, Kadom N, Santi MR, et al. Human herpes virus 6 rhombencephalitis in immunocompetent children. J Child Neurol. 2007;22:1260–8.

Nichter CA, Pavlakis SG, Shaikh U, et al. Rhombencephalitis caused by West Nile fever virus. Neurology. 2000;55:153.

Medina-Flores R, Germanwala A, Molina JT, et al. October 2003: a 59-year-old woman with sudden onset of diplopia. Brain Pathol. 2004;14:225–6.

•• Moragas M, Martinez-Yelamos S, Majos C, et al. Rhombencephalitis. Medicine. 2011;90:256–61. This is a retrospective analysis of RE cases seen over an 18-year period at University Hospital of Bellvitige (Barcelona, Spain).

• Huang CC, Liu CC, Chang YC, et al. Neurologic complications in children with enterovirus 71 infection. N Engl J Med. 1999;341:936–42. Excellent clinical report on EV 71 rhombencephalitis.

• Bart R. Listeria and atypical presentations of listeria in the central nervous system. Semin Neurol. 2000;20:361–73. Excellent review of CNS listeriosis.

• Mylonakis E, Hohmann E, Calderwood SB. Central nervous system infection with Listeria monocytogenes: 33 years' experience at a general hospital and review of 776 episodes from the literature. Medicine. 1998;77:313–36. Excellent clinical report on CNS listeriosis.

Goulet V, Marchetti P. Listeriosis in 225 non-pregnant patients in 1992: clinical aspects and outcome in relation to predisposing conditions. Scand Infect Dis. 1996;28:367–74.

Eck H. Encephalomyelitis listeriaca apostematosa. Schweiz Med Wochenschr. 1957;87:210–4.

Antal EA, Dietrichs E, Løberg EM, et al. Brainstem encephalitis in listeriosis. Scand J Infect Dis. 2005;37:190–4.

Uldry PA, Kuntzer T, Bogousslavsky J, et al. Early symptoms and outcome of Listeria monocytogenes rhombencephalitis: 14 adult cases. J Neurol. 1993;240:235–42.

Alstadhaug KB, Antel EA, Nielsen EW, et al. Listeria rhombencephalitis—a case report. Eur J Neurol. 2006;13:93–102.

• Kayaaslan BU, Akinci E, Bilen S, et al. Listerial rhombencephalitis in an immunocompetent young adult. Intl J Infect Dis. 2009;13:e65–7. This is only a single case report but is an excellent discussion.

Popescu GA, Saquepee M, Poisson D, Prazuck T. Treatment difficulties of a listerial rhombencephalitis in an adult patient allergic to penicillins. J Clin Pathol. 2004;57:665–6.

Morosi S, Francisci D, Baldelli F. A case of rhombencephalitis caused by Listeria monocytogenes successfully treated with linezolid. J Infect. 2006;52:e73–5.

Bianchi G, Appollonio I, Piolti R, et al. Listeria rhombencephalitis: report of two cases with early diagnosis and favourable outcome. Clin Neurol Neurosurg. 1995;97:344–8.

Chumakov M, Voroshilova M, Shindarov L. Enterovirus 71 isolated from cases of epidemic poliomyelitis-like disease in Bulgaria. Arch Virol. 1979;60:329–40.

• Ooi MH, Wong SC, Lewthwaite P, et al. Clinical features, diagnosis, and management of enterovirus 71. Lancet Neurol. 2010;9:1097–105. This is an excellent review of EV 71 outbreaks, clinical disease, virological diagnosis, and treatment.

Vallet S, Legrand-Quillien M-C, Dailland T, et al. Fatal case of enterovirus 71 infection, France, 2007. Emerg Infect Dis. 2009;15:1837–40.

Shen W-C, Chiu H-H, Chow K-C, et al. MR imaging findings of enteroviral encephalomyelitis: an outbreak in Taiwan. Am J Neuroradiol. 1999;20:1889–95.

•• Livorsi D, Anderson E, Qureshi S, et al. Brainstem encephalitis: an unusual presentation of herpes simplex virus infection. J Neurol. 2010;257:1432–7. This is an excellent review of HSV rhombencephalitis/brainstem encephalitis.

International Study Group for Behcet's disease. Criteria for diagnosis of Behcet's disease. Lancet. 1990;335:1078–80.

Lehner T, Lavery R, Mith R, et al. Association between the 65-kolodalton heat shock protein, streptococcus sanguis and the corresponding auto antibodies in Behcet's syndrome. Infect Immun. 1991;59:1434–41.

Ohno S, Ohguchi M, Hirose S, et al. Close association of HLS-BW51 with Behcet's disease. Arch Ophthalmol. 1982;100:1455–8.

Pallis CA, Fudge BJ. The neurological complications of Behcet's syndrome (review). Arch Neurol Psychiatr. 1956;75:1–14.

Wadia N, Williams E. Behcet's syndrome with neurological complications. Brain. 1957;80:59–71.

Kidd D, Steuel A, Denman AM, et al. Neurological complications in Behcet's syndrome. Brain. 1999;122:2183–94.

• Metreau-Vastel J, Mikaeloff Y, Tardieu M, et al. Neurological involvement in pediatric Behcet's disease. Neuropediatrics. 2010;41:228–34. This is a recent review with up-to-date references.

Akman-Demir G, Serdaroglu P, Tasci B, the Neuro-Behçet Study Group. Clinical patterns of neurological involvement in Behcet's disease: evaluation of 200 patients. Brain. 1999;122:2171–81.

Graus F, Delattre JY, Antoine JC, et al. Recommended diagnostic criteria for paraneoplastic syndromes. JNNP. 2004;75:1135–40.

•• Dalmau J, Rosenfeld MR. Paraneoplastic syndromes of the CNS. Lancet Neurol. 2008;7:327–40. This is an excellent general review of CNS paraneoplastic syndromes.

Rojas I, Grause F, Keime-Guibert F, et al. Long-term clinical outcome of paraneoplastic cerebellar degeneration and anti-Yo antibodies. Neurology. 2000;55:713–5.

Bernal F, Shams'ili S, Rojas I, et al. Anti-Tr antibodies as markers of paraneoplastic cerebellar degeneration and Hodgkin's disease. Neurology. 2003;60:230–4.

Pittock SJ, Lucchinetti C, Parisi JE, et al. Amphiphysis auto-immunity: paraneoplastic accompaniments. Ann Neurol. 2005;58:96–107.

Coppens T, Van den Bergh P, Duprez TJ, et al. Paraneoplastic rhombencephalitis and brachial plexopathy in two cases of amphiphysin auto-immunity. Eur Neurol. 2006;55:80–3.

De Andres C, Esquivel A, De Villoria JG, et al. Unusual magnetic resonance imaging and cerebrospinal fluid findings in paraneoplastic cerebellar degeneration: a sequential study. JNNP. 2006;77:562–3.

•• Saiz A, Bruna J, Stourac P, et al. Anti-Hu-associated brainstem encephalitis. JNNP. 2009;80:404–7. This is an excellent review of 22 cases of brainstem encephalitis.

Rojas-Marcos I, Rousseau A, Keime-Guibert F, et al. Spectrum of paraneoplastic neurologic disorders in women with breast and gynecologic cancer. Medicine. 2003;82:216–23.

• Vigliani MC, Novero D, Cerrato P, et al. Double step paraneoplastic brainstem encephalitis: a clinicopathological study. J Neurol Neurosurg Psychiatr. 2009;80:693–5. This is an interesting and atypical case report.

Bodian D. Poliomyelitis: pathologic anatomy. In: Poliomyelitis: papers and discussions presented at the first International Poliomyelitis Conference. Philadelphia, Lippincott; 1949. p. 62–84.

Goto K, Sanefuji M, Kusuhara K, et al. Rhombencephalitis and coxsackievirus A16. Emerg Infect Dis. 2009;15:1689–91.

Kuntzer T, Bogousslavsky J, Regli F. Encéphalite "bénigne" du tronc cerebral. Rev Neurol (Paris). 1987;143:737–45.

Johnson RT, Burke DS, Elwell M, et al. Japanese encephalitis: immunocytochemical studies of viral antigen and inflammatory cells in fatal cases. Ann Neurol. 1985;18:567–73.

Feit H, Luby JP, Mollenrich S. Brainstem encephalitis with serological evidence of St. Louis encephalitis [letter]. J Neurol Neurosurg Psychiatr. 1981;44:368.

Burton JM, Kern RZ, Holliday W, et al. Neurologic manifestations of West Nile virus infection. Can J Neurol Sci. 2004;31:183–93.

Davis LE, DeBiasi R, Goade DE, et al. West Nile virus neuroinvasive disease. Ann Neurol. 2006;60:286–300.

Shian WJ, Chi CS. Fatal brainstem encephalitis caused by Epstein-Barr virus. Pediatr Radiol. 1994;24:596–7.

Angelina L, Bugiani M, Zibordi F, et al. Brainstem encephalitis resulting from Epstein-Barr virus mimicking an infiltrating tumor in a child. Pediatr Radiol. 2000;22:130–2.

Duong M, Piroth L, Chavanet P, Comvernoux A, et al. A case of rhombencephalitis with isolation of cytomegalovirus and mycobacterium avium complex in a woman with AIDS. AIDS. 1994;8:1356–7.

Kleinschmidt-DeMasters BK, Gilden DH. The expanding spectrum of herpes virus infections of the nervous system. Brain Pathol. 2001;11:440–51.

Kocen RS, Parsons M. Neurological complications of tuberculosis: some unusual manifestations. Q J Med. 1970;39:17–30.

Farrell VJ. Brainstem tuberculoma in adult patients: diagnosis and treatment. Surg Neurol. 1990;34:383–9.

Al Deeb SM, Yaqub BA, Sharif HS, Phadke JG. Neurobrucellosis: clinical characteristics, diagnosis and outcome. Neurology. 1989;39:498–501.

Kuntzer T, Bogousslavsky J, Miklossy J, et al. Borrelia rhombencephalomyelopathy. Arch Neurol. 1991;48:832–6.

Wali GM. Bickerstaff's brainstem encephalitis associated with typhoid fever. Postgrad Med J. 1991;67:1011–2.

Platzeck C, Foerster EC, Schneider MC. Encephalitis in Legionella bozemanii pneumonia. Dtsch Med Wochenschr. 1990;115:1956–9.

Hely MA, Williamson PM, Terenty TR. Neurological complications of mycoplasma pneumoniae infection. Clin Exp Neurol. 1984;20:153–60.

Wasenko JJ, Park BJ, Jubelt B, et al. Magnetic resonance imaging of mesenrhombencephalitis. J Clin Image. 2002;26:237–42.

Lanczik O, Lecei O, Schwarz S, Hennerici M. Mycoplasma pneumoniae infection as a treatable cause of brainstem encephalitis. Arch Neurol. 2003;60:1813.

Roine RO, Hillbom M, Valle M, et al. Fatal encephalitis caused by a bat-borne rabies-related virus: clinical findings. Brain. 1988;111:1505–16.

Bastian FO, Wende RD, Singer DB, Zeller RS. Eastern equine encephalomyelitis: histopathologic and ultrastructural changes with isolation of the virus in a human case. Am J Clin Pathol. 1975;64:10–3.

Zagardo MT, Shanholtz CB, Zoarski GH, Rothman MI. Rhombencephalitis caused by adenovirus: MR imaging appearance. Am J Neuroradiol. 1998;19:1901–3.

Protheroe SM, Mellor DH. Imaging in influenza A encephalitis. Arch Dis Child. 1991;66:702–5.

Woods II ML, Currie BJ, Howard DM, et al. Neurological melioidosis: seven cases from the Northern Territory of Australia. Clin Infect Dis. 1992;15:163–9.

Barrios N, Tabbi CK, Rotstein C, et al. Brainstem invasion by aspergillus fumigatus in a child with leukemia. New York State J Med. 1988;88:656–8.

Macdonell RA, Donnan RA, Kalnins RM, et al. Otocerebral mucormycosis—a case report. Clin Exp Neurol. 1987;23:225–32.

Bertoldi RV, Sperling MR. Nocardia brainstem abscess: diagnosis and response to medical therapy. Bull Clin Neurosci. 1984;49:99–104.

Sotelo J, Guerrero V, Rubio F. Neurocysticercosis: a new classification based on active and inactive forms: a study of 753 cases. Arch Intern Med. 1985;145:442–5.

Kure K, Harris C, Morin LS, Dickson DW. Solitary midbrain toxoplasmosis and olivary hypertrophy in a patient with acquired immunodeficiency syndrome. Clin Neuropathol. 198;8:35–40.

Johnson RT, Richardson EP. The neurological manifestations of systemic lupus erythematosus: a clinical-pathological study of 24 cases and review of the literature. Medicine (Baltimore). 1968;47:337–9.

Wasserfallen J-B, Schaller MD. Unusual rhombencephalitis in relapsing polychondritis. Ann Rheum Dis. 1992;51:1184.

Deves D, Bombois S, Ferriby D, et al. Acute rhombencephalitis with fever and bilateral hearing loss secondary to Gougerot-Sjogren's syndrome. Rev Neuro (Paris). 2002;158:211–4.

Oksanen V. Neurosarcoidosis: clinical presentations and course in 50 patients. Acta Neurol Scand. 1986;73:283–90.

Hashimoto T, Takizawa H, Yukimura K, Ohta K. Vogt-Koyanagi-Harada disease associated with brainstem encephalitis. J Clin Neurosci. 2009;16:593–5.
Disclosure
B. Jubelt is an upaid advisory board member for the National Multiple Sclerosis Society (New York Upstate Chapter) and for the Multiple Sclerosis Resources of Central New York. He is a consultant for EMD Serono, Novartis, Biogen, and Teva Neuroscience. He has received grants paid to his institution from Serono, Pfizer, Biogen, Genzyme, EMD Serono, Novartis, and Sanofi-Aventis, and he has received honoraria from the National Multiple Sclerosis Society and Multiple Sclerosis Resources of Central New York. He has received payment for development of continuing medical education presentations from TCL Institutes and Prime Education Inc., and has received payment for service on speakers' bureaus from TEVA Neuroscience, EMD Serono, Biogen, and Bayer Health Care. His travel expenses have also been reimbursed for his work as a consultant, speaking engagements, CME talks, and his work on speakers' bureaus. C. Mihai: none; T. Li: none; P. Veerapaneni; none.
About this article
Cite this article
Jubelt, B., Mihai, C., Li, T.M. et al. Rhombencephalitis / Brainstem Encephalitis. Curr Neurol Neurosci Rep 11, 543–552 (2011). https://doi.org/10.1007/s11910-011-0228-5
Published:

Issue Date:

DOI: https://doi.org/10.1007/s11910-011-0228-5
Keywords
Rhombencephalitis, brainstem encephalitis

Infectious

Listeria

Enterovirus (EV)

Herpes simplex virus

Autoimmune

Behçet disease

Paraneoplastic syndromes