Abstract
Coccidioidomycosis incidence has been increasing recently in endemic regions. The disease can manifest with variable pulmonary and cutaneous presentations, challenging the clinical diagnosis. Our case highlights the differential diagnosis that must be considered for presentations of erythema nodosum and cavitating lung lesions and the importance of synthesizing the entire patient history—including travel history—for construction of appropriate diagnostic and treatment plans.
Access options
Buy single article
Instant access to the full article PDF.
US$ 39.95
Tax calculation will be finalised during checkout.
Subscribe to journal
Immediate online access to all issues from 2019. Subscription will auto renew annually.
US$ 79
Tax calculation will be finalised during checkout.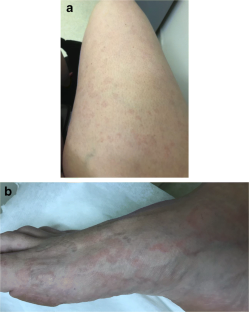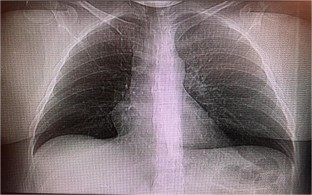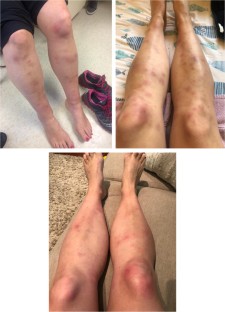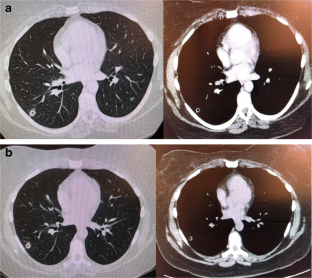 Data Availability
All data and materials are available from the authors.
References
1.

Stockamp NW, Thompson GR 3rd. Coccidioidomycosis. Infect Dis Clin N Am. 2016;30(1):229–46.

2.

DiCaudo DJ. Coccidioidomycosis: a review and update. J Am Acad Dermatol. 2006;55(6):929–42 quiz 943–925.

3.

Garcia Garcia SC, Salas Alanis JC, Flores MG, et al. Coccidioidomycosis and the skin: a comprehensive review. An Bras Dermatol. 2015;90(5):610–9.

4.

Queiroz-Telles F, Fahal AH, Falci DR, et al. Neglected endemic mycoses. Lancet Infect Dis. 2017;17:e367–77.

5.

Blake T, Manahan M, Rodins K. Erythema nodosum – a review of an uncommon panniculitis. Dermatol Online J. 2014;20(4):22376.

6.

Said S, Yanuck J, Burns M. A case of erythema nodosum with coccidioidomycosis. Clin Pract Cases Emerg Med. 2017;1(3):251–2.

7.

Gafoor K, Patel S, Girvin F, et al. Cavitary lung diseases: a clinical-radiologic algorithmic approach. Chest. 2018;153(6):1443–65.

8.

Malo J, Luraschi-Monjagatta C, Wolk DM, et al. Update on the diagnosis of pulmonary coccidioidomycosis. Ann Am Thorac Soc. 2014;11(2):243–53.

9.

Spivey CG, Jones FL, Bopp RK. Cavitary coccidioidomycosis: experience in a tuberculosis hospital outside the endemic area. Dis Chest. 1969;56(1):13–8.

10.

Freedman M, Jackson BR, McCotter O, Benedict K. Coccidioidomycosis outbreaks, United States and worldwide, 1940–2015. Emerg Infect Dis. 2018;24:417–23.

11.

Diaz JH. Travel-related risk factors for coccidioidomycosis. J Travel Med. 2018;25(1). https://doi.org/10.1093/jtm/tay027.

12.

Galgiani JN, Ampel NM, Blair JE, et al. Infectious Diseases Society of America (IDSA) clinical practice guideline for the treatment of coccidioidomycosis. Clin Infect Dis 2016. 2016;63:717–22.

13.

Salzer HJF, Stoney RJ, Angelo KM, et al. Epidemiological aspects of travel-related systemic endemic mycoses: a GeoSentinel analysis, 1997–2017. J Travel Med. 2018;25(1):1–6.

14.

Bezold CP, Khan MA, Adame G, et al. Notes from the field: increase in Coccidioidomycosis — Arizona, October 2017–March 2018. MMWR Morb Mortal Wkly Rep. 2018;67:1246–7.
Ethics declarations
Conflict of Interest
Aisha Khatib, Avinash N. Mukkala, Tianna Chong-Kit, and Hira Raheel each declare no potential conflicts of interest. Andrea K. Boggild is a Section Editor for Current Infectious Disease Reports.
Human and Animal Rights and Informed Consent
This article does not contain any studies with human or animal subjects performed by any of the authors.
Consent for Publication
The patient described herein provided verbal consent for scientific communication of her personal health information including images.
Additional information
Publisher's Note
Springer Nature remains neutral with regard to jurisdictional claims in published maps and institutional affiliations.
This article is part of the Topical Collection on Tropical, Travel, and Emerging Infections
About this article
Cite this article
Khatib, A., Mukkala, A.N., Chong-Kit, T. et al. Erythema Nodosum and a Cavitary Lung Lesion in a Febrile Returned Traveler from Arizona: a Case of Coccidioidomycosis. Curr Infect Dis Rep 23, 1 (2021). https://doi.org/10.1007/s11908-020-00745-8
Keywords
Cavitary lung lesion

Coccidioidomycosis

Erythema nodosum

Fever in the returning traveler

Valley fever