Abstract
Scabies and bedbugs are two emerging ectoparasitic infections reported in crowded areas, including hospitals. Skin involvement is the main presenting initial manifestation for both infections, and the diagnosis is yet challenging for both. Topical permethrin is considered the first-line therapy for scabies except for crusted scabies which is mainly treated with oral ivermectin. To the contrary, treatment of bedbugs is mainly symptomatic. Avoiding close contact, early diagnosis and treatment of infected persons as well as decontamination of the involved environment play an essential role in controlling outbreaks in healthcare settings.
Access options
Buy single article
Instant access to the full article PDF.
US$ 39.95
Tax calculation will be finalised during checkout.
Subscribe to journal
Immediate online access to all issues from 2019. Subscription will auto renew annually.
US$ 79
Tax calculation will be finalised during checkout.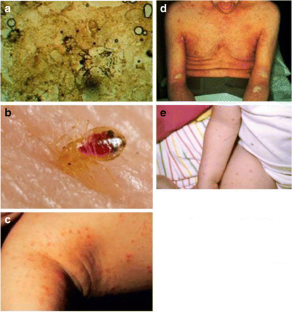 References
Papers of particular interest, published recently, have been highlighted as: • Of importance •• Of major importance
1.

Beeson BB. Acarusscabiei. Study of its history. Arch Dermatol Syphilogr. 1927;16:297–307.

2.

Montesu MA, Cottoni F, Bonomo GC, et al. Discoverers of the parasitic origin of scabies. Am J Dermopathol. 1991;13:425–7.

3.

Krause-Parello C, Sciscione P. Bedbugs: an equal opportunist and cosmopolitan creature. J School Nurs. 2009;25:126–32.

4.•

Gangloff-Kaufmann JL, Pichler C. Guidelines for prevention and management of bed bugs in shelter and group living facilities. New York State IPM Program, Cornell University. http://www.healthvermont.gov/prevent/bedbugs/documents/BedBugs_Guidelines_for_Shelters_Group_Living_Facilities.pdf. Accessed 12 May 2014. This article reports the guidelines for controlling bedbugs in shelters.

5.

Anderson A, Leffler K. Bedbug infestations in the news: a picture of an emerging public health problem in the United States. J Environ Health. 2008;70:24–7.

6.

Romero A, Potter MF, Potier DA, et al. Insecticide resistance in the bed bug: a factor in the pest's sudden resurgence? J Med Entomol. 2007;44(2):175–8.

7.•

Environmental Protection Agency. DDT – a brief history and status. http://www.epa.gov/pesticides/factsheets/chemicals/ddt-brief-history-status.htm. Accessed 12 May 2014. This report describes the use and side effects of DDT.

8.

Chosidow O. Clinical practices. Scabies. N Engl J Med. 2006;354:1718–27.

9.••

Shimose L, Munoz-Price LS. Diagnosis, prevention, and treatment of scabies. Curr Infect Dis Rep. 2013;15:426–31. This article reviews the diagnosis, treatment and prevention of scabies.

10.

Goddard J, de Shazo R. Bed bugs (Cimex lectularius) and clinical consequences of their bites. JAMA. 2009;301:1358–66.

11.•

Nozarko L. Bed bug bites: identification, treatment and prevention. BJHA. 2011;5:12–4. This paper reviews bedbug diagnosis and management.

12.

Central Ohio Bed Bugs Task Force Web Site. http://centralohiobedbugs.org/. Accessed 12 May 2014.

13.••

Capobussi M, Sabatino G, Donadini A, et al. Control of scabies outbreaks in an Italian hospital: an information-centered management strategy. Am J Infect Control. 2014;42:316–20. This article describes the control of a scabies outbreak in a hospital in Italy.

14.••

Fuller LC. Epidemiology of scabies. Curr Opin Infect Dis. 2013;26:123–6. This article reviews the epidemiology of scabies.

15.••

Hay RJ, Steer AC, Chosidow O, Currie BJ. Scabies: a suitable case for a global control initiative. Curr Opin Infect Dis. 2013;26:107–9. This article highlights the importance of applying measures to control scabies.

16.•

Ladbury G, Morroy G, van Hoeven-Dekkers S, et al. An outbreak of scabies in multiple linked healthcare settings in The Netherlands. Infect Control Hosp Epidemio. 2012;33:1047–50. This article reports the outbreak of scabies in several hospitals in The Netherlands and the control measures that were followed to contain it.

17.•

Stoevesandt J, Carlé L, Leverkus M, et al. Control of large institutional scabies outbreaks. J Dtsch Dermatol Ges. 2012;10:637–47. This article highlights the concepts of successful scabies elimination.

18.

Cesiari TF, Manignago BF. Scabies, pediculosis, bedbugs and stinkbugs: uncommon presentations. Clin Dermatol. 2005;23:545–54.

19.

National Pest Management Association. 2011 bugs without borders survey. New data shows bed bug pandemic is growing. http://www.pestworld.org/news-and-views/press-releases/press-releases/2011-bugs-without-borders-survey-new-data-shows-bed-bug-pandemic-is-growing/. Accessed 12 May 2014.

20.••

Munoz-Price LS, Safdar N, Beier JC, et al. Bed bugs in healthcare settings. Infect Control Hosp Epidemiol. 2012;33:1137–42. This is a review about the control of bedbugs in healthcare settings.

21.•

El-Azazy OM, Al-Behbehani B, Abdou NE. Increasing bedbug, Cimex lectularius, infestations in Kuwait. J Egypt Soc Parasitol. 2013;43:415–8. This article describes an outbreak of bedbugs in Kuwait and the measures done to control it.

22.

Delaunay P, Blanc V, Dandine M, et al. Bedbugs and healthcare-associated dermatitis. France Emerg Infect Dis. 2009;15:989–90.

23.

Jarell A, Schalock PC. Procedures in dermatologic diagnosis and therapy. In: Schalock PC, Hsu JT, Arndt KA, editors. Lippincott's primary care dermatology. Philadelphia, PA: Lippincott Williams & Wilkins; 2011.

24.

Sarwat MA, el Okbi LM, el Sayed MM, et al. Parasitological and clinical studies on human scabies in Cairo. J Egypt Soc Parasitol. 1993;23:809–19.

25.••

Park JH, Kim CW, Kim SS. The diagnostic accuracy of dermoscopy for scabies. Ann Dermatol. 2012;24:194–9. This trial highlights the efficacy of videodermatoscopy for the diagnosis of scabies.

26.

Leung V, Miller M. Detection of scabies: a systematic review of diagnostic methods. Can J Infect Dis Med Microbiol. 2011;22:143–6.

27.

Lacarrubba F, Musumeci M, Caltabiano R, et al. High-magnification videodermatoscopy: a new noninvasive diagnostic tool for scabies in children. Pediatr Dermatol. 2001;18:439–41.

28.••

Jayaraj R, Hales B, Viberg L, et al. A diagnostic test for scabies: IgE specificity for a recombinant allergen of Sarcoptes scabiei. Diagn Microbiol Infect Dis. 2011;71:403–7. In this study specific IgE antibodies to a major scabies antigen were used in the diagnosis of scabies.

29.•

Bezold G, Lange M, Schiener R, et al. Hidden scabies: diagnosis by polymerase chain reaction. Br J Dermatol. 2001;144:614–8. This study demonstrates the use of PCR to diagnose scabies in a patient presenting with atypical eczema.

30.

Thomas I, Kihiczak GG, Schwartz RA. Bedbug bites: a review. Int J Dermatol. 2004;43:430–3.

31.

Witkowski JA, Parish LC. Scabies: a cause of generalized urticaria. Cutis. 1984;33:277–9.

32.

Chapel TA, Krugel L, Chapel J, Segal A. Scabies presenting as urticaria. JAMA. 1981;246:1440–1.

33.

Roberts LJ, Huffam SE, Walton SF, et al. Crusted scabies: clinical and immunological findings in seventy-eight patients and a review of the literature. J Infect. 2005;50:375–81.

34.•

Cölgeçen-Özel E, Ertaş R, Utaş S, Kontaş O. Scabies mimicking mastocytosis in two infants. Turk J Pediatr. 2013;55:533–5.

35.

Phan A, Dalle S, Balme B, Thomas L. Scabies with clinical features and positive darier sign mimicking mastocytosis. Pediatr Dermatol. 2009;26:363–4.

36.

Salces IG, Alfaro J, Sáenz DE, et al. Scabies presenting as solitary mastocytoma-like eruption in an infant. Pediatr Dermatol. 2009;26:486–8.

37.

Guldbakke KK, Khachemoune A. Crusted scabies: a clinical review. J Drugs Dermatol. 2006;5:221–7.

38.

Karthikeyan K. Crusted scabies. Indian J Dermatol Venereol Leprol. 2009;75:340–7.

39.••

Delaunay P, Blanc V, Del Giudice P, et al. Bedbugs and infectious diseases. Clin Infect Dis. 2011;52:200–10. This review denies the transmission of HIV and hepatitis via Cimex lectularius.

40.••

Strong M, Johnstone P. Interventions for treating scabies. Cochrane Database Syst Rev. 2007;3:CD000320.

41.••

Currie BJ, McCarthy JS. Permethrin and ivermectin for scabies. N Engl J Med. 2010;362:717–25. This article compares permethrin and ivermectin in treating scabies.

42.

Buffet M, Dupin N. Current treatments for scabies. Fundam Clin Pharmacol. 2003;17:217–25.

43.

Geary TG. Ivermectin 20 years on: maturation of a wonder drug. Trends Parasitol. 2005;21:530–2.

44.

Guzzo CA, Cl F, Porras AG, et al. Safety, tolerability, and pharmacokinetics of escalating high doses of ivermectin in healthy adult subjects. J Clin Pharmacol. 2002;42:1122–33.

45.

Hengge UR, Currie BJ, Jager G, et al. Scabies: a ubiquitous neglected skin disease. Lancet Infect Dis. 2006;6:769–79.

46.

Goldust M, Rezaee E. The efficacy of topical ivermectin versus malation 0.5 % lotion for the treatment of scabies. J Dermatolog Treat. 2013. doi:10.3109/09546634.2013.782093.

47.

Jacobson JB, Wheeler K, Hoffman R, et al. Acute illnesses associated with insecticides used to control bed bugs – seven states, 2003–2010. JAMA. 2011;306:1974–7.

48.

Taplin D, Meinking TL, Chen JA, et al. Comparison of crotamiton 10 % cream (Eurax) and permethrin 5 % cream (Elimite) for the treatment of scabies in children. Pediatr Dermatol. 1990;7:67–73.

49.

Wong LC, Amega B, Connors C, et al. Outcome of an interventional program for scabies in an indigenous community. Med J Aust. 2001;175:367–70.

50.

Andrews RM, Kearns T, Connors C, et al. A regional initiative to reduce skin infections amongst aboriginal children living in remote communities of the Northern Territory, Australia. PLoS Negl Trop Dis. 2009;3:e554.

51.

Lawrence G, Leafasia J, Sheridan J, et al. Control of scabies, skin sores and haematuria in children in the Solomon Islands: another role for ivermectin. Bull World Health Organ. 2005;83:34–42.

52.••

Doggett S, Dwyer D, Penas P, et al. Bed bugs: clinical relevance and control options. Clin Micriobiol Rev. 2012;25:164–92. This article is a review about bedbugs and several control measures that may be followed to prevent bedbugs outbreaks.
Compliance with Ethics Guidelines
ᅟ
Conflict of Interest
Maroun Sfeir declares no conflicts of interest. L. Silvia Munoz-Price declares no conflicts of interest.
Human and Animal Rights and Informed Consent
This article does not contain any studies with human or animal subjects performed by the author.
Additional information
This article is part of the Topical Collection on Healthcare Associated Infections
About this article
Cite this article
Sfeir, M., Munoz-Price, L.S. Scabies and Bedbugs in Hospital Outbreaks. Curr Infect Dis Rep 16, 412 (2014). https://doi.org/10.1007/s11908-014-0412-2
Keywords
Sarcoptes scabiei
Cimex lectularius

Outbreak

Healthcare

Control measures