Abstract
The objective of this paper is to review the main findings of the largest studies on the etiopathogenesis and microbiology of the development of dacryocystitis and to formulate clinical and surgical guidelines based on said studies and on our experience at Cruces Hospital, the Basque Country, Spain. The most common sign of this entity is the distal nasolacrimal duct obstruction, and this should be treated to prevent clinical relapse. The time when surgery should be indicated mainly depends on the clinical signs and symptoms, age and general status of a patient. Given the germs isolated in cases of dacryocystitis, antibiotic therapy against Gram positive (S. aureus, S. pneumoniae, S. epidermidis) and Gram negative bacteria (H. influenzae, P. aeruginosa) should be administered, orally in adults and intravenously in pediatric patients, prior to surgery. Gentamicin and amoxicillin-clavulanic acid have been found to be effective against the bacteria commonly implicated in the etiopathogenesis of this entity.
Access options
Buy single article
Instant access to the full article PDF.
USD 39.95
Price excludes VAT (USA)
Tax calculation will be finalised during checkout.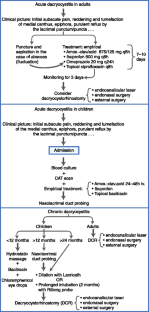 References
Papers of particular interest, published recently, have been highlighted as: • Of importance •• Of major importance
Bale RN. Dacryocystitis: Bacteriological study and its relation with nasal pathology. Indian J Ophthalmol. 1987;35(4):178–82.

•• Pinar-Sueiro S, Fernández-Hermida RV, Gibelalde A, et al.: Study on the effectiveness of antibiotic prophylaxis in external dacryocystorhinostomy: a review of 697 cases. Ophthal Plast Reconstr Surg 2010; 26(6): 467–72. This study questions the necessity of generalized use of prophylactic antibiotics for external dacryocystorhinostomy, by analyzing clinical evolution and cultures obtained directly from the lacrimal sac from 697 patients during surgery.

Summer Skill WA, Jones LT. Tear-sac foreign bodies. Am J Ophthalmol. 1965;60:111–3.

Sood NN, Ratnaraj A, Balaraman G, et al. Chronic dacryocystitis. A clinico-bacteriological study. J All India Ophthalmol Soc. 1967;15(3):107–10.

Jones LT. Tear-sac foreign bodies. Am J Ophthalmol. 1965;60:111–3.

Berlin AJ, Rath R, Rich L. Lacrimal system dacryoliths. Ophthalmic Surg. 1980;11:435–6.

Wilkins RB, Pressly JP. Diagnosis and incidence of lacrimal calculi. Ophthalmic Surg. 1980;11:787–9.

Baratz KH, Bartley GB, Campbell RJ, et al. An eyelash nidus for dacryoliths of the lacrimal excretory and secretory systems. Am J Ophthalmol. 1991;111:624–7.

Herzig S, Hurwitz JJ. Lacrimal sac calculi. Can J Ophthalmol. 1979;14:17–20.

Yazici B, Hammad AM, Meyer DR. Lacrimal sac dacryoliths. Predictive factors and clinical characteristics. Ophthalmology. 2001;108:1308–12.

Smith B, Tenzel RR, Buffam FV, et al. Acute dacryocystitic retention. Arch Ophthalmol. 1976;94:1903–4.

Gonnering RS, Bosniak SL. Recognition and management of acute noninfectious dacryocystic retention. Ophthal Plast Reconstr Surg. 1989;5:27–33.

McCormick SA, Linberg JV. Pathology of nasolacrimal duct obstruction. Clinicopathologic correlates of lacrimal excretory system disease. Contemp Issues Ophthalmol. 1988;5:169–202.

Ffooks OO. Dacryocystitis in infancy. Br J Ophthalmol. 1962;46:422–34.

Kushner BJ. Congenital nasolacrimal system obstruction. Arch Ophthalmol. 1982;100:597–600.

Petersen RA, Roob RM. The natural course of congenital obstruction of the nasolacrimal duct. J Pediatr Ophthalmol Strabismus. 1978;15:246–50.

Pollard ZF. Treatment of acute dacryocystitis in neonates. J Pediatr Ophthalmol Strabismus. 1991;28:341–3.

Paysse EA, Coats DK, Bernstein JM, et al. Management and complications of congenital dacryocele with concurrent intranasal mucocele. J AAPOS. 2000;4:46–53.

Etxebarría J, López-Cerero L, Mensa J. Diagnóstico microbiológico de las infecciones oculares. Enferm Infecc Microbiol Clin. 2009;27(9):531–5.

Hartikainen J, Lehtonen OP, Saari KM. Bacteriology of lacrimal duct obstruction in adults. Br J Ophthalmol. 1997;81:37–40.

Chaudhry IA, Shamsi FA, Al-Rashed W. Bacteriology of chronic dacryocystitis in a tertiary eye care center. Ophthal Plast Reconstr Surg. 2005;21:207–10.

Sun X, Liang Q, Luo S, et al. Microbiological analysis of chronic dacryocystitis. Ophthlmic Physiol Opt. 2005;25:261–3.

Mills D, Bodman MG, Meyer DR, et al. The microbiologic spectrum of dacryocystitis: a national study of acute versus chronic infection. Ophthal Plast Reconstr Surg. 2007;23:302–6.

•• Bharathi MJ, Ramakrishnan R, Maneksha V, et al.: Comparative bacteriology of acute and chronic dacryocystitis. Eye (Lond) 2008; 22; 953–60. Through this study Bharathi et al. analyzed the main germs obtained by reflux after squeezing the sac or needle aspiration of lacrimal sac in 1891 patients suffering from chronic or acute dacryocystitis.

• Owji N, Kahlili MR: Normalization of conjunctival flora after dacryocystorhinostomy. Ophthal Plast Reconstr Surg 2009; 25: 136–8. This article claims that effectiveness of surgery in patients with chronic dacryocystitis can be observed by the normalization of conjunctival flora, reducing the risk of chronic bacterial conjunctivitis.

Delia AC, Uuri GC, Battacharjee K, et al. Bacteriology of chronic dacryocystitis in adult population of Northeast India. Orbit. 2008;27:243–7.

Briscoe D, Rubowitz A, Assia EI. Changing bacterial isolates and antibiotic sensitivities of purulent dacryocystitis. Orbit. 2005;24:95–8.

Brook I, Frazier EH. Aerobic and anaerobic microbiology of dacryocystitis. Am J Ophthalmol. 1998;125(4):552–4.

Brook I. Dacryocystitis caused by anaerobic bacteria in the newborn. Pediatr Infect Dis J. 1998;17(2):172–3.

Badhu BP, Karki BS, Khanal B, et al.: Microbiolobical patterns of chronic dacryocystitis. Ophthalmology 2006; 113(12): 2377. e1–2.

Huber Spitzy V, Steinkogler FJ, Haselberger C. The pathogen spectrum in neonatal dacryocystitis. Klin Monastsbl Augeenheilkd. 1987;190:445–6.

Sainju R, Franzco AA, Shrestha MK, et al. Microbiology of dacryocystitis among adults population in southern Australia. Nepal Med Coll J. 2005;7:18–20.

Kuchar A, Lukas J, Steinkogler FJ. Bacteriology and antibiotic therapy in congenital nasolacrimal duct obstruction. Acta Ophthalmol Scand. 2000;78:694–8.

Prokosch V, Prokosh JE, Promesberger J, et al. Bacteriology of occluded nasolacrimal ducts in infants. Klin Monbl Augenheilkd. 2010;227(7):585–8.

•• Baskin DE, Ashvini KR, Chu YI, et al.: The timing of antibiotic administration in the management of infant dacryocystitis. J AAPOS 2008; 12: 456–9. This article suggests antibiotic prophylactic use before dacryocystorhinostomy to increase success rate of surgery, decrease reobstructions, as well as preventing infectious dissemination.

Cahill KV, Burns JA. Management of acute dacryocystitis in adults. Ophthal Plast Reconstr Surg. 1993;9:38–41.

• Wu W, Yan W, MacCallum JK, et al.: Primary treatment of acute dacryocystitis by endoscopic dacryocystorhinostomy with silicone intubation guided by a soft probe. Ophthalmology 2009; 116:116–122. This study emphasizes the role of early treatment with endoscopic dacryocystorhinostomy for patients with acute dacryocystitis, as a safe, efficient technique, that prevents recurrent episodes.

Campolattaro BN, Lueder GT, Tychsen L. Spectrum of pediatric dacryociystitis: medial and surgical management of 54 cases. J Pediatr Ophthalmol Strabismus. 1997;34:143–53.

Strunk T, Richmond P, Simmer K, et al. Neonatal immune responses to coagulase-negative staphylococci. Curr Opin Infect Dis. 2007;20:370–5.

Okada Y, Klein NJ. va Saene HK, et al.: Bactericidal activity against coagulase-negative staphylococci is impaired in infants receiving long-term parenteral nutrition. Ann Surg. 2000;231:276–81.

Eippert GA, Burnstine RA, Bates JH. Lacrimal-duct-probing-induced bacteremia: Should children with congenital heart defects receive antibiotic prophylaxis? J Pediatr Ophthalmol Strabismus. 1998;35:38–40.

Grech V, Sammut P, Parascandolo R. Bacterial endocarditis following lacrimal duct probing. J Pediatr Ophthalmol Strabismus. 2001;38:49–50.

Jones LT, Wobig JL, eds.: Surgery of the eyelids and lacrimal system. Birmingham, AL: Aesculapius Publishing Co, 1976: 185–93.

Walland MJ, Rose GE. Soft tissue infections after open lacrimal surgery. Ophthalmology. 1994;101:608–11.

Traquair H. Chronic dacryocystitis. Its causation and treatment. Arch Ophthalmol. 1941;26:165–80.

Huber-Spitzy, Steinkogler F, Huber E, et al. Acquired dacryocystitis: microbiology and conservative therapy. Acta Ophthalmol. 1992;70:745–9.

Mandal R, Banerjee AR, Biswas MC, et al. Clinicobacteriological study of chronic dacryocystitis in adults. J Indian Med Assoc. 2008;106(5):296–8.

Martins MC, Ricardo JR, Akaishi PM, et al. Orbital abscess secondary to acute dacryocystitis: case report. Arq Bras Oftalmol. 2008;71(4):576–8.

Razavi ME, Ansari-Astaneh MR, Farzadnia M, et al. Bacteriological evaluation of adult dacryocystitis in Iran. Orbit. 2010;29(5):286–90.

Kebede A. Bacteriological study of dacryocystitis among patients attending in Menelik II Hospital, Addis Ababa. Ethiop Med Journal: Ethiopia; 2010.

Baskin DE, Reddy AK, Chu YI, Coats DK. The timing of antibiotic administration in the management of infant dacryocystitis. JAAPOS. 2008;12:456–9.

Mahajan VM. Acute bacterial infections of the eye: their etiology and treatment. Brit Journal Oph. 1983;67(3):191–4.

Fukuda M, Ohasi H, Matsumoto C, et al. Methicillin-resistant Staphylococcus aureus and methicillin-resistant coagulase-negative Staphylococcus ocular surface infection efficacy of chloramphenicol eye drops. Cornea. 2002;21(7):86–9.
Disclosure
No potential conflicts of interest relevant to this article were reported.
About this article
Cite this article
Pinar-Sueiro, S., Sota, M., Lerchundi, TX. et al. Dacryocystitis: Systematic Approach to Diagnosis and Therapy. Curr Infect Dis Rep 14, 137–146 (2012). https://doi.org/10.1007/s11908-012-0238-8
Published:

Issue Date:

DOI: https://doi.org/10.1007/s11908-012-0238-8
Keywords
Acute dacryocystitis

Chronic dacryocystitis

Microbiology

S. aureus
S. pneumoniae
S. epidermidis
H. influenzae
P. aeruginosa

Antibiotic therapy

Antibiogram

Laser dacryocystorhinostomy

External dacryocystorhinostomy

Endonasal dacryocystorhinostomy

Probe

Intubation

Balloon dilation

Nasolacrimal duct

Lacrimal sac

Turbinate

Gentamicin

Amoxicillin-clavulanic acid