Abstract
Blastocystis is an enteric protistan parasite of uncertain clinical relevance. Recent studies indicate that the parasite is a species complex and humans are potentially hosts to nine Blastocystis subtypes, most of which are zoonotic. Subtype 3 is the most common in prevalence studies, followed by subtype 1. Laboratory diagnosis is challenging; the currently recommended diagnostic approach is trichrome staining of direct smears coupled with stool culture. Polymerase chain reaction testing from stools or culture is useful for determining Blastocystis subtype information. The controversial pathogenesis of Blastocystis is attributed to subtype variations in virulence; although current studies seem to support this idea, evidence suggests other factors also contribute to the clinical outcome of the infection. Clinical signs and symptoms of blastocystosis include abdominal pain, diarrhea, bloating, and flatulence. Extraintestinal manifestations, predominantly cutaneous, also were reported. In vitro and animal studies shed new light on the pathobiology of Blastocystis.
Access options
Buy single article
Instant access to the full article PDF.
US$ 39.95
Tax calculation will be finalised during checkout.
Subscribe to journal
Immediate online access to all issues from 2019. Subscription will auto renew annually.
US$ 79
Tax calculation will be finalised during checkout.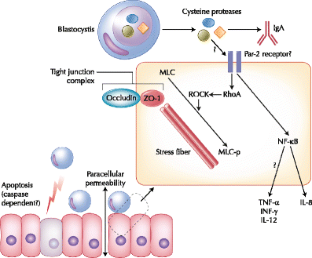 References and Recommended Reading
Papers of particular interest, published recently, have been highlighted as: • Of importance •• Of major importance
1.

•• Tan KS. New insights on classification, identification, and clinical relevance of Blastocystis spp. Clin Microbiol Rev 2008;21:639–65. This article is an authoritative and comprehensive review of recent advances in Blastocystis biology with a focus on clinical and diagnostic aspects.

2.

Stensvold CR, Lewis HC, Hammerum AM, et al. Blastocystis: unraveling potential risk factors and clinical significance of a common but neglected parasite. Epidemiol Infect 2009;137:1655–63.

3.

Stensvold CR, Arendrup MC, Nielsen HV, Molbak K. Blastocystis—an enigmatic parasite [in Danish]. Ugeskr Laeger 2009;171:2388–90.

4.

Domínguez-Márquez MV, Guna R, Muñoz C, Borrás R. High prevalence of subtype 4 among isolates of Blastocystis hominis from symptomatic patients of a health district of Valencia (Spain). Parasitol Res 2009;105:949–55.

5.

Eroglu F, Genc A, Elgun G, Koltas IS. Identification of Blastocystis hominis isolates from asymptomatic and symptomatic patients by PCR. Parasitol Res 2009;105:1589–92.

6.

• Stensvold CR, Suresh GK, Tan KS, et al. Terminology for Blastocystis subtypes—a consensus. Trends Parasitol 2007;23:93–6. This article describes a timely proposal aimed at reconciling discrepant terminologies of various Blastocystis genotypes. It proposes that all mammalian and avian isolates are designated Blastocystis sp and assigned to a subtype from 1 to 9.

7.

Hu KC, Lin CC, Wang TE, et al. Amoebic liver abscess or is it? Gut 2008;57:627–83.

8.

Patino WD, Cavuoti D, Banerjee SK, et al. Cytologic diagnosis of Blastocystis hominis in peritoneal fluid: a case report. Acta Cytol 2008;52:718–20.

9.

Kaya S, Cetin ES, Aridoğan BC, et al. Pathogenicity of Blastocystis hominis, a clinical reevaluation. Turkiye Parazitol Derg 2007;31:184–7.

10.

Moghaddam D, Ghadirian E, Azami M. Blastocystis hominis and evaluation of efficacy of metronidazole and trimethoprim/sulfamethoxazole. Parasitol Res 2005;96:273–5.

11.

Katsarou-Katsari A, Vassalos CM, Tzanetou K, et al. Acute urticaria associated with amoeboid forms of Blastocystis sp. subtype 3. Acta Derm Venereol 2008;88:80–1.

12.

• Stensvold CR, Traub RJ, von Samson-Himmelstjerna G, et al. Detecting Blastocystis by parasitological and DNA-based methods: a comparative study. Diagn Microbiol Infect Dis 2007;59:303–7. This article provides a comprehensive comparison of major laboratory diagnostic approaches used in the identification of Blastocystis. Culture and PCR were shown to be superior whereas the formol ethyl acetate concentration technique lacked sensitivity.

13.

Suresh K, Smith H. Comparison of methods for detecting Blastocystis hominis. Eur J Clin Microbiol Infect Dis 2004;23:509–11.

14.

Rene BA, Stensvold CR, Badsberg JH, Nielsen HV. Subtype analysis of Blastocystis isolates from Blastocystis cyst excreting patients. Am J Trop Med Hyg 2009;80:588–92.

15.

• Mirza H, Tan KS. Blastocystis exhibits inter- and intra-subtype variation in cysteine protease activity. Parasitol Res 2009;104:355–61. This article describes the first study to show morphologic and biochemical differences between two Blastocystis subtypes.

16.

Stensvold R, Brillowska-Dabrowska A, Nielsen HV, Arendrup MC. Detection of Blastocystis hominis in unpreserved stool specimens by using polymerase chain reaction. J Parasitol 2006;92:1081–7.

17.

Yoshikawa H, Nagano I, Wu Z, et al. Genomic polymorphism among Blastocystis hominis strains and development of subtype-specific diagnostic primers. Mol Cell Probes 1998;12:153–9.

18.

Suresh K, Venilla GD, Tan TC, Rohela M. In vivo encystation of Blastocystis hominis. Parasitol Res 2009;104:1373–80.

19.

• Utzinger J, Botero-Kleiven S, Castelli F, et al. Microscopic diagnosis of sodium acetate-acetic acid-formalin-fixed stool samples for helminths and intestinal protozoa: a comparison among European reference laboratories. Clin Microbiol Infect 2009, Epub ahead of print. This article describes a study comparing the diagnostic performance of different European reference laboratories in diagnosing helminthes and intestinal protozoa. The laboratories fared the worst in identifying Blastocystis.

20.

Hussain R, Jaferi W, Zuberi S, et al. Significantly increased IgG2 subclass antibody levels to Blastocystis hominis in patients with irritable bowel syndrome. Am J Trop Med Hyg 1997;56:301–6.

21.

Mahmoud MS, Saleh WA. Secretory and humoral antibody responses to Blastocystis hominis in symptomatic and asymptomatic human infections. J Egypt Soc Parasitol 2003;33:13–30.

22.

Parkar U, Traub RJ, Kumar S, et al. Direct characterization of Blastocystis from faeces by PCR and evidence of zoonotic potential. Parasitology 2007;134(Pt 3):359–67.

23.

Yan Y, Su S, Ye J, et al. Blastocystis sp. subtype 5: a possibly zoonotic genotype. Parasitol Res 2007;101:1527–32.

24.

• Stensvold CR, Alfellani MA, Nørskov-Lauritsen S, et al. Subtype distribution of Blastocystis isolates from synanthropic and zoo animals and identification of a new subtype. Int J Parasitol 2009;39:473–9. This article comprehensively surveys Blastocystis subtypes in numerous animal hosts.

25.

Yoshikawa HZ, Wu Z, Kimata I, et al. Polymerase chain reaction-based genotype classification among human Blastocystis hominis population isolated from different countries. Parasitol Res 2004;92:22–9.

26.

Leelayoova S, Siripattanapipong S, Thathaisong U, et al. Drinking water: a possible source of Blastocystis spp. subtype 1 infection in schoolchildren of a rural community in central Thailand. Am J Trop Med Hyg 2008;79:401–6.

27.

Boorom KF, Smith H, Nimri L, et al. Oh my aching gut: irritable bowel syndrome, Blastocystis, and asymptomatic infection. Parasit Vectors 2008;1:40.

28.

Stark D, van Hal S, Marriott D, et al. Irritable bowel syndrome: a review on the role of intestinal protozoa and the importance of their detection and diagnosis. Int J Parasitol 2007;37:11–20.

29.

Dogruman-Al F, Kustimur S, Yoshikawa H, et al. Blastocystis subtypes in irritable bowel syndrome and inflammatory bowel disease in Ankara, Turkey. Mem Inst Oswaldo Cruz 2009;104:724–7.

30.

Kurniawan A, Karyadi T, Dwintasari SW, et al. Intestinal parasitic infections in HIV/AIDS patients presenting with diarrhoea in Jakarta, Indonesia. Trans R Soc Trop Med Hyg 2009;103:892–8.

31.

Tan TC, Ong SC, Suresh KG. Genetic variability of Blastocystis sp. Isolates obtained from cancer and HIV/AIDS patients. Parasitol Res 2009;105:1283–6.

32.

Taşova Y, Sahin B, Koltaş S, Paydaş S. Clinical significance and frequency of Blastocystis hominis in Turkish patients with hematological malignancy. Acta Med Okayama 2000;54:133–6.

33.

Horiki N, Kaneda Y, Maruyama M, et al. Intestinal blockage by carcinoma and Blastocystis hominis infections. Am J Trop Med Hyg 1999;60:400–2.

34.

Londoño AL, Mejía S, Gómez-Martin JE. Prevalence and risk factors associated with intestinal parasitism in preschool children from urban area of Calarcá, Colombia [in Spanish]. Rev Salud Publica (Bogota) 2009;11:72–81.

35.

Noureldin MS, Shaltout AA, El Hamsharry EM, Ali ME. Opportunistic intestinal protozoal infections in immunocompromised children. J Egypt Soc Parasitol 1999;29:951–61.

36.

Nigro L, Larocca L, Massarelli L, et al. A placebo-controlled treatment trial of Blastocystis hominis infection with metronidazole. J Travel Med 2003;10:128–30.

37.

Rossignol JF, Kabil SM, Said M, et al. Effect of nitazoxanide in persistent diarrhea and enteritis associated with Blastocystis hominis. Clin Gastoenterol Hepatol 2005;3:987–91.

38.

Iguchi A, Ebisu A, Nagata S, et al. Infectivity of different genotypes of human Blastocystis homins isolates in chickens and rats. Parasitol Int 2007;56:107–12.

39.

• Hussein EM, Hussein AM, Eida MM, Atwa MM. Pathophysiological variability of different genotypes of human Blastocystis hominis Egyptian isolates in experimentally infected rats. Parasitol Res 2008;102:853–60. This article describes a well-conducted study showing subtype-dependent pathology in a rat model.

40.

Iguchi A, Yoshikawa H, Yamada M, et al. Expression of interferon gamma and proinflammatory cytokines in cecal mucosa of rats experimentally infected with Blastocystis sp. strain RN94-9. Parasitol Res 2009;105:135–40.

41.

• Puthia MK, Sio SW, Lu J, Tan KS. Blastocystis ratti induces contact-independent apoptosis, F-actin rearrangement and barrier function disruption in IEC-6 cells. Infect Immun 2006;74:4114–23. This article provides a detailed characterization of Blastocystis cytopathic effects using an in vitro model system.

42.

Long HY, Handschack A, König W, Ambrosch A. Blastocystis hominis modulates immune responses and cytokine release in colonic epithelial cells. Parasitol Res 2001;87:1029–30.

43.

Puthia MK, Vaithilingam A, Lu J, Tan KS. Degradation of human secretory immunoglobulin A by Blastocystis. Parasitol Res 2005;97:386–9.

44.

Puthia MK, Lu J, Tan KS. Blastocystis ratti contains cysteine proteases that mediate interleukin-8 response from human intestinal epithelial cells in an NF-kappaB-dependent manner. Eukaryot Cell 2008;7:435–43.

45.

Wu B, Yin J, Texier C, Roussel M, Tan KS. Blastocystis legumain is localized on the cell surface, and specific inhibition of its activity implicates a pro-survival role for the enzyme. J Biol Chem 2010;285:1790–8.

46.

Bueno L. Protease activated receptor 2: a new target for IBS treatment. Eur Rev Med Pharmacol Sci 2008;12(Suppl 1):95–102.

47.

Que X, Reed SL. Cysteine proteinases and the pathogenesis of amebiasis. Clin Microbiol Rev 2000;13:196–206.

48.

Hegazy MM, Maklouf LM, El Hamshary EM, et al. Protein profile and morphometry of cultured human Blastocystis hominis from children with gastroenteritis and healthy ones. J Egypt Soc Parasitol 2008;38:453–64.

49.

Tan TC, Suresh KG, Smith HV. Phenotypic and genotypic characterisation of Blastocystis hominis isolates implicates subtype 3 as a subtype with pathogenic potential. Parasitol Res 2008;104:85–93.

50.

• Stensvold CR, Smith HV, Nagel R, et al. Eradication of Blastocystis carriage with antimicrobials: reality or delusion? J Clin Gastroenterol 2009, Epub ahead of print. This timely review discusses the complexities of Blastocystis chemotherapy.

51.

Yakoob J, Jafri W, Jafri N, et al. In vitro susceptibility of Blastocystis hominis isolated from patients with irritable bowel syndrome. Br J Biomed Sci 2004;61:75–7.
Acknowledgments
Research from Dr. Tan's laboratory is supported by generous grants from the Academic Research Fund, National Medical Research Council (NMRC), and Biomedical Research Council. Dr. Wu is a postdoctoral fellow funded by the NMRC. Haris Mirza and Joshua Teo are postgraduate students funded by National University of Singapore Research Scholarships.
Disclosure
No potential conflict of interest relevant to this article was reported.
About this article
Cite this article
Tan, K.S.W., Mirza, H., Teo, J.D.W. et al. Current Views on the Clinical Relevance of Blastocystis spp.. Curr Infect Dis Rep 12, 28–35 (2010). https://doi.org/10.1007/s11908-009-0073-8
Keywords
Blastocystis

Pathogenesis

Subtypes

Diagnosis

Prevalence