Abstract
Purpose of Review
To review community health worker (CHW) interventions tailored for hypertension management and to determine if the emergency department (ED) population would benefit from such interventions.
Recent Findings
When working with patients who have one or more chronic diseases, CHW interventions have been very successful in improving health outcomes and are cost-effective. CHWs use a variety of techniques to address social determinants that patients may face that effect how they manage their chronic disease(s). Current CHW interventions in the ED have targeted the "super-user" population.
Summary
CHW-based interventions help address social determinants of patients in a variety of settings, especially in the ED where the physicians have limited resources and time. There is limited information about how CHWs can improve community health outcomes outside of the ED "super-user" population. Future research needs to determine if creating a data-driven CHW intervention for the ED would be effective.
Access options
Buy single article
Instant access to the full article PDF.
US$ 39.95
Tax calculation will be finalised during checkout.
Subscribe to journal
Immediate online access to all issues from 2019. Subscription will auto renew annually.
US$ 79
Tax calculation will be finalised during checkout.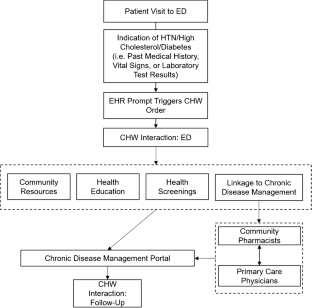 References
Papers of particular interest, published recently, have been highlighted as: • Of importance •• Of major importance
1.

Benjamin EJ, Virani SS, Callaway CW, Chamberlain AM, Chang AR, Cheng S, et al. Heart disease and stroke statistics-2018 update: a report from the American Heart Association. Circulation. 2018;137(12):e67–e492. https://doi.org/10.1161/CIR.0000000000000558.

2.

Fryar C, Ostchega Y, Hales C, Zhang G, Kruszon-Moran D. Hypertension prevalence and control among adults: United States, 2015–2016. NCHS data brief, no 289. Hyattsville: National Center for Health Statistics; 2017.

3.

Kwan BM, Rockwood A, Bandle B, Fernald D, Hamer MK, Capp R. Community health workers: addressing client objectives among frequent emergency department users. J Public Health Manag Pract. 2018;24(2):146–54. https://doi.org/10.1097/PHH.0000000000000540.

4.

Fawcett KJ Jr, Neff RK, CMF D, Faber JE, Fawcett KJ Jr, Freese Decker CM. Achieving IHI's triple aim by utilizing core health program with community health workers in rural communities. Fam Community Health. 2018;41(4):255–64. https://doi.org/10.1097/FCH.0000000000000196.

5.

Anugu M, Braksmajer A, Jiayu H, Jie Y, Ladowski KL, Pati S. Enriched medical home intervention using community health worker home visitation and ED use. Pediatrics. 2017;139(5):1–11. https://doi.org/10.1542/peds.2016-1849.

6.

Kitzman P, Hudson K, Sylvia V, Feltner F, Lovins J. Care coordination for community transitions for individuals post-stroke returning to low-resource rural communities. J Community Health. 2017;42(3):565–72. https://doi.org/10.1007/s10900-016-0289-0.

7.

Lin MP, Blanchfield BB, Kakoza RM, Vaidya V, Price C, Goldner JS, et al. ED-based care coordination reduces costs for frequent ED users. Am J Manag Care. 2017;23(12):762–6.

8.

Reed PR. Using community health workers in collaboration with nurse case managers in effecting change in quality of life for heart failure patients: James Madison University. 2016.

9.

Moffett ML, Kaufman A, Bazemore A. Community health workers bring cost savings to patient-centered medical homes. J Community Health. 2018;43(1):1–3. https://doi.org/10.1007/s10900-017-0403-y.

10.

Shah MN, Hollander MM, Jones CMC, Caprio TV, Conwell Y, Cushman JT, et al. Improving the ED-to-home transition: the community paramedic–delivered care transitions intervention—preliminary findings. J Am Geriatr Soc. 2018;66(11):2213–20. https://doi.org/10.1111/jgs.15475.

11.

Vohra A, Chua R, Besser SA, Alcain C, Basnet S, Battle B, et al. Community health workers reduce rehospitalizations and emergency department visits for low-socioeconomic urban patients with heart failure. J Am Coll Cardiol. 2019;73(9 Supplement 1):856. https://doi.org/10.1016/s0735-1097(19)31463-9.

12.

Blewett LA, Owen RA. Accountable care for the poor and underserved: Minnesota's hennepin health model. Am J Public Health. 2015;105(4):622–4. https://doi.org/10.2105/AJPH.2014.302432.

13.

Poureslami I, Nimmon L, Rootman I, Fitzgerald MJ. Health literacy and chronic disease management: drawing from expert knowledge to set an agenda. Health Promot Int. 2017;32(4):743–54. https://doi.org/10.1093/heapro/daw003.

14.

American Public Health Association. Community health workers. 2019. https://www.apha.org/apha-communities/member-sections/community-health-workers.

15.

•• Kim K, Choi JS, Choi E, Nieman CL, Joo JH, Lin FR, et al. Effects of community-based health worker interventions to improve chronic disease management and care among vulnerable populations: a systematic review. Am J Public Health. 2016;106(4):e3–e28. https://doi.org/10.2105/AJPH.2015.302987 This is a systematic review of the CHWs workforce (i.e., demographics, funding, programming) involved in chronic disease management.

16.

Allen JK, Dennison-Himmelfarb CR, Szanton SL, Bone L, Hill MN, Levine DM, et al. Community Outreach and Cardiovascular Health (COACH) Trial: a randomized, controlled trial of nurse practitioner/community health worker cardiovascular disease risk reduction in urban community health centers. Circulation. 2011;4(6):595–602. https://doi.org/10.1161/CIRCOUTCOMES.111.961573.

17.

Krantz MJ, Coronel SM, Whitley EM, Dale R, Yost J, Estacio RO. Effectiveness of a community health worker cardiovascular risk reduction program in public health and health care settings. Am J Public Health. 2013;103(1):e19–27. https://doi.org/10.2105/AJPH.2012.301068.

18.

• Kangovi S, Mitra N, Grande D, Hairong H, Smith RA, Long JA. Community health worker support for disadvantaged patients with multiple chronic diseases: a randomized clinical trial. Am J Public Health. 2017;107(10):1660–7. https://doi.org/10.2105/AJPH.2017.303985 This paper discussed the findings of the first phase of the IMPaCT trial which showed that CHW interventions aid population health management for healthcare systems.

19.

• Kangovi S, Mitra N, Norton L, Harte R, Zhao X, Carter T, et al. Effect of community health worker support on clinical outcomes of low-income patients across primary care facilities: a randomized clinical trial. JAMA Intern Med. 2018;178(12):1635–43. https://doi.org/10.1001/jamainternmed.2018.4630 . This paper discussed the findings of the IMPaCT Multi-Site Primary Care trial that suggests that this kind of intervention can be used to address social determinants of health.

20.

Foster B, Brody A, Berk W, Levy P. Is linkage to care for emergency department based HIV testing among African Americans worse, better, or the same than national averages? Mayor's Summit for Health Equity in Detroit, 2016. Detroit; 2018.

21.

Fussman C. Health indicators and risk estimates by community health assessment regions & local health departments, State of Michigan selected tables: Michigan Behavioral Risk Factor Surveillance System (Michigan BRFSS)– 2013–2015. Lansing: MDHHS; 2016.

22.

Fussman C. Prevalence estimates for risk factors and health indicators, State of Michigan selected tables: Michigan Behavioral Risk Factor Survey-2015. Lansing: MDHHS; 2016.

23.

Foster B, Brody A, Dawood K, Dawood R, Foley D, Reed B et al. Identifying barriers to controlling blood pressure using the adherence to refills and medications scale in emergency department. ACEP annual meeting. San Diego; 2018.

24.

Kripalani S, Risser J, Gatti ME, Jacobson TA. Development and evaluation of the Adherence to Refills and Medications Scale (ARMS) among low-literacy patients with chronic disease. Value Health. 2009;12(1):118–23.

25.

Doran KM, Colucci AC, Hessler RA, Ngai CK, Williams ND, Wallach AB, et al. An intervention connecting low-acuity emergency department patients with primary care: effect on future primary care linkage. Ann Emerg Med. 2013;61(3):312–21.e7. https://doi.org/10.1016/j.annemergmed.2012.10.021.

26.

Klauer K. Can social emergency medicine give a different perspective on community health?. ACEP Now [Internet]. 2016. https://www.acepnow.com/can-social-emergency-medicine-give-different-perspective-community-health/. Accessed 10 May 2019.

27.

Basu S, Jack HE, Arabadjis SD, Phillips RS. Benchmarks for reducing emergency department visits and hospitalizations through community health workers integrated into primary care: a cost-benefit analysis. Med Care. 2017;55(2):140–7. https://doi.org/10.1097/MLR.0000000000000618.

28.

2018 Minnesota Statutes, § 256B.0625, subd. 49 (2018).
Ethics declarations
Conflict of Interest
Dr. Levy reports grants from Michigan Department of Health and Human Services, during the conduct of the study. The other authors declare no conflicts of interest relevant to this manuscript.
Human and Animal Rights and Informed Consent
This article does not contain any studies with human or animal subjects performed by any of the authors.
Additional information
Publisher's Note
Springer Nature remains neutral with regard to jurisdictional claims in published maps and institutional affiliations.
This article is part of the Topical Collection on Hypertension and Emergency Medicine
About this article
Cite this article
Foster, B., Dawood, K., Pearson, C. et al. Community Health Workers in the Emergency Department—Can they Help with Chronic Hypertension Care. Curr Hypertens Rep 21, 49 (2019). https://doi.org/10.1007/s11906-019-0955-6
Keywords
Emergency medicine

Community health workers

Hypertension

Chronic disease