Abstract
The association between fructose and increased blood pressure is still incompletely defined, because experimental studies have produced dissimilar conclusions. Amplified vasopressor responses to minimal stimuli and differing responses to fructose in peripheral versus central sites may explain the controversy. Fructose induces systemic hypertension through several mechanisms mainly associated with deleterious effects on target organs (kidney, endothelium, heart) exerted by the byproducts of its metabolism, such as uric acid. The kidney is particularly sensitive to the effects of fructose because high loads of this sugar reach renal tissue. In addition, fructose increases reabsorption of salt and water in the small intestine and kidney; thus the combination of salt and fructose has a synergistic effect in the development of hypertension. Clinical and epidemiologic studies have also linked fructose consumption with hypertension. Further studies are warranted in order to understand the role of fructose in the development of hypertension.
Access options
Buy single article
Instant access to the full article PDF.
USD 39.95
Price includes VAT (USA)
Tax calculation will be finalised during checkout.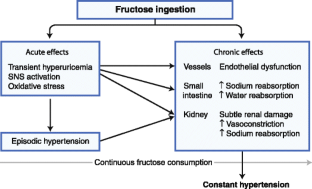 References
Papers of particular interest, published recently, have been highlighted as: •Of importance; •• Of major importance
1.

Johnson RJ, Segal MS, Sautin Y, et al.: Potential role of sugar (fructose) in the epidemic of hypertension, obesity and the metabolic syndrome, diabetes, kidney disease, and cardiovascular disease. Am J Clin Nutr 2007, 86:899–906.

2.

Ferder L, Ferder MD, Inserra F: the role of high-fructose corn syrup in metabolic syndrome and hypertension. Curr Hypertens Rep 2010, 12:105–112.

3.

•• Tappy L, Le KA: Metabolic Effects of fructose and the worldwide increase in obesity. Physiol Rev 2010, 90:23–46. This is an excellent review on the deleterious effects attributed to fructose. Both human and experimental studies are discussed.

4.

D'Angelo G, Elmarakby AA, Pollock DM, Stepp DW: Fructose feeding increases insulin resistance but not blood pressure in Sprague-Dawley rats. Hypertension 2005, 46:806–811.

5.

Hwang IS, Ho H, Hoffman BB, Reaven GM: Fructose-induced insulin resistance and hypertension in rats. Hypertension 1987, 10:512–516.

6.

•• Tran LT, Yuen VG, McNeill JH: The fructose-fed rat: a review on the mechanisms of fructose-induced insulin resistance and hypertension. Mol Cell Biochem 2009, 332:145–159. This is a comprehensive review on the operative mechanisms related to the effects of fructose ingestion in rats.

7.

• Robbez Masson V, Lucas A, Gueugneau AM, et al.: Long-chain (n-3) polyunsaturated fatty acids prevent metabolic and vascular disorders in fructose-fed rats. J Nutr 2008, 138:1915–1922. The authors showed a mild but significant increment in systolic and pulse blood pressure, (measured by telemetry) induced by fructose consumption.

8.

Sanchez-Lozada LG, Tapia E, Jimenez A, et al.: Fructose-induced metabolic syndrome is associated with glomerular hypertension and renal microvascular damage in rats. Am J Physiol Renal Physiol 2007, 292:F423–F429.

9.

Kurtz TW, Griffin KA, Bidani AK, et al.: Recommendations for blood pressure measurement in humans and experimental animals: Part 2: blood pressure measurement in experimental animals: a statement for professionals from the Subcommittee of Professional and Public Education of the American Heart Association Council on High Blood Pressure Research. Arterioscler Thromb Vasc Biol 2005, 25:e22–e33.

10.

Farah V, Elased KM, Morris M: Genetic and dietary interactions: role of angiotensin AT1a receptors in response to a high-fructose diet. Am J Physiol Heart Circ Physiol 2007, 293:H1083–H1089.

11.

Farah V, Elased KM, Chen Y, et al.: Nocturnal hypertension in mice consuming a high fructose diet. Auton Neurosci 2006, 130:41–50.

12.

Pelaez LI, Manriquez MC, Nath KA, et al.: Low-dose angiotensin II enhances pressor responses without causing sustained hypertension. Hypertension 2003, 42:798–801.

13.

Swali A, McMullen S, Langley-Evans SC: Prenatal protein restriction leads to a disparity between aortic and peripheral blood pressure in Wistar male offspring. J Physiol 2010 Aug 6 (Epub ahead of print).

14.

Peredo HA, Mayer MA, Rodríguez Fermepín M, et al.: Oral treatment and in vitro incubation with fructose modify vascular prostanoid production in the rat. Auton Autacoid Pharmacol 2006, 26:15–20.

15.

Bouhanick B, Chamontin B: Should pulse pressure and day/night variations in blood pressure be seen as independent risk factors requiring correction or simply as markers to be taken into account when evaluating overall vascular risk? Diabetes Metab 2007, 33:321–330.

16.

Johnson RJ, Rodriguez-Iturbe B, Nakagawa T, et al.: Subtle renal injury is likely a common mechanism for salt-sensitive essential hypertension. Hypertension 2005, 45:326–330.

17.

Vasdev S, Gill V, Parai S, Gadag V: Fructose-induced hypertension in Wistar-Kyoto rats: interaction with moderately high dietary salt. Can J Physiol Pharmacol 2007, 85:413–421.

18.

Petersen A, Kappler F, Szwergold BS, Brown TR: Fructose metabolism in the human erythrocyte. phosphorylation to fructose 3-phosphate. Biochem J 1992, 284(Pt 2):363–366.

19.

Kizhner T, Werman MJ: Long-term fructose intake: biochemical consequences and altered renal histology in the male rat. Metabolism 2002, 51:1538–1547.

20.

Tasevska N, Runswick SA, Welch AA, et al.: Urinary sugars biomarker relates better to extrinsic than to intrinsic sugars intake in a metabolic study with volunteers consuming their normal diet. Eur J Clin Nutr 2009, 63: 653–659.

21.

Mate A, de la Hermosa MA, Barfull A, et al.: Characterization of D-fructose transport by rat kidney brush-border membrane vesicles: changes in hypertensive rats. Cell Mol Life Sci 2001, 58:1961–1967.

22.

Concha II, Velasquez FV, Martinez JM, et al.: Human erythrocytes express GLUT5 and transport fructose. Blood 1997, 89:4190–4195.

23.

•• Singh AK, Amlal H, Haas PJ, et al.: Fructose-induced hypertension: essential role of chloride and fructose absorbing transporters PAT1 and Glut5. Kidney Int 2008, 74:438–447. This study clearly demonstrated the fundamental role of increased sodium reabsorption in hypertension induced by fructose ingestion.

24.

Barone S, Fussell SL, Singh AK, et al.: Slc2a5 (Glut5) is essential for the absorption of fructose in the intestine and generation of fructose-induced hypertension. J Biol Chem 2009, 284:5056–5066.

25.

He FJ, Marrero NM, MacGregor GA: Salt intake is related to soft drink consumption in children and adolescents: a link to obesity? Hypertension 2008, 51:629–634.

26.

Catena C, Cavarape A, Novello M, et al.: Insulin receptors and renal sodium handling in hypertensive fructose-fed rats. Kidney Int 2003, 64:2163–2171.

27.

Diggle CP, Shires M, Leitch D, et al.: Ketohexokinase: expression and localization of the principal fructose-metabolizing enzyme. J Histochem Cytochem 2009, 57:763–774.

28.

Nakayama T, Kosugi T, Gersch M, et al.: Dietary fructose causes tubulointerstitial injury in the normal rat kidney. Am J Physiol Renal Physiol 2010, 298:F712–F720.

29.

Johnson RJ, Herrera-Acosta J, Schreiner GF, Rodriguez-Iturbe B: Subtle acquired renal injury as a mechanism of salt-sensitive hypertension. N Engl J Med 2002, 346:913–923.

30.

Sanchez-Lozada LG, Tapia E, Bautista-Garcia P, et al.: Effects of febuxostat on metabolic and renal alterations in rats with fructose-induced metabolic syndrome. Am J Physiol Renal Physiol 2008, 294:F710–F718.

31.

Cirillo P, Gersch MS, Mu W, et al.: Ketohexokinase-dependent metabolism of fructose induces proinflammatory mediators in proximal tubular cells. J Am Soc Nephrol 2009, 20:545–553.

32.

Hu QH, Wang C, Li JM, et al.: Allopurinol, rutin, and quercetin attenuate hyperuricemia and renal dysfunction in rats induced by fructose intake: renal organic ion transporter involvement. Am J Physiol Renal Physiol 2009, 297:F1080–F1091.

33.

Vitart V, Rudan I, Hayward C, et al.: SLC2A9 is a newly identified urate transporter influencing serum urate concentration, urate excretion and gout. Nat Genet 2008, 40:437–442.

34.

Wallace C, Newhouse SJ, Braund P, et al.: Genome-wide association study identifies genes for biomarkers of cardiovascular disease: serum urate and dyslipidemia. Am J Hum Genet 2008, 82:139–149.

35.

Schalkwijk CG, Stehouwer CD, van Hinsbergh VW: Fructose-mediated non-enzymatic glycation: sweet coupling or bad modification. Diabetes Metab Res Rev 2004, 20:369–382.

36.

D'Agati V, Schmidt AM: RAGE and the pathogenesis of chronic kidney disease. Nat Rev Nephrol 2010, 6:352–360.

37.

Glushakova O, Kosugi T, Roncal C, et al.: fructose induces the inflammatory molecule ICAM-1 in endothelial cells. J Am Soc Nephrol 2008, 19:1712–1720.

38.

Zhao CX, Xu X, Cui Y, et al.: Increased endothelial nitric-oxide synthase expression reduces hypertension and hyperinsulinemia in fructose-treated rats. J Pharmacol Exp Ther 2009, 328:610–620.

39.

Sautin YY, Nakagawa T, Zharikov S, Johnson RJ: Adverse effects of the classic antioxidant uric acid in adipocytes: NADPH oxidase-mediated oxidative/nitrosative stress. Am J Physiol Cell Physiol 2007, 293:C584–C596.

40.

Chao HH, Liu JC, Lin JW, et al.: Uric acid stimulates endothelin-1 gene expression associated with NADPH oxidase in human aortic smooth muscle cells. Acta Pharmacol Sin 2008, 29:1301–1312.

41.

Sanchez-Lozada LG, Soto V, Tapia E, et al.: Role of oxidative stress in the renal abnormalities induced by experimental hyperuricemia. Am J Physiol Renal Physiol 2008, 295:F1134–F1141.

42.

Wang X, Jia X, Chang T, et al.: Attenuation of Hypertension Development by Scavenging Methylglyoxal in Fructose-Treated Rats. J Hypertens 2008, 26:765–772.

43.

Yu MA, Sanchez-Lozada LG, Johnson RJ, Kang DH: Oxidative stress with an activation of the renin-angiotensin system in human vascular endothelial cells as a novel mechanism of uric acid-induced endothelial dysfunction. J Hypertens 2010, 28:1234–1242.

44.

Nguyen S, Choi HK, Lustig RH, Hsu CY: Sugar-sweetened beverages, serum uric acid, and blood pressure in adolescents. J Pediatr 2009, 154:807–813.

45.

Chen L, Caballero B, Mitchell DC, et al.: Reducing consumption of sugar-sweetened beverages is associated with reduced blood pressure: a prospective study among United States adults. Circulation 2010, 121:2398–2406.

46.

Dhingra R, Sullivan L, Jacques PF, et al.: Soft drink consumption and risk of developing cardiometabolic risk factors and the metabolic syndrome in middle-aged adults in the community. Circulation 2007, 116:480–488.

47.

Jalal DI, Smits G, Johnson RJ, Chonchol M: Increased fructose associates with elevated blood pressure. J Am Soc Nephrol 2010, 21:1543–1549.

48.

Perez-Pozo SE, Schold J, Nakagawa T, et al.: Excessive fructose intake induces the features of metabolic syndrome in healthy adult men: role of uric acid in the hypertensive response. Int J Obes (Lond) 2010, 34:454–461.

49.

Brown CM, Dulloo AG, Yepuri G, Montani JP: Fructose ingestion acutely elevates blood pressure in healthy young humans. Am J Physiol Regul Integr Comp Physiol 2008, 294:R730–R737.
Disclosure
Conflicts of Interest: M Madero: none; SE Perez-Pozo: none; D Jalal: none; RJ Johnson has a book, The Sugar Fix:The High-Fructose Fallout That Is Making You Fat and Sick (Rodale, 2008; Simon and Schuster, 2009), which discusses the potential role of fructose in the obesity epidemic, and he is listed as an inventor on several patent applications related to blocking fructose metabolism and/or lowering uric acid as a means for treating hypertension and metabolic syndrome; LG Sánchez-Lozada: none.
About this article
Cite this article
Madero, M., Perez-Pozo, S.E., Jalal, D. et al. Dietary Fructose and Hypertension. Curr Hypertens Rep 13, 29–35 (2011). https://doi.org/10.1007/s11906-010-0163-x
Keywords
Fructose

Hypertension

Metabolic syndrome

Uric acid

Renal disease

Sodium reabsorption