Abstract
Purpose of Review
Non-alcoholic fatty liver disease (NAFLD) is one of the most prominent forms of chronic liver disease. Non-alcoholic steatohepatitis (NASH) represents a subgroup of patients with steatosis and necro-inflammation with or without fibrosis. Currently, there are no FDA-approved therapies. This review provides an overview of treatments in clinical trials for NAFLD and NASH.
Recent Findings
Therapies aimed at reducing hepatic steatosis focus on lipogenesis, insulin resistance, and metabolism of free fatty acids. Therapeutics targeting necro-inflammation have focused on pathways of immune activation and hepatocyte injury, while anti-fibrotic agents have focused on preventing fibrosis development via actions on stellate cells or reducing existing fibrosis.
Summary
There are multiple agents in mid-to-late stage clinical trials to treat NAFLD and NASH. Many have shown promising results. If safety and efficacy are established, these medications will provide a much needed pharmacologic treatment approach for this burgeoning patient population.
Access options
Buy single article
Instant access to the full article PDF.
US$ 39.95
Tax calculation will be finalised during checkout.
Subscribe to journal
Immediate online access to all issues from 2019. Subscription will auto renew annually.
US$ 79
Tax calculation will be finalised during checkout.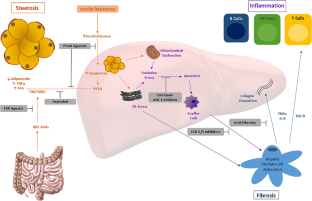 References
Papers of particular interest, published recently, have been highlighted as: • Of importance •• Of major importance
1.

Browning JD, Szczepaniak LS, Dobbins R, Nuremberg P, Horton JD, Cohen JC, et al. Prevalence of hepatic steatosis in an urban population in the United States: impact of ethnicity. Hepatology. 2004;40(6):1387–95.

2.

Vernon G, Baranova A, Younossi ZM. Systematic review: the epidemiology and natural history of non-alcoholic fatty liver disease and non-alcoholic steatohepatitis in adults. Aliment Pharmacol Ther. 2011;34(3):274–85.

3.

Dunn W, Xu R, Wingard DL, Rogers C, Angulo P, Younossi ZM, et al. Suspected nonalcoholic fatty liver disease and mortality risk in a population-based cohort study. Am J Gastroenterol. 2008;103(9):2263–71.

4.

•• Chalasani N, Younossi Z, Lavine JE, Charlton M, Cusi K, Rinella M, et al. The diagnosis and management of nonalcoholic fatty liver disease: Practice guidance from the American Association for the Study of Liver Diseases. Hepatology. 2017. https://doi.org/10.1002/hep.29367. Updated guidelines from AASLD on management of NAFLD/NASH.

5.

Koehler E, Watt K, Charlton M. Fatty liver and liver transplantation. Clin Liver Dis. 2009;13(4):621–30.

6.

Ong JP, Pitts A, Younossi ZM. Increased overall mortality and liver-related mortality in non-alcoholic fatty liver disease. J Hepatol. 2008;49(4):608–12.

7.

• Angulo P, Kleiner DE, Dam-Larsen S, Adams LA, Bjornsson ES, Charatcharoenwitthaya P, et al. Liver fibrosis, but no other histologic features, is associated with long-term outcomes of patients with nonalcoholic fatty liver disease. Gastroenterology. 2015;149(2):389–97.e10. Demonstrates impact of fibrosis stage on overall clinical outcomes.

8.

• Ekstedt M, Hagstrom H, Nasr P, Fredrikson M, Stal P, Kechagias S, et al. Fibrosis stage is the strongest predictor for disease-specific mortality in NAFLD after up to 33 years of follow-up. Hepatology. 2015;61(5):1547–54. Demonstrates impact of fibrosis stage on overall clinical outcomes.

9.

Sato K, Gosho M, Yamamoto T, Kobayashi Y, Ishii N, Ohashi T, et al. Vitamin E has a beneficial effect on nonalcoholic fatty liver disease: a meta-analysis of randomized controlled trials. Nutrition. 2015;31(7–8):923–30.

10.

Bjelakovic G, Nikolova D, Gluud LL, Simonetti RG, Gluud C. Mortality in randomized trials of antioxidant supplements for primary and secondary prevention: systematic review and meta-analysis. JAMA. 2007;297(8):842–57.

11.

Miller ER 3rd, Pastor-Barriuso R, Dalal D, Riemersma RA, Appel LJ, Guallar E. Meta-analysis: high-dosage vitamin E supplementation may increase all-cause mortality. Ann Intern Med. 2005;142(1):37–46.

12.

Klein EA, Thompson IM Jr, Tangen CM, Crowley JJ, Lucia MS, Goodman PJ, et al. Vitamin E and the risk of prostate cancer: the Selenium and Vitamin E Cancer Prevention Trial (SELECT). JAMA. 2011;306(14):1549–56.

13.

Kristal AR, Darke AK, Morris JS, Tangen CM, Goodman PJ, Thompson IM, et al. Baseline selenium status and effects of selenium and vitamin e supplementation on prostate cancer risk. J Natl Cancer Inst. 2014;106(3):djt456.

14.

Boettcher E, Csako G, Pucino F, Wesley R, Loomba R. Meta-analysis: pioglitazone improves liver histology and fibrosis in patients with non-alcoholic steatohepatitis. Aliment Pharmacol Ther. 2012;35(1):66–75.

15.

Mahady SE, Webster AC, Walker S, Sanyal A, George J. The role of thiazolidinediones in non-alcoholic steatohepatitis—a systematic review and meta analysis. J Hepatol. 2011;55(6):1383–90.

16.

Lincoff AM, Wolski K, Nicholls SJ, Nissen SE. Pioglitazone and risk of cardiovascular events in patients with type 2 diabetes mellitus: a meta-analysis of randomized trials. JAMA. 2007;298(10):1180–8.

17.

Kleiner DE, Brunt EM, Van Natta M, Behling C, Contos MJ, Cummings OW, et al. Design and validation of a histological scoring system for nonalcoholic fatty liver disease. Hepatology. 2005;41(6):1313–21.

18.

Bedossa P, Poitou C, Veyrie N, Bouillot JL, Basdevant A, Paradis V, et al. Histopathological algorithm and scoring system for evaluation of liver lesions in morbidly obese patients. Hepatology. 2012;56(5):1751–9.

19.

Sanyal AJ, Brunt EM, Kleiner DE, Kowdley KV, Chalasani N, Lavine JE, et al. Endpoints and clinical trial design for nonalcoholic steatohepatitis. Hepatology. 2011;54(1):344–53.

20.

Fuchs M. Non-alcoholic Fatty liver disease: the bile acid-activated farnesoid x receptor as an emerging treatment target. J Lipids. 2012;2012:934396.

21.

•• Neuschwander-Tetri BA, Loomba R, Sanyal AJ, Lavine JE, Van Natta ML, Abdelmalek MF, et al. Farnesoid X nuclear receptor ligand obeticholic acid for non-cirrhotic, non-alcoholic steatohepatitis (FLINT): a multicentre, randomised, placebo-controlled trial. Lancet. 2015;385(9972):956–65. FLINT trial assessing OCA for treatment of NASH.

22.

•• Ratziu V, Sanyal AJ, MacConell L, Shringarpure R, Marmon T, Shapiro D, et al. Regenerate: a phase 3, double-blind, randomized, placebo-controlled multicenter study of obeticholic acid therapy for nonalcoholic steatohepatitis. J Hepatol. 2016;64(2):S294–S5. Regenerate trial of OCA in NASH.

23.

•• Ratziu V, Harrison SA, Francque S, Bedossa P, Lehert P, Serfaty L, et al. Elafibranor, an agonist of the peroxisome proliferator-activated receptor-alpha and -delta, induces resolution of nonalcoholic steatohepatitis without fibrosis worsening. Gastroenterology. 2016;150(5):1147–59.e5. GOLDEN-505 trial evaluating impact of elafibranor in NASH.

24.

Clinical Trials.gov. Randomized global phase 3 study to evaluate the impact on NASH with fibrosis of obeticholic acid treatment (REGENERATE). 2017.

25.

Safadi R, Konikoff FM, Mahamid M, Zelber-Sagi S, Halpern M, Gilat T, et al. The fatty acid-bile acid conjugate Aramchol reduces liver fat content in patients with nonalcoholic fatty liver disease. Clin Gastroenterol Hepatol. 2014;12(12):2085–91.e1.

26.

Clinical Trials.gov. A clinical trial to evaluate the efficacy and safety of two aramchol doses versus placebo in patients with NASH (Aramchol_005). 2017.

27.

Harrison SA Abdelmalek MF, Trotter JF, Paredes AH, Arnold HL, Kugelmas M, Bashir MB, Ling L, Rossi SJ, DePaoli AM, Rinella ME, Loomba R. NGM282, a novel variant of FGF19, significantly reduces hepatic steatosis and key biomarkers of NASH: results of a phase 2, multicenter, randomized, double-blinded, placebo controlled trial in biopsy-confirmed NASH patients. EASL 2017.

28.

Sanyal A, Charles ED , Neuschwander-Tetri B, Loomba R, Harrison S, Abdelmalek MF, Lawitz E, Halegoua-Demarzio D, Dong Y, Noviello S, Krishnamoorthy S, Luo Y, Christian R. BMS-986036 (pegylated FGF21) in patients with non-alcoholic steatohepatitis: a phase 2 study. EASL 2017.

29.

Armstrong MJ, Gaunt P, Aithal GP, Barton D, Hull D, Parker R, et al. Liraglutide safety and efficacy in patients with non-alcoholic steatohepatitis (LEAN): a multicentre, double-blind, randomised, placebo-controlled phase 2 study. Lancet. 2016;387(10019):679–90.

30.

Loomba R, Lawitz E, Mantry PS, Jayakumar S, Caldwell SH, Arnold H, et al. GS-US-384-1497 Investigators. The ASK1 Inhibitor Selonsertib in Patients with Nonalcoholic Steatohepatitis: A Randomized, Phase 2 Trial. Hepatology. 2017. https://doi.org/10.1002/hep.29514

31.

Seki E, de Minicis S, Inokuchi S, Taura K, Miyai K, van Rooijen N, et al. CCR2 promotes hepatic fibrosis in mice. Hepatology. 2009;50(1):185–97.

32.

Lefebvre E, Moyle G, Reshef R, Richman LP, Thompson M, Hong F, et al. Antifibrotic effects of the dual CCR2/CCR5 antagonist cenicriviroc in animal models of liver and kidney fibrosis. PLoS One. 2016;11(6):e0158156.

33.

Friedman SL, Ratziu V, Harrison SA, Abdelmalek MF, Aithal GP, Caballeria J, et al. A randomized, placebo-controlled trial of cenicriviroc for treatment of nonalcoholic steatohepatitis with fibrosis. Hepatology. 2017.

34.

Barreyro FJ, Holod S, Finocchietto PV, Camino AM, Aquino JB, Avagnina A, et al. The pan-caspase inhibitor Emricasan (IDN-6556) decreases liver injury and fibrosis in a murine model of non-alcoholic steatohepatitis. Liver Int. 2015;35(3):953–66.

35.

Clinical Trials.gov. Emricasan, a Caspase Inhibitor, For evaluation in subjects with non-alcoholic steatohepatitis (NASH) fibrosis (ENCORE-NF). 2017.

36.

Garcia-Tsao F, McGuire Shiffman ML, Chan JL, Morris M, Yamashita M, Spada AP, Hagerty D. TITLE: Emricaaan (IDN-8556) administered orally for 28 days lowers portal pi'II88Ure in patients with compensated cirrhosis and severe portal hypertension AASLD Liver Meeting 2015.

37.

Clinical Trials.gov. Clinical trial to evaluate efficacy of GR-MD-02 for treatment of liver fibrosis in patients with NASH with advanced fibrosis (NASH-FX). 2017.

38.

Clinical Trials.gov. Clinical trial to evaluation the safety and efficacy of GR-MD-02 for the treatment of liver fibrosis and resultant portal hypertension in patients with Nash cirrhosis (NASH-CX). 2017.
Ethics declarations
Conflict of Interest
Monica A. Konerman declares no potential conflicts of interest.
Stephen A. Harrison is a consultant/advisor to Gilead, Intercept, Genfit, HistoIndex, Axcella, BMS, Pfizer, Madrigal, NGM Bio, Cirius, Novartis, Novo Nordisk, Chronic Liver Disease Foundation, Echosens, and Perspectum. He has received research support from Gilead, Intercept, Genfit, Cirius, Madrigal, NGM Bio, Conatus, Galmed, Immuron, and Tobira/Allergan. Dr. Harrison is a section editor for Current Hepatology Reports.
Human and Animal Rights and Informed Consent
All reported studies/experiments with human or animal subjects performed by the authors have been previously published and complied with all applicable ethical standards (including the Helsinki declaration and its amendments, institutional/national research committee standards, and international/national/institutional guidelines).
Additional information
This article is part of the Topical Collection on Fatty Liver Disease
About this article
Cite this article
Konerman, M.A., Harrison, S.A. Overview of Clinical Treatment Trials for NASH. Curr Hepatology Rep 16, 366–373 (2017). https://doi.org/10.1007/s11901-017-0375-5
Keywords
Non-alcoholic steatohepatitis

Clinical trials

Fibrosis

Hepatitis

Steatosis