Abstract
The recent clinical success of CD19-directed chimeric antigen receptor (CAR) T cell therapy in chronic and acute leukemia has led to increased interest in broadening this technology to other hematological malignancies and solid tumors. Now, advances are being made using CAR T cell technology to target myeloma antigens such as B cell maturation antigen (BCMA), CD138, and kappa-light chain as well as CD19 on putative myeloma stem cells. To date, only a limited number of multiple myeloma patients have received CAR T cell therapy but preliminary results have been encouraging. In this review, we summarize the recently reported results of clinical trials conducted utilizing CAR T cell therapy in multiple myeloma (MM).
This is a preview of subscription content, log in to check access.
Access options
Buy single article
Instant access to the full article PDF.
US$ 39.95
Price includes VAT for USA
Subscribe to journal
Immediate online access to all issues from 2019. Subscription will auto renew annually.
US$ 99
This is the net price. Taxes to be calculated in checkout.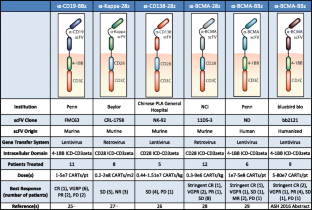 Abbreviations
MM:

Multiple myeloma

ASCT:

Autologous stem cell transplant

CAR:

Chimeric antigen receptor

r/r:

Relapsed/refractory

CLL:

Chronic lymphocytic leukemia

ALL:

Acute lymphoblastic leukemia

scFv:

Single-chain variable fragment

CRS:

Cytokine release syndrome

IL-6R:

IL-6 receptor

iCAR:

Inhibitory CAR

PRES:

Posterior reversible encephalopathy syndrome

PCR:

Polymerase chain reaction

BCMA:

B cell maturation antigen

Ig:

Immunoglobulin

ASH:

American Society of Hematology

VGPR:

Very good partial response

PR:

Partial response

PD:

Progressive disease

SD:

Stable disease

CR:

Complete response

NHL:

Non Hodgkin's lymphoma
References
Papers of particular interest, published recently, have been highlighted as: • Of importance •• Of major importance
1.

Rajkumar SV. Multiple myeloma: 2016 update on diagnosis, risk-stratification, and management. Am J Hematol. 2016;91(7):719–34.

2.

Palumbo A, Anderson K. Multiple myeloma. N Engl J Med. 2011;364(11):1046–60.

3.

McCarthy PL, Owzar K, Hofmeister CC, Hurd DD, Hassoun H, Richardson PG, et al. Lenalidomide after stem-cell transplantation for multiple myeloma. N Engl J Med. 2012;366(19):1770–81.

4.

Kumar SK, Dispenzieri A, Lacy MQ, Gertz MA, Buadi FK, Pandey S, et al. Continued improvement in survival in multiple myeloma: changes in early mortality and outcomes in older patients. Leukemia. 2014;28(5):1122–8.

5.

Richardson PG, Xie W, Mitsiades C, Chanan-Khan AA, Lonial S, Hassoun H, et al. Single-agent bortezomib in previously untreated multiple myeloma: efficacy, characterization of peripheral neuropathy, and molecular correlations with response and neuropathy. J Clin Oncol. 2009;27(21):3518–25.

6.

Majithia N, Rajkumar SV, Lacy MQ, Buadi FK, Dispenzieri A, Gertz MA, et al. Early relapse following initial therapy for multiple myeloma predicts poor outcomes in the era of novel agents. Leukemia. 2016;30(11):2208–13.

7.

Kalos M, Levine BL, Porter DL, Katz S, Grupp SA, Bagg A, et al. T cells with chimeric antigen receptors have potent antitumor effects and can establish memory in patients with advanced leukemia. Sci Transl Med. 2011;3(95):95ra73.

8.

Porter DL, Hwang WT, Frey NV, Lacey SF, Shaw PA, Loren AW, et al. Chimeric antigen receptor T cells persist and induce sustained remissions in relapsed refractory chronic lymphocytic leukemia. Sci Transl Med. 2015;7(303):303ra139.

9.

Brentjens RJ, Davila ML, Riviere I, Park J, Wang X, Cowell LG, et al. CD19-targeted T cells rapidly induce molecular remissions in adults with chemotherapy-refractory acute lymphoblastic leukemia. Sci Transl Med. 2013;5(177):177ra38.

10.

Turtle CJ, Hanafi LA, Berger C, Gooley TA, Cherian S, Hudecek M, et al. CD19 CAR-T cells of defined CD4+:CD8+ composition in adult B cell ALL patients. J Clin Invest. 2016;126(6):2123–38.

11.

Grupp SA, Kalos M, Barrett D, Aplenc R, Porter DL, Rheingold SR, et al. Chimeric antigen receptor-modified T cells for acute lymphoid leukemia. N Engl J Med. 2013;368(16):1509–18.

12.

Gross G, Gorochov G, Waks T, Eshhar Z. Generation of effector T cells expressing chimeric T cell receptor with antibody type-specificity. Transplant Proc. 1989;21(1 Pt 1):127–30.

13.

Brocker T. Chimeric Fv-zeta or Fv-epsilon receptors are not sufficient to induce activation or cytokine production in peripheral T cells. Blood. 2000;96(5):1999–2001.

14.

Milone MC, Fish JD, Carpenito C, Carroll RG, Binder GK, Teachey D, et al. Chimeric receptors containing CD137 signal transduction domains mediate enhanced survival of T cells and increased antileukemic efficacy in vivo. Mol Ther. 2009;17(8):1453–64.

15.

Long AH, Haso WM, Shern JF, Wanhainen KM, Murgai M, Ingaramo M, et al. 4-1BB costimulation ameliorates T cell exhaustion induced by tonic signaling of chimeric antigen receptors. Nat Med. 2015;21(6):581–90.

16.

Carpenito C, Milone MC, Hassan R, Simonet JC, Lakhal M, Suhoski MM, et al. Control of large, established tumor xenografts with genetically retargeted human T cells containing CD28 and CD137 domains. Proc Natl Acad Sci U S A. 2009;106(9):3360–5.

17.

Morgan RA, Yang JC, Kitano M, Dudley ME, Laurencot CM, Rosenberg SA. Case report of a serious adverse event following the administration of T cells transduced with a chimeric antigen receptor recognizing ERBB2. Mol Ther. 2010;18(4):843–51.

18.

Hoyos V, Savoldo B, Quintarelli C, Mahendravada A, Zhang M, Vera J, et al. Engineering CD19-specific T lymphocytes with interleukin-15 and a suicide gene to enhance their anti-lymphoma/leukemia effects and safety. Leukemia. 2010;24(6):1160–70.

19.

Minagawa K, Jamil MO, Al-Obaidi M, Pereboeva L, Salzman D, Erba HP, et al. In vitro pre-clinical validation of suicide gene modified anti-CD33 redirected chimeric antigen receptor T-cells for acute myeloid leukemia. PLoS One. 2016;11(12):e0166891.

20.

Moon EK, Carpenito C, Sun J, Wang LC, Kapoor V, Predina J, et al. Expression of a functional CCR2 receptor enhances tumor localization and tumor eradication by retargeted human T cells expressing a mesothelin-specific chimeric antibody receptor. Clin Cancer Res. 2011;17(14):4719–30.

21.

Craddock JA, Lu A, Bear A, Pule M, Brenner MK, Rooney CM, et al. Enhanced tumor trafficking of GD2 chimeric antigen receptor T cells by expression of the chemokine receptor CCR2b. J Immunother. 2010;33(8):780–8.

22.

Fedorov VD, Themeli M, Sadelain M. PD-1- and CTLA-4-based inhibitory chimeric antigen receptors (iCARs) divert off-target immunotherapy responses. Sci Transl Med. 2013;5(215):215ra172.

23.

Lee DW, Gardner R, Porter DL, Louis CU, Ahmed N, Jensen M, et al. Current concepts in the diagnosis and management of cytokine release syndrome. Blood. 2014;124(2):188–95.

24.

Brentjens R, Yeh R, Bernal Y, Riviere I, Sadelain M. Treatment of chronic lymphocytic leukemia with genetically targeted autologous T cells: case report of an unforeseen adverse event in a phase I clinical trial. Mol Ther. 2010;18(4):666–8.

25.

•• Garfall AL, Maus MV, Hwang WT, Lacey SF, Mahnke YD, Melenhorst JJ, et al. Chimeric antigen receptor T cells against CD19 for multiple myeloma. N Engl J Med. 2015;373(11):1040–7. Important paper presenting results from a clinical trial with a patient treated for multiple myeloma with CD19 CAR T cells.

26.

Guo B, Chen M, Han Q, Hui F, Dai H, Zhang W, et al. CD138-directed adoptive immunotherapy of chimeric antigen receptor (CAR)-modified T cells for multiple myeloma. J Cell Immunother. 2016;2:28–35.

27.

•• Ramos CA, Savoldo B, Torrano V, Ballard B, Zhang H, Dakhova O, et al. Clinical responses with T lymphocytes targeting malignancy-associated kappa light chains. J Clin Invest. 2016;126(7):2588–96. Results from a clinical trial using CAR T cells directed against κ light chain as treatment of multiple myeloma.

28.

• Ali SA, Shi V, Maric I, Wang M, Stroncek DF, Rose JJ, et al. T cells expressing an anti-B-cell-maturation-antigen chimeric antigen receptor cause remissions of multiple myeloma. Blood. 2016. First published data in clinical trials for multiple myeloma using a BCMA-CAR.

29.

Cohen AD, Garfall AL, Stadtmauer EA, Lacey SF, Lancaster E, Vogl DT, et al., editors. B-cell maturation antigen (BCMA)-specific chimeric antigen receptor T cells (CART-BCMA) for multiple myeloma (MM): initial safety and efficacy from a phase i study. ASH; 2016; San Diego, CA.

30.

Tembhare PR, Yuan CM, Venzon D, Braylan R, Korde N, Manasanch E, et al. Flow cytometric differentiation of abnormal and normal plasma cells in the bone marrow in patients with multiple myeloma and its precursor diseases. Leuk Res. 2014;38(3):371–6.

31.

Hajek R, Okubote SA, Svachova H. Myeloma stem cell concepts, heterogeneity and plasticity of multiple myeloma. Br J Haematol. 2013;163(5):551–64.

32.

Wijdenes J, Vooijs WC, Clement C, Post J, Morard F, Vita N, et al. A plasmocyte selective monoclonal antibody (B-B4) recognizes syndecan-1. Br J Haematol. 1996;94(2):318–23.

33.

Heffner LT, Jagannath S, Zimmerman TM, Lee KP, Rosenblatt J, Lonial S, et al. BT062, an antibody-drug conjugate directed against CD138, given weekly for 3 weeks in each 4 week cycle: safety and further evidence of clinical activity. Blood. 2012;120:4042.

34.

Garfall AL, Lancaster E, Stadtmauer EA, Lacey SF, Dengel K, Ambrose DE, et al. Posterior reversible encephalopathy syndrome (PRES) after infusion of anti-BCMA CAR T cells (CART-BCMA) for multiple myeloma: successful treatment with cyclophosphamide. Blood. 2016;128(22):5702.

35.

J.G. Berdeja YL, N. Raje, D. Siegel, N. Munshi, A. Turka, L.P. Lam, M.T. Quigley, J.N. Kochenderfer. Clinical remissions and limited toxicity in a first-in-human multicenter study of bb2121, a novel anti-BCMA CAR T cell therapy for relapsed/refractory multiple myeloma. Annual Meeting of the EORTC/NCI/AACR; December 1, 2016; Munich, Germany 2016.
Ethics declarations
Conflict of Interest
Maria Ormhøj declares no potential conflicts of interest.
Felipe Bedoya reports a patent pending.
Matthew J. Frigault reports a patent issued and royalties received for compositions and methods for generating a persisting population of T cells useful for the treatment of cancer.
Marcela V. Maus reports a patent pending with some licensed to Novartis for a portfolio relevant to the use of CAR T cells in general, and to multiple myeloma specifically, including CD19.
Human and Animal Rights and Informed Consent
This article does not contain any studies with human or animal subjects performed by any of the authors.
Additional information
This article is part of the Topical Collection on Multiple Myeloma
About this article
Cite this article
Ormhøj, M., Bedoya, F., Frigault, M.J. et al. CARs in the Lead Against Multiple Myeloma. Curr Hematol Malig Rep 12, 119–125 (2017). https://doi.org/10.1007/s11899-017-0373-2
Keywords
Chimeric antigen receptor

Multiple myeloma

B cell maturation antigen

Adoptive T cell therapy

Clinical trials