Abstract
Patients with hematologic malignancies are increasing being prescribed oral anticancer medications (OAMs) and/or biologics. These newer targeted OAMs are associated with a host of practical and pharmacoeconomic implications for patients and healthcare providers. Issues such as safety, procurement challenges, and the need for proactive involvement of all stakeholders to optimize adherence for successful use of these agents are increasingly being recognized. The current reactive model is negatively impacting the patient experience through delays in care, financial toxicity, and decreased safety. It also impacts the healthcare providers in the form of lost revenue and staff burnout due to labor-intensive procurement and patient financial assistance burdens. In this review, we describe some of the issues identified and discuss potential strategies to improve patient access, minimize healthcare burden, and review current policy initiatives and patient advocacy efforts to reduce financial toxicity.
This is a preview of subscription content, log in to check access.
Access options
Buy single article
Instant access to the full article PDF.
US$ 39.95
Price includes VAT for USA
Subscribe to journal
Immediate online access to all issues from 2019. Subscription will auto renew annually.
US$ 99
This is the net price. Taxes to be calculated in checkout.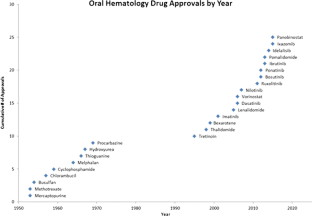 References
1.

DeMario MD, Ratain MJ. Oral chemotherapy: rationale and future directions. J Clin Oncol. 1998;16(7):2557–67.

2.

Weingart SN, Brown E, Bach PB, Eng K, Johnson SA, Kuzel TM, et al. NCCN task force report: oral chemotherapy. J Natl Compr Canc Netw. 2008;6 Suppl 3:S1–14.

3.

Liu G, Franssen E, Fitch MI, Warner E. Patient preferences for oral versus intravenous palliative chemotherapy. J Clin Oncol. 1997;15(1):110–5.

4.

Suchanek D. The rise and role of specialty pharmacy. Biotechnol Healthc. 2005;2(5):31–5.

5.

Schwartz RN, Eng KJ, Frieze DA, Gosselin TK, Griffith N, Seung AH, et al. NCCN task force report: specialty pharmacy. J Natl Compr Canc Netw. 2010;8 Suppl 4:S1–12.

6.

Weingart SN, Flug J, Brouillard D, Morway L, Partridge A, Bartel S, et al. Oral chemotherapy safety practices at US cancer centres: questionnaire survey. BMJ. 2007;334(7590):407.

7.

Goodin S, Griffith N, Chen B, Chuk K, Daouphars M, Doreau C, et al. Safe handling of oral chemotherapeutic agents in clinical practice: recommendations from an international pharmacy panel. Journal of Oncology Practice. 2011;7(1):7–12.

8.

Neuss MN, Polovich M, McNiff K, Esper P, Gilmore TR, LeFebvre KB, et al. 2013 updated American Society of Clinical Oncology/Oncology Nursing Society chemotherapy administration safety standards including standards for the safe administration and management of oral chemotherapy. J Oncol Pract. 2013;(2 Suppl):5s–13. * Updated previous ASCO/ONS guidelines to specifically include oral chemotherapy that provide guidance for patient education, adherence and safety practices.

9.

Waterhouse DM, Calzone KA, Mele C, Brenner DE. Adherence to oral tamoxifen: a comparison of patient self-report, pill counts, and microelectronic monitoring. J Clin Oncol. 1993;11(6):1189–97.

10.

Partridge AH, Avorn J, Wang PS, Winer EP. Adherence to therapy with oral antineoplastic agents. J Natl Cancer Inst. 2002;94(9):652–61.

11.

Greer JA, Amoyal N, Nisotel L, Fishbein JN, MacDonald J, Stagl J, et al. A systematic review of adherence to oral antineoplastic therapies. Oncologist. ;21(3):354–76

12.

Ruddy K, Mayer E, Partridge A. Patient adherence and persistence with oral anticancer treatment. CA Cancer J Clin. 2009;59(1):56–66.

13.

McCue DA, Lohr LK, Pick AM. Improving adherence to oral cancer therapy in clinical practice. Pharmacotherapy. 2014;34(5):481–94.

14.

Jabbour E, Saglio G, Radich J, Kantarjian H. Adherence to BCR-ABL inhibitors: issues for CML therapy. Clin Lymphoma Myeloma Leuk. 2012;12(4):223–9.

15.

Bhatia S, Landier W, Shangguan M, Hageman L, Schaible AN, Carter AR, et al. Nonadherence to oral mercaptopurine and risk of relapse in Hispanic and non-Hispanic white children with acute lymphoblastic leukemia: a report from the Children's Oncology Group. J Clin Oncol. 2012;30(17):2094–101. * The study describes the determinants of adherence and has implications for educational and behavioral interventions in patient groups that are high risk for poor disease outcomes due to non-adherence.

16.

Avorn J, Monette J, Lacour A, et al. Persistence of use of lipid-lowering medications: a cross-national study. JAMA. 1998;279(18):1458–62.

17.

Bedell CH. A changing paradigm for cancer treatment: the advent of new oral chemotherapy agents. Clin J Oncol Nurs. 2003;7(6 Suppl):5–9.

18.

Esposito D, Bagchi AD, Verdier JM, Bencio DS, Kim MS. Medicaid beneficiaries with congestive heart failure: association of medication adherence with healthcare use and costs. Am J Manag Care. 2009;15(7):437–45.

19.

Barillet M, Prevost V, Joly F, Clarisse B. Oral antineoplastic agents: how do we care about adherence? Br J Clin Pharmacol. 2015;80(6):1289–302.

20.

Bhatia S, Landier W, Hageman L, Kim H, Chen Y, Crews KR, et al. 6MP adherence in a multiracial cohort of children with acute lymphoblastic leukemia: a Children's Oncology Group study. Blood. 2014;124(15):2345–53.

21.

Khera N, Chang YH, Hashmi S, Slack J, Beebe T, Roy V, et al. Financial burden in recipients of allogeneic hematopoietic cell transplantation. Biol Blood Marrow Transplant. 2014;20(9):1375–81.

22.

Esper P. Identifying strategies to optimize care with oral cancer therapy. Clin J Oncol Nurs. 2013;17(6):629–36.

23.

Kav S, Schulmeister L, Nirenberg A, Barber L, Johnson J, Rittenberg C. Development of the MASCC teaching tool for patients receiving oral agents for cancer. Support Care Cancer. 2010;18(5):583–90.

24.

Regnier Denois V, Poirson J, Nourissat A, Jacquin JP, Guastalla JP, Chauvin F. Adherence with oral chemotherapy: results from a qualitative study of the behaviour and representations of patients and oncologists. Eur J Cancer Care (Engl). 2011;20(4):520–7.

25.

Moody M, Jackowski J. Are patients on oral chemotherapy in your practice setting safe? Clin J Oncol Nurs. 2010;14(3):339–46.

26.

American Society of Clinical Oncology Quality Oncology Practice Initiative. Available from: http://www.instituteforquality.org/qopi-qcp. Accessed March 20, 2016.

27.

Johnson JL, Moser L, Garwood CL. Health literacy: a primer for pharmacists. Am J Health Syst Pharm. 2013;70(11):949–55.

28.

Roett MA, Coleman MT. Practice improvement, part II: health literacy. FP Essent. 2013;414:19–24.

29.

Wong SF, Bounthavong M, Nguyen C, Bechtoldt K, Hernandez E. Implementation and preliminary outcomes of a comprehensive oral chemotherapy management clinic. Am J Health Syst Pharm. 2014;71(11):960–5.

30.

Tefferi A, Kantarjian H, Rajkumar SV, Baker LH, Abkowitz JL, Adamson JW, et al. In support of a patient-driven initiative and petition to lower the high price of cancer drugs. Mayo Clin Proc. 2015;90(8):996–1000.

31.

Shen C, Chien CR, Geynisman DM, Smieliauskas F, Shih YC. A review of economic impact of targeted oral anticancer medications. Expert Rev Pharmacoecon Outcomes Res. 2014;14(1):45–69.

32.

Smieliauskas F, Chien C-R, Shen C, Geynisman D, Shih Y-C. Cost-effectiveness analyses of targeted oral anti-cancer drugs: a systematic review. Pharmacoeconomics. 2014;32(7):651–80.

33.

Dusetzina SB, Keating NL. Mind the gap: why closing the doughnut hole is insufficient for increasing medicare beneficiary access to oral chemotherapy. J Clin Oncol. 2016;34(4):375–80

34.

Dusetzina SB, Winn AN, Abel GA, Huskamp HA, Keating NL. Cost sharing and adherence to tyrosine kinase inhibitors for patients with chronic myeloid leukemia. J Clin Oncol Off J Am Soc Clin Oncol. 2014;32(4):306–11.

35.

Kircher SM, Meeker CR, Nimeiri H, Geynisman DM, Zafar SY, Shankaran V, et al. The parity paradigm: can legislation help reduce the cost burden of oral anticancer medications? Value Health. 2016;19(1):88–98.

36.

Goodwin JA, Coleman EA, Sullivan E, Easley R, McNatt PK, Chowdhury N, et al. Personal financial effects of multiple myeloma and its treatment. Cancer Nurs. 2013;36(4):301–8.

37.

Fenn KM, Evans SB, McCorkle R, DiGiovanna MP, Pusztai L, Sanft T, et al. Impact of financial burden of cancer on survivors' quality of life? J Oncol Pract 2014;10(5):332–8

38.

Ramsey S, Blough D, Kirchhoff A, Kreizenbeck K, Fedorenko C, Snell K, et al. Washington State cancer patients found to be at greater risk for bankruptcy than people without a cancer diagnosis. Health Aff. 2013;32(6):1143–52.

39.

Lathan CS, Cronin A, Tucker-Seeley R, Zafar SY, Ayanian JZ, Schrag D. Association of financial strain with symptom burden and quality of life for patients with lung or colorectal cancer. J Clin Oncol. 2016 February 29, 2016

40.

Kent EE, Forsythe LP, Yabroff KR, Weaver KE, de Moor JS, Rodriguez JL, et al. Are survivors who report cancer-related financial problems more likely to forgo or delay medical care? Cancer. 2013;119(20):3710–7.

41.

Chino F, Peppercorn J, Taylor DH, Lu Y, Samsa G, Abernethy AP, et al. Self-reported financial burden and satisfaction with care among patients with cancer. Oncologist. 2014;19(4):414–20.

42.

Abboud C, Berman E, Cohen A, Cortes J, DeAngelo D, Deininger M, et al. The price of drugs for chronic myeloid leukemia (CML) is a reflection of the unsustainable prices of cancer drugs: from the perspective of a large group of CML experts. Blood. 2013;121(22):4439–42.

43.

Mailankody S, Prasad V. Five years of cancer drug approvals: innovation, efficacy, and costs. JAMA Oncology. 2015;1(4):539–40.

44.

Sulmasy D, Moy B. Debating the oncologist's role in defining the value of cancer care: our duty is to our patients. J Clin Oncol Off J Am Soc Clin Oncol. 2014;32(36):4039–41.

45.

Khera N. Reporting and grading financial toxicity. J Clin Oncol.;32(29):3337-8

46.

Ubel PA, Abernethy AP, Zafar SY. Full disclosure—out-of-pocket costs as side effects. N Engl J Med. 2013;369(16):1484–6.

47.

Schnipper LE, Davidson NE, Wollins DS, Tyne C, Blayney DW, Blum D, et al. American Society of Clinical Oncology statement: a conceptual framework to assess the value of cancer treatment options. J Clin Oncol. 2015;33(23):2563–77.

48.

NCCN Clinical Practice Guidelines in Oncology (NCCN Guidelines®) with NCCN Evidence Blocks, Available from: http://www.nccn.org/evidenceblocks/ [Accessed March 3, 2016.]
Ethics declarations
Conflict of Interest
Jeffrey Betcher and Elizabeth Dow each declare that they have no conflicts of interest.
Nandita Khera is a section editor for Current Hematologic Malignancy Reports.
Human and Animal Rights and Informed Consent
This article does not contain any studies with human or animal subjects performed by any of the authors.
Additional information
This article is part of the Topical Collection on Health Economics
About this article
Cite this article
Betcher, J., Dow, E. & Khera, N. Oral Chemotherapy in Patients with Hematological Malignancies—Care Process, Pharmacoeconomic and Policy Implications. Curr Hematol Malig Rep 11, 288–294 (2016). https://doi.org/10.1007/s11899-016-0325-2
Keywords
Oral chemotherapy

Oral cancer therapy

Oral anticancer drugs

Medication adherence

Oral parity

Pharmacoeconomics