Abstract
Given the vast amount of evidence showing the substantial influence of emotion on decision-making, we examined emotionality—a person's emotional reactivity to a stimulus—in police use-of-force decision-making between a sample of expert (n = 42) and novice (n = 36) officers. Officers observed body-worn camera footage and described the course of action they would take, the kinds of information they paid attention to, and their assessment of the situation. Natural language processing techniques were used to detect measures of valence, arousal, and dominance from officer responses. Linear mixed-effects models indicated that responses from experts were more positively valenced, more dominant, and less arousing compared with responses from novices. In other words, the ability to react and assess situations calmly, with a greater sense of control, and less negatively seems to be linked with the production of accurate, effective, and efficient behaviors that mark expert policing. These results shed light on the ways in which expert and novice officers understand and experience stimuli involved in use-of-force decision-making. Practical implications for use-of-force training and future directions are discussed.
Access options
Buy single article
Instant access to the full article PDF.
US$ 39.95
Tax calculation will be finalised during checkout.
Subscribe to journal
Immediate online access to all issues from 2019. Subscription will auto renew annually.
US$ 79
Tax calculation will be finalised during checkout.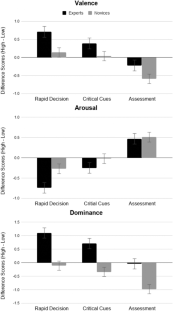 Notes
1.

We used the terms "expert" and "novice" rather than alternatives such as "experienced" and "less experienced" for several reasons. Experts, compared with novices, "…know more, their knowledge is better organized and integrated, they have better strategies for accessing knowledge and using it, and they are self-regulated and have different motivations" (Persky and Robinson 2017, pp. 75) and such expertise is developed "…through years of experience, but years of experience do not guarantee an individual will become an expert" (Persky and Robinson 2017, pp. 73). Experts in our sample were not recruited solely based on their number of years on the job. They were identified as experts by their department's commanders based on the criteria reported in the "Participants" section of this paper. In other words, not only did the experts have considerably more time on the job than novices but they were also identified as having a deep understanding of the subject matter. Being Use-of-Force/Firearms/Defensive Tactics instructors also requires a nuanced understanding of such techniques in order to explain why and when certain tactics should be used in various scenarios. As such, we deemed the terms "expert" and "novice" appropriate for the current research (Klahm and Tillyer 2015).
References
Abdelmageed S, Trotti R, Parker D, Sabatinelli D, Tamminga C, Gershon E, McDowell JE (2020) Effects of stimulus repetition on emotional processing in psychosis biotypes: findings from bipolar-schizophrenia network on intermediate phenotypes (B-SNIP) consortium. Biol Psychiat 87(9):S389

Andersen JP, Gustafsberg H (2016) A training method to improve police use of force decision making: a randomized controlled trial. Sage Open 6(2):2158244016638708

Blair DV, O'Neil HF Jr, Price DJ (1999) Effects of expertise on state self-efficacy and state worry during a computer-based certification test. Comput Hum Behav 15(3–4):511–530

Bornstein RF (1989) Exposure and affect: overview and meta-analysis of research, 1968–1987. Psychol Bull 106(2):265–289

Boulton L, Cole J (2016) Adaptive flexibility: examining the role of expertise in the decision making of authorized firearms officers during armed confrontation. J Cogn Eng Decis Mak 10(3):291–308

Blumberg DM, Schlosser MD, Papazoglou K, Creighton S, Kaye CC (2019) New directions in police academy training: A call to action. Int J Environ Res Public Health 16(24), Article 4941. https://doi.org/10.3390/ijerph16244941

Brandl SG, Stroshine MS, Frank J (2001) Who are the complaint-prone officers?: an examination of the relationship between police officers' attributes, arrest activity, assignment, and citizens' complaints about excessive force. J Crim Just 29(6):521–529

Breiter HC, Etcoff NL, Whalen PJ, Kennedy WA, Rauch SL, Buckner RL, Rosen BR (1996) Response and habituation of the human amygdala during visual processing of facial expression. Neuron 17(5):875–887

Brown SG, Daus CS (2016) Avoidant but not avoiding: the mediational role of anticipated regret in police decision-making. J Police Crim Psychol 31(4):238–249

Crandall B, Klein G, Klein GA, Hoffman RR (2006) Working minds: a practitioner's guide to cognitive task analysis. MIT Press

Damasio AR (1994) Descartes' error: emotion, reason, and the human brain. Putnam.

United States Department of Justice. (2020, June 23–24). Hearing twelve: policing culture. President's Commission on Law Enforcement and the Administration of Justice. https://www.justice.gov/ag/page/file/1319456/download

Ekman P (2007) Emotions revealed: Recognizing faces and feelings to improve communication and emotional life. Holt

Ericsson KA, Krampe RT, Tesch-Römer C (1993) The role of deliberate practice in the acquisition of expert performance. Psychol Rev 100(3):363–406

Estes Z, Jones LL, Golonka S (2012) Emotion affects similarity via social projection. Soc Cogn 30(5):584–609

Forgas JP (1995) Mood and judgment: the affect infusion model (AIM). Psychol Bull 117(1):39–66

Foster M (2020) Police use of force: overview and considerations for Congress. Federation o American Scientists: Congressional Research Service, LSB10516. https://crsreports.congress.gov

Fridman J, Barrett LF, Wormwood JB, Quigley KS (2019) Applying the theory of constructed emotion to police decision making. Front Psychol 10(1), Article 1946

Frijda NH (1986) The emotions. Cambridge University Press

Gannouni S, Aledaily A, Belwafi K, Aboalsamh H (2020) Adaptive emotion detection using the valence-arousal-dominance model and EEG brain rhythmic activity changes in relevant brain lobes. IEEE Access 8(1):67444–67455

George JM, Dane E (2016) Affect, emotion, and decision making. Organ Behav Hum Decis Process 136:47–55

Greene J, Haidt J (2002) How (and where) does moral judgment work? Trends Cogn Sci 6(12):517–523

Hardeniya T, Borikar DA (2016) Dictionary based approach to sentiment analysis—a review. International Journal of Advanced Engineering, Management and Science 2(5):317–322

Harman JL, Zhang D, Greening SG (2019) Basic processes in dynamic decision making: how experimental findings about risk, uncertainty, and emotion can contribute to police decision making. Front Psychol 10(1), Article 2140

Jagiello R, Pomper U, Yoneya M, Zhao S, Chait M (2019) Rapid brain responses to familiar vs. unfamiliar music–an EEG and pupillometry study. Sci Rep 9(1):1–13

Johnson RR, Stone BT, Miranda CM, Vila B, James L, James SM, Berka C (2014) Identifying psychophysiological indices of expert vs. novice performance in deadly force judgment and decision making. Front Hum Neurosci 8(1), Article 512

Kalvin CB, Bierman KL, Gatzke-Kopp LM (2016) Emotional reactivity, behavior problems, and social adjustment at school entry in a high-risk sample. J Abnorm Child Psychol 44(8):1527–1541

Keltner DT, Lerner JS (2010) Emotion. In DT Gilbert, ST Fiske, G Lindzey (Eds.), The handbook of social psychology:Vol. 1. (5th ed., pp. 317–352). Wiley

Keltner D, Oatley K, Jenkins JM (2014) Understanding emotions. Wiley

Kiehl KA, Laurens KR, Duty TL, Forster BB, Liddle PF (2001) Neural sources involved in auditory target detection and novelty processing: an event-related fMRI study. Psychophysiology 38(1):133–142

King SO II, Williams CL (2017) The brainstem, arousal, and memory. In R. Lalonde (Ed.), Neuroscience research progress. The brainstem and behavior (pp. 255–289). Nova Biomedical Books

Klahm CF, Tillyer R (2015) Rethinking the measurement of officer experience and its role in traffic stop searches. Police Quarterly 18(4):343–367

Klein G, Shneiderman B, Hoffman RR, Ford KM (2017) Why expertise matters: a response to the challenges. IEEE Intell Syst 32(6):67–73

Larrick RP, Feiler DC (2015) Expertise in decision making. In G. Keren, G Wu (Eds.), The Wiley Blackwell Handbook of Judgment and Decision Making (pp. 696-721). John Wiley & Sons, Ltd

Lazarus RS, Lazarus RS (1991) Emotion and adaptation. Oxford University Press on Demand

Lerner JS, Li Y, Valdesolo P, Kassam KS (2015) Emotion and decision making. Annu Rev Psychol 66(1):799–823

Lerner JS, Tiedens LZ (2006) Portrait of the angry decision maker: how appraisal tendencies shape anger's influence on cognition. J Behav Decis Mak 19(2):115–137

Loewenstein G (1996) Out of control: visceral influences on behavior. Organ Behav Hum Decis Process 65(3):272–292

Makin DA, Willits DW, Koslicki W, Brooks R, Dietrich BJ, Bailey RL (2019) Contextual determinants of observed negative emotional states in police–community interactions. Crim Justice Behav 46(2):301–318

Mangels L, Suss J, Lande B (2020) Police expertise and use of force: using a mixed-methods approach to model expert and novice use-of-force decision-making. J Police Crim Psychol 1–10

Mohammad SM (2016) Sentiment analysis: Detect valence, emotions, and other affectual states from text. Emotion Measurement 201–237. https://doi.org/10.1016/B978-0-08-100508-8.00009-6

Montoya RM, Horton RS, Vevea JL, Citkowicz M, Lauber EA (2017) A re-examination of the mere exposure effect: the influence of repeated exposure on recognition, familiarity, and liking. Psychol Bull 143(5):459–498

Mungan E, Akan M, Bilge MT (2019) Tracking familiarity, recognition, and liking increases with repeated exposures to nontonal music: Revisiting MEE-Revisited. New Ideas Psychol 54:63–75

Paluck EL, Shafir E (2017) The psychology of construal in the design of field experiments. In Handbook of Economic Field Experiments (Vol. 1, pp. 245–268). North-Holland

Persky AM, & Robinson JD (2017) Moving from novice to expertise and its implications for instruction. Am J Pharm Educ 81(9), Article 6065

Pennebaker JW, Booth RJ, Francis ME (2007) Linguistic inquiry and word count: LIWC [Computer software]. Austin, TX: liwc. net, 135

Petrides M (2007) The orbitofrontal cortex: novelty, deviation from expectation, and memory. Ann N Y Acad Sci 1121(1):33–53

Pham MT (2007) Emotion and rationality: a critical review and interpretation of empirical evidence. Rev Gen Psychol 11(2):155–178

Quigley BM, Tedeschi JT (1996) Mediating effects of blame attributions on feelings of anger. Pers Soc Psychol Bull 22(12):1280–1288

Ramsøy TZ, Friis-Olivarius M, Jacobsen C, Jensen SB, Skov M (2012) Effects of perceptual uncertainty on arousal and preference across different visual domains. J Neurosci Psychol Econ 5(4):212–226

Reagan AJ, Danforth CM, Tivnan B, Williams JR, Dodds PS (2017) Sentiment analysis methods for understanding large-scale texts: a case for using continuum-scored words and word shift graphs. EPJ Data Science, 6(1), Article 28

Rice DR, Zorn C (2013) Corpus-based dictionaries for sentiment analysis of specialized vocabularies. Polit Sci Res Methods 1–16

Rowe G, Hirsh JB, Anderson AK (2007) Positive affect increases the breadth of attentional selection. Proc Natl Acad Sci 104(1):383–388

Rozin P, Millman L, Nemeroff C (1986) Operation of the laws of sympathetic magic in disgust and other domains. J Pers Soc Psychol 50(4):703–712

Satpute AB, Hanington L, Barrett LF (2016) Novel response patterns during repeated presentation of affective and neutral stimuli. Soc Cogn Affect Neurosci 11(12):1919–1932

Scherer KR & Ekman P (Eds.) (2014) Approaches to emotion. Psychology Press

Schwarz N (2000) Emotion, cognition, and decision making. Cogn Emot 14(4):433–440

Sherman RA, Nave CS, Funder DC (2013) Situational construal is related to personality and gender. J Res Pers 47(1):1–14

Suss J, Ward P (2018) Revealing perceptual–cognitive expertise in law enforcement: an iterative approach using verbal-report, temporal-occlusion, and option-generation methods. Cogn Technol Work 20(4):585–596

Sutton TM, Herbert AM, Clark DQ (2019) Valence, arousal, and dominance ratings for facial stimuli. Q J Exp Psychol 72(8):2046–2055

Szameitat DP, Darwin CJ, Wildgruber D, Alter K, Szameitat AJ (2011) Acoustic correlates of emotional dimensions in laughter: arousal, dominance, and valence. Cogn Emot 25(4):599–611

Tausczik YR, Pennebaker JW (2010) The psychological meaning of words: LIWC and computerized text analysis methods. J Lang Soc Psychol 29(1):24–54

Van Kleef GA (2009) How emotions regulate social life: the emotions as social information (EASI) model. Curr Dir Psychol Sci 18(3):184–188

Van Kleef GA, De Dreu CK, Manstead AS (2004) The interpersonal effects of emotions in negotiations: a motivated information processing approach. J Pers Soc Psychol 87(4):510–528

Vickers JN, Lewinski W (2012) Performing under pressure: gaze control, decision making and shooting performance of elite and rookie police officers. Hum Mov Sci 31(1):101–117

Vohs KD, Baumeister RF, Loewenstein G (2007) Do emotions help or hurt decision making? Sage, A hedgefoxian perspective

Voigt R, Camp NP, Prabhakaran V, Hamilton WL, Hetey RC, Griffiths CM, Eberhardt JL (2017) Language from police body camera footage shows racial disparities in officer respect. Proceedings of the National Academy of Sciences 114(25):6521–6526

Ward P, Suss J, Eccles DW, Williams AM, Harris KR (2011) Skill-based differences in option generation in a complex task: a verbal protocol analysis. Cogn Process 12(3):289–300

Warriner AB, Kuperman V, Brysbaert M (2013) Norms of valence, arousal, and dominance for 13,915 English lemmas. Behav Res Methods 45(4):1191–1207

Weierich MR, Wright CI, Negreira A, Dickerson BC, Barrett LF (2010) Novelty as a dimension in the affective brain. Neuroimage 49(3):2871–2878

Wood G, Tyler TR, Papachristos AV (2020) Procedural justice training reduces police use of force and complaints against officers. Proc Natl Acad Sci 117(18):9815–9821

Wray JM (2020) The weight of emotions on decision-making: a comparative analysis. Inquiries Journal 12(09)

Wright CI, Martis B, Schwartz CE, Shin LM, Fischer HH, McMullin K, Rauch SL (2003) Novelty responses and differential effects of order in the amygdala, substantia innominata, and inferior temporal cortex. Neuroimge 18:660–669

Yamaguchi S, Hale LA, D'Esposito M, Knight RT (2004) Rapid prefrontal hippocampal habituation to novel events. J Neurosci Off J Soc Neurosci 24:5356–5363

Yates FJ (2007) Emotion appraisal tendencies and carryover: how, why, and… therefore? J Consum Psychol 17(3):179–183

Yip JA, Côté S (2013) The emotionally intelligent decision maker: emotion-understanding ability reduces the effect of incidental anxiety on risk taking. Psychol Sci 24(1):48–55

Zajonc RB (1968) Attitudinal effects of mere exposure. J Pers Soc Psychol 9(2 PT. 2), 1–27

Zheng Y, Yang Z, Jin C, Qi Y, Liu X (2017) The influence of emotion on fairness-related decision making: a critical review of theories and evidence. Front Psychol 8, Article 1592

Zimmerman LA (2008) Making sense of human behavior: explaining how police officers assess danger during traffic stops. In J.M. Schraagen, L. Militello, T. Ormerod, R. Lipshitz (Eds.), Naturalistic Decision Making and Macrocognition (pp. 121–140). Ashgate Publishing

Di Nota PM, Huhta JM (2019) Complex motor learning and police training: applied, cognitive, and clinical perspectives. Front Psychol 10:1797
Funding
This study was funded by Bureau of Justice Assistance (BJA-2016-VI-BX-K005).
Ethics declarations
Conflict of Interest
The authors declare that they have no conflict of interest.
Ethical Approval
All procedures performed in studies involving human participants were in accordance with the ethical standards of the institutional and/or national research committee and with the 1964 Helsinki declaration and its later amendments or comparable ethical standards.
Informed Consent
Informed consent was obtained from all individual participants included in the study.
Additional information
Publisher's Note
Springer Nature remains neutral with regard to jurisdictional claims in published maps and institutional affiliations.
About this article
Cite this article
Ta, V.P., Lande, B. & Suss, J. Emotional Reactivity and Police Expertise in Use-of-Force Decision-Making. J Police Crim Psych (2021). https://doi.org/10.1007/s11896-020-09428-5
Keywords
Emotional reactivity

Police

Expertise

Use-of-force

Decision-making