Abstract
The majority of research examining factors that influence jurors where the sole evidence is eyewitness identification focuses on stranger identifications where the eyewitness has never encountered the perpetrator before. However, it also is important to understand how familiarity between the eyewitness and perpetrator may be influential as familiarity is prevalent in criminal cases. Therefore, the current study examined the influence of familiarity recency (i.e., how long ago the eyewitness knew the defendant as a former neighbor 1, 5, or 10 years ago) and age of the eyewitness (25, 50, or 75 years old) on mock jurors' decision-making. Mock jurors (N = 326) read a trial transcript involving a positive identification from an eyewitness. Neither familiarity recency nor eyewitness age influenced mock jurors' perceptions of the defendant or eyewitness, or verdict decisions. However, mock jurors' subjective ratings regarding the familiarity between the eyewitness and defendant were highly associated with mock jurors' perceptions and verdict decisions. Specifically, higher familiarity ratings were associated with more guilty verdicts, higher guilt ratings, more positive perceptions of the eyewitness, and more negative perceptions of the defendant. This is an important finding as it demonstrates that jurors' personal perceptions of familiarity are highly influential in familiar eyewitness cases.
Access options
Buy single article
Instant access to the full article PDF.
USD 39.95
Price excludes VAT (USA)
Tax calculation will be finalised during checkout.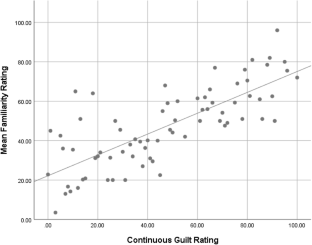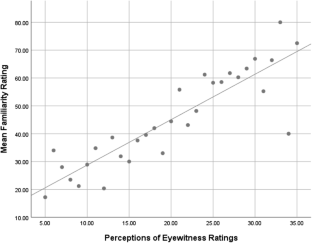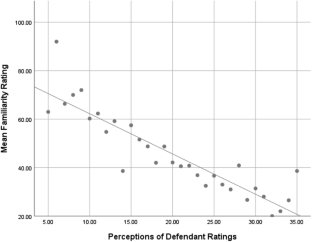 References
Brewer N, Wells GL (2011) Eyewitness identification. Curr Dir Psychol Sci 20:24–27

Brimacombe CAE, Quinton N, Nance N, Garrioch L (1997) Is age irrelevant? Perceptions of young and old adult eyewitnesses. Law Hum Behav 21(6):619–634

Brimacombe CAE, Jung S, Garrioch L, Allison M (2003) Perceptions of older adult eyewitnesses: will you believe me when I'm 64? Law Hum Behav 27(5):507–522

Bruer K, Pozzulo JD (2014) Influence of eyewitness age and recall error on mock juror decision-making. Leg Criminol Psychol 19(2):332–348

Connors E, Lundregan T, Miller N, McEwen T (1996) Convicted by juries, exonerated by science: case studies in the use of DNA evidence to establish innocence after trial. US Department of Justice, National Institute of Justice, Washington, DC

Deffenbacher KA, Bornstein BH, McGorty EK, Penrod SD (2008) Forgetting the once-seen face: estimating the strength of an eyewitness's memory representation. J Exp Psychol Appl 14(2):139–150

Fitzgerald RJ, Price HL (2015) Eyewitness identification across the life span: a meta-analysis of age differences. Psychol Bull 141(6):1228–1265

Flowe HR, Mehta A, Ebbesen EB (2011) The role of eyewitness identification evidence in felony case dispositions. Psychol Public Policy Law 17:140–159

Goodman GS, Golding JM, Helgeson VS, Haith MM, Michelli J (1987) When a child takes the stand: jurors' perceptions of children's eyewitness testimony. Law Hum Behav 11(1):27–40

Keller SR, Wiener RL (2011) What are we studying? Student jurors, community jurors, and construct validity. Behav Sci Law 29(3):376–394

Kwong See ST, Hoffman HG, Wood TL (2001) Perceptions of an old female eyewitness: is the older eyewitness believable? Psychol Aging 16(2):346–350

Lieberman JD (2002) Head over the heart or heart over the head? Cognitive experiential self-theory and extralegal heuristics in juror decision making. J Appl Soc Psychol 32(12):2526–2553

Maeder EM, Ewanation LA, Monnink J (2017) Jurors' perceptions of evidence: the relative influence of DNA and eyewitness testimony when presented by opposing parties. J Police Crim Psychol 32(1):33–42

Mandler G (2008) Familiarity breeds attempts: A critical review of dual-process theories of recognition. Perspect Psychol Sci 3(5):390–399

Memon A, Havard C, Clifford B, Gabbert F, Watt M (2011) A field evaluation of the VIPER system: a new technique for eliciting eyewitness identification evidence. Psychol Crime Law 17(8):711–729

Mueller-Johnson K, Toglia MP, Sweeney CD, Ceci SJ (2007) The perceived credibility of older adults as witnesses and its relation to ageism. Behav Sci Law 25(3):355–375

Narayan C (2008) Is there a double standard of aging?: older men and women and ageism. Educ Gerontol 34(9):782–787

Neal TMS, Christiansen A, Bornstein BH, Robicheaux TR (2012) The effects of mock jurors' beliefs about eyewitness performance on trial judgments. Psychol Crime Law 18:49–64

Nunez N, McCrea SM, Culhane SE (2011) Jury decision making research: are researchers focusing on the mouse and not the elephant in the room? Behav Sci Law 29(3):439–451

Pennington N, Hastie R (1986) Evidence evaluation in complex decision making. J Pers Soc Psychol 51(2):242–258

Pezdek K, Avila-Mora E, Sperry K (2010) Does trial presentation medium matter in jury simulation research? Evaluating the effectiveness of eyewitness expert testimony. Appl Cogn Psychol 24(5):673–690

Pica E, Sheahan C, Mesesan A, Pozzulo J (2017) The influence of prior familiarity, identification delay, appearance change, and descriptor type and errors on mock jurors' judgments. J Police Crim Psychol 33(4):289–301

Podd J (1990) The effects of memory load and delay on facial recognition. Appl Cogn Psychol 4:47–59

Pozzulo JD, Dempsey JL (2009) Witness factors and their influence on jurors' perceptions and verdicts. Crim Justice Behav 36(9):923–934

Pozzulo JD, Pettalia JL, Bruer K, Javaid S (2014) Eyewitness age and familiarity with the defendant: influential factors in mock jurors' assessment of guilt. Am J Forensic Psychol 32:39–51

Ross D, Dunning D, Toglia M, Ceci S (1990) The child in the eyes of the jury: assessing mock jurors' perceptions of the child witness. Law Hum Behav 14:5–23

Sheahan CL, Pozzulo JD, Reed JE, Pica E (2018) The role of familiarity with the defendant, type of descriptor discrepancy, and eyewitness age on mock jurors' perceptions of eyewitness testimony. J Police Crim Psychol 33:35–44

Shepard JW, Gibling F, Ellis HD (1991) The effects of distinctiveness, presentation time and delay on face recognition. Eur J Cogn Psychol 3:137–144

Valentine T, Pickering A, Darling S (2003) Characteristics of eyewitness identification that predict the outcome of real lineups. Appl Cogn Psychol 17:969–993

Vallano JP, Pettalia J, Pica E, Pozzulo J (2018) An examination of mock jurors' judgments in familiar identification cases. J Police Crim Psychol:1–13

Wiener RL, Krauss DA, Lieberman JD (2011) Mock jury research: where do we go from here? Behav Sci Law 29(3):467–479

Wright DB, Hanoteau F, Parkinson C, Tatham A (2010) Perceptions about memory reliability and honesty for children of 3 to 18 years old. Leg Criminol Psychol 15(2):195–207

Yarmey DA (1984) Accuracy and credibility of the elderly witness. Canadian Journal on Aging 3(2):79–90
Funding
No funding information available for this project.
Ethics declarations
Conflict of Interest
The authors declare that they have no conflict of interest.
Ethical Approval
All procedures performed in studies involving human participants were in accordance with the ethical standards of the institutional and/or national research committee and with the 1964 Helsinki declaration and its later amendments or comparable ethical standards.
Informed Consent
Informed consent was obtained from all individual participants included in the study.
Additional information
Publisher's Note
Springer Nature remains neutral with regard to jurisdictional claims in published maps and institutional affiliations.
About this article
Cite this article
Thompson, L.E., Sheahan, C., Pica, E. et al. The Influence of Familiarity Recency and Eyewitness Age on Mock Jurors' Judgement. J Police Crim Psych 34, 362–372 (2019). https://doi.org/10.1007/s11896-018-9311-z
Published:

Issue Date:

DOI: https://doi.org/10.1007/s11896-018-9311-z
Keywords
Familiarity

Eyewitness age

Elderly witness

Juror decision-making