Abstract
Persons employed in highly stressful occupations are at a heightened risk for developing chronic stress-related disorders. These disorders are associated with immunosuppression, disease progression and psychological illness. Exercise has previously been used to combat depression; however, police personnel are already moderately active yet still stressed. Therefore, this pilot study aims to determine if high-intensity intermittent training (HIIT) could be a potential stress-reducing strategy in already trained persons, and which biological markers could be measured in a larger study. Using three single case studies, this study employed a 10-week HIIT intervention and measured markers of stress via Perceived Stress Scale (PSS) scores, cortisol levels and associated inflammation blood markers at baseline and post-intervention. The PSS scores reduced after HIIT (36–40%). Cortisol secretion pre-intervention indicated a flat profile during daytime hours; post-intervention showed increased levels in the morning and an overall normal daytime profile. Of the inflammation blood markers, eosinophil cell counts were halved post-intervention. HIIT, therefore, is a potential stress-reducing strategy in already trained individuals. The decreased psychological stress was associated with normalization of cortisol hormone function and reduced systemic inflammation via lower eosinophil counts, which highlighted the specific physiological markers as indicators of chronic stress.
This is a preview of subscription content, log in to check access.
Access options
Buy single article
Instant access to the full article PDF.
US$ 39.95
Price includes VAT for USA
Subscribe to journal
Immediate online access to all issues from 2019. Subscription will auto renew annually.
US$ 99
This is the net price. Taxes to be calculated in checkout.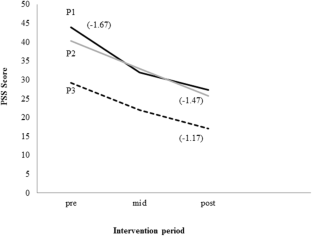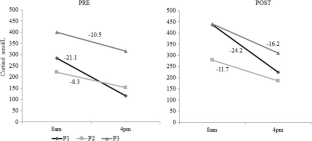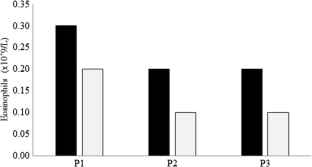 References
Asmundson GJ, Fetzner MG, Deboer LB, Powers MB, Otto MW, Smits JA (2013) Let's get physical: a contemporary review of the anxiolytic effects of exercise for anxiety and its disorders. Depression Anxiety 30(4):362–373. https://doi.org/10.1002/da.22043

Bauer JM, Kaiser MJ, Anthony P, Guigoz Y, Sieber CC (2008) The Mini Nutritional Assessment—its history, today's practice, and future perspectives. Nutr Clin Pract 23(4):388–396. https://doi.org/10.1177/0884533608321132

Broman-Fulks JJ, Berman ME, Rabian BA, Webster MJ (2004) Effects of aerobic exercise on anxiety sensitivity. Behav Res Ther 42(2):125–136. https://doi.org/10.1016/s0005-7967(03)00103-7

Cohen S, Janicki-Deverts D, Doyle WJ, Miller GE, Frank E, Rabin BS, Turner RB (2012) Chronic stress, glucocorticoid receptor resistance, inflammation, and disease risk. Prac Natl Acad Sci USA 109(16):5995–5999. https://doi.org/10.1073/pnas.1118355109

Cohen S, Kamarck T, Mermelstein R (1983) A global measure of perceived stress. J Health Social Behav 24(4):385–396

Cohen S, & Williamson GM (1988) Perceived stress in a probability sample fo the United States. In S. Spacapan & S. Oskamp (Eds.), The social psychology of health. Claremont Symposium on Applied Social Psychology (pp. 3–67) Newbury Park, CA: Sage., 3–67

Cooney G, Dwan K, Mead G (2014) Exercise for depression. J Am Med Assoc 311(23):2432–2433. https://doi.org/10.1001/jama.2014.4930

de Terte I, Stephens C (2014) Psychological resilience of workers in high-risk occupations. Stress Health 30(5):353–355. https://doi.org/10.1002/smi.2627

de Terte I, Stephens C, Huddleston L (2014) The development of a three part model of psychological resilience. Stress Health 30(5):416–424. https://doi.org/10.1002/smi.2625

Ellis KR, Griffith DM, Allen JO, Thorpe RJ Jr, Bruce MA (2015) "If you do nothing about stress, the next thing you know, you're shattered": perspectives on African American men's stress, coping and health from African American men and key women in their lives. Soc Sci Med 139:107–114. https://doi.org/10.1016/j.socscimed.2015.06.036

Flouris AD, Metsios GS, Koutedakis Y (2005) Enhancing the efficacy of the 20 m multistage shuttle run test. Br J Sports Med 39(3):166–170

Foley P, Kirschbaum C (2010) Human hypothalamus-pituitary-adrenal axis responses to acute psychosocial stress in laboratory settings. Neurosci Biobehav Rev 35(1):91–96. https://doi.org/10.1016/j.neubiorev.2010.01.010

Glaser R, & Kiecolt-Glaser JK (2005) Stress-induced immune dysfunction: implications for health. (1474–1733) Retrieved from https://doi.org/10.1038/nri1571

Hannibal KE, Bishop MD (2014) Chronic stress, cortisol dysfunction, and pain: a psychoneuroendocrine rationale for stress management in pain rehabilitation. Phys Ther 94(12):1816–1825. https://doi.org/10.2522/ptj.20130597

Heim C, Ehlert U, Hellhammer DH (2000) The potential role of hypocortisolism in the pathophysiology of stress-related bodily disorders. Psychoneuroendocrinology 25(1):1–35

Hill EE, Zack E, Battaglini C, Viru M, Viru A, Hackney AC (2008) Exercise and circulating cortisol levels: the intensity threshold effect. J Endocrinol Investig 31(7):587–591. https://doi.org/10.1007/bf03345606

Huddleston L, Stephens C, Paton D (2007) An evaluation of traumatic and organizational experiences on the psychological health of New Zealand police recruits. Work 28(3):199–207

Jackson A, Morrow J, Hill D, & Dishman R (2004) Physical activity for health and fitness. (Updated Edition). Champaign, IL: Human Kinetics

Jackson SE, Maslach C (1982) After-effects of job-related stress: families as victims. J Organ Behav 3(1):63–77. https://doi.org/10.1002/job.4030030106

Juruena MF, Cleare AJ, Pariante CM (2004) The hypothalamic pituitary adrenal axis, glucocorticoid receptor function and relevance to depression. Rev Bras Psiquiatr 26(3):189–201 doi:/S1516–44462004000300009

Kirschbaum C, Kudielka BM, Gaab J, Schommer NC, Hellhammer DH (1999) Impact of gender, menstrual cycle phase, and oral contraceptives on the activity of the hypothalamus-pituitary-adrenal axis. Psychosom Med 61(2):154–162

Kotozaki Y, Kawashima R (2012) Effects of the Higashi-Nihon earthquake: posttraumatic stress, psychological changes, and cortisol levels of survivors. PLoS One 7(4):e34612. https://doi.org/10.1371/journal.pone.0034612

Krantz D, Thorn B, & Klecolt-Glaser J (2013) How stress affects your health. Retrieved from www.apa.org/helpcenter/stress.aspx

Kunz-Ebrecht SR, Mohamed-Ali V, Feldman PJ, Kirschbaum C, Steptoe A (2003) Cortisol responses to mild psychological stress are inversely associated with proinflammatory cytokines. Brain Behav Immun 17(5):373–383

Kvam S, Kleppe CL, Nordhus IH, Hovland A (2016) Exercise as a treatment for depression: a meta-analysis. J Affect Disord 202:67–86. https://doi.org/10.1016/j.jad.2016.03.063

Lee E-H (2012) Review of the psychometric evidence of the perceived stress scale. Asian Nurs Res 6(4):121–127. https://doi.org/10.1016/j.anr.2012.08.004

Leonard B, Maes M (2012) Mechanistic explanations how cell-mediated immune activation, inflammation and oxidative and nitrosative stress pathways and their sequels and concomitants play a role in the pathophysiology of unipolar depression. Neurosci Biobehav Rev 36(2):764–785. https://doi.org/10.1016/j.neubiorev.2011.12.005

Maes M, Berk M, Goehler L, Song C, Anderson G, Gałecki P, Leonard B (2012) Depression and sickness behavior are Janus-faced responses to shared inflammatory pathways. BMC Med 10:66. https://doi.org/10.1186/1741-7015-10-66

Mahar MT, Guerieri AM, Hanna MS, Kemble CD (2011) Estimation of aerobic fitness from 20-m multistage shuttle run test performance. Am J Preventative Med 41(4 Suppl 2):S117–S123. https://doi.org/10.1016/j.amepre.2011.07.008

Matud MP (2004) Gender differences in stress and coping styles. Personal Individ Differ 37(7):1401–1415. https://doi.org/10.1016/j.paid.2004.01.010

McGuigan MR, Egan AD, Foster C (2004) Salivary cortisol responses and perceived exertion during high intensity and low intensity bouts of resistance exercise. J Sports Sci Med 3(1):8–15

Miller GE, Chen E, Zhou ES (2007) If it goes up, must it come down? Chronic stress and the hypothalamic-pituitary-adrenocortical axis in humans. Psychol Bull 133(1):25–45. https://doi.org/10.1037/0033-2909.133.1.25

Nolen-Hoeksema S (2001) Gender differences in depression. Curr Dir Psychol Sci 10(5):173–176. https://doi.org/10.1111/1467-8721.00142

Ouerghi N, Selmi O, Ben Khalifa W, Ben Fradj MK, Feki M, Kaabachi N, Bouassida A (2016) Effect of high-intensity intermittent training program on mood state in overweight/obese young men. Iran J Public Health 45(7):951–952

Padgett DA, Glaser R (2003) How stress influences the immune response. Trends Immunol 24(8):444–448. https://doi.org/10.1016/S1471-4906(03)00173-X

Parfitt G, Markland D, Holmes C (1994) Responses to physical exertion in active and inactive males and females. J Sport Exericse Psychol 16

Raison CL, Miller AH (2003) When not enough is too much: the role of insufficient glucocorticoid signaling in the pathophysiology of stress-related disorders. Am J Psychiatr 160(9):1554–1565. https://doi.org/10.1176/appi.ajp.160.9.1554

Salmon P (2001) Effects of physical exercise on anxiety, depression, and sensitivity to stress: a unifying theory. Clin Psychol Rev 21(1):33–61

Scully D, Kremer J, Meade MM, Graham R, Dudgeon K (1998) Physical exercise and psychological well being: a critical review. Br J Sports Med 32(2):111–120

Segerstrom SC, Miller GE (2004) Psychological stress and the human immune system: a meta-analytic study of 30 years of inquiry. Psychol Bull 130(4):601–630. https://doi.org/10.1037/0033-2909.130.4.601

Stone AA, Schwartz JE, Smyth J, Kirschbaum C, Cohen S, Hellhammer D, Grossman S (2001) Individual differences in the diurnal cycle of salivary free cortisol: a replication of flattened cycles for some individuals. Psychoneuroendocrinology 26(3):295–306

Thompson WR, Gordon NF, & Pescatello LS (2010) ACSM's guidelines for exercise testing and prescription. Philadelphia: Wolters Kluwer/Lippincott Williams & Wilkins

Tops M, Riese H, Oldehinkel AJ, Rijsdijk FV, Ormel J (2008) Rejection sensitivity relates to hypocortisolism and depressed mood state in young women. Psychoneuroendocrinology 33(5):551–559. https://doi.org/10.1016/j.psyneuen.2008.01.011

Tsatsoulis A, Fountoulakis S (2006) The protective role of exercise on stress system dysregulation and comorbidities. Ann N Y Acad Sci 1083:196–213. https://doi.org/10.1196/annals.1367.020

Tsigos C, Chrousos GP (2002) Hypothalamic-pituitary-adrenal axis neuroendocrine factors and stress. J Psychosom Res 53(4):865–871

VanBruggen MD, Hackney AC, McMurray RG, Ondrak KS (2011) The relationship between serum and salivary cortisol levels in response to different intensities of exercise. Int J Sports Physiol Perform 6(3):396–407

Violanti JM, Fekedulegn D, Charles LE, Andrew ME, Hartley TA, Mnatsakanova A, Burchfiel CM (2009) Suicide in police work: exploring potential contributing influences. Am J Crim Justice 34(1):41–53. https://doi.org/10.1007/s12103-008-9049-8

Whetton AD, Gordon J (1996) Blood cell biochemistry, vol 7. Springer, Berlin

Yeung RR (1996) The acute effects of exercise on mood state. J Psychosom Res 40(2):123–141
Ethics declarations
All potential participants signed a consent form after a verbal explanation.
Competing Interests
The authors declare that they have no competing interests.
Ethical Approval
This work was approved by institutional human ethics committee ref. no. Human Ethics Application SOA 16/22.
Additional information
Publisher's Note
Springer Nature remains neutral with regard to jurisdictional claims in published maps and institutional affiliations.
About this article
Cite this article
Lark, S., Kurtovich, R., de Terte, I. et al. The Effect of High-Intensity Intermittent Exercise on Chronic Stress and Potential Biomarkers: a Pilot Study. J Police Crim Psych (2018). https://doi.org/10.1007/s11896-018-9303-z
Keywords
Psychological stress

Police

Training

Inflammation

Fitness