Abstract
The present study was aimed at investigating whether different personality profiles could be found among Italian police Special Force (SF) officers. Our hypothesis was that different personality profiles would be found, and that they would differ with respect to psychological and organizational functioning. This conjecture was tested on anonymously collected Big Five scores of all members of a 'Reparto Mobile' unit (n = 289) by means of a Two-Step cluster analysis. Two distinct personality profiles were found: two-thirds of participants showed a personality profile that was quite similar to the general population, with the exception of a higher self-reported emotional stability and self-deceptive enhancement, while the remaining third showed higher levels of any personality domain than both the other cluster and the general population. These officers also endorsed lower scores in measures of depression, anxiety, professional exhaustion, loss of empathy, and higher scores in a measure of organizational resilience, suggesting that they may represent the most suitable personnel for the delicate tasks their unit usually has to accomplish. In addition, self-deceptive enhancement emerged as a likely personality trait of police SF officers.
Access options
Buy single article
Instant access to the full article PDF.
USD 39.95
Price excludes VAT (USA)
Tax calculation will be finalised during checkout.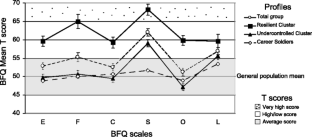 Notes
According to Cohen (1988), effect sizes can be classified as negligible (|r| < .10), small (.10 < |r| < .30), moderate (.30 < |r| < .50) and large (|r| > .50)
References
American Psychological Association (2002) Ethical principles of psychologists and code of conduct. Am Psychol 57:1060–1073

Anderson GS, Litzenberger R, Plecas D (2002) Physical evidence of police officer stress. Policing 25(2):399–420

Asendorpf JB, Borkenau P, Ostendorf F, Van Aken MAG (2001) Carving personality description at its joints: confirmation of three replicable personality prototypes for both children and adults. Eur J Pers 15:169–198

Barbaranelli C (2002) Evaluating cluster analysis solutions: an application to the Italian NEO Personality Inventory. Eur J Pers 16:S43–S55

Barrick MR, Mount MK (1991) The Big Five personality dimensions and job performance: a meta-analysis. Pers Psychol 44:1–26

Bartone PT, Roland RR, Picano JJ, Williams TJ (2008) Psychological hardiness predicts success in US Army special forces candidates. Int J Select Assess 16(1):78–81

Beck AT, Steer RA (1993) Manual for the beck depression inventory. Psychological Corporation, San Antonio

Beck AT, Rush AJ, Shaw BF, Emery G (1979) Cognitive therapy of depression. Guilford Press, New York

Beck AT, Rush AJ, Shaw BF, Emery G (1987) Terapia cognitiva della depressione. Boringhieri, Torino

Bishop GD, Tong EMW, Diong WM, Enkelmann HC, Why YP, Khader M, Ang JCH (2001) The relationship between coping and personality among police officers in Singapore. J Res Pers 35:353–374

Black J (2000) Personality testing and police selection: utility of the "Big Five". New Zeal J Psychol 29:2–9

Block J (2010) The five-factor framing of personality and beyond: some ruminations. Psychol Inq 2:2–25

Blonigen DM, Carlson MD, Hicks BM, Krueger RF, Iacono WG (2008) Stability and change in personality traits from late adolescence to early adulthood: a longitudinal twin study. J Pers 76:229–266

Braun DE, Prusaczyk WK, Goforth HW Jr., Pratt NC (1994) Personality profiles of U.S. Navy Sea-Air-Land (SEAL) personnel. Report 94-8, Naval Medical Research and Development Command, Department of the U.S. Navy

Brown JM, Campbell EA (1990) Sources of occupational stress in the police. Work Stress 4:305–371

Burgeois JA, Hall MJ, Crosby RM, Drexler KG (1993) An examination of narcissistic personality traits as seen in a military population. Mil Med 158:170–174

Caprara GV, Barbaranelli C, Borgogni L (1993a) BFQ - Big Five Questionnaire: manuale. Giunti OS, Firenze (Italy)

Caprara GV, Barbaranelli C, Borgogni L, Perugini M (1993b) The Big Five questionnaire: a new questionnaire to assess the five factor model. Pers Indiv Differ 15:281–288

Caspi A, Roberts BW, Shiner R (2005) Personality development. Annu Rev Psychol 56:453–484

Chiorri C, Bracco F (2009) Attendibilità e unidimensionalità della versione italiana della Safety Organizing Scale di Vogus e Sutcliffe (2007). [Italian]. Poster presented at the Congress of the Italian Psychological Association, Organizational Psychology Section, Florence, 23-24 October

Cochrane RE, Tett RP, Vandcreek L (2003) Psychological testing and the selection of police officers. Crim Justice Behav 30(5):511–537

Cohen J (1988) Statistical power analysis for the behavioral sciences, 2nd edn. Lawrence Earlbaum Associates, Hillsdale

Cooper MD (2000) Towards a model of safety culture. Safety Sci 36:111–136

Cortina JM, Doherty ML, Schmitt N, Kaufman G, Smith RG (1992) The "Big Five" personality factors in the IPI and MMPI: predictors of police performance. Pers Psychol 45:119–140

Costa PT Jr, McCrae RR (1989) NEO PI/FFI manual supplement. Psychological Assessment Resources, Odessa

Costa PT Jr, McCrae RR (1992) NEO PI-R professional manual. Psychological Assessment Resources, Odessa

Costa PT Jr, McCrae RR (1997) Stability and change in personality assessment: the revised NEO personality inventory in the year 2000. J Pers Assess 68:86–94

Dean MA, Conte JM, Blankenhorn TR (2006) Examination of the predictive validity of Big Five personality dimensions across training performance criteria. Pers Indiv Differ 41:1229–1239

Detrick P, Chibnall JT (2006) NEO PI-R personality characteristic of high-performing entry-level police officers. Psychol Serv 3(4):274–285

Detrick P, Chibnall JT (2008) Positive response distortion by police officer applicants. Association of Paulhus deception scales with MMPI-2 and inwald personality inventory validity scales. Assessment 15(1):87–96

Eber HW (1991) Good cop includes bad cop: a supplementary concept of police brutality. Paper presented at the annual meeting of the Society of Multivariate Experimental Psychology, Albuquerque

Everitt BS, Landau S, Leese M (2001) Cluster analysis, 4th edn. Oxford University Press, Inc, New York

Farnè M, Sebellico A, Gnugnoli D, Corallo A (1991) Profile of mood states. Giunti OS, Firenze

Funder DC, Ozer DJ (1983) Behavior as a function of the situation. J Pers Soc Psychol 44:107–112

Gershon RMR, Lin S, Li X (2002) Work stress in aging police officers. J Occup Environ Med 44:160–167

Goldstein IL, Ford JK (2002) Training in organizations. Wadsworth, Belmont

Gudjonsson GH, Adlam KRC (1983) Personality patterns of British police officers. Pers Indiv Differ 4(5):507–512

Hair JF, Black W (2000) Cluster analysis. In: Grimm LG, Yarnold PR (eds) Reading and understanding more multivariate statistics. American Psychological Association, Washington, DC, pp 147–206

Hair JF, Anderson RE, Tatham RL, Black WC (1998) Multivariate data analysis. Prentice-Hall, Upper Saddle River

Hartmann E, Sunde T, Kristensen W, Martinussen M (2003) Psychological measures as predictors of training performance. J Pers Assess 80:87–98

Jessup G, Jessup H (1971) Validity of the eysenck personality inventory in pilot selection. Occup Psychol 45:111–123

John OP, Srivastava S (1999) The Big Five trait taxonomy: History, measurement, and theoretical perspectives. In: Pervin LA, John OP (eds) Handbook of personality: theory and research, 2nd edn. Guilford Press, New York, pp 102–138

Kobasa SC (1979) Stressful life events, personality, and health: an inquiry into hardiness. J Pers Soc Psychol 37:1–11

Landis JR, Koch GG (1977) The measurement of observer agreement for categorical data. Biometrics 33:159–174

Lawrence RA (1984) Police stress and personality factors: a conceptual model. J Crim Just 12:247–263

Lorr M, Strack S (1994) Personality profiles of police candidates. J Clin Psychol 50:200–207

Maslach C, Jackson SE (1981) The measurement of experienced burnout. J Occup Behav 2:99–113

McCrae RR, Costa PT (1997) Personality trait structure as a human universal. Am Psychol 52:509–516

McDonald DG, Norton JP, Hodgdon JA (1990) Training success in U.S. Navy special forces. Aviat Space Environ Med 61:548–554

McGue M, Bacon S, Lykken DT (1993) Personality stability and change in early adulthood: a behavioral genetic analysis. Dev Psychol 29:96–109

McNair D, Lorr M, Droppleman LF (1971) Manual for the profile of the mood states. EdITS Educational and Industrial Testing Service, San Diego

Mearns J, Mauch TG (1998) Negative mood regulation expectancies predict anger among police officers and buffer the effects of job stress. J Nerv Ment Dis 186:120–125

Mischel W (1968) Personality and assessment. Wiley, New York

Ones DS, Viswesvaran C (1998) The effects of social desirability and faking on personality and integrity assessment for personnel selection. Hum Perform 11:245–269

Overall JE, Gibson JM, Novy DM (1993) Population recovery capabilities of 35 cluster analysis methods. J Clin Psychol 49:459–470

Ozer DJ, Benet-Martinez V (2006) Personality and the prediction of consequential outcomes. Annu Rev Psychol 57:401–421

Paulhus DL (1984) Two-component models of socially desirable responding. J Pers Soc Psychol 46:598–609

Paulhus DL (1998) Paulhus deception scales: manual of the Balanced Inventory of Desirable Responding (BIDR-7). Multi-Health Systems, Toronto

Picano JJ, Roland RR, Rollins KD, Williams TJ (2002) Development and validation of a sentence completion test measure of defensive responding in military personnel assessed for nonroutine missions. Mil Psychol 14:279–298

Próchniak P (2009) Polish police officers: personality and risk taking. J Police Crim Psychol 24:104–107

Reason J (1997) Managing the risks of organizational accidents. Ashgate, Burlington

Reid-Seiser HL, Fritzsche BA (2001) The usefulness of the NEO PI-R positive presentation scale for detecting response distortion in employment contexts. Pers Indiv Differ 31:639–650

Roberts BW, Walton KE, Viechtbauer W (2006) Patterns of mean-level change in personality traits across the life course: a meta-analysis of longitudinal studies. Psychol Bull 132:1–25

Sanavio E, Bertolotti G, Michielin P, Vidotto G, Zotti AM (1997) CBA-2.0. Cognitive behavioural assessment 2.0. Scale primarie. Giunti OS, Firenze

Schmidt M, Ryan A (1992) Test-taking disposition: a missing link? J App Psychol 77:629–637

Sirigatti S, Stefanile C (1993) MBI. Maslach Burnout Inventory. Adattamento italiano. Giunti OS, Firenze

Spielberger CD, Gorsuch RL, Lushene RE, Vagg PR, Jacobs GA (1983) The state-trait anxiety inventory fo adults. Manual. Mind Garden, Palo Alto

SPSS Inc (2001) The SPSS TwoStep cluster component: a scalable component enabling more efficient customer segmentation. Technical report, SPSS, Chicago, IL

Tversky-Glasner A (2005) Police personality: what is it and why are they like that? J Police Crim Psychol 20(1):56–67

Varela JG, Boccaccini MT, Scogin F, Stump J, Caputo A (2004) Personality testing in Law Enforcement employment settings: a meta-analytic review. Crim Justice Behav 31:649–675

Vogus TJ, Sutcliffe KM (2007) The safety organizing scale: development and validation of a behavioral measure of safety culture in hospital nursing units. Med Care 45:46–54
Acknowledgements
This study has been made possible by the positive cooperation of the Italian Police Force (Ministry of the Interior) that supported the data collection. In particular, the Authors wish to thank to Dr. P. Brasola, Dr. M. Filippetti, Dr. G. Arcidiacono, F. Cozzone, S. Grigoletto, R. Sericano and all the policemen assigned to the 'VI Reparto Mobile' of Genoa. They are also grateful to Mikaela McKellar for proofreading and to two anonymous reviewers whose comments greatly helped in improving the paper.
Additional information
Sergio Garbarino and Carlo Chiorri contributed equally
About this article
Cite this article
Garbarino, S., Chiorri, C., Magnavita, N. et al. Personality Profiles of Special Force Police Officers. J Police Crim Psych 27, 99–110 (2012). https://doi.org/10.1007/s11896-011-9099-6
Published:

Issue Date:

DOI: https://doi.org/10.1007/s11896-011-9099-6
Keywords
Police

Big Five

Special forces

Personality profiles

Psychological functioning