Abstract
Purpose of Review
We sought to examine the effects of the gut microbial makeup on weight gain and obesity. We wanted to find out what the current research on this topic was and what the effect of the gut microbiota on energy metabolism is, as well the effects of diet on the microbiome and what effect the microbiome has on metabolic syndrome.
Recent Findings
Obesity is thought to be due to greater calorie intake than expenditure. Recently, research has looked into the effects of the microbiome on obesity. Our gut flora is made up of trillions of microbes and there is evidence to suggest that even from the earliest stages of life, altering that flora can affect human's ability to gain and lose weight, which can lead to obesity and ultimately other disease such as cardiovascular disease, diabetes mellitus, and liver disease.
Summary
Obesity can affect the human body in profound ways and lead to a multitude of comorbidities. We found that the obesity pandemic appears to parallel the increased use of antibiotics seen across the US. In addition, the use of antibiotics can alter the gut flora even from the earliest stages of life and the altered microbiome can alter our body habitus and energy metabolism through antibiotics, diet, and bariatric surgery.
This is a preview of subscription content, log in to check access.
Access options
Buy single article
Instant access to the full article PDF.
US$ 39.95
Tax calculation will be finalised during checkout.
Subscribe to journal
Immediate online access to all issues from 2019. Subscription will auto renew annually.
US$ 99
Tax calculation will be finalised during checkout.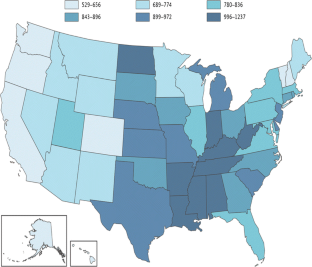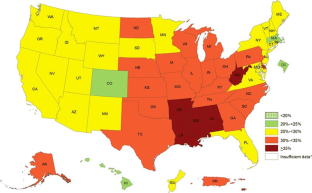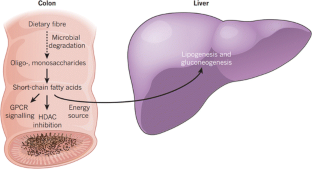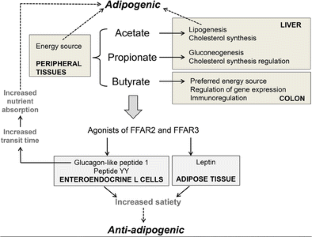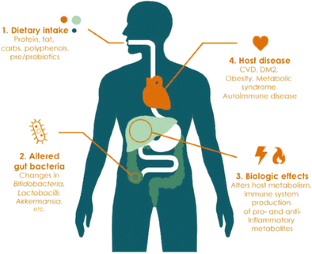 References
Papers of particular interest, published recently, have been highlighted as: •• Of major importance
1.

•• Fukuda S, Ohno H. Gut microbiome and metabolic diseases. Semin Immunopathol. 2013;36(1):103–14. This paper provides a very good overall breakdown of the gut microbiome and how it can impact the development of obesity. It also discusses the microbiome's ability to affect metabolic syndrome and other obesity-related diseases.

2.

World Health Organization. (2017). Obesity and overweight. [Online] Available at: http://www.who.int/mediacentre/factsheets/fs311/en/ [Accessed 23 July 2017].

3.

Hicks L, Taylor T, Hunkler R. Antibiotic prescriptions per 1000 persons of all ages according to state, 2010. [Online image] In U.S. Outpatient Antibiotic Prescribing, 2010. N Engl J Med. 2013;368(15):1461–2. Permission granted via email message 9/11/2017

4.

Centers for Disease Control and Prevention. Adult Obesity Prevalence Maps, (2017). [Online Image] Available at: https://www.cdc.gov/obesity/data/prevalence-maps.html [Retrieved 13 July 2017]. Permission granted via email message 9/8/2017

5.

Ley R, Backhed F, Turnbaugh P, Lozupone C, Knight R, Gordon J. Obesity alters gut microbial ecology. Proc Natl Acad Sci. 2005;102(31):11070–5.

6.

Trasande L, Blustein J, Liu M, Corwin E, Cox L, Blaser M. Infant antibiotic exposures and early-life body mass. Int J Obes. 2012;37(1):16–23.

7.

Cox L, Blaser M. Antibiotics in early life and obesity. Nat Rev Endocrinol. 2015;11(3):182–90.

8.

Dominguez-Bello M, Costello E, Contreras M, Magris M, Hidalgo G, Fierer N, et al. Delivery mode shapes the acquisition and structure of the initial microbiota across multiple body habitats in newborns. Proc Natl Acad Sci. 2010;107(26):11971–5.

9.

Blustein J, Attina T, Liu M, Ryan A, Cox L, Blaser M, et al. Association of caesarean delivery with child adiposity from age 6 weeks to 15 years. Int J Obes. 2013;37(7):900–6.

10.

•• Tremaroli V, Bäckhed F. Functional interactions between the gut microbiota and host metabolism. Nature. 2012;489(7415):242–9. Provides a good description of how the foods we eat get broken down and can affect our energy harvest. Also discusses how our diet can alter human gut microbiota.

11.

Tremaroli V, Bäckhed F. Effects of colonic fermentation of dietary fibres. [Online image] In Functional interactions between the gut microbiota and host metabolism. Nature. 2012;489(7415):244. Permission granted via email message 9/7/2017

12.

Blaut M. Simplified scheme showing the roles of SCFA in host metabolism. [Online image] In gut microbiota and energy balance: role in obesity. Proc Nutr Soc. 2014;74(03):230. Permission granted via email message 9/7/2017

13.

Turnbaugh P, Ley R, Mahowald M, Magrini V, Mardis E, Gordon J. An obesity-associated gut microbiome with increased capacity for energy harvest. Nature. 2006;444(7122):1027–31.

14.

Liou A, Paziuk M, Luevano J, Machineni S, Turnbaugh P, Kaplan L. Conserved shifts in the gut microbiota due to gastric bypass reduce host weight and adiposity. Sci Transl Med. 2013;5(178):178ra41.

15.

Albenberg L, Wu G. Diet and the intestinal microbiome: associations, functions, and implications for health and disease. Gastroenterology. 2014;146(6):1564–72.

16.

Singh R, et al. "Impact of diet on the gut microbiome and human health." [Online image] In influence of diet on the gut microbiome and implications for human health. J Transl Med. 2017;15(73):3. Permission granted online 9/7/2017

17.

Russell W, Gratz S, Duncan S, Holtrop G, Ince J, Scobbie L, et al. High-protein, reduced-carbohydrate weight-loss diets promote metabolite profiles likely to be detrimental to colonic health. Am J Clin Nutr. 2011;93(5):1062–72.

18.

Heinritz S, Weiss E, Eklund M, Aumiller T, Heyer C, Messner S, et al. Impact of a high-fat or high-fiber diet on intestinal microbiota and metabolic markers in a pig model. Nutrients. 2016;8(5):317.

19.

Eid N, Enani S, Walton G, Corona G, Costabile A, Gibson G, et al. The impact of date palm fruits and their component polyphenols, on gut microbial ecology, bacterial metabolites and colon cancer cell proliferation. J Nutr Sci. 2014;3(46):1–9.

20.

Cani P, Bibiloni R, Knauf C, Waget A, Neyrinck A, Delzenne N, et al. Changes in gut microbiota control metabolic endotoxemia-induced inflammation in high-fat diet-induced obesity and diabetes in mice. Diabetes. 2008;57(6):1470–81.

21.

Vrieze A, Van Nood E, Holleman F, Salojärvi J, Kootte R, Bartelsman J, et al. Transfer of intestinal microbiota from lean donors increases insulin sensitivity in individuals with metabolic syndrome. Gastroenterology. 2012;143(4):913–6.

22.

Gao Z, Yin J, Zhang J, Ward R, Martin R, Lefevre M, et al. Butyrate improves insulin sensitivity and increases energy expenditure in mice. Diabetes. 2009;58(7):1509–17.

23.

Wang Z, Klipfell E, Bennett B, Koeth R, Levison B, DuGar B, et al. Gut flora metabolism of phosphatidylcholine promotes cardiovascular disease. Nature. 2011;472(7341):57–63.

24.

Tang W, Wang Z, Levison B, Koeth R, Britt E, Fu X, et al. Intestinal microbial metabolism of phosphatidylcholine and cardiovascular risk. N Engl J Med. 2013;368(17):1575–84.

25.

Henao-Mejia J, Elinav E, Jin C, Hao L, Mehal W, Strowig T, et al. Inflammasome-mediated dysbiosis regulates progression of NAFLD and obesity. Nature. 2012;482(7984):179–85.
Ethics declarations
Conflict of Interest
The authors declare that they have no conflict of interest.
Human and Animal Rights and Informed Consent
This article does not contain any studies with human or animal subjects performed by any of the authors.
Additional information
This article is part of the Topical Collection on Nutrition and Obesity
About this article
Cite this article
Omer, E., Atassi, H. The Microbiome That Shapes Us: Can It Cause Obesity?. Curr Gastroenterol Rep 19, 59 (2017). https://doi.org/10.1007/s11894-017-0600-y
Keywords
Microbiota

Antibiotic resistance

Short-chain fatty acids

Obesity

Metabolic syndrome

Lipopolysaccharides (LPS)

Butyrate

Cardiovascular disease

Diabetes mellitus

Non-alcoholic fatty liver disease (NAFLD)