Abstract
Purpose of Review
The gluten-free diet (GFD) has become one of the most popular diets in modern history. Claims of improved health and increased energy fuel this popularity, though there is little evidence to substantiate these claims. The present review focuses on outlining known gluten-related disorders (GRD), discussing the GFD in the general population, exploring nutritional considerations, and providing advice for physicians in managing these patients.
Recent Findings
Currently, about a quarter of the population reports keeping a GFD despite GRDs affecting less than half of these individuals. Reduced intake of calcium, B vitamins, and fiber as well as enhanced consumption of fat and simple carbohydrates has consistently been reported and needs to be continually addressed.
Summary
Although a necessity in proper management of GRDs, unforeseen nutritional complications may develop in patients who are gluten free for which enhanced physician awareness is vital to achieving optimal patient care.
Access options
Buy single article
Instant access to the full article PDF.
US$ 39.95
Tax calculation will be finalised during checkout.
Subscribe to journal
Immediate online access to all issues from 2019. Subscription will auto renew annually.
US$ 79
Tax calculation will be finalised during checkout.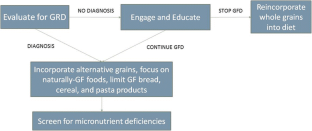 References
Papers of particular interest, published recently, have been highlighted as: •Of importance ••Of major importance
1.

Kim H-S, Patel KG, Orosz E, Kothari N, Demyen MF, Pyrsopoulos N, et al. Time trends in the prevalence of celiac disease and gluten-free diet in the US population. JAMA Intern Med. 2016;176(11):1716.

2.

Reilly NR. The gluten-free diet: recognizing fact, fiction, and fad. J Pediatr. 2016;175:206–10.

3.

•• Vici G, Belli L, Biondi M, Polzonetti V. Gluten free diet and nutrient deficiencies: a review. Clin Nutr. 2016;35(6):1236–41. Nice recent review of the nutritional deficiencies that is common with the gluten free diet

4.

Aziz I, Sanders DS. Patients who avoid wheat and gluten: is that health or lifestyle? Dig Dis Sci. 2014;59(6):1080–2.

5.

•• Hill ID, Fasano A, Guandalini S, Hoffenberg E, Levy J, Reilly N, et al. NASPGHAN clinical report on the diagnosis and treatment of gluten-related disorders. J Pediatr Gastroenterol Nutr. 2016;63(1):156–65. Most recent published guidelines on management of gluten related disorders including diagnosis, classification and treatment from a pediatric perspective (though also would be generally applicable to adult patients)

6.

Khalid AN, Mcmains KC. Gluten sensitivity: fact or fashion statement? Current Opinion in Otolaryngology & Head and Neck Surgery. 2016;24(3):238–40.

7.

Sapone A, Lammers KM, Casolaro V, Cammarota M, Giuliano MT, Rosa MD, et al. Divergence of gut permeability and mucosal immune gene expression in two gluten-associated conditions: celiac disease and gluten sensitivity. BMC Med. 2011;9(1):23.

8.

• Sapone A, Bai JC, Ciacci C, Dolinsek J, Green PH, Hadjivassiliou M, et al. Spectrum of gluten-related disorders: consensus on new nomenclature and classification. BMC Med. 2012;10(1). This article discussed the newest classification model of adult gluten related disorders as defined by pathogenesis based on expert consensus guidelines.

9.

Briani C, Zara G, Alaedini A, Grassivaro F, Ruggero S, Toffanin E, et al. Neurological complications of celiac disease and autoimmune mechanisms: a prospective study. J Neuroimmunol. 2008;195(1–2):171–5.

10.

Berge-Henegouwen GPV, Mulder CJ. Pioneer in the gluten free diet: Willem-Karel Dicke 1905–1962, over 50 years of gluten free diet. Gut. 1993;34(11):1473–5.

11.

Guandalini S, Gokhale R. Update on immunologic basis of celiac disease. Curr Opin Gastroenterol. 2002;18(1):95–100.

12.

Pietzak M. Celiac disease, wheat allergy, and gluten sensitivity: when gluten free is not a fad. J Parenter Enter Nutr. 2012;36(1):68S–75S.

13.

Hadjivassiliou M, Boscolo S, Davies-Jones GA, Grunewald RA, Not T, Sanders DS, et al. The humoral response in the pathogenesis of gluten ataxia. Neurology. 2002;58(8):1221–6.

14.

Fasano A, Sapone A, Zevallos V, Schuppan D. Non-celiac gluten and wheat sensitivity. Gastroenterology. 2015;148(6):1195–204.

15.

Cianferoni A. Wheat allergy: diagnosis and management. J Asthma Allergy. 2016;13.

16.

Branchi F, Ferretti F, Norsa L, Roncoroni L, Conte D, Bardella MT, et al. Management of nonceliac gluten sensitivity by gastroenterology specialists: data from an Italian survey. Biomed Res Int. 2015;2015:1–6.

17.

Elli L, Tomba C, Branchi F, Roncoroni L, Lombardo V, Bardella M, et al. Evidence for the presence of non-celiac gluten sensitivity in patients with functional gastrointestinal symptoms: results from a multicenter randomized double-blind placebo-controlled gluten challenge. Nutrients. 2016;8(2):84.

18.

Makharia A, Catassi C, Makharia G. The overlap between irritable bowel syndrome and non-celiac gluten sensitivity: a clinical dilemma. Nutrients. 2015;7(12):10417–26.

19.

Peters SL, Biesiekierski JR, Yelland GW, Muir JG, Gibson PR. Editorial: noncoeliac gluten sensitivity—a disease of the mind or gut? Authors' reply Alimentary Pharmacology & Therapeutics 2014;40(1):114–5.

20.

Hollon J, Puppa E, Greenwald B, Goldberg E, Guerrerio A, Fasano A. Effect of gliadin on permeability of intestinal biopsy explants from celiac disease patients and patients with non-celiac gluten sensitivity. Nutrients. 2015;7(3):1565–76.

21.

Sabatino AD, Volta U, Salvatore C, Biancheri P, Caio G, Giorgio RD, et al. Small amounts of gluten in subjects with suspected nonceliac gluten sensitivity: a randomized, double-blind, placebo-controlled, cross-over trial. Clin Gastroenterol Hepatol. 2015;13(9).

22.

Volta U, Caio G, Karunaratne TB, Alaedini A, Giorgio RD. Non-coeliac gluten/wheat sensitivity: advances in knowledge and relevant questions. Expert Rev Gastroenterol Hepatol. 2016;11(1):9–18.

23.

Kupper C. Dietary guidelines and implementation for celiac disease. Gastroenterology. 2005;128(4):S121–7.

24.

Subhan F, Chan C. Review of dietary practices of the 21st century: facts and fallacies. Can J Diabetes. 2016;40(4):348–54.

25.

The Nielsen Company. Healthy eating trends around the world. https://www.nielsen.com/content/dam/nielsenglobal/eu/nielseninsights/pdfs/Nielsen%20Global%20Health%20and%20Wellness%20Report%20-%20January%202015.pdf. Accessed 29 Dec 2016.

26.

Davis W. Wheat belly: lose the wheat, lose the weight, and find your path back to health. Emmaus: Rodale; 2011.

27.

Perlmutter D, Loberg K. Grain brain: the surprising truth about wheat, carbs, and sugar—your brain's silent killers. Little, Brown, and Co., 2013.

28.

Lis D, Fell J, Shing C, Stellingwerff T. Athletes and gluten-free diets: exploring the popularly, experiences and beliefs of this diet in non-coeliac athletes. J Sci Med Sport. 2013;16.

29.

Severson K. Gluten-Free Eating Appears to Be Here to Stay. https://www.nytimes.com/2014/06/18/dining/gluten-free-eating-appears-to-be-here-to-stay.html?_r=0. Accessed 29 Dec 2016.

30.

Estevez V, Ayala J, Vespa C, Araya M. The gluten-free basic food basket: a problem of availability, cost and nutritional composition. Eur J Clin Nutr. 2016;70(10):1215–7.

31.

Nash DT, Slutzky AR. Gluten sensitivity: new epidemic or new myth? Every major change in our diet carries with it the possibility of unforeseen risks. Am J Cardiol. 2014;114(10):1621–2.

32.

Staudacher H, Gibson P. How healthy is a gluten-free diet? Br J Nutr. 2015;114(10):1539–41.

33.

Babio N, Alcazar M, Castillejo G, Recasens M, Martinez-Cerezo F, Gutierrez-Pensado V, et al. Patients with coeliac disease reported higher consumption of added sugar and total fat than healthy individuals. J Pediatr Gastroenterol Nutr. 2017;64(1):63–9.

34.

Bardella M, Fredella C, Prampolini L, Molteni N, Ginuta A, Bianchi P. Body composition and dietary intakes in adult celiac disease patients consuming a strict gluten-free diet. Am J Clin Nutr. 2000;72:937–9.

35.

Barone M, Valle N, Rosania R, Facciorusso A, Trotta A, Cantatore FP, et al. A comparison of the nutritional status between adult celiac patients on a long-term, strictly gluten-free diet and healthy subjects. Eur J Clin Nutr. 2015;70:23–7.

36.

Hallert C, Grant C, Grehn S, Granno C, Hulten S, Midhagen G, et al. Evidence of poor vitamin status in coeliac patients on a gluten-free diet for 10 years. Aliment Pharmacol Ther. 2002;16:1333–9.

37.

Kinsey L, Burden ST, Bannerman E. A dietary survey to determine if patients with coeliac disease are meeting current healthy eating guidelines and how their diet compares to that of the British general population. Eur J Clin Nutr. 2007;62:1333–42.

38.

Sategna-Guidetti C, Grosso SB, Grosso S, Mengozzi C, Aimo G, Zaccaria T, et al. The effects of 1-year gluten withdrawal on bone mass, bone metabolism and nutritional status in newly-diagnosed adult coeliac disease patients. Aliment Pharmacol Ther. 2000;14(1):35–43.

39.

Shepard SJ, Gibson PR. Nutritional inadequacies of the gluten-free diet in both recently-diagnosed and long-term patients with coeliac disease. J Hum Nutr Diet. 2013;26(4):349–58.

40.

Thompson T, Dennis M, Higgins A, Lee A, Sharrett M. Gluten-free diet survey: are Americans with coeliac disease consuming recommended amounts of fibre, iron, calcium and grain foods? J Hum Diet. 2005;18(3):163–9.

41.

Zuccotti G, Fabiano V, Dilillo D, Picca M, Cravidi C, Brambilla O. Intakes of nutrients in Italian children with celiac disease and the role of commercially available gluten-free products. J Hum Nutr Diet. 2013;26(5):436–44.

42.

Miranda J, Lasa A, Bustamante M, Churruca I, Simon E. Nutritional differences between a gluten-free diet and a diet containing equivalent products with gluten. Plant Foods Hum Nutr. 2014;69:182–7.

43.

Thompson T. Folate, iron, and dietary fiber contents of the gluten free diet. J Am Diet Assoc. 2000;100(11):1389–96.

44.

Thompson T. Thiamine, riboflavin, and niacin contents of the gluten-free diet: is there cause for concern? J Am Diet Assoc. 1999;99(7):858–62.

45.

•• Wu J, Neal B, Trevena H, Crino M, Stuart-Smith W, Faulkner-Hogg K, et al. Are gluten-free foods healthier than non-gluten-free foods? An evaluation of supermarket products in Australia. Br J Nutr. 2015;114:448–54. Largest study of the nutritional profiles of gluten-free food products in comparison to their classic alternatives

46.

Mueller C, McClave S, Kuhn JM. The A.S.P.E.N. adult nutrition support core curriculum. Silver Spring: American Society for Parenteral and Enteral Nutrition; 2012.

47.

Wild D, Robins GG, Burley VJ, Howdle PD. Evidence of high sugar intake, and low fibre and mineral intake, in the gluten-free diet. Aliment Pharmacol Ther. 2010;32:573–81.

48.

Capristo E, Addolorato G, Mingrone G, Gaetano A, Greco A, Tataranni P, et al. Changes in body composition, substrate oxidation, and resting metabolic rate in adult celiac disease patients after a 1-y gluten-free diet treatment. Am J Clin Nutr. 2000;72:76–81.

49.

Foschia M, Horstmann S, Arendt E, Zannini E. Nutritional therapy–facing the gap between coeliac disease and gluten-free food. Int J Food Microbiol. 2016;239:113–24.

50.

Barclay AW, Petocz P, McMillian-Price J, Flood VM, Pvran T, Mitchell P, et al. Glycemic index, glycemic load, and chronic disease risk—a meta-analysis of observational studies. Am J Clin Nutr. 2008;87(3):627–37.

51.

Amin R, Murphy N, Edge J, Ahmed M, Acerini C, Dunger D. A longitudinal study of the effects of a gluten-free diet on glycemic control and weight gain in subjects with type 1 diabetes and celiac disease. Diabetes Care. 2002;25(7):1117–22.

52.

Bakker SF, Tushuizen ME, Blomberg MEV, Mulder CJ, Simsek S. Type 1 diabetes and celiac disease in adults: glycemic control and diabetic complications. Acta Diabetol. 2012;50(3):319–24.

53.

Kabbani TA, Goldberg A, Kelly CP, Pallav K, Tariq S, Peer A, et al. Body mass index and the risk of obesity in coeliac disease treated with the gluten-free diet. Aliment Pharmacol Ther. 2012;35(6):723–9.

54.

Cheng J, Brar PS, Lee AR, Green PHR. Body mass index in celiac disease. J Clin Gastroenterol. 2010;44(4):267–71.

55.

Tortora R, Capone P, De Stefano G, Imperatore N, Gerbino N, Donetto S, et al. Metabolic syndrome in patients with coeliac disease on a gluten-free diet–authors' reply. Aliment Pharmacol Ther. 2015;41(4):352–9.

56.

Mari-Bauset S, Llopis-Gonzalez A, Zazpe I, Mari-Sanchis A, Morales S-VM. Nutritional impact of a gluten-free casein-free diet in children with autism spectrum disorder. J Autism Dev Disord. 2016;46:673–84.

57.

Penagini F. Gluten-free diet in children: an approach to a nutritionally adequate and balanced diet. Nutrients. 2013;5:4553–65.

58.

Aziz I, Trott N, Briggs R, North J, Hadjivassilou M, Sanders D. Efficacy of a gluten-free diet in subjects with irritable bowel syndrome-diarrhea unaware of their hla-dq2/8 genotype. Clin Gastroenterol Hepatol. 2016;14(5):696–703.

59.

Aziz I, Hadjivassiliou M, Sanders D. Does gluten sensitivity in the absence of coeliac disease exist? Br Med J. 2012;345(7887):45–7.

60.

• Lee AR, Ng DL, Dave E, Ciaccio EJ, Green P. The effect of substituting alternative grains in the diet on the nutritional profile of the gluten-free diet. J Hum Nutr Diet. 2009;22:359–63. Well done study that characterizes patient's eating habits on the gluten free diet, providing tangible alternatives to traditional gluten-containing grains to increase fiber, protein, and micronutrient content
Ethics declarations
Conflict of Interest
The authors declare that they have no conflict of interest.
Human and Animal Rights and Informed Consent
This article does not contain any studies with human or animal subjects performed by any of the authors.
Additional information
This article is part of the Topical Collection on Nutrition and Obesity
About this article
Cite this article
Newberry, C., McKnight, L., Sarav, M. et al. Going Gluten Free: the History and Nutritional Implications of Today's Most Popular Diet. Curr Gastroenterol Rep 19, 54 (2017). https://doi.org/10.1007/s11894-017-0597-2
Keywords
Gluten-free diet

Nutrition

Gluten-related disorder

Celiac disease

Non-celiac gluten sensitivity