Abstract
Endoscopic insertion of enteral feeding tubes is a major advance in the delivery of nutrition therapy. Since the first report of percutaneous endoscopic gastrostomy (PEG) in 1980 (Gauderer et al. J Pediatr Surg. 15:872–5, 1980), insertion techniques and equipment have been refined and improved. Despite this progress, deep jejunal enteral access remains a difficult procedure, and many endoscopists do not have experience with the techniques of nasojejunal (NJ) placement, percutaneous endoscopic gastrojejunostomy (PEGJ), or direct percutaneous endoscopic jejunostomy (DPEJ) (Shike and Latkany, Gastrointest Endosc Clin N Am. 8:569–80, 1998). The difference between an exasperating experience and a rewarding procedure lies in mastering the "tips and tricks" that make insertion easy. While the basic techniques are described elsewhere (McClave and Chang 2011), we review several universal basic principles to enhance deep jejunal access, which should promote a more efficient and successful procedure.
Access options
Buy single article
Instant access to the full article PDF.
US$ 39.95
Tax calculation will be finalised during checkout.
Subscribe to journal
Immediate online access to all issues from 2019. Subscription will auto renew annually.
US$ 79
Tax calculation will be finalised during checkout.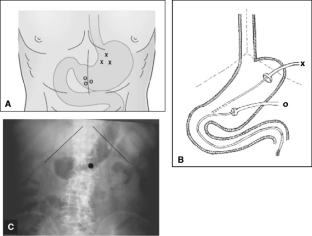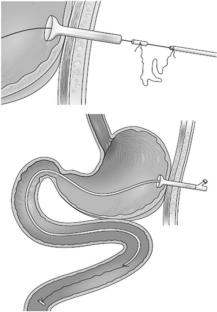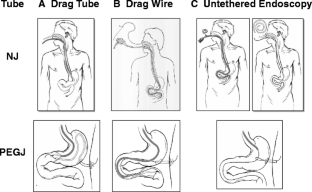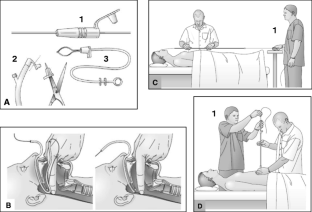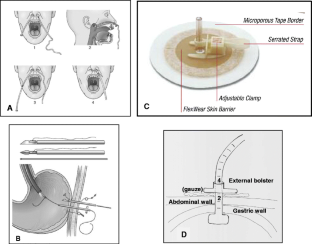 References
Papers of particular interest, published recently, have been highlighted as: • Of importance
1.

Gauderer MW, Ponsky JL, Izant Jr RJ. Gastrostomy without laparotomy: a percutaneous endoscopic technique. J Pediatr Surg. 1980;15:872–5.

2.

Shike M, Latkany L. Direct percutaneous endoscopic jejunostomy. Gastrointest Endosc Clin N Am. 1998;8:569–80.

3.•

McClave S, Chang W-K. Techniques in enteral access. In: Ginsberg G, editor. Clinical Gastrointestinal Endoscopy. Philadelphia: Saunders; 2011. Provides a concise but thorough technical review of endoscopic gastrostomy placement.

4.

Larson DE, Burton DD, Schroeder KW, et al. Percutaneous endoscopic gastrostomy. Indications, success, complications, and mortality in 314 consecutive patients. Gastroenterology. 1987;93:48–52.

5.

Gibson SE, Wenig BL, Watkins JL. Complications of percutaneous endoscopic gastrostomy in head and neck cancer patients. Ann Otol Rhinol Laryngol. 1992;101:46–50.

6.

DiSario JA, Foutch PG, Sanowski RA. Poor results with percutaneous endoscopic jejunostomy. Gastrointest Endosc. 1990;36:257–60.

7.

McClave SA, Chang WK. Complications of enteral access. Gastrointest Endosc. 2003;58:739–51.

8.

Maple JT, Petersen BT, Baron TH, et al. Direct percutaneous endoscopic jejunostomy: outcomes in 307 consecutive attempts. Am J Gastroenterol. 2005;100:2681–8.

9.

Foutch PG, Talbert GA, Waring JP, et al. Percutaneous endoscopic gastrostomy in patients with prior abdominal surgery: virtues of the safe tract. Am J Gastroenterol. 1988;83:147–50.

10.

Rees RG, Payne-James JJ, King C, et al. Spontaneous transpyloric passage and performance of 'fine bore' polyurethane feeding tubes: a controlled clinical trial. JPEN J Parenter Enteral Nutr. 1988;12:469–72.

11.

Lord LM, Weiser-Maimone A, Pulhamus M, et al. Comparison of weighted vs unweighted enteral feeding tubes for efficacy of transpyloric intubation. JPEN J Parenter Enteral Nutr. 1993;17:271–3.

12.

Payne-James JJ, Rees RG, Doherty J, et al. 7 g weighted versus unweighted polyurethane nasoenteral tubes—spontaneous transpyloric passage and clinical performance: a controlled randomised trial. Clin Nutr. 1990;9:109–12.

13.

Brandt CP, Mittendorf EA. Endoscopic placement of nasojejunal feeding tubes in ICU patients. Surg Endosc. 1999;13:1211–4.

14.

Seder CW, Stockdale W, Hale L, et al. Nasal bridling decreases feeding tube dislodgment and may increase caloric intake in the surgical intensive care unit: a randomized, controlled trial. Crit Care Med. 2010;38:797–801.

15.

Gunn SR, Early BJ, Zenati MS, et al. Use of a nasal bridle prevents accidental nasoenteral feeding tube removal. JPEN J Parenter Enteral Nutr. 2009;33:50–4.

16.

Seder CW, Janczyk R. The routine bridling of nasojejunal tubes is a safe and effective method of reducing dislodgement in the intensive care unit. Nutr Clin Pract. 2008;23:651–4.

17.

Chung RS, Schertzer M. Pathogenesis of complications of percutaneous endoscopic gastrostomy. A lesson in surgical principles. Am Surg. 1990;56:134–7.

18.

Szary NM, Arif M, Matteson ML, et al. Enteral feeding within three hours after percutaneous endoscopic gastrostomy placement: a meta-analysis. J Clin Gastroenterol. 2011;45:e34–8.

19.

Bechtold ML, Matteson ML, Choudhary A, et al. Early versus delayed feeding after placement of a percutaneous endoscopic gastrostomy: a meta-analysis. Am J Gastroenterol. 2008;103:2919–24.

20.

McClave SA. Personal drawing.

21.

DeLegge MH. Enteral access—the foundation of feeding. JPEN J Parenter Enteral Nutr. 2001;25:S8–S13.

22.

Baskin W. Percutaneous endoscopic gastrostomy & placement of a jejunal extension tube. Tech Gastrointest Endosc. 2001;3:30–41.

23.

Hollister I. Tube attachment devices. 2014 [cited 2014 June 8]; Available from: http://www.hollister.com/us/files/pdfs/907468.pdf.
Compliance with Ethics Guidelines
Conflict of Interest
Matthew Bechtold, Robert Martindale, Douglas Nguyen, and David C. Evans have nothing to disclose.
Steven A. McClave is a consultant for Covidien and has received research grants from Abbot and Nestle.
Lena B. Palmer has received travel and compensation for participation in the Regional Advisory Board from NPS Pharmaceuticals.
Human and Animal Rights and Informed Consent
This article does not contain any studies with animal subjects performed by any of the authors. With regard to the authors' research cited in this paper, all procedures were followed in accordance with the ethical standards of the responsible committee on human experimentation and with the Helsinki Declaration of 1975, as revised in 2000 and 2008.
Additional information
This article is part of the Topical Collection on Nutrition and Obesity
About this article
Cite this article
Palmer, L.B., McClave, S.A., Bechtold, M.L. et al. Tips and Tricks for Deep Jejunal Enteral Access: Modifying Techniques to Maximize Success. Curr Gastroenterol Rep 16, 409 (2014). https://doi.org/10.1007/s11894-014-0409-x
Keywords
Jejunal access

Enteral feeding

Post-pyloric placement