Abstract
Purpose of Review
This review describes some of the unique challenges faced by the US-Affiliated Pacific Islands (USAPIs) in addressing diabetes prevention and care and presents innovative population-level strategies that have been employed to address them.
Recent Findings
Challenges include an unhealthy food environment and a strained health care infrastructure, both compounded by geography. Innovations in addressing these challenges include attempts to modify the food environment, a focus on early life prevention, and task shifting among the health workforce. Many of the successful interventions share a focus on culture, community, and capacity building.
Summary
Although the USAPIs are uniquely challenged by environmental, structural, and health system barriers, there have been a number of innovative and successful strategies employed that highlight the resilience of these island nations in addressing their current disease burden when provided with the opportunity and resources to do so. Health policies to protect, support, and promote diabetes prevention and care are essential and may be informed by the interventions described.
Access options
Buy single article
Instant access to the full article PDF.
USD 39.95
Price excludes VAT (USA)
Tax calculation will be finalised during checkout.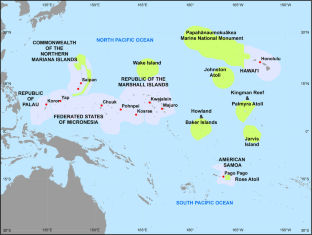 References
Papers of particular interest, published recently, have been highlighted as: • Of importance •• Of major importance
GBD. Causes of Death Collaborators. Global, regional, and national age-sex specific mortality for 264 causes of death, 1980–2016: a systematic analysis for the Global Burden of Disease study 2016. Glob Health Metr. 2016;2017(390):1151–210.

• NCD Risk Factor Collaboration. Worldwide trends in diabetes since 1980: a pooled analysis of 751 population-based studies with 4.4 million participants. Lancet. 2016;387:1513–30. Describes global prevalence and recent trends in diabetes, highlighting the disproportionate burden in the Pacific Islands.

McElfish PA, Purvis RS, Esquivel MK, Sinclair KA, Ing CT, Hawley NL, Haggard-Duff LK, Keawe'aimoku Kaholokula J. Diabetes disparities and promising interventions to address diabetes in native Hawaiian and Pacific Islander populations. Curr Diab Reps. 2019;in press.

International Diabetes Federation. IDF Diabetes Atlas, 8th edn. 2017. Available at: www.diabetesatlas.org. Accessed 18 Oct 2018.

Central Intelligence Agency. The World Factbook. Available at: https://www.cia.gov/library/publications/the-world-factbook/. Accessed 14 Oct 2018.

World Bank. Current health expenditure per capita. Available at: https://data.worldbank.org/indicator/SH.XPD.CHEX.PC.CD. Accessed 2 Jan 2019.

McElfish PA, Hallgreen E, Yamada S. Effect of US health policies on health care access for Marshallese migrants. Am J Public Health. 2015;105:637–43.

Howells L, Musaddaq B, McKay AJ, Majeed A. Clinical impact of lifestyle interventions for the prevention of diabetes: an overview of systematic reviews. BMJ Open. 2016;6:e023806.

Inzucchi SE, Bergenstal RM, Buse JB, Diamant M, Ferrannini E, Nauck A, et al. Management of hyperglycemia in type 2 diabetes: a patient-centered approach. Position statement of the American Diabetes Association (ADA) and the European Association for the Study of Diabetes (EASD). Diabetologia. 2012;55:1577–96.

Popkin B. Nutrition transition and the global diabetes epidemic. Curr Diab Rep. 2015;15:64.

Hughes RG, Lawrence MA. Globalization, food and health in Pacific Island countries. Asia Pac J Clin Nutr. 2005;14:298–306.

Snowdon W, Raj A, Reeve E, Guerrero RLT, Fesaitu J, Cateine K, et al. Processed foods available in the Pacific Islands. Glob Health. 2013;9:53.

Seiden A, Hawley NL, Schulz D, Raifman S, McGarvey ST. Long-term trends in food availability, food prices, and obesity in Samoa. Am J Hum Biol. 2012;24:286–95.

Areta A. ASCC/CNR conference to focus on food security in American Samoa. Samoa News; 2009.

International Institute for Energy Conservation. Technical analysis of appliance markets to support the Pacific Appliance Labelling and Standards (PALS) Programme. 2012. Available at: https://www.reeep.org/sites/default/files/IIEC%20Country%20Report_Marshall%20Islands_8November2012.pdf. Accessed 2 January 2019.

Kahn S, Hull RL, Utzschneider KM. Mechanisms linking obesity to insulin resistance and type 2 diabetes. Nature. 2006;444:840–6.

Hu FB. Globalization of diabetes. Diab Care. 2011;34:1249–57.

NCD Risk Factor Collaboration. Worldwide trends in body-mass index, underweight, overweight, and obesity from 1975 to 2016: a pooled analysis of 2416 population-based measurement studies in 128.9 million children, adolescents, and adults. Lancet. 2017;390:2627–42.

Finucane MM, Stevens GA, Cowan MJ, Danaei G, Lin JK, Paciorek CJ, et al. National, regional, and global trends in body-mass index since 1980: systematic analysis of health examination surveys and epidemiological studies with 960 country-years and 9.1 million participants. Lancet. 2011;377:557–67.

American Diabetes Association. Standards of medical care in diabetes—2018. Diabetes Care. 2018;41:S1–S159.

•• Carlin M, Mendoza-Williams A, Ensign K. Half an ocean away: health in the US-affiliated Pacific Islands. J Public Health Manag Pract. 2016;22:492–5. Excellent summary of health care challenges experienced by the US Affiliated Pacific Islands.

Person DA. The Pacific Island Health Care Project. Front Public Health. 2014;2:175.

Fiji National University, Pacific Island Health Officers' Association. Cost of running dialysis in Freely Associated States. Available at: http://www.pihoa.org/fullsite/newsroom/wp-content/uploads/downloads/2014/07/COST-OF-RUNNING-DIALYSIS-IN-FAS-PIHOA-BOARD-MEETING.pdf. Accessed 26 Oct 2018.

Health Resources Services Administration. HPSA Find. Available at: https://data.hrsa.gov/tools/shortage-area/hpsa-find. Accessed 14 Oct 2018.

Braun KL, Kuhaulua RL, Ichiho HM, Aitaoto NT. Listening to the community: a first step in adapting Diabetes Today to the Pacific. Pac Health Dialog. 2002;9:321–7.

Braun KL, Ichiho HM, Kuhaulua RL, Aitaoto NT, Tsark JU, Spegal R, et al. Empowerment through community building: Diabetes Today in the Pacific. J Public Health Manag Pract. 2003;9:s19–25.

Ichiho HM, Aitaoto N. Assessing the system of services for chronic diseases prevention and control in the US-affiliated Pacific Islands: introduction and methods. Hawaii J Med Public Health. 2013;72:5–9.

Hosey GM, Rengill A, Maddison R, Agapito AU, Lippwe K, Wally OD, et al. U.S. associated Pacific Islands health care teams chart a course for improved health systems: implementation and evaluation of a non-communicable disease collaborative model. J Health Care Poor Underserved. 2016;27:19–38.

Pacific Islands Health Officers Association. Declaring a regional state of health emergency due to the epidemic of non-communicable diseases in the United States-Affiliated Pacific Islands. Board Resolution #48–01. Available at: http://medicaid.as.gov/wp-content/uploads/2015/10/PIHOA-Resolution-48-01-NCD-Emergency-Declaration.pdf. Accessed 26 Oct 2018.

Hoy D, Durand AM, Hancock T, Cash HL, Hardie K, Paterson B, et al. Lessons learnt from a three-year pilot field epidemiology training program. Western Pac Surveill Response J. 2017;8:21–6.

Gittelsohn J, Dyckman W, Lynn Tan M, Boggs MK, Frick KD, Alfred J, et al. Development and implementation of a food store-based intervention to improve diet in the Republic of the Marshall Islands. Health Promot Pract. 2006;7:396–405.

Englberger L, Lorens A, Pedrus P, Albert K, Levendusky A, Hagilmai W, et al. Let's go local! Pohnpei promotes local food production and nutrition for health. In: Kuhnlein HV, Erasmus B, Spigelski D, Bulingame B, editorsd. Indigenous peoples' food systems and well-being: interventions and policies for healthy communities. Food and Agriculture Organization of the United Nations Centre for Indigenous Peoples' Nutrition and Environment: Rome; 2013. [25]

Englberger L, Marks GC, Fitzgerald MH. Insights on food and nutrition in the Federated States of Micronesia: a review of the literature. Public Health Nutr. 2002;6:5–17 [26].

Wilken LR, Novotny R, Fialkowski MK, Boushey CJ, Nigg C, Paulino Y, et al. Children's Healthy Living (CHL) Program for remote underserved minority populations in the Pacific region: rationale and design of a community randomized trial to prevent early childhood obesity. BMC Public Health. 2013;13:944.

Novotny R, Davis J, Butel J, Boushey CJ, Fialkowski MK, Nigg CR, et al. Effect of the Children's Health Living Program on young child overweight, obesity, and acanthosis nigricans in the US-Affiliated Pacific region. JAMA Netw Open. 2018;1:e183896.

Children's Healthy Living Program. Training Program Overview. Available at: http://www.chl-pacific.org/training/program-overview. Accessed 26 Oct 2018.

Johnson K. Children's Healthy Living Program presents: voices of the Pacific. CHL Trainess Project Status and Updates. Available at: https://prezi.com/x2vcxojyxj6c/childrens-healthy-living-program-presents-voices-of-the-pacific/?utm_campaign=share&utm_medium=copy. Accessed 26 Oct 2018.

DePue JD, Dunsiger S, Seiden AD, Blume J, Rosen RK, Goldstein MG, et al. Nurse-community health worker team improves diabetes care in American Samoa. Diabetes Care. 2013;36:1947–53.

Rao M, DePue JD, Dunsiger S, Elsayed M, Nu'usolia O, McGarvey ST. Long-term impact of a community health worker intervention on diabetes control in American Samoa. Prev Chronic Dis. 2015;12:e180.

Tokuda L, Lorenzo L, Theriault A, Taveira TH, Marquis L, Head H, et al. The utilization of video-conference shared medical appointments in rural diabetes care. Int J Med Inform. 2016;93:34–41.

McLaughlin LA, Braun KL. Asian and Pacific Islander cultural values: considerations for health care decision making. Health Soc Work. 1998;23:116–26.
Ethics declarations
Conflict of Interest
Nicola L. Hawley, Rachel Suss, Haley L. Cash, Nia Aitaoto, Raynald Samoa, Britni Ayers, and Pearl McElfish declare that they have no conflict of interest.
Human and Animal Rights and Informed Consent
All reported studies/experiments with human or animal subjects performed by the authors have been previously published and complied with all applicable ethical standards (including the Helsinki declaration and its amendments, institutional/national research committee standards, and international/national/institutional guidelines).
Additional information
Publisher's Note
Springer Nature remains neutral with regard to jurisdictional claims in published maps and institutional affiliations.
This article is part of the Topical Collection on Economics and Policy in Diabetes
About this article
Cite this article
Hawley, N.L., Suss, R., Cash, H.L. et al. Diabetes Prevention and Care Programs in the US-Affiliated Pacific Islands: Challenges, Innovation, and Recommendations for Effective Scale-Up. Curr Diab Rep 19, 24 (2019). https://doi.org/10.1007/s11892-019-1139-0
Published:

DOI: https://doi.org/10.1007/s11892-019-1139-0
Keywords
Diabetes

US-Affiliated Pacific Islands

Prevention

Treatment

Pacific Islander