Abstract
Purpose of Review
Treatment-induced neuropathy of diabetes (TIND) is an under-recognized iatrogenic painful sensory and autonomic neuropathy. This review highlights the clinical symptoms and signs, raises awareness of the cause, and provides education about prevention of TIND.
Recent Findings
TIND may be triggered by a rapid decline in the blood glucose levels following the use of insulin, oral hypoglycemic medications, or even diet only to control diabetes. This may be seen in up to 10% of patients with diabetic neuropathy and has the potential for significant long-term complications that could be avoided through careful disease management. Based on the available evidence, a decrease in the glycosylated hemoglobin A1C of more than 3 points in 3 months in individuals with chronic hyperglycemia increases the risk of developing TIND.
Summary
TIND is more common than previously suspected, and is tied to rates of glycemic control. Slower changes to glucose control are suggested, although there is no prospective data on disease prevention. Future research is necessary to guide treatment recommendations.
This is a preview of subscription content, log in to check access.
Access options
Buy single article
Instant access to the full article PDF.
US$ 39.95
Price includes VAT for USA
Subscribe to journal
Immediate online access to all issues from 2019. Subscription will auto renew annually.
US$ 99
This is the net price. Taxes to be calculated in checkout.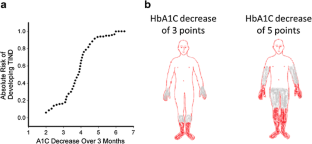 References
Papers of particular interest, published recently, have been highlighted as: • Of importance •• Of major importance
1.

Caravati CM. Insulin neuritis: a case report. VaMedMonthly. 1933;59:745–6.

2.

Kihara M, Zollman PJ, Smithson IL, Lagerlund TD, Low PA. Hypoxic effect of exogenous insulin on normal and diabetic peripheral nerve. AmJPhysiol. 1994;266(6 Pt 1):E980–E5.

3.

Tesfaye S, Malik R, Harris N, Jakubowski JJ, Mody C, Rennie IG, et al. Arterio-venous shunting and proliferating new vessels in acute painful neuropathy of rapid glycaemic control (insulin neuritis). Diabetologia. 1996;39(3):329–35.

4.

Dabby R, Sadeh M, Lampl Y, Gilad R, Watemberg N. Acute painful neuropathy induced by rapid correction of serum glucose levels in diabetic patients. Biomedicine & pharmacotherapy = Biomedecine & pharmacotherapie. 2009;63(10):707–9.

5.

Ellenberg M. Diabetic neuropathic cachexia. Diabetes. 1974;23:418–23.

6.

Gade GN, Hofeldt FD, Treece GL. Diabetic neuropathic cachexia. Beneficial response to combination therapy with amitriptyline and fluphenazine. JAMA 1980;243(11):1160–1.

7.

Massey EW. Diabetic neuropathic cachexia and diabetic amyotrophy. Acta DiabetolLat. 1982;19(1):91–5.

8.

Blau RH. Diabetic neuropathic cachexia. Report of a woman with this syndrome and review of the literature. ArchInternMed. 1983;143(10):2011–2.

9.

Llewelyn JG, Thomas PK, Fonseca V, King RH, Dandona P, et al. Acta Neuropathol(Berl). 1986;72:157–63.

10.

Llewelyn JG, Thomas PK, Fonseca V, Dandona P. Acute painful diabetic neuropathy. Diabetes Care. 1988;11(9):748–9.

11.

Knopp M, Srikantha M, Rajabally YA. Insulin neuritis and diabetic cachectic neuropathy: a review. Curr Diabetes Rev. 2013;9(3):267–74.

12.

Gibbons CH, Freeman R. Treatment-induced diabetic neuropathy: a reversible painful autonomic neuropathy. Ann Neurol. 2010;67(4):534–41.

13.

•• Gibbons CH, Freeman R. Treatment-induced neuropathy of diabetes: an acute, iatrogenic complication of diabetes. Brain. 2015;138(Pt 1):43–52. This is the first study describing the frequency of TIND in a referral population. This paper also links the rate of change in the HbA1C with the risk of complciations

14.

CDC. National diabetes fact sheet: national estimates and general information on diabetes and prediabetes in the United States, 2011. In: CDC, editor.: Department of Health and Human Services, Centers for Disease Control and Prevention; 2011.

15.

de Groot M, Golden SH, Wagner J. Psychological conditions in adults with diabetes. The American psychologist. 2016;71(7):552–62.

16.

• Colton PA, Olmsted MP, Daneman D, Farquhar JC, Wong H, Muskat S, et al. Eating disorders in girls and women with type 1 diabetes: a longitudinal study of prevalence, onset, remission, and recurrence. Diabetes Care. 2015;38(7):1212–7. An important publication on the frequency and relapse rates of eating disorders in diabetes

17.

• Gibbons CH. Treatment induced neuropathy of diabetes—long term implications in type 1 diabetes. J Diabetes Complicat. 2017;31(4):715–20. The first long-term follow-up study of individuals with type 1 diabetes and TIND

18.

Gibbons CH, Freeman R, Tecilazich F, Dinh T, Lyons TE, Gnardellis C, et al. The evolving natural history of neurophysiologic function in patients with well-controlled diabetes. Journal of the peripheral nervous system : JPNS. 2013;18(2):153–61.

19.

Takii M, Uchigata Y, Tokunaga S, Amemiya N, Kinukawa N, Nozaki T, et al. The duration of severe insulin omission is the factor most closely associated with the microvascular complications of type 1 diabetic females with clinical eating disorders. IntJEatDisord. 2008;41(3):259–64.

20.

Bryden KS, Neil A, Mayou RA, Peveler RC, Fairburn CG, Dunger DB. Eating habits, body weight, and insulin misuse. A longitudinal study of teenagers and young adults with type 1 diabetes. Diabetes Care. 1999;22(12):1956–60.

21.

Peveler RC, Fairburn CG. Anorexia nervosa in association with diabetes mellitus—a cognitive-behavioural approach to treatment. Behav Res Ther. 1989;27(1):95–9.

22.

Chantelau E, Meyer-Schwickerath R. Reversion of 'early worsening' of diabetic retinopathy by deliberate restoration of poor metabolic control. Ophthalmologica. 2003;217(5):373–7.

23.

Group DR. The effect of intensive treatment of diabetes on the development and progression of long-term complications in insulin-dependent diabetes mellitus. The Diabetes Control and Complications Trial Research Group. NEnglJ Med. 1993;329(14):977–86.

24.

Pop-Busui R, Herman WH, Feldman EL, Low PA, Martin CL, Cleary PA, et al. DCCT and EDIC studies in type 1 diabetes: lessons for diabetic neuropathy regarding metabolic memory and natural history. CurrDiabRep. 2010;10(4):276–82.

25.

Group DR. Early worsening of diabetic retinopathy in the Diabetes Control and Complications Trial. Arch Ophthalmol. 1998;116(7):874–86.

26.

Davis MD, Beck RW, Home PD, Sandow J, Ferris FL. Early retinopathy progression in four randomized trials comparing insulin glargine and NPH insulin. ExpClinEndocrinolDiabetes. 2007;115(4):240–3.

27.

Albers JW, Herman WH, Pop-Busui R, Feldman EL, Martin CL, Cleary PA, et al. Effect of prior intensive insulin treatment during the Diabetes Control and Complications Trial (DCCT) on peripheral neuropathy in type 1 diabetes during the Epidemiology of Diabetes Interventions and Complications (EDIC) Study. Diabetes Care. 2010;33(5):1090–6.

28.

Pop-Busui R, Low PA, Waberski BH, Martin CL, Albers JW, Feldman EL, et al. Effects of prior intensive insulin therapy on cardiac autonomic nervous system function in type 1 diabetes mellitus: the Diabetes Control and Complications Trial/Epidemiology of Diabetes Interventions and Complications study (DCCT/EDIC). Circulation. 2009;119(22):2886–93.

29.

Gibbons CH, Bonyhay I, Benson A, Wang N, Freeman R. Structural and functional small fiber abnormalities in the neuropathic postural tachycardia syndrome. PLoS One. 2013;8(12):e84716.
Ethics declarations
Conflict of Interest
Christopher H. Gibbons has received research funding from Celgene and Grifols, and has served on advisory boards for Lundbeck and Pfizer, and served on data safety monitoring boards of Janssen and Astellas.
Human and Animal Rights and Informed Consent
This article does not contain any studies with human or animal subjects performed by any of the authors.
Additional information
This article is part of the Topical Collection on Microvascular Complications—Neuropathy
About this article
Cite this article
Gibbons, C.H. Treatment-Induced Neuropathy of Diabetes. Curr Diab Rep 17, 127 (2017). https://doi.org/10.1007/s11892-017-0960-6
Keywords
Neuropathy

Diabetes

Complications

Treatment