Abstract
Purpose of Review
Body weight and body composition (i.e., skeletal muscle and adipose tissue) are indicators of long-term energy balance and substrate metabolism. The objective of the current review was to describe the role of energy balance on survival and the potential mechanisms of this relationship in patients with colorectal cancer (CRC).
Recent Findings
Energy balance consists of total energy expenditure and dietary intake over time, although these components have been sparsely characterized in CRC. Several large trials have suggested that BMI around 28 kg/m2 at diagnosis is most advantageous for survival and that severe weight loss (i.e., body mass index loss ≥ 7% or ≥ 10% baseline weight) is associated with poor survival. These patterns are likely due to skeletal muscle. Higher skeletal muscle mass is associated with improved survival, although the relative impact is mediated by sex and adipose tissue. Inflammation, physical inactivity, anti-cancer therapy, altered amino acid metabolism, and co-morbidities accelerate loss of muscle mass in people with cancer. Low muscle mass and muscle mass loss represent impaired physiological reserves which impact physical function, anti-cancer therapy toxicities, increased infection rates, and shorter survival. Higher visceral adipose tissue negatively impacts survival, possibly because it is associated with metabolic derangements such as systemic inflammation, insulin resistance, and adipokine secretion.
Summary
Body weight and composition are important prognostic factors for CRC survival. An improved understanding of the mechanisms driving energy imbalance is warranted, with translation to optimal interventions for improving overall health and survival.
Access options
Buy single article
Instant access to the full article PDF.
USD 39.95
Price excludes VAT (USA)
Tax calculation will be finalised during checkout.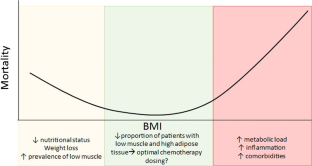 References
Papers of particular interest, published recently, have been highlighted as: • Of importance •• Of major importance
Wolin KY, Carson K, Colditz GA. Obesity and cancer. Oncologist. 2010;15(6):556–65.

Society; AC. Does body weight affect cancer risk? 2018 [Available from: https://www.cancer.org/cancer/cancer-causes/diet-physical-activity/body-weight-and-cancer-risk/effects.html].

• Meyerhardt JA, Kroenke CH, Prado CM, Kwan ML, Castillo A, Weltzien E, et al. Association of weight change after colorectal cancer diagnosis and outcomes in the Kaiser Permanente Northern California Population. Cancer Epidemiol Biomarkers Prev. 2017;26(1):30–7 A study in 2781 patients with stages I–III CRC which showed that weight loss after diagnosis was associated with worse survival and was not caused by reverse causality.

Kocarnik JM, Hua X, Hardikar S, Robinson J, Lindor NM, Win AK, et al. Long-term weight loss after colorectal cancer diagnosis is associated with lower survival: the colon cancer family registry. Cancer. 2017;123(23):4701–8.

Park YS, Park DJ, Lee Y, Park KB, Min S-H, Ahn S-H, et al. Prognostic roles of perioperative body mass index and weight loss in the long-term survival of gastric cancer patients. Cancer Epidemiol Biomark Prev. 2018.

Martin L, Senesse P, Gioulbasanis I, Antoun S, Bozzetti F, Deans C, et al. Diagnostic criteria for the classification of cancer-associated weight loss. J Clin Oncol. 2015;33(1):90–9.

Prado CM, Cushen SJ, Orsso CE, Ryan AM. Sarcopenia and cachexia in the era of obesity: clinical and nutritional impact. Proc Nutr Soc. 2016:1–11.

Ferlay J, Soerjomataram I, Ervik M, Dikshit R, Eser S, Mathers C, et al. Cancer incidence and mortality worldwide: IARC CancerBase no. 11. Lyon, France: World Health Organization 2012.

Jochem C, Leitzmann M. Obesity and colorectal Cancer. Recent Results Cancer Res. 2016;208:17–41.

Thoresen L, Frykholm G, Lydersen S, Ulveland H, Baracos V, Birdsell L, et al. The association of nutritional assessment criteria with health-related quality of life in patients with advanced colorectal carcinoma. Eur J Cancer Care (Engl). 2012;21(4):505–16.

Xiao J, Caan BJ, Weltzien E, Cespedes Feliciano EM, Kroenke CH, Meyerhardt JA, et al. Associations of pre-existing co-morbidities with skeletal muscle mass and radiodensity in patients with non-metastatic colorectal cancer. J Cachexia Sarcopenia Muscle. 2018.

Baracos VE, Arribas L. Sarcopenic obesity: hidden muscle wasting and its impact for survival and complications of cancer therapy. Ann Oncol. 2018;29(suppl_2):ii1–ii9.

Prado CM, Wells JC, Smith SR, Stephan BC, Siervo M. Sarcopenic obesity: a critical appraisal of the current evidence. Clin Nutr. 2012;31(5):583–601.

Cao DX, Wu GH, Zhang B, Quan YJ, Wei J, Jin H, et al. Resting energy expenditure and body composition in patients with newly detected cancer. Clin Nutr. 2010;29(1):72–7.

Nguyen TYV, Batterham MJ, Edwards C. Comparison of resting energy expenditure between cancer subjects and healthy controls: a meta-analysis. Nutr Cancer. 2016;68(3):374–87.

Johannsen DL, Calabro MA, Stewart J, Franke W, Rood JC, Welk GJ. Accuracy of armband monitors for measuring daily energy expenditure in healthy adults. Med Sci Sports Exerc. 2010;42(11):2134–40.

Viggiani MT, Lorusso O, Natalizio F, Principi M, Di Leo A, Barone M. Influence of chemotherapy on total energy expenditure in patients with gastrointestinal cancer: a pilot study. Nutrition. 2017;42:7–11.

clinicaltrials.gov. Identifier: NCT03131921. Resting Energy Expenditure in Cancer - Associations With Body Composition, Dietary Intake, and Exercise Habits Bethesda, MD: National Library of Medicine; 2017 [updated May 3, 2017.

Prado CM, Lieffers JR, Bergsten G, Mourtzakis M, Baracos VE, Reiman T, et al. Dietary patterns of patients with advanced lung or colorectal cancer. Can J Diet Pract Res. 2012;73(4):e298–303.

Dray X, Boutron-Ruault MC, Bertrais S, Sapinho D, Benhamiche-Bouvier AM, Faivre J. Influence of dietary factors on colorectal cancer survival. Gut. 2003;52(6):868–73.

Van Blarigan EL, Meyerhardt JA. Role of physical activity and diet after colorectal cancer diagnosis. J Clin Oncol. 2015;33(16):1825–34.

•• Renfro LA, Loupakis F, Adams RA, Seymour MT, Heinemann V, Schmoll HJ, et al. Body mass index is prognostic in metastatic colorectal cancer: pooled analysis of patients from first-line clinical trials in the ARCAD database. J Clin Oncol. 2016;34(2):144–50 A pooled analysis of over 20,000 patients with metastatic CRC which showed that risk of disease progression and/or death decreased as BMI increased until approximately 28 kg/m 2 .

Kroenke CH, Neugebauer R, Meyerhardt J, Prado CM, Weltzien E, Kwan ML, et al. Analysis of body mass index and mortality in patients with colorectal cancer using causal diagrams. JAMA Oncol. 2016;2(9):1137–45.

Lee J, Meyerhardt JA, Giovannucci E, Jeon JY. Association between body mass index and prognosis of colorectal cancer: a meta-analysis of prospective cohort studies. PLoS One. 2015;10(3):e0120706.

Daniel CR, Shu X, Ye Y, Gu J, Raju GS, Kopetz S, et al. Severe obesity prior to diagnosis limits survival in colorectal cancer patients evaluated at a large cancer centre. Br J Cancer. 2016;114(1):103–9.

Pelser C, Arem H, Pfeiffer RM, Elena JW, Alfano CM, Hollenbeck AR, et al. Prediagnostic lifestyle factors and survival after colon and rectal cancer diagnosis in the National Institutes of Health (NIH)-AARP diet and health study. Cancer. 2014;120(10):1540–7.

Cespedes Feliciano EM, Kroenke CH, Meyerhardt JA, Prado CM, Bradshaw PT, Dannenberg AJ, et al. Metabolic Dysfunction, Obesity, and Survival Among Patients With Early-Stage Colorectal Cancer. J Clin Oncol. 2016.

Walter V, Jansen L, Hoffmeister M, Ulrich A, Roth W, Blaker H, et al. Prognostic relevance of prediagnostic weight loss and overweight at diagnosis in patients with colorectal cancer. Am J Clin Nutr. 2016;104(4):1110–20.

Winkels RM, Snetselaar T, Adriaans A, van Warmerdam LJC, Vreugdenhil A, Slooter GD, et al. Changes in body weight in patients with colorectal cancer treated with surgery and adjuvant chemotherapy: an observational study. Cancer Treat Res Commun. 2016;9:111–5.

Lin J, Peng J, Qdaisat A, Li L, Chen G, Lu Z, et al. Severe weight loss during preoperative chemoradiotherapy compromises survival outcome for patients with locally advanced rectal cancer. J Cancer Res Clin Oncol. 2016;142(12):2551–60.

Casas-Vara A, Santolaria F, Fernandez-Bereciartua A, Gonzalez-Reimers E, Garcia-Ochoa A, Martinez-Riera A. The obesity paradox in elderly patients with heart failure: analysis of nutritional status. Nutrition. 2012;28(6):616–22.

Biasucci LM, Graziani F, Rizzello V, Liuzzo G, Guidone C, De Caterina AR, et al. Paradoxical preservation of vascular function in severe obesity. Am J Med. 2010;123(8):727–34.

Schenkeveld L, Magro M, Oemrawsingh RM, Lenzen M, de Jaegere P, van Geuns RJ, et al. The influence of optimal medical treatment on the 'obesity paradox', body mass index and long-term mortality in patients treated with percutaneous coronary intervention: a prospective cohort study. BMJ Open. 2012;2:e000535.

Eisenhauer EA, Therasse P, Bogaerts J, Schwartz LH, Sargent D, Ford R, et al. New response evaluation criteria in solid tumours: revised RECIST guideline (version 1.1). Eur J Cancer. 2009;45(2):228–47.

Martin L, Birdsell L, Macdonald N, Reiman T, Clandinin MT, McCargar LJ, et al. Cancer cachexia in the age of obesity: skeletal muscle depletion is a powerful prognostic factor, independent of body mass index. J Clin Oncol. 2013;31(12):1539–47.

Boer BC, de Graaff F, Brusse-Keizer M, Bouman DE, Slump CH, Slee-Valentijn M, et al. Skeletal muscle mass and quality as risk factors for postoperative outcome after open colon resection for cancer. Int J Color Dis. 2016;31(6):1117–24.

Choi MH, Oh SN, Lee IK, Oh ST, Won DD. Sarcopenia is negatively associated with long-term outcomes in locally advanced rectal cancer. J Cachexia Sarcopenia Muscle. 2018;9(1):53–9.

Malietzis G, Currie AC, Athanasiou T, Johns N, Anyamene N, Glynne-Jones R, et al. Influence of body composition profile on outcomes following colorectal cancer surgery. Br J Surg. 2016;103(5):572–80.

van Vugt JLA, Coebergh van den Braak RRJ, Lalmahomed ZS, Vrijland WW, Dekker JWT, Zimmerman DDE, et al. Impact of low skeletal muscle mass and density on short and long-term outcome after resection of stage I-III colorectal cancer. Eur J Surg Oncol. 2018.

•• Caan BJ, Meyerhardt JA, Kroenke CH, Alexeeff S, Xiao J, Weltzien E, et al. Explaining the Obesity Paradox: The Association between Body Composition and Colorectal Cancer Survival (C-SCANS Study). Cancer Epidemiol Biomarkers Prev. 2017;26(7):1008–15 This study included 3262 patients with stage I–III CRC; 42% had low muscle, which was associated with higher risk of overall mortality. Sex differences in body composition were also explored.

Baar HV, Winkels RM, Posthuma L, Bours MJ, Weijenberg MP, Kampman E, et al. The association between total-, visceral- and subcutaneous adipose tissue and overall mortality in early-stage colorectal cancer patients. Clin Nutr. 2018;37:S84–S5.

Xiao J, Mazurak VC, Olobatuyi TA, Caan BJ, Prado CM. Visceral adiposity and cancer survival: a review of imaging studies. Eur J Cancer Care (Engl). 2018;27(2):e12611.

• Blauwhoff-Buskermolen S, Versteeg KS, de van der Schueren MA, den Braver NR, Berkhof J, Langius JA, et al. Loss of Muscle Mass During Chemotherapy Is Predictive for Poor Survival of Patients With Metastatic Colorectal Cancer. J Clin Oncol. 2016. Muscle loss ≥ 9% was associated with poorer survival 6 months and 1 year after diagnosis in patients with stage IV CRC.

Levolger S, van Vledder MG, Alberda WJ, Verhoef C, de Bruin RWF, JNM IJ, et al. Muscle wasting and survival following pre-operative chemoradiotherapy for locally advanced rectal carcinoma. Clin Nutr. 2017.

Choe EK, Park KJ, Ryoo S-B, Moon SH, Oh H-K, Han EC. Prognostic impact of changes in adipose tissue areas after colectomy in colorectal Cancer patients. J Korean Med Sci. 2016;31(10):1571–8.

Durham WJ, Dillon EL, Sheffield-Moore M. Inflammatory burden and amino acid metabolism in cancer cachexia. Curr Opin Clin Nutr Metab Care. 2009;12(1):72–7.

Malietzis G, Currie AC, Johns N, Fearon KC, Darzi A, Kennedy RH, et al. Skeletal muscle changes after elective colorectal cancer resection: a longitudinal study. Ann Surg Oncol. 2016;23:2539–47.

Nicolini A, Ferrari P, Masoni MC, Fini M, Pagani S, Giampietro O, et al. Malnutrition, anorexia and cachexia in cancer patients: a mini-review on pathogenesis and treatment. Biomed Pharmacother. 2013;67(8):807–17.

Romero SAD, Li QS, Mao JJ. Factors and barriers associated with changes in physical activity after cancer diagnosis. Journal or Clinical Oncology. 2017;35(supplement 5S):abstract 162.

Prado CMM, Lieffers JR, Bowthorpe L, Baracos VE, Mourtzakis M, McCargar LJ. Sarcopenia and physical function: in overweight patients with advanced cancer. Can J Diet Pract Res. 2013;74(2):69–74.

Roubenoff R. Sarcopenic obesity: does muscle loss cause fat gain? Lessons from rheumatoid arthritis and osteoarthritis. Ann N Y Acad Sci. 2000;904:553–7.

Aoyama T, Oba K, Honda M, Sadahiro S, Hamada C, Mayanagi S, et al. Impact of postoperative complications on the colorectal cancer survival and recurrence: analyses of pooled individual patients' data from three large phase III randomized trials. Cancer Medicine. 2017;6(7):1573–80.

Lieffers JR, Bathe OF, Fassbender K, Winget M, Baracos VE. Sarcopenia is associated with postoperative infection and delayed recovery from colorectal cancer resection surgery. Br J Cancer. 2012;107(6):931–6.

• Hopkins JJ, Sawyer MB. A review of body composition and pharmacokinetics in oncology. Expert Rev Clin Pharmacol. 2017;10(9):947–56 A thorough review of the literature that investigates the impact of body compoisiton in cancer treatment alterations.

Prado CM, Antoun S, Sawyer MB, Baracos VE. Two faces of drug therapy in cancer: drug-related lean tissue loss and its adverse consequences to survival and toxicity. Curr Opin Clin Nutr Metab Care. 2011;14(3):250–4.

Park JS, Cho MH, Nam JS, Ahn CW, Cha BS, Lee EJ, et al. Visceral adiposity and leptin are independently associated with C-reactive protein in Korean type 2 diabetic patients. Acta Diabetol. 2010;47(2):113–8.

Lebovitz HE, Banerji MA. Point: visceral adiposity is causally related to insulin resistance. Diabetes Care. 2005;28(9):2322–5.

Kershaw EE, Flier JS. Adipose tissue as an endocrine organ. J Clin Endocrinol Metab. 2004;89(6):2548–56.

Bjorge T, Lukanova A, Tretli S, Manjer J, Ulmer H, Stocks T, et al. Metabolic risk factors and ovarian cancer in the metabolic syndrome and Cancer project. Int J Epidemiol. 2011;40(6):1667–77.

Chaston TB, Dixon JB. Factors associated with percent change in visceral versus subcutaneous abdominal fat during weight loss: findings from a systematic review. Int J Obes. 2008;32(4):619–28.

Ebadi M, Martin L, Ghosh S, Field CJ, Lehner R, Baracos VE, et al. Subcutaneous adiposity is an independent predictor of mortality in cancer patients. Br J Cancer. 2017;117(1):148–55.

Paz-Filho G, Mastronardi C, Wong M-L, Licinio J. Leptin therapy, insulin sensitivity, and glucose homeostasis. Indian J Endocrinol Metab. 2012;16(Suppl 3):S549–S55.

Malietzis G, Aziz O, Bagnall NM, Johns N, Fearon KC, Jenkins JT. The role of body composition evaluation by computerized tomography in determining colorectal cancer treatment outcomes: a systematic review. Eur J Surg Oncol. 2015;41(2):186–96.

Paris MT, Mourtzakis M, Day A, Leung R, Watharkar S, Kozar R, et al. Validation of bedside ultrasound of muscle layer thickness of the quadriceps in the critically ill patient (VALIDUM study): a prospective multicenter study. JPEN J Parenter Enteral Nutr. 2016.

Raeder H, Kvaerner AS, Henriksen C, Florholmen G, Henriksen HB, Bohn SK, et al. Validity of bioelectrical impedance analysis in estimation of fat-free mass in colorectal cancer patients. Clin Nutr. 2018;37(1):292–300.
Ethics declarations
Conflict of Interest
Sarah A. Purcell declares that she has no conflict of interest. Jingjie Xiao declares that she has no conflict of interest. Katherine L. Ford declares that she has no conflict of interest. Carla M. Prado is supported by a Canadian Institutes of Health Research (CIHR) New Investigator Salary Award and the Campus Alberta Innovates Program.
Human and Animal Rights and Informed Consent
This article does not contain any studies with human or animal subjects performed by any of the authors.
Additional information
This article is part of the Topical Collection on Nutrition and Nutritional Interventions in Colorectal Cancer
About this article
Cite this article
Purcell, S.A., Xiao, J., Ford, K.L. et al. The Role of Energy Balance on Colorectal Cancer Survival. Curr Colorectal Cancer Rep 14, 266–273 (2018). https://doi.org/10.1007/s11888-018-0423-8
Published:

Issue Date:

DOI: https://doi.org/10.1007/s11888-018-0423-8
Keywords
Colorectal cancer

Body weight

Obesity

Body composition

Energy balance