Abstract
Purpose of Review
Thyroid disorders, especially hypothyroidism, are known to be associated with pericardial diseases. The aim of this paper is to review the current knowledge of the pericardial manifestations of hypothyroidism and hyperthyroidism.
Recent Findings
Many reports have described associations between dysthyroidism, which encompasses hypothyroidism and hyperthyroidism, and several pericardial diseases, including acute pericarditis, constrictive pericarditis, pericardial effusion, and tamponade. The diagnosis of dysthyroidism-induced pericardial diseases consists of a combination of thyroid blood levels that fall outside of the normal range and the exclusion of other causes. Treatment of the thyroid disorder is key, along with treatment of the pericardial disease as recommended by the guidelines.
Summary
Early recognition of the thyroid disorder is key in patients with pericardial diseases, since treating the underlying cause should assist resolution of the pericardial issues and ideally prevent recurrence and possible future complications of suboptimally treated pericarditis or pericardial effusions.
Access options
Buy single article
Instant access to the full article PDF.
USD 39.95
Price excludes VAT (USA)
Tax calculation will be finalised during checkout.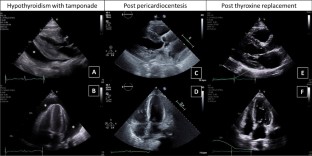 References
Papers of particular interest, published recently, have been highlighted as: • Of importance •• Of major importance
Klein I, Danzi S. Thyroid disease and the heart. Circulation. 2007;116(15).

Klein I, Ojamaa K. Thyroid hormone and the cardiovascular system: from theory to practice. J Clin Endocrinol Metabol. 1994;78(5).

•• Chahine J, Ala CK, Gentry JL, Pantalone KM, Klein AL. Pericardial diseases in patients with hypothyroidism. Heart. 2019;105(13):1027–33. This review paper describes the curent knowledge of hypothyroidism-induced pericardial diseases, with an emphasis on pathophysiology and management strategies.

Kabadi UM, Kumar SP. Pericardial effusion in primary hypothyroidism. Am Heart J. 1990;120(6 Pt 1):1393–5.

Thirone AC, Danieli RV, Ribeiro VM. Massive pericardial effusion as initial manifestation of hypothyroidism. Arq Bras Endocrinol Metabol. 2012;56(6):383–7.

Hardisty CA, Naik DR, Munro DS. Pericardial effusion in hypothyroidism. Clin Endocrinol (Oxf). 1980;13(4):349–54.

Ivens EL, Munt BI, Moss RR. Pericardial disease: what the general cardiologist needs to know. Heart. 2007;93(8):993–1000.

Asboe-Hansen G. The variability in the hyaluronic acid content of the dermal connective tissue under the influence of thyroid hormone; mast cells, the peripheral transmitters of hormonal action. Acta Derm Venereol. 1950;30(3):221–30.

Parving HH, Hansen JM, Nielsen SL, Rossing N, Munck O, Lassen NA. Mechanisms of edema formation in myxedema—increased protein extravasation and relatively slow lymphatic drainage. N Engl J Med. 1979;301(9):460–5.

Hierholzer K, Finke R. Myxedema. Kidney Int Suppl. 1997;59:S82–9.

Willner DA, Goyal A, Grigorova Y, Kiel J. Pericardial effusion. StatPearls. Treasure Island (FL). 2022.

Adler Y, Charron P, Imazio M, Badano L, Baron-Esquivias G, Bogaert J, et al. 2015 ESC Guidelines for the diagnosis and management of pericardial diseases: The Task Force for the Diagnosis and Management of Pericardial Diseases of the European Society of Cardiology (ESC)Endorsed by: The European Association for Cardio-Thoracic Surgery (EACTS). Eur Heart J. 2015;36(42):2921–64.

Chaker L, Bianco AC, Jonklaas J, Peeters RP. Hypothyroidism Lancet. 2017;390(10101):1550–62.

Yamanaka S, Kumon Y, Matsumura Y, Kamioka M, Takeuchi H, Sugiura T. Link between pericardial effusion and attenuation of QRS voltage in patients with hypothyroidism. Cardiology. 2010;116(1):32–6.

Balducci G, Acquafredda A, Amendola F, Natuzzi M, Laforgia N, Cavallo L. Cardiac function in congenital hypothyroidism: impairment and response to L-T4 therapy. Pediatr Cardiol. 1991;12(1):28–32.

Tajiri J, Morita M, Higashi K, Fujii H, Nakamura N, Sato T. The cause of low voltage QRS complex in primary hypothyroidism. Pericardial effusion or thyroid hormone deficiency? Jpn Heart J. 1985;26(4):539–47.

Ingram D, Strecker-McGraw MK. Electrical alternans. StatPearls. Treasure Island (FL). 2022.

Khaleeli AA, Memon N. Factors affecting resolution of pericardial effusions in primary hypothyroidism: a clinical, biochemical and echocardiographic study. Postgrad Med J. 1982;58(682):473–6.

Mirwais S, Kazmi SH, Hussain SI, Mirwais M, Sharma A. Hypothyroidism causing pericardial effusion: a case report. Cureus. 2019;11(12):e6393.

Butala A, Chaudhari S, Sacerdote A. Cardiac tamponade as a presenting manifestation of severe hypothyroidism. BMJ Case Rep. 2013;2013.

Lange RA, Hillis LD. Clinical practice. Acute pericarditis N Engl J Med. 2004;351(21):2195–202.

Kerber RE, Sherman B. Echocardiographic evaluation of pericardial effusion in myxedema. Incidence and biochemical and clinical correlations. Circulation. 1975;52(5):823–7.

Perez-Casares A, Cesar S, Brunet-Garcia L, Sanchez-de-Toledo J. Echocardiographic evaluation of pericardial effusion and cardiac tamponade. Front Pediatr. 2017;5:79.

Gillam LD, Guyer DE, Gibson TC, King ME, Marshall JE, Weyman AE. Hydrodynamic compression of the right atrium: a new echocardiographic sign of cardiac tamponade. Circulation. 1983;68(2):294–301.

Himelman RB, Kircher B, Rockey DC, Schiller NB. Inferior vena cava plethora with blunted respiratory response: a sensitive echocardiographic sign of cardiac tamponade. J Am Coll Cardiol. 1988;12(6):1470–7.

• Rosmini S, Seraphim A, Knott K, Brown JT, Knight DS, Zaman S, et al. Non-invasive characterization of pleural and pericardial effusions using T1 mapping by magnetic resonance imaging. Eur Heart J Cardiovasc Imaging. 2021. This paper describes the rising importance of cardiac magnetic resonance imaging in characterization of pericardial effusions without the need for an invasive pericardial tap.

Wang ZJ, Reddy GP, Gotway MB, Yeh BM, Hetts SW, Higgins CB. CT and MR imaging of pericardial disease. Radiographics. 2003;23 Spec No:S167–80.

Crowley WF, Jr., Ridgway EC, Bough EW, Francis GS, Daniels GH, Kourides IA, et al. Noninvasive evaluation of cardiac function in hypothyroidism. Response to gradual thyroxine replacement. N Engl J Med. 1977;296(1):1–6.

Ponnapalli A, Deliwala SS, Zayed Y, Bachuwa G. Pericardial effusion uncovering underlying hypothyroidism. Clin Case Rep. 2021;9(3):1816–8.

Jonklaas J, Bianco AC, Bauer AJ, Burman KD, Cappola AR, Celi FS, et al. Guidelines for the treatment of hypothyroidism: prepared by the american thyroid association task force on thyroid hormone replacement. Thyroid. 2014;24(12):1670–751.

Imazio M, Adler Y. Management of pericardial effusion. Eur Heart J. 2013;34(16):1186–97.

Bajaj R, Mehrzad R, Singh K, Gupta JP. Cardiac tamponade in hypothyroidism. BMJ Case Rep. 2014;2014.

Patil VC, Patil HV, Agrawal V, Patil S. Cardiac tamponade in a patient with primary hypothyroidism. Indian J Endocrinol Metab. 2011;15(Suppl 2):S144–6.

Hellmann AR, Kostro J, Dziedzic R, Hellmann M, Dudziak M. Cardiac tamponade as the first manifestation of primary hypothyroidism. Kardiol Pol. 2015;73(9):786.

Wang JL, Hsieh MJ, Lee CH, Chen CC, Hsieh IC, Lin JD, et al. Hypothyroid cardiac tamponade: clinical features, electrocardiography, pericardial fluid and management. Am J Med Sci. 2010;340(4):276–81.

Stashko E, Meer JM. Cardiac tamponade. StatPearls. Treasure Island (FL). 2022.

Restrepo CS, Lemos DF, Lemos JA, Velasquez E, Diethelm L, Ovella TA, et al. Imaging findings in cardiac tamponade with emphasis on CT. Radiographics. 2007;27(6):1595–610.

Sinha A, Yeruva SL, Kumar R, Curry BH. Early cardiac tamponade in a patient with postsurgical hypothyroidism. Case Rep Cardiol. 2015;2015: 310350.

Camprubi M, Merce J, Raventos A. Pericardial constriction secondary to cholesterol pericarditis. Rev Esp Cardiol. 2006;59(3):289–90.

Fernandes F, Vieira GS, Arteaga E, Ianni BM, Pego- Fernandes P, Mady C. Cholesterol pericarditis. A specific but rare cause of pericardial disease. Arq Bras Cardiol. 2001;76(5):391–4.

Tucker WS Jr, Niblack GD, McLean RH, Alspaugh MA, Wyatt RJ, Jordan SC, et al. Serositis with autoimmune endocrinopathy: clinical and immunogenetic features. Medicine (Baltimore). 1987;66(2):138–47.

Stanley RJ, Subramanian R, Lie JT. Cholesterol pericarditis terminating as constrictive calcific pericarditis. Follow-up study of patient with 40 year history of disease. Am J Cardiol. 1980;46(3):511–4.

Snyder MJ, Bepko J, White M. Acute pericarditis: diagnosis and management. Am Fam Physician. 2014;89(7):553–60.

Adler Y, Charron P, Imazio M, Badano L, Barón-Esquivias G, Bogaert J, et al. 2015 ESC Guidelines for the diagnosis and management of pericardial diseases: The Task Force for the Diagnosis and Management of Pericardial Diseases of the European Society of Cardiology (ESC)Endorsed by: The European Association for Cardio-Thoracic Surgery (EACTS). Eur Heart J. 2015;36(42):2921–64.

Aldweib N, Farah V, Biederman RWW. Clinical utility of cardiac magnetic resonance imaging in pericardial diseases. Current cardiology reviews. 2018;14(3).

Alajaji W, Xu B, Sripariwuth A, Menon V, Kumar A, Schleicher M, et al. Noninvasive multimodality imaging for the diagnosis of constrictive pericarditis. Circ Cardiovasc Imaging. 2018;11(11):e007878.

•• Chiabrando JG, Bonaventura A, Vecchié A, Wohlford GF, Mauro AG, Jordan JH, et al. Management of acute and recurrent pericarditis: JACC State-of-the-Art Review. J Am Coll Cardiol. 2020;75(1):76–92. This state-of-the-art review describes the latest available evidence regarding the diagnosis and treatment of acute and recurrent pericarditis.

Clarke NR, Banning AP, Gwilt DJ, Scott AR. Pericardial disease associated with Grave's thyrotoxicosis. QJM. 2002;95(3):188–9.

Gondal M, Hussain A, Yousuf H, Haider Z. Double trouble-thyro-pericarditis: rare presentation of Graves' disease as pericarditis-a case report. Eur Heart J Case Rep. 2020;4(6):1–5.

Gupta P, Chhabra L, Hiendlmayr B, Spodick DH. Thyrotoxic pericarditis: an underappreciated phenomenon. Int J Cardiol. 2015;198:32–3.

Koo EH, Kim SM, Park SM, Park JW, Kim EK, Lee GY, et al. Acute recurrent pericarditis accompanied by graves' disease. Korean Circ J. 2012;42(6):419–22.

Thomson RJ, Rossberg N, Davar J, Whelan C. Myopericarditis and thyroiditis: a case report. Eur Heart J Case Rep. 2021;5(7):ytab192.

Tsai MS, Yang CW, Chi CL, Hsieh CC, Chen WJ, Huang CH. Acute pericarditis: a rare complication of Graves' thyrotoxicosis? Am J Emerg Med. 2006;24(3):374–5.

Ali MS, Mba BI, Ciftci FD, Ali AS. Bleeding heart: a case of spontaneous hemopericardium and tamponade in a hyperthyroid patient on warfarin. BMJ Case Rep. 2016;2016.

Bui PV, Zaveri SN, Pierce JR Jr. Sanguineous pericardial effusion and cardiac tamponade in the setting of graves' disease: report of a case and review of previously reported cases. Case Rep Med. 2016;2016:9653412.

Fonseca EM, Schonhofen I, Toralles MP, de Carvalho JF. Graves' disease inducing a massive cardiac tamponade. BMJ Case Rep. 2021;14(3).

Nakata A, Komiya R, Ieki Y, Yoshizawa H, Hirota S, Takazakura E. A patient with Graves' disease accompanied by bloody pericardial effusion. Intern Med. 2005;44(10):1064–8.

Ovadia S, Lysyy L, Zubkov T. Pericardial effusion as an expression of thyrotoxicosis. Tex Heart Inst J. 2007;34(1):88–90.

Teague E, O'Brien CJ, Campbell NP. Pericardial effusion and tamponade complicating treated graves' thyrotoxocosis. Ulster Med J. 2009;78(1):56–7.

Witczak JK, Ubaysekara N, Ravindran R, Rice S, Yousef Z, Premawardhana LD. Significant cardiac disease complicating Graves' disease in previously healthy young adults. Endocrinol Diabetes Metab Case Rep. 2020;2020.

Yu M, Gao Y, Jin H, Shou S. Acute pericardial tamponade: the initial manifestation of systemic lupus erythematosus with Graves' hyperthyroidism. Lupus. 2021;30(7):1192–6.

Treusch JV, Jaffe HL. Hyperthyroidism associated with presumptive acute pericarditis; a report of three cases. Calif Med. 1958;89(3):217–21.

Inami T, Seino Y, Goda H, Okazaki H, Shirakabe A, Yamamoto M, et al. Acute pericarditis: unique comorbidity of thyrotoxic crisis with Graves' disease. Int J Cardiol. 2014;171(3):e129–30.

Kortekaas KA, van der Lienden B, Jong S, Riezebos R. Graves' disease as an uncommon cause of acute pericarditis. BMJ Case Rep. 2014;2014.

Cantarini L, Imazio M, Brizi MG, Lucherini OM, Brucato A, Cimaz R, et al. Role of autoimmunity and autoinflammation in the pathogenesis of idiopathic recurrent pericarditis. Clin Rev Allergy Immunol. 2013;44(1):6–13.

Maestroni S, Di Corato PR, Cumetti D, Chiara DB, Ghidoni S, Prisacaru L, et al. Recurrent pericarditis: autoimmune or autoinflammatory? Autoimmun Rev. 2012;12(1):60–5.

Devereaux D, Tewelde SZ. Hyperthyroidism and thyrotoxicosis. Emerg Med Clin North Am. 2014;32(2):277–92.

Ross DS, Burch HB, Cooper DS, Greenlee MC, Laurberg P, Maia AL, et al. 2016 American thyroid association guidelines for diagnosis and management of hyperthyroidism and other causes of thyrotoxicosis. Thyroid. 2016;26(10):1343–421.

Schwier NC, O'Neal K. Pharmacotherapeutic management strategies for thyroid disease-induced pericarditis. Ann Pharmacother. 2020;54(5):486–95.

Ertek S, Cicero AF. Hyperthyroidism and cardiovascular complications: a narrative review on the basis of pathophysiology. Arch Med Sci. 2013;9(5):944–52.

Nagata K, Fukata S, Kanai K, Satoh Y, Segawa T, Kuwamoto S, et al. The influence of Epstein-Barr virus reactivation in patients with Graves' disease. Viral Immunol. 2011;24(2):143–9.

Zafrir B, Aviv A, Reichman N, Flatau E. Epstein-Barr virus-associated pericarditis and pericardial effusion: case report and diagnostic aspects. Eur J Intern Med. 2005;16(7):528–30.

Chhabra L, Spodick DH. A comment on thyrotoxic pericarditis. Int J Cardiol. 2014;173(3):587.

Anah MU, Ansa VO, Etiuma AU, Udoh EE, Ineji EO, Asindi AA. Recurrent pericardial effusion associated with hypothyroidism in Down syndrome: a case report. West Afr J Med. 2011;30(3):210–3.

Karki S, Rayamajhi RJ, Shikhrakar S, Shahi S, Dhakal B, Khadka M. Pericardial effusion in hypothyroidism: a case report. Ann Med Surg (Lond). 2021;72: 102999.

Hwang JW. A case of profound hypothyroidism presenting with hypertensive emergency and large amount of pericardial effusion. Am J Case Rep. 2020;21:e923299.

Baghal M, Amrutiya V, Patel B, Patel R, Hernandez J, Ahmed M, et al. Pericardial tamponade and elevated serum CA-125 level in inadequately treated hypothyroidism. Case Rep Cardiol. 2021;2021:2666601.

Maddali VR, Miryala S, Bellamkonda YS, Nagula P. Cardiac tamponade due to primary hypothyroidism: acute management and approach to prevent recurrence-a case report. Eur Heart J Case Rep. 2020;4(3):1–5.

Acquaro M, Breviario F, Greco A, Ghio S. Acute pericarditis, Graves' disease, and thymic hyperplasia: a case report. Eur Heart J Case Rep. 2021;5:ytab392.

Airel PS, Steele MB, Lin AH, Seidensticker DF, Shwayhat AF. Pericarditis, thymic hyperplasia, and Graves' thyrotoxicosis: case report and review of the literature. Mil Med. 2013;178:e865–9.

Sugar SJ. Pericarditis as a complication of thyrotoxicosis. Arch Intern Med. 1981;141:1242.
Ethics declarations
Conflict of Interest
Johnny Chahine, Zeina Jedeon, Kevin Chang, and Christina Jellis declare that they have no conflict of interest.
Human and Animal Rights and Informed Consent
This article does not contain any studies with human or animal subjects performed by any of the authors.
Additional information
Publisher's Note
Springer Nature remains neutral with regard to jurisdictional claims in published maps and institutional affiliations.
This article is part of the Topical Collection on Pericardial Disease
About this article
Cite this article
Chahine, J., Jedeon, Z., Chang, K.Y. et al. Pericardial Manifestations of Thyroid Diseases. Curr Cardiol Rep 24, 893–904 (2022). https://doi.org/10.1007/s11886-022-01711-7
Accepted:

Published:

Issue Date:

DOI: https://doi.org/10.1007/s11886-022-01711-7
Keywords