Abstract
The majority of adults do not meet current guideline recommendations for moderate to vigorous physical activity. Recent research has linked a high amount of sedentary behavior with an increased risk of obesity, diabetes, the metabolic syndrome, cardiovascular disease, and death. This correlation with sedentary behavior even extends to individuals who meet recommended physical activity goals during the remainder of their day, which implies that sedentary behavior may represent a distinct cardiovascular risk factor that is independent of the overall amount of physical activity. During the past several years, there has been significant interest in identifying and understanding the mechanisms through which sedentary behavior affects cardiovascular health. In this review, we critically evaluate the literature pertaining to sedentary behavior and cardiovascular risk with an emphasis on studies published over the past year, and we suggest possible interventions that may help reduce sedentary behavior time.
Access options
Buy single article
Instant access to the full article PDF.
USD 39.95
Price excludes VAT (USA)
Tax calculation will be finalised during checkout.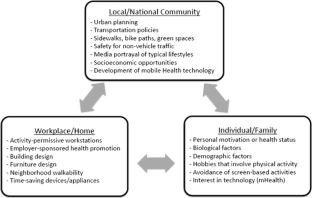 References
Papers of particular interest, published recently, have been highlighted as: • Of importance •• Of major importance
Sedentary Behaviour Research Network. Letter to the editor: standardized use of the terms "sedentary" and "sedentary behaviours. Appl Physiol Nutr Metab. 2012;37:540–2.

Owen N, Sparling PB, Healy GN, Dunstan DW, Matthews CE. Sedentary behavior: emerging evidence for a new health risk. Mayo Clin Proc. 2010;85(12):1138–41.

Pate RR, O'Neill JR, Lobelo F. The evolving definition of "sedentary". Exerc Sport Sci Rev. 2008;36(4):173–8.

Tremblay MS, Colley RC, Saunders TJ, Healy GN, Owen N. Physiological and health implications of a sedentary lifestyle. Appl Physiol Nutr Metab. 2010;35(6):725–40.

Church TS, Martin CK, Thompson AM, Earnest CP, Mikus CR, Blair SN. Changes in weight, waist circumference and compensatory responses with different doses of exercise among sedentary, overweight postmenopausal women. PLoS One. 2009;4(2):e4515.

Melanson EL, Gozansky WS, Barry DW, Maclean PS, Grunwald GK, Hill JO. When energy balance is maintained, exercise does not induce negative fat balance in lean sedentary, obese sedentary, or lean endurance-trained individuals. J Appl Physiol. 2009;107(6):1847–56.

Mullen SP, Olson EA, Phillips SM, Szabo AN, Wójcicki TR, Mailey EL, et al. Measuring enjoyment of physical activity in older adults: invariance of the physical activity enjoyment scale (paces) across groups and time. Int J Behav Nutr Phys Act. 2011;8:103.

Sims ST, Larson JC, Lamonte MJ, Michael YL, Martin LW, Johnson KC, et al. Physical activity and body mass: changes in younger versus older postmenopausal women. Med Sci Sports Exerc. 2012;44(1):89–97.

Smith AE, Lockwood CM, Moon JR, Kendall KL, Fukuda DH, Tobkin SE, et al. Physiological effects of caffeine, epigallocatechin-3-gallate, and exercise in overweight and obese women. Appl Physiol Nutr Metab. 2010;35(5):607–16.

Canadian Physical Activity, and Sedentary Behaviour Guidelines. Canadian Society for Exercise Physiology (n.d.): n. pag. Canadian Sedentary Behavior Guidelines. Canadian Society for Exercise Physiology, 2012. Web. 20 Nov. 2015<csep.ca/guidelines>.

"Australia's Physical Activity and Sedentary Behaviour Guidelines" Australian Government 10 Department of Health. N.p., 10 July 2014. Web. 21 Nov. 2015. http://www.health.gov.au/internet/main/publishing.nsf/Content/health-pubhlth-strateg-phys-act-guidelines#apaadult.

Biswas A, Oh PI, Faulkner GE, Bajaj RR, Silver MA, Mitchell MS, et al. Sedentary time and its association with risk for disease incidence, mortality, and hospitalization in adults: a systematic review and meta-analysis. Ann Intern Med. 2015;162(2):123–32. Meta-analysis highlights significant association of sedentary behavior and CVD events/mortality. Results were attenuated by higher levels of physical activity.

Dunstan DW, Barr EL, Healy GN, Salmon J, Shaw JE, Balkau B, et al. Television viewing time and mortality: the Australian Diabetes, Obesity and Lifestyle Study (AusDiab). Circulation. 2010;121(3):384–91.

Grøntved A, Hu FB. Television viewing and risk of type 2 diabetes, cardiovascular disease, and all-cause mortality: a meta-analysis. JAMA. 2011;305(23):2448–55.

Katzmarzyk PT, Church TS, Craig CL, Bouchard C. Sitting time and mortality from all causes, cardiovascular disease, and cancer. Med Sci Sports Exerc. 2009;41(5):998–1005.

Thorp AA, Owen N, Neuhaus M, Dunstan DW. Sedentary behaviors and subsequent health outcomes in adults a systematic review of longitudinal studies, 1996–2011. Am J Prev Med. 2011;41(2):207–15.

Wijndaele K, Brage S, Besson H, Khaw KT, Sharp SJ, Luben R, et al. Television viewing time independently predicts all-cause and cardiovascular mortality: the EPIC Norfolk study. Int J Epidemiol. 2011;40(1):150–9.

Healy GN, Matthews CE, Dunstan DW, Winkler EA, Owen N. Sedentary time and cardio-metabolic biomarkers in US adults: NHANES 2003–06. Eur Heart J. 2011;32(5):590–7.

Cohen SS, Matthews CE, Signorello LB, Schlundt DG, Blot WJ, et al. Sedentary and physically active behavior patterns among low-income African-American and White adults living in the southeastern United States. PLoS ONE. 2013;8(4):e59975. doi:10.1371/journal.pone.0059975.

Matthews CE, Chen KY, Freedson PS, Buchowski MS, Beech BM, Pate RR, et al. Amount of time spent in sedentary behaviors in the United States, 2003–2004. Am J Epidemiol. 2008;167(7):875–81. doi:10.1093/aje/kwm390.

Stamatakis E, Hamer M, Dunstan DW. Screen-based entertainment time, all-cause mortality, and cardiovascular events: population-based study with ongoing mortality and hospital events follow-up. J Am Coll Cardiol. 2011;57:292–9.

Chomistek AK, Manson JE, Stefanick ML, Lu B, Sands-Lincoln M, Going SB, et al. Relationship of sedentary behavior and physical activity to incident cardiovascular disease: results from the Women's Health Initiative. J Am Coll Cardiol. 2013;61:2346–54. Prolonged sedentary time is associated with increased CVD risk among a large heterogeneous population.

Matthews CE, George SM, Moore SC, Bowles HR, Blair A, Park Y, et al. Amount of time spent in sedentary behaviors and cause-specific mortality in US adults. Am J Clin Nutr. 2012;95:437–45.

Kim Y, Wilkens LR, Park SY, Doodman MT, Monroe KR, Kolonel LN. Association between various sedentary behaviours and all-cause, cardiovascular disease and cancer mortality: the Multiethnic Cohort Study. Int J Epidemiol. 2013;42:1040–56.

Seguin R, Buchner DM, Liu J, Allison M, Manini T, Wang CY, et al. Sedentary behavior and mortality in older women: the Women's Health Initiative. Am J Prev Med. 2014;46(2):122–35. Analysis of older women from the Women's Health Initiative found a linear relationship between sedentary time and mortality risk.

de Rezende LF, Rodriguez Lopes M, Rey-Lopez JP, Matsudo VK, Luiz OC. Sedentary behavior and health outcomes: an overview of systematic reviews. PLoS One. 2014;9(8):e105620.

van Uffelen JGZ, Wong J, Chau JY, van der Ploeg HP, Riphagen I, et al. Occupational sitting and health risks: a systematic review. Am J Prev Med. 2010;39:379–88.

Ford ES, Caspersen CJ. Sedentary behaviour and cardiovascular disease: a review of prospective studies. Int J Epidemiol. 2012;41:1338–53.

Wilmot EG, Edwardson CL, Achana FA, Davies MJ, Gorely T, Gray LJ, et al. Sedentary time in adults and the association with diabetes, cardiovascular disease and death: systematic review and meta-analysis. Diabetologia. 2012;55(11):2895–905. Meta-analysis including nearly 800,000 participants, which found associations between increased sedentary time and diabetes, cardiovascular disease, and all-cause mortality.

Bey L, Hamilton MT. Suppression of skeletal muscle lipoprotein lipase activity during physical inactivity: a molecular reason to maintain daily low-intensity activity. J Physiol. 2003;551(Pt 2):673–82.

Brocklebank LA, Falconer CL, Page AS, Perry R, Cooper AR. Accelerometer-measured sedentary time and cardiometabolic biomarkers: a systematic review. Prev Med. 2015;76:92–102. A large systematic review of accelerometer-measured sedentary time found significant associations of sedentary behavior with increased triglyceride levels and poor insulin sensitivity.

Seider MJ, Nicholson WF, Booth FW. Insulin resistance for glucose metabolism in disused soleus muscle of mice. Am J Physiol. 1982;242(1):E12–8.

Hamburg NM, McMackin CJ, Huang AL, Shenouda SM, Widlansky ME, Schulz E, et al. Physical inactivity rapidly induces insulin resistance and microvascular dysfunction in healthy volunteers. Arterioscler Thromb Vasc Biol. 2007;27(12):2650–6.

Alibegovic AC, Sonne MP, Højbjerre L, Hansen T, Pedersen O, van Hall G, et al. The T-allele of TCF7L2 rs7903146 associates with a reduced compensation of insulin secretion for insulin resistance induced by 9 days of bed rest. Diabetes. 2010;59(4):836–43.

Gennuso KP, Gangnon RE, Thraen-Borowski KM, Colbert LH. Dose–response relationships between sedentary behaviour and the metabolic syndrome and its components. Diabetologia. 2015;58(3):485–92.

Healy GN, Winkler EA, Owen N, Anuradha S, Dunstan DW. Replacing sitting time with standing or stepping: associations with cardio-metabolic risk biomarkers. Eur Heart J. 2015;36(39):2643–9. doi:10.1093/eurheartj/ehv308.

Hamer M, Stamatakis E, Steptoe A. Effects of substituting sedentary time with physical activity on metabolic risk. Med Sci Sports Exerc. 2014;46(10):1946–50.

Buman MP, Winkler EA, Kurka JM, Hekler EB, Baldwin CM, Owen N, et al. Reallocating time to sleep, sedentary behaviors, or active behaviors: associations with cardiovascular disease risk biomarkers, NHANES 2005–2006. Am J Epidemiol. 2014;179(3):323–34. Beneficial effects of replacing sedentary time with sleep, light activity, or moderate-to-vigorous physical activity improve CVD risk profile.

Patel AV, Bernstein L, Deka A, et al. Leisure time spent sitting in relation to total mortality in a prospective cohort of US adults. Am J Epidemiol. 2010;172:419–29.

Warren TY, Barry V, Hooker SP, et al. Sedentary behaviors increase risk of cardiovascular disease mortality in men. Med Sci Sports Exerc. 2010;42:879–85.

Healy GN, Dunstan DW, Salmon J, et al. Breaks in sedentary time: beneficial associations with metabolic risk. Diabetes Care. 2008;31:661–6.

Bergouignan A, Rudwill F, Simon, et al. Physical inactivity as the culprit of metabolic inflexibility: evidence from bed-rest studies. J Appl Physiol. 2012;111(4):1201–10.

Dunstan DW, Kingwell BA, Larsen R, et al. Breaking up prolonged sitting reduces postprandial glucose and insulin responses. Diabetes Care. 2012;35(5):976–83.

Hamilton MT, Hamilton DG, Zderic, et al. Role of low energy expenditure and sitting in obesity, metabolic syndrome, type 2 diabetes, and cardiovascular disease. Diabetes. 2007;56(11):2655–67.

Saunders TJ, Larouche R, Colley RC, Tremblay MS. Acute sedentary behavior and markers of cardiometabolic risk: a systematic review of intervention studies. J Nutr Metab. 2012;2012:712435.

Carson V, Wong SL, Winkler E, et al. Patterns of sedentary time and cardiometabolic risk among Canadian adults. Prev Med. 2014;65:23–7.

Martin A, Fitzsimons C, Jepson R, Saunders DH, van der Ploeg HP, Teixeria PJ, et al. Interventions with potential to reduce sedentary time in adults: systematic review and meta-analysis. Br J Sports Med. 2014. doi:10.1136/bjsports-2014-094524.

Knight E, Stuckey MI, Petrella RJ. Health promotion through primary care: enhancing self-management with activity prescription and mHealth. Phys Sportmed. 2014;42(3):90–9.

Impact of the Built Environment on Health (2011) Retrieved 14 June 2015 from www.cdc.gov.

Neuhaus M, Eakin EG, Straker L, Owen N, Dunstan DW, Reid N, et al. Reducing occupational sedentary time: a systematic review and meta-analysis of evidence on activity-permissive workstations. Obes Rev. 2014;15(10):822–38. This study showed a proof of concept that changing factors in an individual's workplace environment can help reduce sedentary time.

Clark BK, Sugiyama T, Healy GN, et al. Validity and reliability of measures of television viewing time and other nonoccupational sedentary behaviour of adults: a review. Obes Rev. 2009;10:7–16.
Ethics declarations
Conflict of Interest
Robert V. Same, David I. Feldman, Nishant Shah, Mahmoud Al Rifai, and Haitham M. Ahmed declare that they have no conflicts of interest.
Michael J. Blaha is employed by the FDA (SGE for EDMAC), has received grant support from the FDA/NHLBI, the AHA, and the Aetna Foundation, and has received honoraria from Pfizer and Luitpold Pharmaceuticals.
Seth S. Martin received grant support from the Aetna Foundation for mHealth and Physical Activity.
Garth Graham is employed by the Aetna Foundation.
Human and Animal Rights and Informed Consent
This article does not contain any studies with human or animal subjects performed by any of the authors.
Additional information
This article is part of the Topical Collection on Lipid Abnormalities and Cardiovascular Prevention
About this article
Cite this article
Same, R.V., Feldman, D.I., Shah, N. et al. Relationship Between Sedentary Behavior and Cardiovascular Risk. Curr Cardiol Rep 18, 6 (2016). https://doi.org/10.1007/s11886-015-0678-5
Published:

DOI: https://doi.org/10.1007/s11886-015-0678-5
Keywords
Sedentary behavior

Cardiovascular risk

Physical activity

Lifestyle

mHealth