Abstract
Innate differences in gender physiology result in unique exposures, risk, and protection that are specific to women. Recognition and appreciation of these differences results in better treatment adaptations for women and better outcomes. Disparities between genders in the treatment of major cardiovascular risk factors still exist and are mostly secondary to underestimating or misunderstanding a woman's risk. Preventive therapies are less often recommended to women. Women are more likely to be diagnosed and treated for hypertension, but are less likely to reach treatment goals. High-risk women—including diabetic women—are less likely to be on lipid-lowering agents and reach a low-density lipoprotein level less than 100 mg/dL. Diabetic women are less likely to achieve a hemoglobin A1c level less than 7%. Through understanding these disparities, health care providers will be better able to screen female patients and institute evidence-based therapies for the prevention of cardiovascular disease.
Access options
Buy single article
Instant access to the full article PDF.
USD 39.95
Price excludes VAT (USA)
Tax calculation will be finalised during checkout.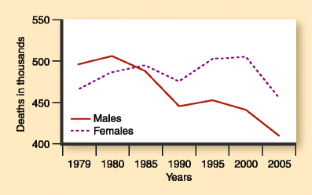 Abbreviations
ARIC:

Atherosclerosis Risk in Communities

JUPITER:

Justification for the Use of Statins in Prevention: an Intervention Trial Evaluating Rosuvastatin

NHANES:

National Health and Nutrition Examination Survey

SWAN:

Study of Women's Health Across the Nation.
References
Papers of particular interest, published recently, have been highlighted as: • Of importance
Lloyd-Jones D, Adams RJ, Brown TM, et al.: Heart disease and stroke statistics—2010 update: a report from the American Heart Association. Circulation 2010, 121:e1–e170.

Vaccarino V, Parsons L, Peterson ED, et al.: Sex differences in mortality after acute myocardial infarction: changes from 1994 to 2006. Arch Intern Med 2009, 169:1767–1774.

Daly C, Clemens F, Sendon JL, et al.: Gender differences in the management and clinical outcome of stable angina. Circulation 2006, 113:490–498.

Mosca L, Linfante AH, Benjamin EJ, et al.: National study of physician awareness and adherence to cardiovascular disease prevention guidelines. Circulation 2005, 111:499–510.

Heron M, Hoyert DL, Murphy SL, et al.: Deaths: final data for 2006. Natl Vital Stat Rep 2009, 57:1–134.

Jousilahti P, Vartiainen E, Tuomilehto J, et al.: Sex, age, cardiovascular risk factors, and coronary heart disease: a prospective follow-up of 14,786 middle-aged men and women in Finland. Circulation 1999, 99:1165–1172.

Ko DT, Mamdani M, Alter DA: Lipid-lowering therapy with statins in high-risk elderly patients: the treatment-risk paradox. JAMA 2004, 291:1864–1870.

Qiao X, McConnell KR, Khalil RA: Sex steroids and vascular responses in hypertension and aging. Gend Med 2008, 5(Suppl A):S46–S64

Mendelsohn ME: Mechanisms of estrogen action in the cardiovascular system. J Steroid Biochem Mol Biol 2000, 74:337–343.

Irgens HU, Reisaeter L, Irgens LM, et al.: Long term mortality of mothers and fathers after pre-eclampsia: population-based cohort study. BMJ 2001, 323:1213–1217.

Smith GC, Pell JP, Walsh D: Pregnancy complications and maternal risk of ischaemic heart disease: a retrospective cohort study of 129,290 births. Lancet 2001, 357:2002–2006.

LeMarca BD, Gilbert J, Granger JP: recent progress toward the understanding of the pathophysiology of hypertension during preeclampsia. Hypertension 2008, 51:982–988.

Lubianca JN, Moreira LB, Gus M, et al.: Stopping oral contraceptives: an effective blood pressure-lowering intervention in women with hypertension. J Hu Hypertens 2005, 19:451–455.

• Matthews KA, Crawford SL, Chae CU, et al.: Are changes in cardiovascular disease risk factors in midlife women due to chronological aging or to the menopausal transition? J Am Coll Cardiol 2009, 54:2366–2373. This is a novel publication from the SWAN study looking specifically at cardiometabolic changes across the menopausal transition.

Kannel WB: Metabolic risk factors for coronary heart disease in women: perspective from the Framingham Study. Am Heart J 1987, 114:413–419.

Brunner D, Weisbort J, Meshulam N, et al.: Relation of serum total cholesterol and high-density lipoprotein cholesterol percentage to the incidence of definite coronary events: twenty-year follow-up of the Donolo-Tel Aviv Prospective Coronary Artery Disease Study. Am J Cardiol 1987, 59:1271–1276.

Lindquist O, Bengtsson C: Serum lipids, arterial blood pressure and body weight in relation to the menopause: results from a population study of women in Goteborg, Sweden. Scand J Clin Lab Invest 1980, 40:629–636.

Lindquist O: Intraindividual changes of blood pressure, serum lipids, and body weight in relation to menstrual status: results from a prospective population study of women in Goteborg, Sweden. Prev Med 1982, 11:162–172.

Baigent C, Keech A, Kearny PM, et al.: Efficacy and safety of cholesterol-lowering treatment: prospective meta-analysis of data from 90,056 participants in 14 randomised trials of statins. Lancet 2005, 366:1267–1278.

Sharrett AD, Ballantyne CM, Coady SA, et al.: Coronary heart disease prediction from lipoprotein cholesterol levels, triglycerides, lipoprotein(a), apolipoproteins a-I and B, and HDL density subfractions: the Atherosclerosis in Communities (ARIC) Study. Circulation 2001, 104:1108–1113.

Li Z, McNamara JR, Fruchart JC, et al.: Effects of gender and menopausal status on plasma lipoprotein subspecies and particle sizes. J Lipid Res 1996, 37:1886–1896.

Zago V, Sanguinetti S, Brites F, et al.: Impaired high density lipoprotein antioxidant activity in healthy postmenopausal women. Atherosclerosis 2004, 177:203–210.

Mosca L, Appel LJ, Benjamin EJ, et al.: Evidence-based guidelines for cardiovascular disease prevention in women. Circulation 2004, 109:672–693.

Gordon T, Castelli WP, Hjortland MC, et al.: High density lipoprotein as a protective factor against coronary heart disease: the Framingham Study. Am J Med 1977, 62:707–714.

Gordon DJ, Probstfield JL, Garrison RJ, et al.: High-density lipoprotein cholesterol and cardiovascular disease: four prospective American studies. Circulation 1989, 79:8–15.

• Cooney MT, Dudina A, Bacquer DD, et al.: HDL cholesterol protects against cardiovascular disease in both genders, at all ages and at all levels of risk. Atherosclerosis 2009, 206:611–616. This is a recent publication looking at the role HDL plays in risk for CVD using pooled data from seven European prospective trials illustrating a stronger relationship between HDL and risk prediction in women compared with men.

Hokanson JE, Austin MA: Plasma triglyceride level is a risk factor for cardiovascular disease independent of high-density lipoprotein cholesterol level: a meta-analysis of population-based prospective studies. J Cardiovasc Risk 1996, 3:213–219.

Nordestgaard BG, Benn M, Schnohr P, et al.: Nonfasting triglycerides and risk of myocardial infarction, ischemic heart disease, and death in men and women. JAMA 2007, 298:299–308.

Bostom AG, Gagnon DR, Cupples A, et al.: A prospective investigation of elevated lipoprotein (a) detected by electrophoresis and cardiovascular disease in women: the Framingham Heart Study. Circulation 1994, 90:1688–1695.

Bogers RP, Bemelmans WJ, Hoogenveen RT, et al.: Association of overweight with increased risk of coronary heart disease partly independent of blood pressure and cholesterol levels: a meta-analysis of 21 cohort studies including more than 300,000 persons. Arch Intern Med 2007, 167:1720–1728.

Bender R, Jockel KH, Trautner C, et al.: Effect of age on excess mortality in obesity. JAMA 1999, 281:1498–1504.

Meisinger C, Doring A, Thorand B, et al.: Body fat distribution and risk of type 2 diabetes in the general population: are there differences between men and women? The Monica/Kora Augsburg Cohort Study. Am J Clin Nutr 2006, 84:483–489.

Adams KF, Schatzkin A, Harris TB, et al.: Overweight, obesity, and mortality in a large prospective cohort of persons 50 to 71 years old. N Engl J Med 2006, 355:763–778.

Wilson PW, D'Agnostino RB, Sullivan L, et al.: Overweight and obesity as determinants of cardiovascular risk: the Framingham experience. Arch Intern Med 2002, 162:1867–1872.

Natarajan S, Liao Y, Cao G, et al.: Sex differences in risk of coronary heart disease mortality associated with diabetes and established coronary heart disease. Arch Intern Med 2003, 163:1735–1740.

Kim C, Newton KM, Knopp RH: Gestational diabetes and the incidence of type 2 diabetes: a systematic review. Diabetes Care 2002, 25:1862–1868.

Lee AJ, Hiscock RJ, Wein P, et al.: Gestational diabetes mellitus: clinical predictors and long-term risk of developing type 2 diabetes. a retrospective cohort study using survival analysis. Diabetes Care 2007, 30:878–883.

Ambrose JA, Barua RS: The pathophysiology of cigarette smoking and cardiovascular disease: an update. J Am Coll Cardiol 2004, 43:1731–1737.

Celermajer DS, Adams MR, Clarkson P, et al.: passive smoking and impaired endothelium-dependent arterial dilatation in healthy young adults. N Engl J Med 1996, 334:150–154.

Pasupathi P, Bakthavathsalam G, Rao YY, et al.: Cigarette smoking-effect of metabolic health risk: a review. diabetes & metabolic syndrome: Clin Res Rev 2009, 3:120–127.

Zeman MV, Hiraki L, Sellers EM: Gender differences in tobacco smoking: higher relative exposure to smoke than nicotine in women. J Womens Health Gend Based Med 2002, 11:147–153.

Bohadana A, Nilsson F, Rasmussen T, et al.: Gender differences in quit rates following smoking cessation with combination nicotine therapy: influence of baseline smoking behavior. Nicotine Tob Res 2003, 5:111–116.

Cepeda-Benito A, Reynoso JT, Erath S: Meta-analysis of the efficacy of nicotine replacement therapy for smoking cessation: differences between men and women. J Consult Clin Psychol 2004, 72:712–722.

Agency for Healthcare Research and Quality: Cardiovascular disease and other chronic conditions in women: recent findings. Program Brief. Available at http://www.ahrq.gov/research/womheart.htm. Accessed March 30, 2010.

Chou AF, Scholle SH, Weisman CS, et al.: Gender disparities in the quality of cardiovascular disease care in private managed care plans. Womens Health Issues 2007, 17:120–130.

Chou AF, Wong L, Weisman CS, et al.: Gender disparities in cardiovascular disease among commercial and medicare managed care plans. Womens Health Issues 2007, 17:139–149.

Ford ES, Mokdad AH, Giles WH, et al.: Serum total cholesterol concentrations and awareness, treatment, and control of hypercholesterolemia among US adults: findings from the National Health and Nutrition Examination Survey, 1999 to 2000. Circulation 2003, 107:2185–2189.

• Mora S, Glynn RJ, Hsia J, et al.: Statins for the primary prevention of cardiovascular events in women with elevated high-sensitivity C-reactive protein or dyslipidemia: results from the Justification for the Use of Statins in Prevention: an Intervention Trial Evaluating Rosuvastatin (JUPITER) and meta-analysis of women from primary prevention trials. Circulation 2010, 121:1069–1077. This is a cutting-edge paper combining the results of the JUPITER trial's female participants with a meta-analysis of the role statins play in CVD prevention for women.

Chou AF, Brown AF, Jensen RE, et al.: Gender and racial disparities in the management of diabetes mellitus among medicare patients. Womens Health Issues 2007, 17:150–161.

Wexler DJ, Grant RW, Meigs JB, et al.: Sex disparities in treatment of cardiac risk factors in patients with type 2 diabetes. Diabetes Care 2005, 28:514–520.
Disclosure
No potential conflicts of interest relevant to this article were reported.
About this article
Cite this article
Jarvie, J.L., Foody, J.M. Recognizing and Improving Health Care Disparities in the Prevention of Cardiovascular Disease in Women. Curr Cardiol Rep 12, 488–496 (2010). https://doi.org/10.1007/s11886-010-0135-4
Published:

Issue Date:

DOI: https://doi.org/10.1007/s11886-010-0135-4
Keywords
Gender disparities

Women

Cardiovascular risk factors

Prevention