Abstract
Purpose of Review
The complex etiologies of pelvic floor muscle dysfunction have led to a multidisciplinary and collaborative approach to the evaluation of pelvic pain and pelvic floor muscle dysfunction. A pelvic floor examination is an important part of the workup for pelvic floor dysfunction to assess for non-genitourinary causes of urinary symptoms, amongst others. The goal of this article is to describe the physiatric pelvic floor physical exam and how it can be utilized by practitioners to help identify potential pelvic floor dysfunction etiologies. The information gathered on this exam is helpful for the clinician to identify when pelvic floor muscle function is abnormal and may lead to urinary dysfunction.
Recent Findings
Data on physical examination to help diagnose pelvic floor dysfunction remains scarce with only a few articles on this topic in the past few years.
Summary
Despite recent articles, there is still no standardized pelvic floor examination to diagnose pelvic floor dysfunction. However, a thorough pelvic floor musculoskeletal examination can help identify muscular dysfunction which may contribute to urologic symptoms or voiding disorders. Future research should be aimed at methods to develop a protocol so that the physical examination can be utilized as a reliable indicator of this issue.
Access options
Buy single article
Instant access to the full article PDF.
USD 39.95
Price excludes VAT (USA)
Tax calculation will be finalised during checkout.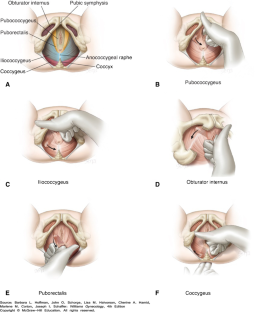 References
Papers of particular interest, published recently, have been highlighted as: • Of importance •• Of major importance
Lamin E, Strother MC, Smith AL. The evidence for female pelvic medicine interventions. Curr Bladder Dysfunct Rep. 2017;12:8. https://doi.org/10.1007/s11884-017-0399-2.

Hallock JL, Handa VL. The epidemiology of pelvic floor disorders and childbirth: an update. Obstet Gynecol Clin North Am. 2016;43(1):1–13. https://doi.org/10.1016/j.ogc.2015.10.008.

Bornstein J, Goldstein AT, Stockdale CK, Bergeron S, Pukall C, Zolnoun D, et al. 2015 ISSVD, ISSWSH, and IPPS Consensus Terminology and Classification of Persistent Vulvar Pain and Vulvodynia. Consensus Vulvar Pain terminology Committee of the International Society for the Study of Vulvovaginal Disease, the International Society for the Study of Women's Sexual Health, and the International Pelvic Pain Society. Obstet Gynecol. 2016;127:745–51.

Meister MR, et al. Physical examination techniques for the assessment of pelvic floor myofascial pain: a systematic review. American Journal of Obstetrics & Gynecology. 219(5):497.e1–497.e13. https://doi.org/10.1016/j.ajog.2018.06.014Systematic review of physical examination for myofascial pelvic pain which supports more data is needed to determine how myofascial pain contributes to LUTS.

Pastore EA, Katzman WB. Recognizing myofascial pelvic pain in the female patient with chronic pelvic pain. J Obstet Gynecol Neonatal Nurs. 2012;41(5):680–91. https://doi.org/10.1111/j.1552-6909.2012.01404.x.

Bonder JH, Chi M, Rispoli L. Myofascial pelvic pain and related disorders. Phys Med Rehabil Clin N Am. 2017;28(3):501–15. https://doi.org/10.1016/j.pmr.2017.03.005.

Bennis S, Hwang S. Office evaluation of pelvic pain. Phys Med Rehabil Clin N Am. 2017;28:461–76. https://doi.org/10.1016/j.pmr.2017.03.012. Most recent review article on the assessment of pelvic pain which included the physical examination for pelvic floor dysfunction.

Parsons CL, Dell J, Stanford EJ, et al. The prevalence of interstitial cystitis in gynecologic patients with pelvic pain, as detected by intravesical potassium sensitivity. Am J Obstet Gynecol. 2002;187(5):1395–400.

Peters KM, Carrico DJ, Kalinowski SE, et al. Prevalence of pelvic floor dysfunction in patients with interstitial cystitis. Urology. 2007;70(1):16–8.

Simons DG, Travell JG, Simons LS. Travell and Simon' myofascial pain and dysfunction: the trigger point manual, vol. 2. 2nd ed. London: Williams and Wilkins; 1999.
Ethics declarations
Conflict of Interest
Jaclyn H. Bonder and Tanya DiFrancesco declare that they have no conflict of interest.
Human and Animal Rights and Informed Consent
This article does not contain any studies with human or animal subjects performed by any of the authors.
Additional information
Publisher's Note
Springer Nature remains neutral with regard to jurisdictional claims in published maps and institutional affiliations.
This article is part of the Topical Collection on Voiding Dysfunction Evaluation
About this article
Cite this article
Bonder, J.H., DiFrancesco, T. Physical Exam Evaluation of Pelvic Floor Dysfunction. Curr Bladder Dysfunct Rep 17, 69–75 (2022). https://doi.org/10.1007/s11884-022-00651-w
Accepted:

Published:

Issue Date:

DOI: https://doi.org/10.1007/s11884-022-00651-w
Keywords