Abstract
Purpose of Review
This comprehensive up-to-date review will synthesise relevant available literature on the topic of post-stroke lower urinary tract dysfunction (LUTD). Topics include epidemiology of LUTD, LUTD as a prognostic indicator for stroke recovery, urinary incontinence and retention, correlations between brain lesion localisation and LUTD, causes of LUTD, medical complications due to LUTD, diagnostics and contemporary management of LUTD in stroke patients.
Recent Findings
LUTD frequently occurs after a stroke and is associated with poor overall functional outcome, increased institutionalisation and mortality rates. The predominant symptoms are urinary frequency, urgency and urge incontinence. In the urodynamic findings, detrusor overactivity is predominant and detrusor underactivity is somewhat less prevalent. LUTD is correlated with the size and site of the brain lesion, and the presence of cognitive, motor, sensory, vision impairment and aphasia. There are multiple aetiologies for LUTD and the treatment usually includes continence aids, behavioural, pharmacological and surgical measures. A variety of behavioural therapeutic interventions is described in the literature, including bladder training and pelvic floor muscle training, but the evidence of the effectiveness is still sparse.
Summary
LUTD after a stroke remains under-recognised, poorly addressed and there is still a lack of clinical practice guidelines available in the literature. At the moment, a structured clinical assessment and the use of a multimodal treatment approach that includes a systematic voiding programme with the participation of all team members is recommended. In the future, additional evidence-based research should be performed to evaluate the effectiveness of various therapeutic approaches.
Access options
Buy single article
Instant access to the full article PDF.
US$ 39.95
Tax calculation will be finalised during checkout.
Subscribe to journal
Immediate online access to all issues from 2019. Subscription will auto renew annually.
US$ 79
Tax calculation will be finalised during checkout.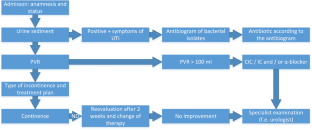 References
Papers of particular interest, published recently, have been highlighted as: • Of importance •• Of major importance
1.

de Groat WC, Griffiths D, Yoshimura N. Neural control of the lower urinary tract. Compr Physiol. 2015;5:327–96.

2.

Fowler CJ, Griffiths D, de Groat WC. The neural control of micturition. Nat Rev Neurosci. 2008;9:453–66.

3.

Gross JC. Bladder dysfunction after stroke. Urol Nurs. 1992;12:55–63.

4.

Ween JE, Alexander MP, D'Esposito M, Roberts M. Incontinence after stroke in a rehabilitation setting: outcome associations and predictive factors. Neurology. 1996;47:659–63.

5.

van Kuijk AA, van der Linde H, van Limbeek J. Urinary incontinence in stroke patients after admission to a postacute inpatient rehabilitation program. Arch Phys Med Rehabil. 2001;82:1407–11.

6.

Kolominsky-Rabas PL, Hilz MJ, Neundoerfer B, Heuschmann PU. Impact of urinary incontinence after stroke: results from a prospective population-based stroke register. Neurourol Urodyn. 2003;22:322–7.

7.

Kong KH, Young S. Incidence and outcome of poststroke urinary retention: a prospective study. Arch Phys Med Rehabil. 2000;81:1464–7.

8.

Patel M, Coshall C, Rudd AG, Wolfe CDA. Natural history and effects on 2-years outcomes of urinary incontinence after stroke. Stroke. 2001;32:122–7.

9.

Borrie MJ, Campbell AJ, Caradoc-Davies TH, et al. Urinary incontinence after stroke: a prospective study. Age Ageing. 1986;15:177–81.

10.

Marinkovic SP, Badlani G. Voiding and sexual dysfunction after cerebrovascular accidents. J Urol. 2001;165:359–70.

11.

•• John G, Bardini C, Mégevand P, et al. Urinary incontinence as a predictor of death after new-onset stroke: a meta-analysis. Eur J Neurol. 2016;23:1548–55. This meta-analysis study showed that urinary incontinence indicates high risk of death after a new-onset stroke.

12.

Nakayama H, Jørgensen HS, Pedersen PM, et al. Prevalence and risk factors of incontinence after stroke. The Copenhagen stroke study. Stroke. 1997;28:58–62.

13.

•• John G, Primmaz S, Crichton S, et al. Urinary incontinence and indwelling urinary catheters as predictors of death after new-onset stroke: a report of the south London stroke register. J Stroke Cerebrovasc Dis. 2018;27:118–24. This prospective observation study observed that urinary incontinence and urinary catheters within the first week after the stroke were associated with 1-year mortality.

14.

Taub NA, Wolfe CD, Richardson E, Burney PG. Predicting the disability of first-time stroke sufferers at 1 year. 12-month follow-up of a population-based cohort in southeast England. Stroke. 1994;25:352–7.

15.

•• Son SB, Chung SY, Kang S, et al. Relation of urinary retention and functional recovery in stroke patients during rehabilitation program. Ann Rehabil Med. 2017;41:204–10. This study investigated significant relationship between urinary retention and poor functional status in post-stroke patients.

16.

Divani AA, Vazquez G, Barrett AM, Asadollahi M, Luft AR. Risk factors associated with injury attributable to falling among elderly population with history of stroke. Stroke. 2009;40:3286–92.

17.

Dumoulin C, Korner-Bitensky N, Tannenbaum C. Urinary incontinence after stroke: does rehabilitation make a difference? A systematic review of the effectiveness of behavioral therapy. Top Stroke Rehabil. 2005;12:66–76.

18.

Mehdi Z, Birns J, Bhalla A. Post-stroke urinary incontinence. Int J Clin Pract. 2013;67:1128–37.

19.

Brittain KR, Peet SM, Castleden CM. Stroke and incontinence. Stroke. 1998;29:524–8.

20.

Tibaek S, Gard G, Klarskov P, Iversen HK, Dehlendorff C, Jensen R. Prevalence of lower urinary tract symptoms (LUTS) in stroke patients: a cross-sectional, clinical survey. Neurourol Urodyn. 2008;27:763–71.

21.

Kohler M, Mayer H, Kesselring J, Saxer S. (Can) not talk about it—urinary incontinence from the point of view of stroke survivors: a qualitative study. Scand J Caring Sci. 2018;32:371–9.

22.

Brady MC, Jamieson K, Bugge C, Hagen S, McClurg D, Chalmers C, et al. Caring for continence in stroke care settings: a qualitative study of patients' and staff perspectives on the implementation of a new continence care intervention. Clin Rehabil. 2016;30:481–94.

23.

Shy M, Fung S, Boone TB, Karmonik C, Fletcher SG, Khavari R. Functional magnetic resonance imaging during urodynamic testing identifies brain structures initiating micturition. J Urol. 2014;192:1149–54.

24.

Zhang H, Reitz A, Kollias S, Summers P, Curt A, Schurch B. An fMRI study of the role of suprapontine brain structures in the voluntary voiding control induced by pelvic floor contraction. Neuroimage. 2005;24:174–80.

25.

Feder M, Heller L, Tadmor R, Snir D, Solzi P, Ring H. Urinary continence after stroke: association with cystometric profile and computerised tomography findings. Eur Neurol. 1987;27:101–5.

26.

Linsenmeyer TA. Post-CVA voiding dysfunctions: clinical insights and literature review. NeuroRehabilitation. 2012;30:1–7.

27.

Han KS, Heo SH, Lee SJ, Jeon SH, Yoo KH. Comparison of urodynamics between ischemic and hemorrhagic stroke patients; can we suggest the category of urinary dysfunction in patients with cerebrovascular accident according to type of stroke? Neurourol Urodyn. 2010;29:387–90.

28.

Sakakibara R, Hattori T, Yasuda K, Yamanishi T. Micturitional disturbance after acute hemispheric stroke: analysis of the lesion site by CT and MRI. J Neurol Sci. 1996;137:47–56.

29.

Burney TL, Senapati M, Desai S, et al. Acute cerebrovascular accident and lower urinary tract dysfunction: a prospective correlation of the site of brain injury with urodynamic findings. J Urol. 1996;156:1748–50.

30.

Shukla R, Giri P, Bhandari A, et al. Pontine stroke and bladder dysfunction. BMJ Case Rep. 2014;2014

31.

Sung SM, Shin JY, Cho KY, Kang TH, Cho HJ. Bladder storage disorder due to detrusor overactivity in a patient with acute medial medullary infarction. J Neurol Sci. 2015;357:307–9.

32.

• Chou YC, Jiang YH, Harnod T, et al. Characteristics of neurogenic voiding dysfunction in cerebellar stroke: a cross-sectional, retrospective video urodynamic study. Cerebellum. 2013;12:601–6. This study reports video urodynamic findings of 15 patients with cerebellar stroke.

33.

Khan Z, Hertanu J, Yang WC, Melman A, Leiter E. Predictive correlation of urodynamic dysfunction and brain injury after cerebrovascular accident. J Urol. 1981;126:86–8.

34.

Gupta A, Taly AB, Srivastava A, et al. Urodynamics post stroke in patients with urinary incontinence: is there correlation between bladder type and site of lesion? Ann Indian Acad Neurol. 2009;12:104–7.

35.

Gelber DA, Good DC, Laven LJ, Verhulst SJ. Causes of urinary incontinence after acute hemispheric stroke. Stroke. 1993;24:378–82.

36.

Leandro TA, Araujo TL, Cavalcante TF, Lopes MV, Oliveira TM, Lopes AC. Nursing diagnoses of urinary incontinence in patients with stroke. Rev Esc Enferm USP. 2015;49:924–32.

37.

Natsume O. Detrusor contractility and overactive bladder in patients with cerebrovascular accident. Int J Urol. 2008;15:505–10.

38.

Pettersen R, Haig Y, Nakstad PH, Wyller TB. Subtypes of urinary incontinence after stroke: relation to size and location of cerebrovascular damage. Age Ageing. 2008;37:324–7.

39.

Barrett JA. Bladder and bowel problems after a stroke. Rev Clin Gerontol. 2002;12:253–67.

40.

Olsen-Vetland P. Urinary continence after a cerebrovascular accident. Nurs Stand. 2003;17:37–41.

41.

Reding M, Winter S, Hochrein S, et al. Urinary incontinence after unilateral hemispheric stroke: a neurologic-epidemiologic perspective. J Neurol Rehabil. 1987;1:25–30.

42.

Brittain KR, Perry SI, Peet SM, Shaw C, Dallosso H, Assassa RP, et al. Prevalence and impact of urinary symptoms among community-dwelling stroke survivors. Stroke. 2000;31:886–91.

43.

•• Williams MP, Srikanth V, Bird M, et al. Urinary symptoms and natural history of urinary continence after first-ever stroke—a longitudinal population-based study. Age Ageing. 2012;41:371–6. This population-based study identified the prevalence of urinary symptoms, the natural history and factors associated with urinary incontinence after a stroke.

44.

Coleman Gross J. Urinary incontinence after stroke evaluation and behavioral treatment. Top Geriatr Rehabil. 2003;19:60–83.

45.

Stott DJ, Falconer A, Miller H, Tilston JC, Langhorne P. Urinary tract infection after stroke. QJM. 2009;102:243–9.

46.

Verhamme KM, Sturkenboom MC, Stricker BH, et al. Drug-induced urinary retention: incidence, management and prevention. Drug Saf. 2008;31:373–88.

47.

Tsakiris P, Oelke M, Michel MC. Drug-induced urinary incontinence. Drugs Aging. 2008;25:541–9.

48.

Thomas LH, Cross S, Barrett J, et al. Treatment of urinary incontinence after stroke in adults. Cochrane Database Syst Rev. 2008;1:CD004462.

49.

Booth J, Kumlien S, Zang Y, Gustafsson B, Tolson D. Rehabilitation nurses practices in relation to urinary incontinence following stroke: a cross-cultural comparison. J Clin Nurs. 2009;18:1049–58.

50.

Jordan LA, Mackey E, Coughlan K, Wyer M, Allnutt N, Middleton S. Continence management in acute stroke: a survey of current practices in Australia. J Adv Nurs. 2011;67:94–104.

51.

Sayed W, Adhiyaman V, Chattopadhyay I. Urinary retention after stroke. Neurology. 2008;38:377–80.

52.

Selius BA, Subedi R. Urinary retention in adults: diagnosis and initial management. Am Fam Physician. 2008;77:643–50.

53.

Lum SK, Marshall VR. Results of prostatectomy in patients following a cerebrovascular accident. Br J Urol. 1982;54:186–9.

54.

Dumoulin C, Korner-Bitensky N, Tannenbaum C. Urinary incontinence after stroke: identification, assessment, and intervention by rehabilitation professionals in Canada. Stroke. 2007;38:2745–51.

55.

Schnelle JF. Treatment of urinary incontinence in nursing home patients by prompted voiding. J Am Geriatr Soc. 1990;38:356–60.

56.

Tibaek S, Gard G, Jensen R. Pelvic floor muscle training is effective in women with urinary incontinence after stroke: a randomised, controlled and blinded study. Neurourol Urodyn. 2005;24:348–57.

57.

• Tibaek S, Gard G, Dehlendorff C, Iversen HK, Biering-Soerensen F, Jensen RI. Pelvic floor muscle training effective for men with poststroke lower urinary tract symptoms? A single-blinded randomized, controlled trial. Am J Mens Health. 2017;11:1460–71. This study evaluated the positive effect of pelvic floor muscle training in men with poststroke lower urinary tract symptoms.

58.

Wikander B, Ekelund P, Milsom I. An evaluation of multidisciplinary intervention governed by functional independence measure (FIMSM) in incontinent stroke patients. Scand J Rehabil Med. 1998;30:15–21.

59.

McKenzie P, Badlani GH. The incidence and etiology of overactive bladder in patients after cerebrovascular accident. Curr Urol Rep. 2012;13:402–6.

60.

Liu Y, Liu L, Wang X. Electroacupuncture at points Baliao and Huiyang (BL35) for post-stroke detrusor overactivity. Neural Regen Res. 2013;8:1663–72.
Ethics declarations
Conflict of Interest
Nataša Bizovičar declares that she has no conflict of interest.
Human and Animal Rights and Informed Consent
This article does not contain any studies with human or animal subjects performed by any of the authors.
Additional information
This article is part of the Topical Collection on Overactive Bladder and Lower Urinary Tract Symptoms
About this article
Cite this article
Bizovičar, N. Managing of Lower Urinary Tract Dysfunction Following Stroke. Curr Bladder Dysfunct Rep 13, 125–131 (2018). https://doi.org/10.1007/s11884-018-0472-5
Keywords
Stroke

Lower urinary tract dysfunction

Urinary retention

Urinary incontinence

Urodynamics

Systematic voiding programme