Abstract
Purpose of Review
In this narrative review, we highlight different ways in which the COVID-19 pandemic has impacted coronary heart disease (CHD) burden and how a surge in morbidity and mortality may be expected in the near future. We also discuss potential solutions, and the direction subsequent research and corrective actions should take.
Recent Findings
COVID-19 has been implicated in the development and worsening of CHD via acute and chronic mechanisms in the form of plaque rupture, destabilization, and sustenance of a chronic inflammatory state leading to long COVID syndrome and increased rates of myocardial infarction. However, indirectly the pandemic is likely to further escalate the CHD burden through poor health behaviors such as tobacco consumption, reduced physical activity, economic devastation and its associated sequelae, and regular cardiac care interruptions and delays.
Summary
COVID-19 has increased the total CHD burden and will require extensive resource allocation and multifaceted strategies to curb future rise.
Access options
Buy single article
Instant access to the full article PDF.
USD 39.95
Price excludes VAT (USA)
Tax calculation will be finalised during checkout.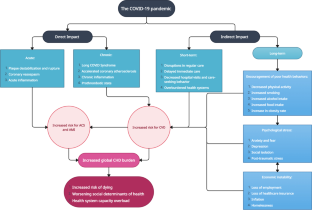 References
Papers of particular interest, published recently, have been highlighted as: • Of importance •• Of major importance
Global burden of 369 diseases and injuries in 204 countries and territories, 1990-2019: a systematic analysis for the Global Burden of Disease Study 2019. Lancet. 2020;396(10258):1204–22.

Kim JY, Choe PG, Oh Y, Oh KJ, Kim J, Park SJ, et al. The first case of 2019 novel coronavirus pneumonia imported into Korea from Wuhan, China: implication for infection prevention and control measures. J Korean Med Sci. 2020;35(5):e61.

Cucinotta D, Vanelli M. WHO declares COVID-19 a pandemic. Acta Biomed. 2020;91(1):157–60.

Fan E, Beitler JR, Brochard L, Calfee CS, Ferguson ND, Slutsky AS, et al. COVID-19-associated acute respiratory distress syndrome: is a different approach to management warranted? Lancet Respir Med. 2020;8(8):816–21.

Estimating excess mortality due to the COVID-19 pandemic: a systematic analysis of COVID-19-related mortality, 2020-21. Lancet. 2022;399(10334):1513–36.

WHO. WHO Coronavirus (COVID-19) Dashboard 2022. https://covid19.who.int/. Accessed 15 Dec 2022.

Dadras O, SeyedAlinaghi S, Karimi A, Shamsabadi A, Qaderi K, Ramezani M, et al. COVID-19 mortality and its predictors in the elderly: a systematic review. Health Sci Rep. 2022;5(3):e657.

Alfano V, Ercolano S. The efficacy of lockdown against COVID-19: a cross-country panel analysis. Appl Health Econ Health Policy. 2020;18(4):509–17.

Kokudo N, Sugiyama H. Hospital capacity during the COVID-19 pandemic. Glob Health Med. 2021;3(2):56–9.

Sahoo KC, Kanungo S, Mahapatra P, Pati S. Non-communicable diseases care during COVID-19 pandemic: a mixed-method study in Khurda district of Odisha, India. Indian J Med Res. 2021;153(5&6):649–57.

Cousino MK, Pasquali SK, Romano JC, Norris MD, Yu S, Reichle G, et al. Impact of the COVID-19 pandemic on CHD care and emotional wellbeing. Cardiol Young. 2021;31(5):822–8.

Kohli P, Virani SS. Surfing the waves of the COVID-19 pandemic as a cardiovascular clinician. Circulation. 2020;142(2):98–100.

Shahjehan R, Bhutta B. Coronary artery disease. StatPearls Publishing; 2022. https://www.ncbi.nlm.nih.gov/books/NBK564304/

Brown JC, Gerhardt TE, Kwon E. Risk factors for coronary artery disease. StatPearls. Treasure Island (FL): StatPearls Publishing; 2022.

Liang C, Zhang W, Li S, Qin G. Coronary heart disease and COVID-19: a meta-analysis. Med Clin (Barc). 2021;156(11):547–54.

Xie Y, Xu E, Bowe B, Al-Aly Z. Long-term cardiovascular outcomes of COVID-19. Nat Med. 2022;28(3):583–90. This is the largest study conducted to date evaluating intermediate to long-term CVD outcomes in COVID-19 patients. Its findings suggest worsened CVD outcomes in these patients at 12 months

Chung MK, Zidar DA, Bristow MR, Cameron SJ, Chan T, Harding CV 3rd, et al. COVID-19 and cardiovascular disease: from bench to bedside. Circ Res. 2021;128(8):1214–36.

Libby P, Loscalzo J, Ridker PM, Farkouh ME, Hsue PY, Fuster V, et al. Inflammation, immunity, and infection in atherothrombosis: JACC review topic of the week. J Am Coll Cardiol. 2018;72(17):2071–81.

Babapoor-Farrokhran S, Gill D, Walker J, Rasekhi RT, Bozorgnia B, Amanullah A. Myocardial injury and COVID-19: possible mechanisms. Life Sci. 2020;253:117723.

Gubbi S, Nazari MA, Taieb D, Klubo-Gwiezdzinska J, Pacak K. Catecholamine physiology and its implications in patients with COVID-19. Lancet Diabetes Endocrinol. 2020;8(12):978–86.

Basu-Ray I, Almaddah N, Adeboye A. Cardiac manifestations of coronavirus (COVID-19). Treasure Island (FL): StatPearls Publishing; 2022. https://www.ncbi.nlm.nih.gov/books/NBK556152/?report=classic

Huang C, Wang Y, Li X, Ren L, Zhao J, Hu Y, et al. Clinical features of patients infected with 2019 novel coronavirus in Wuhan. China. Lancet. 2020;395(10223):497–506.

Hojyo S, Uchida M, Tanaka K, Hasebe R, Tanaka Y, Murakami M, et al. How COVID-19 induces cytokine storm with high mortality. Inflamm Regen. 2020;40:37.

Hirano T, Murakami M. COVID-19: a new virus, but a familiar receptor and cytokine release syndrome. Immunity. 2020;52(5):731–3.

Ali N. Elevated level of C-reactive protein may be an early marker to predict risk for severity of COVID-19. J Med Virol. 2020;92(11):2409–11.

Wang L. C-reactive protein levels in the early stage of COVID-19. Med Mal Infect. 2020;50(4):332–4.

Tanaka A, Shimada K, Sano T, Namba M, Sakamoto T, Nishida Y, et al. Multiple plaque rupture and C-reactive protein in acute myocardial infarction. J Am Coll Cardiol. 2005;45(10):1594–9.

Vanhaverbeke M, Veltman D, Pattyn N, De Crem N, Gillijns H, Cornelissen V, et al. C-reactive protein during and after myocardial infarction in relation to cardiac injury and left ventricular function at follow-up. Clin Cardiol. 2018;41(9):1201–6.

Rivero F, Antuña P, Cuesta J, Alfonso F. Severe coronary spasm in a COVID-19 patient. Catheter Cardiovasc Interv. 2021;97(5):E670–E2.

Saad Shaukat MH, Wilson J, Stys A. Segmental coronary vasospasm mimicking ST-elevation myocardial infarction in an incidentally COVID-positive patient. S D Med. 2021;74(6):248–9.

Shah SM, Odanovic N, Kunnirickal S, Feher A, Pfau SE, Spatz ES. Chest pain and coronary endothelial dysfunction after recovery from COVID-19: a case series. Clin Case Rep. 2022;10(4):e05612.

Sümerkan M, Er Kara A, Doğan GM, Alyan Ö. Spontaneous, severe, and diffuse coronary vasospasm in a patient with COVID-19. Anatol J Cardiol. 2021;25(9):E36–e7.

Shi S, Qin M, Shen B, Cai Y, Liu T, Yang F, et al. Association of cardiac injury with mortality in hospitalized patients with COVID-19 in Wuhan. China. JAMA Cardiol. 2020;5(7):802–10.

Modin D, Claggett B, Sindet-Pedersen C, Lassen MCH, Skaarup KG, Jensen JUS, et al. Acute COVID-19 and the incidence of ischemic stroke and acute myocardial infarction. Circulation. 2020;142(21):2080–2.

Bangalore S, Sharma A, Slotwiner A, Yatskar L, Harari R, Shah B, et al. ST-segment elevation in patients with Covid-19 - a case series. N Engl J Med. 2020;382(25):2478–80.

Bilaloglu S, Aphinyanaphongs Y, Jones S, Iturrate E, Hochman J, Berger JS. Thrombosis in hospitalized patients with COVID-19 in a New York City health system. JAMA. 2020;324(8):799–801.

Changal K, Veria S, Mack S, Paternite D, Sheikh SA, Patel M, et al. Myocardial injury in hospitalized COVID-19 patients: a retrospective study, systematic review, and meta-analysis. BMC Cardiovasc Disord. 2021;21(1):626.

Zhao YH, Zhao L, Yang XC, Wang P. Cardiovascular complications of SARS-CoV-2 infection (COVID-19): a systematic review and meta-analysis. Rev Cardiovasc Med. 2021;22(1):159–65.

Zhu Y, Xing W, Wang H, Song J, Sun Z, Li X. Characteristics of patients with ST-segment elevated myocardial infarction (STEMI) at the initial stage of the COVID-19 pandemic: a systematic review and meta-analysis. Infect Dis (Lond). 2021;53(11):865–75.

De Luca G, Silverio A, Verdoia M, Siudak Z, Tokarek T, Kite TA, et al. Angiographic and clinical outcome of SARS-CoV-2 positive patients with ST-segment elevation myocardial infarction undergoing primary angioplasty: a collaborative, individual patient data meta-analysis of six registry-based studies. Eur J Intern Med. 2022;105:69–76.

Cheng MP, Cau A, Lee TC, Brodie D, Slutsky A, Marshall J, et al. Acute cardiac injury in coronavirus disease 2019 and other viral infections-a systematic review and meta-analysis. Crit Care Med. 2021;49(9):1558–66.

Lippi G, Lavie CJ, Sanchis-Gomar F. Cardiac troponin I in patients with coronavirus disease 2019 (COVID-19): evidence from a meta-analysis. Prog Cardiovasc Dis. 2020;63(3):390–1.

Walker C, Deb S, Ling H, Wang Z. Assessing the elevation of cardiac biomarkers and the severity of COVID-19 infection: a meta-analysis. J Pharm Pharm Sci. 2020;23:396–405.

Jafari-Oori M, Moradian ST, Ebadi A, Jafari M, Dehi M. Incidence of cardiac complications following COVID-19 infection: an umbrella meta-analysis study. Heart Lung. 2022;52:136–45.

Shoar S, Hosseini F, Naderan M, Mehta JL. Meta-analysis of cardiovascular events and related biomarkers comparing survivors versus non-survivors in patients with COVID-19. Am J Cardiol. 2020;135:50–61.

Wibowo A, Pranata R, Akbar MR, Purnomowati A, Martha JW. Prognostic performance of troponin in COVID-19: a diagnostic meta-analysis and meta-regression. Int J Infect Dis. 2021;105:312–8.

Thakker RA, Elbadawi A, Chatila KF, Goel SS, Reynoso D, Berbarie RF, et al. Comparison of coronary artery involvement and mortality in STEMI patients with and without SARS-CoV-2 during the COVID-19 pandemic: a systematic review and meta-analysis. Curr Probl Cardiol. 2022;47(3):101032.

Lemes IR, Smaira FI, Ribeiro WJD, Favero NK, Matos L, Pinto ALS, et al. Acute and post-acute COVID-19 presentations in athletes: a systematic review and meta-analysis. Br J Sports Med. 2022;56(16):941–7.

Zinellu A, Sotgia S, Fois AG, Mangoni AA. Serum CK-MB, COVID-19 severity and mortality: an updated systematic review and meta-analysis with meta-regression. Adv Med Sci. 2021;66(2):304–14.

Sahranavard M, Akhavan Rezayat A, Zamiri Bidary M, Omranzadeh A, Rohani F, Hamidi Farahani R, et al. Cardiac complications in COVID-19: a systematic review and meta-analysis. Arch Iran Med. 2021;24(2):152–63.

Arévalos V, Ortega-Paz L, Fernandez-Rodríguez D, Alfonso Jiménez-Díaz V, Rius JB, Campo G, et al. Long-term effects of coronavirus disease 2019 on the cardiovascular system, CV COVID registry: a structured summary of a study protocol. PLoS One. 2021;16(7):e0255263.

Connors JM, Brooks MM, Sciurba FC, Krishnan JA, Bledsoe JR, Kindzelski A, et al. Effect of antithrombotic therapy on clinical outcomes in outpatients with clinically stable symptomatic COVID-19: the ACTIV-4B randomized clinical trial. JAMA. 2021;326(17):1703–12.

Tardif JC, Bouabdallaoui N, L'Allier PL, Gaudet D, Shah B, Pillinger MH, et al. Colchicine for community-treated patients with COVID-19 (COLCORONA): a phase 3, randomised, double-blinded, adaptive, placebo-controlled, multicentre trial. Lancet Respir Med. 2021;9(8):924–32.

Bohula EA, Berg DD, Lopes MS, Connors JM, Babar I, Barnett CF, et al. Anticoagulation and antiplatelet therapy for prevention of venous and arterial thrombotic events in critically ill patients with COVID-19: COVID-PACT. Circulation. 2022;146(18):1344–56.

Sofi F, Dinu M, Reboldi G, Stracci F, Pedretti RFE, Valente S, et al. Worldwide differences of hospitalization for ST-segment elevation myocardial infarction during COVID-19: a systematic review and meta-analysis. Int J Cardiol. 2022;347:89–96.

Nadarajah R, Wu J, Hurdus B, Asma S, Bhatt DL, Biondi-Zoccai G, et al. The collateral damage of COVID-19 to cardiovascular services: a meta-analysis. Eur Heart J. 2022;43(33):3164–78. Findings from this study suggest that there was a 69.5-min delay in door to balloon times during the COVID-19 pandemic

Chew NWS, Ow ZGW, Teo VXY, Heng RRY, Ng CH, Lee CH, et al. The global effect of the COVID-19 pandemic on STEMI care: a systematic review and meta-analysis. Can J Cardiol. 2021;37(9):1450–9.

Mahase E. Covid-19: pandemic disruption linked to 30 000 excess heart disease deaths, charity reports. BMJ. 2022;379:o2659.

Ivert T, Dalén M. Dismal outcome if delayed cardiac surgery because of coronavirus disease 2019. Interact Cardiovasc Thorac Surg. 2022;35(2)

Braun MM, Stevens WA, Barstow CH. Stable coronary artery disease: treatment. Am Fam Physician. 2018;97(6):376–84.

Tan HMJ, Tan MS, Chang ZY, Tan KT, Ee GLA, Ng CCD, et al. The impact of COVID-19 pandemic on the health-seeking behaviour of an Asian population with acute respiratory infections in a densely populated community. BMC Public Health. 2021;21(1):1196.

Nourazari S, Davis SR, Granovsky R, Austin R, Straff DJ, Joseph JW, et al. Decreased hospital admissions through emergency departments during the COVID-19 pandemic. Am J Emerg Med. 2021;42:203–10.

Maehl N, Bleckwenn M, Riedel-Heller SG, Mehlhorn S, Lippmann S, Deutsch T, et al. The impact of the COVID-19 pandemic on avoidance of health care, symptom severity, and mental well-being in patients with coronary artery disease. Front Med (Lausanne). 2021;8:760265.

Stalin P, Alexander T, Purty AJ, Manikandan M, Vaishnavi S. Health-seeking behavior for acute health problems during COVID-19 lockdown among the residents of an urban area in Puducherry. Indian J Community Med. 2022;47(2):299–301.

Chaudhry B, Azhar S, Jamshed S, Ahmed J, Khan LU, Saeed Z, et al. Factors associated with self-medication during the COVID-19 pandemic: a cross-sectional study in Pakistan. Trop Med. Infect Dis. 2022;7(11)

Mathews R, Peterson ED, Honeycutt E, Chin CT, Effron MB, Zettler M, et al. Early medication nonadherence after acute myocardial infarction: insights into actionable opportunities from the TReatment with ADP receptor iNhibitorS: Longitudinal Assessment of Treatment Patterns and Events after Acute Coronary Syndrome (TRANSLATE-ACS) study. Circ Cardiovasc Qual Outcomes. 2015;8(4):347–56.

Jackevicius CA, Li P, Tu JV. Prevalence, predictors, and outcomes of primary nonadherence after acute myocardial infarction. Circulation. 2008;117(8):1028–36.

Sandhu P, Shah AB, Ahmad FB, Kerr J, Demeke HB, Graeden E, et al. Emergency department and intensive care unit overcrowding and ventilator shortages in US hospitals during the COVID-19 pandemic, 2020-2021. Public Health Rep. 2022;137(4):796–802.

Hamid H, Abid Z, Amir A, Rehman TU, Akram W, Mehboob T. Current burden on healthcare systems in low- and middle-income countries: recommendations for emergency care of COVID-19. Drugs Ther Perspect. 2020;36(10):466–8.

Putri LP, O'Sullivan BG, Russell DJ, Kippen R. Factors associated with increasing rural doctor supply in Asia-Pacific LMICs: a scoping review. Hum Resour Health. 2020;18(1):93.

Yasmin F, Shujauddin SM, Naeem A, Jabeen A, Shah SMI, Ochani RK, et al. Exploring the impact of the COVID-19 pandemic on provision of cardiology services: a scoping review. Rev Cardiovasc Med. 2021;22(1):83–95.

Routsi C, Magira E, Kokkoris S, Siembos I, Vrettou C, Zervakis D, et al. Hospital resources may be an important aspect of mortality rate among critically ill patients with COVID-19: the paradigm of Greece. J Clin Med. 2020;9(11)

Farrell TW, Francis L, Brown T, Ferrante LE, Widera E, Rhodes R, et al. Rationing limited healthcare resources in the COVID-19 era and beyond: ethical considerations regarding older adults. J Am Geriatr Soc. 2020;68(6):1143–9.

Tod AM, Read C, Lacey A, Abbott J. Barriers to uptake of services for coronary heart disease: qualitative study. BMJ. 2001;323(7306):214.

Mehta P, McAuley DF, Brown M, Sanchez E, Tattersall RS, Manson JJ. COVID-19: consider cytokine storm syndromes and immunosuppression. The lancet. 2020;395(10229):1033–4.

Vinciguerra M, Romiti S, Sangiorgi GM, Rose D, Miraldi F, Greco E. SARS-CoV-2 and atherosclerosis: should COVID-19 be recognized as a new predisposing cardiovascular risk factor? J Cardiovasc Dev Dis. 2021;8(10):130.

Java A, Apicelli AJ, Liszewski MK, Coler-Reilly A, Atkinson JP, Kim AHJ, et al. The complement system in COVID-19: friend and foe? JCI. Insight. 2020;5(15)

Carvelli J, Demaria O, Vély F, Batista L, Chouaki Benmansour N, Fares J, et al. Association of COVID-19 inflammation with activation of the C5a–C5aR1 axis. Nature. 2020;588(7836):146–50.

Zuo Y, Kanthi Y, Knight JS, Kim AHJ. The interplay between neutrophils, complement, and microthrombi in COVID-19. Best Pract Res Clin Rheumatol. 2021;35(1):101661.

Martínez-López D, Roldan-Montero R, García-Marqués F, Nuñez E, Jorge I, Camafeita E, et al. Complement C5 protein as a marker of subclinical atherosclerosis. J Am Coll Cardiol. 2020;75(16):1926–41.

Drakos S, Chatzantonis G, Bietenbeck M, Evers G, Schulze AB, Mohr M, et al. A cardiovascular magnetic resonance imaging-based pilot study to assess coronary microvascular disease in COVID-19 patients. Sci Rep. 2021;11(1):15667.

Raveendran AV, Jayadevan R, Sashidharan S. Long COVID: an overview. Diabetes Metab Syndr. 2021;15(3):869–75.

Szarpak L, Pruc M, Filipiak KJ, Popieluch J, Bielski A, Jaguszewski MJ, et al. Myocarditis: a complication of COVID-19 and long-COVID-19 syndrome as a serious threat in modern cardiology. Cardiol J. 2022;29(1):178–9.

Raman B, Bluemke DA, Lüscher TF, Neubauer S. Long COVID: post-acute sequelae of COVID-19 with a cardiovascular focus. Eur Heart J. 2022;43(11):1157–72.

Blagova O, Varionchik N, Zaidenov V, Savina P, Sarkisova N. Anti-heart antibodies levels and their correlation with clinical symptoms and outcomes in patients with confirmed or suspected diagnosis COVID-19. Eur J Immunol. 2021;51(4):893–902.

Chiba H, Lewis M, Benjamin ER, Jakob DA, Liasidis P, Wong MD, et al. "Safer at home": the effect of the COVID-19 lockdown on epidemiology, resource utilization, and outcomes at a large urban trauma center. J Trauma Acute Care Surg. 2021;90(4):708–13.

Füzéki E, Groneberg DA, Banzer W. Physical activity during COVID-19 induced lockdown: recommendations. J Occup Med Toxicol. 2020;15:25.

Elliott J, Munford L, Ahmed S, Littlewood A, Todd C. The impact of COVID-19 lockdowns on physical activity amongst older adults: evidence from longitudinal data in the UK. BMC Public Health. 2022;22(1):1802.

Dor-Haim H, Katzburg S, Revach P, Levine H, Barak S. The impact of COVID-19 lockdown on physical activity and weight gain among active adult population in Israel: a cross-sectional study. BMC Public Health. 2021;21(1):1521.

Wunsch K, Kienberger K, Niessner C. Changes in physical activity patterns due to the Covid-19 pandemic: a systematic review and meta-analysis. Int J Environ Res Public Health. 2022;19(4)

Maggio ABR, Gal-Dudding C, Martin X, Chamay-Weber C. Evaluation of the impact of the COVID-19 lockdown on BMI in children and adolescents with or without obesity. BMC Pediatr. 2022;22(1):509.

Mulugeta W, Desalegn H, Solomon S. Impact of the COVID-19 pandemic lockdown on weight status and factors associated with weight gain among adults in Massachusetts. Clin Obes. 2021;11(4):e12453.

Chang TH, Chen YC, Chen WY, Chen CY, Hsu WY, Chou Y, et al. Weight gain associated with COVID-19 lockdown in children and adolescents: a systematic review and meta-analysis. Nutrients. 2021;13(10):3668.

Sohi I, Chrystoja BR, Rehm J, Wells S, Monteiro M, Ali S, et al. Changes in alcohol use during the COVID-19 pandemic and previous pandemics: a systematic review. Alcohol Clin Exp Res. 2022;46(4):498–513.

Patrick ME, Terry-McElrath YM, Miech RA, Keyes KM, Jager J, Schulenberg JE. Alcohol use and the COVID-19 pandemic: historical trends in drinking, contexts, and reasons for use among U.S. adults. Soc Sci Med. 2022;301:114887.

Al Sabbah H, Assaf EA, Taha Z, Qasrawi R, Ismail LC, Al Dhaheri AS, et al. Impact of COVID-19 lockdown on smoking (waterpipe and cigarette) and participants' BMI across various sociodemographic groups in Arab countries in the Mediterranean Region. Tob Induc Dis. 2022;20:98.

Carreras G, Lugo A, Stival C, Amerio A, Odone A, Pacifici R, et al. Impact of COVID-19 lockdown on smoking consumption in a large representative sample of Italian adults. Tob Control. 2022;31(5):615–22.

Gendall P, Hoek J, Stanley J, Jenkins M, Every-Palmer S. Changes in tobacco use during the 2020 COVID-19 lockdown in New Zealand. Nicotine Tob Res. 2021;23(5):866–71.

Andersen MB, Kjeld SG, Bast LS. Changes in cigarette smoking and smokeless tobacco use during the COVID-19 lockdown period among youth and young adults in Denmark. Nicotine Tob Res. 2022;

Bäuerle A, Teufel M, Musche V, Weismüller B, Kohler H, Hetkamp M, et al. Increased generalized anxiety, depression and distress during the COVID-19 pandemic: a cross-sectional study in Germany. J Public Health (Oxf). 2020;42(4):672–8.

Batista P, Duque V, Luzio-Vaz A, Pereira A. Anxiety impact during COVID-19: a systematic review. J Infect Dev Ctries. 2021;15(3):320–5.

Santabárbara J, Lasheras I, Lipnicki DM, Bueno-Notivol J, Pérez-Moreno M, López-Antón R, et al. Prevalence of anxiety in the COVID-19 pandemic: an updated meta-analysis of community-based studies. Prog Neuropsychopharmacol Biol Psychiatry. 2021;109:110207.

Menberu M, Mekonen T, Azale T, Ayano G, Yimer S, Getnet A, et al. Health care seeking behavior for depression in Northeast Ethiopia: depression is not considered as illness by more than half of the participants. Annals of General Psychiatry. 2018;17(1):34.

DiMatteo MR, Lepper HS, Croghan TW. Depression is a risk factor for noncompliance with medical treatment: meta-analysis of the effects of anxiety and depression on patient adherence. Arch Intern Med. 2000;160(14):2101–7.

Carney RM, Freedland KE. Depression and coronary heart disease. Nat Rev Cardiol. 2017;14(3):145–55.

Liu Q, He H, Yang J, Feng X, Zhao F, Lyu J. Changes in the global burden of depression from 1990 to 2017: findings from the Global Burden of Disease study. J Psychiatr Res. 2020;126:134–40.

Frogner BK, Dill JS. Tracking turnover among health care workers during the COVID-19 pandemic: a cross-sectional study. JAMA Health. Forum. 2022;3(4):e220371-e.

Gupta N, Dhamija S, Patil J, Chaudhari B. Impact of COVID-19 pandemic on healthcare workers. Ind Psychiatry J. 2021;30(Suppl 1):S282–s4.

Kaye AD, Okeagu CN, Pham AD, Silva RA, Hurley JJ, Arron BL, et al. Economic impact of COVID-19 pandemic on healthcare facilities and systems: international perspectives. Best Pract Res Clin Anaesthesiol. 2021;35(3):293–306.

Guo X, Chai R, Yao Y, Mi Y, Wang Y, Feng T, et al. Comprehensive analysis of the COVID-19: based on the social-related indexes from NUMBEO. Front Public Health. 2022;10:793176.

Grépin KA. Private sector an important but not dominant provider of key health services in low- and middle-income countries. Health Aff (Millwood). 2016;35(7):1214–21.

Papanicolas I, Woskie LR, Jha AK. Health care spending in the United States and other high-income countries. JAMA. 2018;319(10):1024–39.

Ksinan Jiskrova G, Bobák M, Pikhart H, Ksinan AJ. Job loss and lower healthcare utilisation due to COVID-19 among older adults across 27 European countries. J Epidemiol Community Health. 2021;75(11):1078–83.

Faghy MA, Yates J, Hills AP, Jayasinghe S, da Luz GC, Arena R, et al. Cardiovascular disease prevention and management in the COVID-19 era and beyond: an international perspective. Prog Cardiovasc Dis. 2023;76:102–11.

Ruksakulpiwat S, Zhou W, Niyomyart A, Wang T, Kudlowitz A. How does the COVID-19 pandemic impact medication adherence of patients with chronic disease?: A systematic review. Chronic Illn. 2022; https://doi.org/10.1177/17423953221110151.

Omedo M, Ogutu M, Awiti A, Musuva R, Muchiri G, Montgomery SP, et al. The effect of a health communication campaign on compliance with mass drug administration for schistosomiasis control in western Kenya--the SCORE project. Am J Trop Med Hyg. 2014;91(5):982–8.

Akyuz A. Exercise and coronary heart disease. Adv Exp Med Biol. 2020;1228:169–79.
Funding
Farhala Baloch is a Fogarty fellow supported by Fogarty International Center NIH award #D43TW011625.
Salim S. Virani reports research grants from NIH, Department of Veterans Affairs (VA IIR 19-069 and VA IIR 16-072), Tahir and Jooma Family.
Zainab Samad reports grants from the following: Bill & Melinda Gates Foundation, BMGF #INV-021944, National Institutes of Health (NIH) Fogarty International Center, U.S. #D43TW011625, Patrick J. McGovern Foundation #383000239, Bill & Melinda Gates Foundation, BMGF #INV-050389, National Institute for Health and Care Research #NIHR203248, and FIC-NIH #U54TW012089.
Ethics declarations
Conflict of Interest
Salim S. Virani is a Section Editor for the journals Current Atherosclerosis Reports and Current Cardiology Reports, for which he receives honoraria. He also reports he received honorarium for his role as Associate Editor for Innovations, acc.org (ended June 2021).
Zainab Samad served on the Cytokinetics publication committee.
The other authors have no relevant financial or non-financial interests to disclose.
Human and Animal Rights and Informed Consent
This article does not contain any studies with human or animal subjects performed by any of the authors.
Additional information
Publisher's Note
Springer Nature remains neutral with regard to jurisdictional claims in published maps and institutional affiliations.
Rights and permissions
Springer Nature or its licensor (e.g. a society or other partner) holds exclusive rights to this article under a publishing agreement with the author(s) or other rightsholder(s); author self-archiving of the accepted manuscript version of this article is solely governed by the terms of such publishing agreement and applicable law.
About this article
Cite this article
Shaikh, A., Khan, S.D., Baloch, F. et al. The COVID-19 Pandemic and Coronary Heart Disease: the Next Surge. Curr Atheroscler Rep 25, 559–569 (2023). https://doi.org/10.1007/s11883-023-01131-0
Accepted:

Published:

Issue Date:

DOI: https://doi.org/10.1007/s11883-023-01131-0
Keywords