Abstract
Purpose of review
To reveal the mechanisms of nitric oxide (NO) production in humans and how lifestyle, drug therapy, and hygienic practices can decrease NO production. Furthermore, to show how functional nitric oxide nutrition can overcome these limitations to restore endogenous NO production and combat cardiovascular disease.
Recent findings
Research over the past decade has revealed that inorganic nitrate and nitrite found naturally in green leafy vegetables and other vegetables such as beets can provide the human body with a source of bioactive nitric oxide. NO is one of the most important molecules produced within the cardiovascular system that maintains normal blood pressure and prevents inflammation, immune dysfunction, and oxidative stress, hallmarks of cardiovascular disease. This pathway is dependent upon the amount of inorganic nitrate and nitrite in the foods we eat, the presence of oral nitrate-reducing bacteria, and sufficient stomach acid production.
Summary
The concept of food being medicine and medicine being food has lost its place in the practice and implementation of modern medicine over the past century. Certain dietary patterns and specific foods are known to confer very significant protective effects for many human diseases, including cardiovascular disease, the number one killer of men and women in the developed world. However, identification of single or multiple bioactive molecules that are responsible for these effects has escaped scientists and nutritionists for many years. This review will highlight the biochemical, physiological, and epidemiological basis for functional nitric oxide nutrition that can be safely and effectively utilized in patients.
Access options
Buy single article
Instant access to the full article PDF.
US$ 39.95
Tax calculation will be finalised during checkout.
Subscribe to journal
Immediate online access to all issues from 2019. Subscription will auto renew annually.
US$ 79
Tax calculation will be finalised during checkout.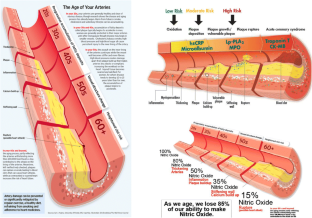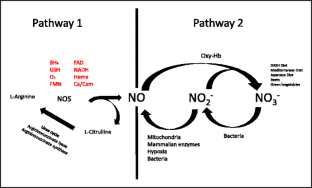 References
Papers of particular interest, published recently, have been highlighted as: • Of importance •• Of major importance
1.

Tuso P, Stoll SR, Li WW. A plant-based diet, atherogenesis, and coronary artery disease prevention. Perm J. 2015;19(1):62–7.

2.

Cooper KH, Pollock ML, Martin RP, White SR, Linnerud AC, Jackson A. Physical fitness levels vs selected coronary risk factors. A cross-sectional study. JAMA. 1976;236(2):166–9.

3.

Blair SN, Kohl HW 3rd, Paffenbarger RS Jr, Clark DG, Cooper KH, Gibbons LW. Physical fitness and all-cause mortality. A prospective study of healthy men and women. JAMA. 1989;262(17):2395–401.

4.

Rassaf T, Lauer T, Heiss C, Balzer J, Mangold S, Leyendecker T, et al. Nitric oxide synthase-derived plasma nitrite predicts exercise capacity. Br J Sports Med. 2007;41(10):669–73. discussion 673

5.

Green DJ, O'Driscoll G, Blanksby BA, Taylor RR. Control of skeletal muscle blood flow during dynamic exercise: contribution of endothelium-derived nitric oxide. Sports Med. 1996;21(2):119–46.

6.

•• Bryan NS, Ivy JL. Inorganic nitrite and nitrate: evidence to support consideration as dietary nutrients. Nutr Res. 2015;35(8):643–54.

7.

Wang YR, Alexander GC, Stafford RS. Outpatient hypertension treatment, treatment intensification, and control in Western Europe and the United States. Arch Intern Med. 2007;167(2):141–7.

8.

Cutler JA, Sorlie PD, Wolz M, Thom T, Fields LE, Roccella EJ. Trends in hypertension prevalence, awareness, treatment, and control rates in United States adults between 1988-1994 and 1999-2004. Hypertension. 2008;52(5):818–27.

9.

Wright JT Jr, et al. A randomized trial of intensive versus standard blood-pressure control. N Engl J Med. 2015;373(22):2103–16.

10.

Arnold WP, Mittal CK, Katsuki S, Murad F. Nitric oxide activates guanylate cyclase and increases guanosine 3′:5′-cyclic monophosphate levels in various tissue preparations. Proc Natl Acad Sci U S A. 1977;74(8):3203–7.

11.

Bryan NS, Bian K, Murad F. Discovery of the nitric oxide signaling pathway and targets for drug development. Front Biosci. 2009;14:1–18.

12.

Kelm M. Nitric oxide metabolism and breakdown. Biochim Biophys Acta. 1999;1411:273–89.

13.

Stamler JS, Simon DI, Osborne JA, Mullins ME, Jaraki O, Michel T, et al. S-nitrosylation of proteins with nitric oxide: synthesis and characterization of biologically active compounds. Proc Natl Acad Sci U S A. 1992;89:444–8.

14.

Boolell M, Allen MJ, Ballard SA, Gepi-Attee S, Muirhead GJ, Naylor AM, et al. Sildenafil: an orally active type 5 cyclic GMP-specific phosphodiesterase inhibitor for the treatment of penile erectile dysfunction. Int J Impot Res. 1996;8(2):47–52.

15.

Weimann J, Ullrich R, Hromi J, Fujino Y, Clark MWH, Bloch KD, et al. Sildenafil is a pulmonary vasodilator in awake lambs with acute pulmonary hypertension. Anesthesiology. 2000;92(6):1702–12.

16.

McMahon CN, Smith CJ, Shabsigh R. Treating erectile dysfunction when PDE5 inhibitors fail. BMJ. 2006;332(7541):589–92.

17.

Vita JA, Treasure CB, Nabel EG, McLenachan JM, Fish RD, Yeung AC, et al. Coronary vasomotor response to acetylcholine relates to risk factors for coronary artery disease. Circulation. 1990;81(2):491–7.

18.

Lakatta EG, Yin FC. Myocardial aging: functional alterations and related cellular mechanisms. Am J Phys. 1982;242(6):H927–41.

19.

Kannel WB, Gordon T, Schwartz MJ. Systolic versus diastolic blood pressure and risk of coronary heart disease. The Framingham study. Am J Cardiol. 1971;27(4):335–46.

20.

Ross R. Atherosclerosis—an inflammatory disease. N Engl J Med. 1999;340(2):115–26.

21.

Soltis EE. Effect of age on blood pressure and membrane-dependent vascular responses in the rat. Circ Res. 1987;61(6):889–97.

22.

van der Loo B, Labugger R, Skepper JN, Bachschmid M, Kilo J, Powell JM, et al. Enhanced peroxynitrite formation is associated with vascular aging. J Exp Med. 2000;192(12):1731–44.

23.

Pie JE, Baek SY, Kim HP, Ryu SD, Chung WG, Cha YN, et al. Age-related decline of inducible nitric oxide synthase gene expression in primary cultured rat hepatocytes. Mol Cells. 2002;13(3):399–406.

24.

Zhou XJ, Vaziri ND, Zhang J, Wang HW, Wang XQ. Association of renal injury with nitric oxide deficiency in aged SHR: prevention by hypertension control with AT1 blockade. Kidney Int. 2002;62(3):914–21.

25.

Berkowitz DE, White R, Li D, Minhas KM, Cernetich A, Kim S, et al. Arginase reciprocally regulates nitric oxide synthase activity and contributes to endothelial dysfunction in aging blood vessels. Circulation. 2003;108(16):2000–6.

26.

Taddei S, Virdis A, Ghiadoni L, Salvetti G, Bernini G, Magagna A, et al. Age-related reduction of NO availability and oxidative stress in humans. Hypertension. 2001;38(2):274–9.

27.

Egashira K, Inou T, Hirooka Y, Kai H, Sugimachi M, Suzuki S, et al. Effects of age on endothelium-dependent vasodilation of resistance coronary artery by acetylcholine in humans. Circulation. 1993;88(1):77–81.

28.

Gerhard M, Roddy MA, Creager SJ, Creager MA. Aging progressively impairs endothelium-dependent vasodilation in forearm resistance vessels of humans. Hypertension. 1996;27(4):849–53.

29.

Hibbs JB Jr, Taintor RR, Vavrin Z. Macrophage cytotoxicity: role for L-arginine deiminase and imino nitrogen oxidation to nitrite. Science. 1987;235(4787):473–6.

30.

Landmesser U, Dikalov S, Price SR, McCann L, Fukai T, Holland SM, et al. Oxidation of tetrahydrobiopterin leads to uncoupling of endothelial cell nitric oxide synthase in hypertension. J Clin Invest. 2003;111(8):1201–9.

31.

Lortie MJ, Ishizuka S, Schwartz D, Blantz RC. Bioactive products of arginine in sepsis: tissue and plasma composition after LPS and iNOS blockade. Am J Phys Cell Physiol. 2000;278(6):C1191–9.

32.

Aisaka K, Gross SS, Griffith OW, Levi R. L-arginine availability determines the duration of acetylcholine-induced systemic vasodilation in vivo. Biochem Biophys Res Commun. 1989;163(2):710–7.

33.

Erez A, Nagamani SCS, Shchelochkov OA, Premkumar MH, Campeau PM, Chen Y, et al. Requirement of argininosuccinate lyase for systemic nitric oxide production. Nat Med. 2011;17(12):1619–26.

34.

Hecker M, Mitchell JA, Harris HJ, Katsura M, Thiemermann C, Vane JR. Endothelial cells metabolize NG-monomethyl-L-arginine to L-citrulline and subsequently to L-arginine. Biochem Biophys Res Commun. 1990;167(3):1037–43.

35.

Schulman SP, Becker LC, Kass DA, Champion HC, Terrin ML, Forman S, et al. L-arginine therapy in acute myocardial infarction: the vascular interaction with age in myocardial infarction (VINTAGE MI) randomized clinical trial. JAMA. 2006;295(1):58–64.

36.

Wilson AM, Harada R, Nair N, Balasubramanian N, Cooke JP. L-arginine supplementation in peripheral arterial disease: no benefit and possible harm. Circulation. 2007;116(2):188–95.

37.

Moir JWB, editor. Nitrogen cycling in bacteria: molecular analysis. Norfolk: Caister Acedemic Press; 2011.

38.

Bryan NS, Loscalzo J. Nitrite and nitrate in human health and disease. In: Bendich A, editor. Nutrition and health. New York: Humana Press; 2011.

39.

Lundberg JO, Weitzberg E, Cole JA, Benjamin N. Nitrate, bacteria and human health. Nat Rev Microbiol. 2004;2(7):593–602.

40.

Cosby K, Partovi KS, Crawford JH, Patel RP, Reiter CD, Martyr S, et al. Nitrite reduction to nitric oxide by deoxyhemoglobin vasodilates the human circulation. Nat Med. 2003;9:1498–505.

41.

Feelisch M, Fernandez BO, Bryan NS, Garcia-Saura MF, Bauer S, Whitlock DR, et al. Tissue processing of nitrite in hypoxia: an intricate interplay of nitric oxide-generating and -scavenging systems. J Biol Chem. 2008;283(49):33927–34.

42.

Kleinbongard P, Dejam A, Lauer T, Rassaf T, Schindler A, Picker O, et al. Plasma nitrite reflects constitutive nitric oxide synthase activity in mammals. Free Radic Biol Med. 2003;35(7):790–6.

43.

• Nunez de Gonzalez MT, et al. A survey of nitrate and nitrite concentrations in conventional and organic-labeled raw vegetables at retail. J Food Sci. 2015;80(5):C942–9.

44.

Bryan NS, Van Grinsven H. The role of nitrate in human health. In: Sparks DL, editor. Advances in agronomy. New York: Elsevier; 2013. p. 153–76.

45.

Mensinga TT, Speijers GJ, Meulenbelt J. Health implications of exposure to environmental nitrogenous compounds. Toxicol Rev. 2003;22(1):41–51.

46.

Gangolli SD, van den Brandt P, Feron VJ, Janzowsky C, Koeman JH, Speijers GJ, et al. Nitrate, nitrite and N-nitroso compounds. Eur J Pharmacol. 1994;292(1):1–38.

47.

Lundberg JO, Feelisch M, Björne H, Jansson EÅ, Weitzberg E. Cardioprotective effects of vegetables: is nitrate the answer? Nitric Oxide. 2006;15(4):359–62.

48.

Hord NG, Tang Y, Bryan NS. Food sources of nitrates and nitrites: the physiologic context for potential health benefits. Am J Clin Nutr. 2009;90(1):1–10.

49.

Sobko T, Marcus C, Govoni M, Kamiya S. Dietary nitrate in Japanese traditional foods lowers diastolic blood pressure in healthy volunteers. Nitric Oxide. 2010;22(2):136–40.

50.

Nadtochiy SM, Redman EK. Mediterranean diet and cardioprotection: the role of nitrite, polyunsaturated fatty acids, and polyphenols. Nutrition. 2011;27(7–8):733–44.

51.

Doel JJ, Benjamin N, Hector MP, Rogers M, Allaker RP. Evaluation of bacterial nitrate reduction in the human oral cavity. Eur J Oral Sci. 2005;113(1):14–9.

52.

Li H, Duncan C, Townend J, Killham K, Smith LM, Johnston P, et al. Nitrate-reducing bacteria on rat tongues. Appl Environ Microbiol. 1997;63(3):924–30.

53.

Hyde ER, Andrade F, Vaksman Z, Parthasarathy K, Jiang H, Parthasarathy DK, et al. Metagenomic analysis of nitrate-reducing bacteria in the oral cavity: implications for nitric oxide homeostasis. PLoS One. 2014;9(3):e88645.

54.

Qin L, Liu X, Sun Q, Fan Z, Xia D, Ding G, et al. Sialin (SLC17A5) functions as a nitrate transporter in the plasma membrane. Proc Natl Acad Sci U S A. 2012;109(33):13434–9.

55.

Walker R. The metabolism of dietary nitrites and nitrates. Biochem Soc Trans. 1996;24(3):780–5.

56.

Spiegelhalder B, Eisenbrand G, Preussmann R. Influence of dietary nitrate on nitrite content of human saliva: possible relevance to in vivo formation of N-nitroso compounds. Food Cosmet Toxicol. 1976;14(6):545–8.

57.

McKnight GM, Smith LM, Drummond RS, Duncan CW, Golden M, Benjamin N. Chemical synthesis of nitric oxide in the stomach from dietary nitrate in humans. Gut. 1997;40(2):211–4.

58.

Green LC, Ruiz de Luzuriaga K, Wagner DA, Rand W, Istfan N, Young VR, et al. Nitrate biosynthesis in man. Proc Natl Acad Sci U S A. 1981;78(12):7764–8.

59.

Wennmalm A, Benthin G, Edlund A, Jungersten L, Kieler-Jensen N, Lundin S, et al. Metabolism and excretion of nitric oxide in humans. An experimental and clinical study. Circ Res. 1993;73(6):1121–7.

60.

Rahma M, et al. Effects of furosemide on the tubular reabsorption of nitrates in anesthetized dogs. Eur J Pharmacol. 2001;428(1):113–9.

61.

Godfrey M, Majid DS. Renal handling of circulating nitrates in anesthetized dogs. Am J Phys. 1998;275(1 Pt 2):F68–73.

62.

Bailey SJ, Fulford J, Vanhatalo A, Winyard PG, Blackwell JR, DiMenna FJ, et al. Dietary nitrate supplementation enhances muscle contractile efficiency during knee-extensor exercise in humans. J Appl Physiol. 2010;109(1):135–48.

63.

Lansley KE, Winyard PG, Fulford J, Vanhatalo A, Bailey SJ, Blackwell JR, et al. Dietary nitrate supplementation reduces the O2 cost of walking and running: a placebo-controlled study. J Appl Physiol. 2011;110(3):591–600.

64.

Vanhatalo A, Bailey SJ, Blackwell JR, DiMenna FJ, Pavey TG, Wilkerson DP, et al. Acute and chronic effects of dietary nitrate supplementation on blood pressure and the physiological responses to moderate-intensity and incremental exercise. Am J Phys Regul Integr Comp Phys. 2010;299(4):R1121–31.

65.

Kelly J, Fulford J, Vanhatalo A, Blackwell JR, French O, Bailey SJ, et al. Effects of short-term dietary nitrate supplementation on blood pressure, O2 uptake kinetics, and muscle and cognitive function in older adults. Am J Phys Regul Integr Comp Phys. 2013;304(2):R73–83.

66.

Kenjale AA, Ham KL, Stabler T, Robbins JL, Johnson JL, VanBruggen M, et al. Dietary nitrate supplementation enhances exercise performance in peripheral arterial disease. J Appl Physiol (1985). 2011;110(6):1582–91.

67.

Coles LT, Clifton PM. Effect of beetroot juice on lowering blood pressure in free-living, disease-free adults: a randomized, placebo-controlled trial. Nutr J. 2012;11:106.

68.

Kapil V, Milsom AB, Okorie M, Maleki-Toyserkani S, Akram F, Rehman F, et al. Inorganic nitrate supplementation lowers blood pressure in humans: role for nitrite-derived NO. Hypertension. 2010;56(2):274–81.

69.

Larsen FJ, Ekblom B, Sahlin K, Lundberg JO, Weitzberg E. Effects of dietary nitrate on blood pressure in healthy volunteers. N Engl J Med. 2006;355(26):2792–3.

70.

Govoni M, Jansson EÅ, Weitzberg E, Lundberg JO. The increase in plasma nitrite after a dietary nitrate load is markedly attenuated by an antibacterial mouthwash. Nitric Oxide. 2008;19(4):333–7.

71.

Kapil V, Haydar SMA, Pearl V, Lundberg JO, Weitzberg E, Ahluwalia A. Physiological role for nitrate-reducing oral bacteria in blood pressure control. Free Radic Biol Med. 2013;55:93–100.

72.

Petersson J, Carlström M, Schreiber O, Phillipson M, Christoffersson G, Jägare A, et al. Gastroprotective and blood pressure lowering effects of dietary nitrate are abolished by an antiseptic mouthwash. Free Radic Biol Med. 2009;46(8):1068–75.

73.

Webb AJ, Patel N, Loukogeorgakis S, Okorie M, Aboud Z, Misra S, et al. Acute blood pressure lowering, vasoprotective, and antiplatelet properties of dietary nitrate via bioconversion to nitrite. Hypertension. 2008;51(3):784–90.

74.

Fleming-Dutra KE, Hersh AL, Shapiro DJ, Bartoces M, Enns EA, File TM Jr, et al. Prevalence of inappropriate antibiotic prescriptions among US ambulatory care visits, 2010-2011. JAMA. 2016;315(17):1864–73.

75.

Lundberg JO, Weitzberg E, Lundberg JM, Alving K. Intragastric nitric oxide production in humans: measurements in expelled air. Gut. 1994;35(11):1543–6.

76.

Pinheiro LC, Montenegro MF, Amaral JH, Ferreira GC, Oliveira AM, Tanus-Santos JE. Increase in gastric pH reduces hypotensive effect of oral sodium nitrite in rats. Free Radic Biol Med. 2012;53(4):701–9.

77.

Amaral JH, Montenegro MF, Pinheiro LC, Ferreira GC, Barroso RP, Costa-Filho AJ, et al. TEMPOL enhances the antihypertensive effects of sodium nitrite by mechanisms facilitating nitrite-derived gastric nitric oxide formation. Free Radic Biol Med. 2013;65:446–55.

78.

Pinheiro LC, Amaral JH, Ferreira GC, Portella RL, Ceron CS, Montenegro MF, et al. Gastric S-nitrosothiol formation drives the antihypertensive effects of oral sodium nitrite and nitrate in a rat model of renovascular hypertension. Free Radic Biol Med. 2015;87:252–62.

79.

Porst H, Padma-Nathan H, Giuliano F, Anglin G, Varanese L, Rosen R. Efficacy of tadalafil for the treatment of erectile dysfunction at 24 and 36 hours after dosing: a randomized controlled trial. Urology. 2003;62(1):121–5; discussion 125-6.

80.

Perros F, Ranchoux B, Izikki M, Bentebbal S, Happé C, Antigny F, et al. Nebivolol for improving endothelial dysfunction, pulmonary vascular remodeling, and right heart function in pulmonary hypertension. J Am Coll Cardiol. 2015;65(7):668–80.

81.

Cooke JP, Ghebremariam YT. DDAH says NO to ADMA. Arterioscler Thromb Vasc Biol. 2011;31(7):1462–4.

82.

Dayoub H, Achan V, Adimoolam S, Jacobi J, Stuehlinger MC, Wang BY, et al. Dimethylarginine dimethylaminohydrolase regulates nitric oxide synthesis: genetic and physiological evidence. Circulation. 2003;108(24):3042–7.

83.

Ghebremariam YT, LePendu P, Lee JC, Erlanson DA, Slaviero A, Shah NH, et al. Unexpected effect of proton pump inhibitors: elevation of the cardiovascular risk factor asymmetric dimethylarginine. Circulation. 2013;128(8):845–53.

84.

Bryan NS. Nitrite in nitric oxide biology: cause or consequence? A systems-based review. Free Radic Biol Med. 2006;41(5):691–701.

85.

Kevil CG, Kolluru GK, Pattillo CB, Giordano T. Inorganic nitrite therapy: historical perspective and future directions. Free Radic Biol Med. 2011;51(3):576–93.

86.

Bryan NS, Fernandez BO, Bauer SM, Garcia-Saura MF, Milsom AB, Rassaf T, et al. Nitrite is a signaling molecule and regulator of gene expression in mammalian tissues. Nat Chem Biol. 2005;1(5):290–7.

87.

Lundberg JO, Weitzberg E, Gladwin MT. The nitrate-nitrite-nitric oxide pathway in physiology and therapeutics. Nat Rev Drug Discov. 2008;7(8):156–67.

88.

Hord NG, Ghannam JS, Garg HK, Berens PD, Bryan NS. Nitrate and nitrite content of human, formula, bovine, and soy milks: implications for dietary nitrite and nitrate recommendations. Breastfeed Med. 2011;6(6):393–9.

89.

Nunez De Gonzalez MT, et al. Survey of residual nitrite and nitrate in conventional and organic/natural/uncured/indirectly cured meats available at retail in the United States. J Agric Food Chem. 2012;60(15):3981–90.

90.

Pennington J. Dietary exposure models for nitrates and nitrites. Food Control. 1998;9(6):385–95.

91.

Luiking YC, Deutz NE. Isotopic investigation of nitric oxide metabolism in disease. Curr Opin Clin Nutr Metab Care. 2003;6(1):103–8.

92.

van Eijk HM, Luiking YC, Deutz NE. Methods using stable isotopes to measure nitric oxide (NO) synthesis in the L-arginine/NO pathway in health and disease. J Chromatogr B Anal Technol Biomed Life Sci. 2007;851(1–2):172–85.

93.

Hunault CC, van Velzen AG, Sips AJAM, Schothorst RC, Meulenbelt J. Bioavailability of sodium nitrite from an aqueous solution in healthy adults. Toxicol Lett. 2009;190(1):48–53.

94.

Greenway FL, Predmore BL, Flanagan DR, Giordano T, Qiu Y, Brandon A, et al. Single-dose pharmacokinetics of different oral sodium nitrite formulations in diabetes patients. Diabetes Technol Ther. 2012;14(7):552–60.

95.

DeVan AE, et al. Effects of sodium nitrite supplementation on vascular function and related small metabolite signatures in middle-aged and older adults. J Appl Physiol (1985). 2015;p jap 00879 2015.

96.

Justice JN, Johnson LC, DeVan AE, Cruickshank-Quinn C, Reisdorph N, Bassett CJ, et al. Improved motor and cognitive performance with sodium nitrite supplementation is related to small metabolite signatures: a pilot trial in middle-aged and older adults. Aging (Albany NY). 2015;7(11):1004–21.

97.

Oldfield EH, Loomba JJ, Monteith SJ, Crowley RW, Medel R, Gress DR, et al. Safety and pharmacokinetics of sodium nitrite in patients with subarachnoid hemorrhage: a phase IIA study. J Neurosurg. 2013;119(3):634–41.

98.

Tang Y, Garg H, Geng YJ, Bryan NS. Nitric oxide bioactivity of traditional Chinese medicines used for cardiovascular indications. Free Radic Biol Med. 2009;47(6):835–40.

99.

Zand J, Lanza F, Garg HK, Bryan NS. All-natural nitrite and nitrate containing dietary supplement promotes nitric oxide production and reduces triglycerides in humans. Nutr Res. 2011;31(4):262–9.

100.

Nagamani SC, et al. Nitric-oxide supplementation for treatment of long-term complications in argininosuccinic aciduria. Am J Hum Genet. 2012;90(5):836–46.

101.

Houston M, Hays L. Acute effects of an oral nitric oxide supplement on blood pressure, endothelial function, and vascular compliance in hypertensive patients. J Clin Hypertens (Greenwich). 2014;16(7):524–9.

102.

Biswas OS, Gonzalez VR, Schwarz ER. Effects of an oral nitric oxide supplement on functional capacity and blood pressure in adults with prehypertension. J Cardiovasc Pharmacol Ther. 2014;

103.

Lee J, Kim HT, Solares GJ, Kim K, Ding Z, Ivy JL. Caffeinated nitric oxide-releasing lozenge improves cycling time trial performance. Int J Sports Med. 2015;36(2):107–12.

104.

Lee E. Effects of nitric oxide on carotid intima media thickness: a pilot study. Altern Ther Health Med. 2016;22(S2):32–4.

105.

Bedi US, Singh M, Singh PP, Bhuriya R, Bahekar A, Molnar J, et al. Effects of statins on progression of carotid atherosclerosis as measured by carotid intimal—medial thickness: a meta-analysis of randomized controlled trials. J Cardiovasc Pharmacol Ther. 2010;15(3):268–73.

106.

Bock JM, et al. Inorganic nitrate supplementation attenuates peripheral chemoreflex sensitivity but does not improve cardiovagal baroreflex sensitivity in older adults. Am J Physiol Heart Circ Physiol. 2017;p ajpheart 00389.

107.

Ohta N, Tsukahara H, Ohshima Y, Nishii M, Ogawa Y, Sekine K, et al. Nitric oxide metabolites and adrenomedullin in human breast milk. Early Hum Dev. 2004;78(1):61–5.

108.

Cekmen MB, Balat A, Balat O, Aksoy F, Yurekli M, Erbagci AB, et al. Decreased adrenomedullin and total nitrite levels in breast milk of preeclamptic women. Clin Biochem. 2004;37(2):146–8.

109.

Yazji I, Sodhi CP, Lee EK, Good M, Egan CE, Afrazi A, et al. Endothelial TLR4 activation impairs intestinal microcirculatory perfusion in necrotizing enterocolitis via eNOS-NO-nitrite signaling. Proc Natl Acad Sci U S A. 2013;110(23):9451–6.

110.

Erzurum SC, Ghosh S, Janocha AJ, Xu W, Bauer S, Bryan NS, et al. Higher blood flow and circulating NO products offset high-altitude hypoxia among Tibetans. Proc Natl Acad Sci U S A. 2007;104(45):17593–8.

111.

Levett DZ, et al. The role of nitrogen oxides in human adaptation to hypoxia. Sci Rep. 2011;1:109.
Ethics declarations
Conflict of Interest
NSBryan is the Founder and Shareholder of HumanN
NSBryan is a Shareholder and Advisor for SAJE Pharma
NSBryan receives royalties from patents from the University of Texas Health Science Center at Houston
Human and Animal Rights and Informed Consent
This article does not contain any studies with human or animal subjects performed by any of the authors.
Additional information
This article is part of the Topical Collection on Nutrition
About this article
Cite this article
Bryan, N.S. Functional Nitric Oxide Nutrition to Combat Cardiovascular Disease. Curr Atheroscler Rep 20, 21 (2018). https://doi.org/10.1007/s11883-018-0723-0
Keywords
Dietary nitrate

Nitrite

Microbiome

Stomach acid

Beets

Vegetarian