Abstract
Purpose of Review
Given racial disparities in ambient air pollution (AAP) exposure and asthma risk, this review offers an overview of the literature investigating the ambient air pollution-asthma relationship in children of color between 2013 and 2017.
Recent Findings
AAP is likely a key contributor to the excess burden of asthma in children of color due to pervasive exposure before birth, at home, and in school. Recent findings suggest that psychosocial stressors may modify the relationship between AAP and asthma.
Summary
The effect of AAP on asthma in children of color is likely modulated by multiple unique psychosocial stressors and gene-environment interactions. Although children of color are being included in asthma studies, more research is still needed on impacts of specific criteria pollutants throughout the life course. Additionally, future studies should consider historical factors when analyzing current exposure profiles.
Access options
Buy single article
Instant access to the full article PDF.
US$ 39.95
Tax calculation will be finalised during checkout.
Subscribe to journal
Immediate online access to all issues from 2019. Subscription will auto renew annually.
US$ 79
Tax calculation will be finalised during checkout.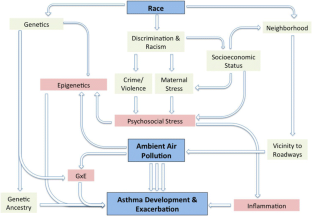 References
Papers of particular interest, published recently, have been highlighted as: • Of importance •• Of major importance
Funding
Supported in part by the National Institutes of Health, Koret Foundation. N.T. was supported by career development awards from the NHLBI (K12-HL119997 and K23- HL125551-01A1) and Parker B. Francis Fellowship Program. A.M.N. was supported by a career development award from the NIEHS (K99-ES027511-01A1). The content is solely the responsibility of the authors and does not necessarily represent the official views of the National Institutes of Health or other funders.
Ethics declarations
Conflict of Interest
Dr. Thakur reports grants from the National Heart, Lung, Blood Institute and grants from Parker B. Francis Fellowship Program, during the conduct of the study. The other authors declare no conflicts of interest relevant to this manuscript.
Human and Animal Rights and Informed Consent
This article does not contain any studies with human or animal subjects performed by any of the authors.
Additional information
This article is part of the Topical Collection on Allergies and the Environment
About this article
Cite this article
Nardone, A., Neophytou, A.M., Balmes, J. et al. Ambient Air Pollution and Asthma-Related Outcomes in Children of Color of the USA: a Scoping Review of Literature Published Between 2013 and 2017. Curr Allergy Asthma Rep 18, 29 (2018). https://doi.org/10.1007/s11882-018-0782-x
Keywords
Asthma

Air pollution

Health disparities

Race

Ethnicity