Abstract
Purpose of Review
Multiple electronic devices exist that provide feedback on the accuracy of patient inhaler technique. Our purpose is to describe the inhaler technique feedback provided by these devices, including specific technique steps measured, how feedback is displayed, target of feedback (patient, provider, researcher), and compatibility with inhaler type (metered-dose inhaler [MDI], diskus, etc.).
Recent Findings
We identified eight devices that provide feedback on inhaler technique. Only one device assessed all evidence-based MDI technique steps. Most devices provide limited real-time feedback to patients, if any feedback at all.
Summary
Technologies to assess inhaler technique are advancing and hold great potential for improving patient inhaler technique. Many devices are limited in their ability to detect all evidence-based technique steps and provide real-time user-friendly feedback to patients and providers. Usability tests with patients and providers could identify ways to improve these devices to improve their utility in clinical settings.
This is a preview of subscription content, log in to check access.
Access options
Buy single article
Instant access to the full article PDF.
US$ 39.95
Price includes VAT for USA
Subscribe to journal
Immediate online access to all issues from 2019. Subscription will auto renew annually.
US$ 99
This is the net price. Taxes to be calculated in checkout.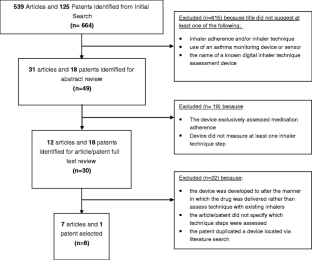 References
Papers of particular interest, published recently, have been highlighted as: •• Of major importance
1.

Masoli M, Fabian D, Holt S, Beasley R. The global burden of asthma: executive summary of the GINA dissemination committee report. Allergy. 2004;59(5):469–78. doi:10.1111/j.1398-9995.2004.00526.x.

2.

Akinbami LJ, Moorman JE, Bailey C, Zahran HS, King M, Johnson CA, et al. Trends in asthma prevalence, health care use, and mortality in the United States, 2001–2010. NCHS data brief, no 94. Hyattsville, MD: National Center for Health Statistics; 2012.

3.

Centers for Disease Control and Prevention. Asthma's impact on the nation—data from the CDC National Asthma Control Program. 2014. p. 1–4.

4.

Sullivan PW, Ghushchyan VH, Campbell JD, Globe G, Bender B, Magid DJ. Measuring the cost of poor asthma control and exacerbations. J Asthma. 2017;54(1):24–31. doi:10.1080/02770903.2016.1194430.

5.

Bahadori K, Doyle-Waters MM, Marra C, Lynd L, Alasaly K, Swiston J, et al. Economic burden of asthma: a systematic review. BMC Pulm Med. 2009;9(1):24. doi:10.1186/1471-2466-9-24.

6.

Bartlett SJ, Lukk P, Butz A, Lampros-Klein F, Rand CS. Enhancing medication adherence among inner-city children with asthma: results from pilot studies. J Asthma. 2002;39(1):47–54. doi:10.1081/JAS-120000806.

7.

Bauman LJ, Wright E, Leickly FE, Crain E, Kruszon-Moran D, Wade SL, et al. Relationship of adherence to pediatric asthma morbidity among inner-city children. Pediatrics. 2002;110(1):e6. doi:10.1542/peds.110.1.e6.

8.

Zeiger RS, Hay JW, Contreras R, Chen W, Quinn VP, Seal B, et al. Asthma costs and utilization in a managed care organization. J Allergy Clin Immunol. 2008;121(4):885–92.e5. doi:10.1016/j.jaci.2007.12.1178.

9.

•• Kikidis D, Konstantinos V, Tzovaras D, Usmani OS. The digital asthma patient: the history and future of inhaler based health monitoring devices. J Aerosol Med Pulm Drug Deliv. 2016;29(3):219–32. doi:10.1089/jamp.2015.1267. This article reviewed inhaler-based monitoring devices and documented that several digital inhaler monitoring devices are available to assess inhaler technique. It shows that digital devices can validly and reliably assess patient inhaler technique, and we extend upon this research.

10.

Clark NM, Gong M, Kaciroti N. A model of self-regulation for control of chronic disease. Health Educ Behav. 2001;28(6):769–82. doi:10.1177/109019810102800608.

11.

Al-Jahdali H, Ahmed A, Al-Harbi A, Khan M, Baharoon S, Bin Salih S, et al. Improper inhaler technique is associated with poor asthma control and frequent emergency department visits. Allergy Asthma Clin Immunol. 2013;9(1):1–7. doi:10.1186/1710-1492-9-8.

12.

Giraud V, Roche N. Misuse of corticosteroid metered-dose inhaler is associated with decreased asthma stability. Eur Respir J. 2002;19(2):246–51. doi:10.1183/09031936.02.00218402.

13.

Basheti IA, Reddel HK, Armour CL, Bosnic-Anticevich SZ. Improved asthma outcomes with a simple inhaler technique intervention by community pharmacists. J Allergy Clin Immunol. 2007;119(6):1537–8. doi:10.1016/j.jaci.2007.02.037.

14.

Sleath B, Ayala GX, Gillette C, Williams D, Davis S, Tudor G, et al. Provider demonstration and assessment of child device technique during pediatric asthma visits. Pediatrics. 2011;127(4):642–8. doi:10.1542/peds.2010-1206.

15.

Pedersen S. Inhaler use in children with asthma. Dan Med Bull. 1987;34(5):234–49.

16.

Pedersen SK, Frost L, Arnfred T. Errors in inhalation technique and efficacy of inhaler use in asthmatic children. Allergy. 1986;41(2):118–24. doi:10.1111/j.1398-9995.1986.tb00287.x.

17.

Toumas-Shehata M, Price D, Basheti IA, Bosnic-Anticevich S. Exploring the role of quantitative feedback in inhaler technique education: a cluster-randomised, two-arm, parallel-group, repeated-measures study. NPJ Prim Care Respir Med. 2014;24:14071. doi:10.1038/npjpcrm.2014.71.

18.

Crane MA, Jenkins CR, Goeman DP, Douglass JA. Inhaler device technique can be improved in older adults through tailored education: findings from a randomised controlled trial. NPJ Primary Care Respiratory Medicine. 2014;24:14034. doi:10.1038/npjpcrm.2014.34.

19.

Dantic DE. A critical review of the effectiveness of 'teach-back'technique in teaching COPD patients self-management using respiratory inhalers. Health Educ J. 2014;73(1):41–50. doi:10.1177/0017896912469575.

20.

Sleath B, Carpenter DM, Ayala GX, Williams D, Davis S, Tudor G, et al. Communication during pediatric asthma visits and child asthma medication device technique 1 month later. J Asthma. 2012;49(9):918–25. doi:10.3109/02770903.2012.719250.

21.

Lavorini F, Levy ML, Corrigan C, Crompton G. The ADMIT series-issues in inhalation therapy. 6 training tools for inhalation devices. Prim Care Respir J. 2010;19(4):335–41. doi:10.4104/pcrj.2010.00065.

22.

Sanchis J, Gich I, Pedersen S. Systematic review of errors in inhaler use: has patient technique improved over time? Chest. 2016;150(2):394–406. doi:10.1016/j.chest. 2016.03.041.

23.

D'Arcy S, MacHale E, Seheult J, Holmes MS, Hughes C, Sulaiman I, et al. A method to assess adherence in inhaler use through analysis of acoustic recordings of inhaler events. PLoS One. 2014;9(6):e98701. doi:10.1371/journal.pone.0098701.

24.

O'Dwyer SM, MacHale E, Sulaiman I, Holmes M, Hughes C, D'Arcy S, et al. The effect of providing feedback on inhaler technique and adherence from an electronic audio recording device, INCA®, in a community pharmacy setting: study protocol for a randomised controlled trial. Trials. 2016;17(1):226. doi:10.1186/s13063-016-1362-9.

25.

Inhaler Compliance Assessment. INCA. Available from: http://www.incadevice.com/.

26.

The Innovation Academy. Martin Holmes—improving inhaler user technique: Youtube; 2013. Available from: https://www.youtube.com/watch?v=azj-6QCdvsw.

27.

Ditcham W, Murdzoska J, Zhang G, Roller C, von Hollen D, Nikander K, et al. Lung deposition of 99mTc-radiolabeled albuterol delivered through a pressurized metered dose inhaler and spacer with facemask or mouthpiece in children with asthma. J Aerosol Med Pulm Drug Deliv. 2014;27(Suppl 1):S63–75. doi:10.1089/jamp.2014.1139.

28.

Vitalograph. AIM: for effective inhaler training on dry powder and metered dose inhalers. 2017. Available from: https://vitalograph.com/product/162430/aim.

29.

Cambridge Consultants. T-Haler—new asthma inhaler training device: YouTube; 2012. Available from: https://www.youtube.com/watch?v=I_2ThiO09Sk.

30.

Cambridge Consultants. T-haler inhaler training device. 2017. Available from: https://www.cambridgeconsultants.com/projects/t-haler-inhaler-training-device.

31.

Julius SM, Sherman JM, Hendeles L. Accuracy of three electronic monitors for metered-dose inhalers. Chest. 2002;121(3):871–6. doi:10.1378/chest.121.3.871.

32.

Farr SJ, Rowe AM, Rubsamen R, Taylor G. Aerosol deposition in the human lung following administration from a microprocessor controlled pressurised metered dose inhaler. Thorax. 1995;50(6):639–44. doi:10.1136/thx.50.6.639.

33.

Food and Drug Administration. MDILog, 510(k)Number:K9703441997. Available at http://www.accessdata.fda.gov/scripts/cdrh/cfdocs/cfpmn/pmn_template.cfm?id=k970344.

34.

Aslam T. Inhaler spacer. Google Patents. Central Manchester University Hospitals NHS Foundation Trust Patents. US20150059739A1; 2015.

35.

Fyne Dynamics. Inhaler trainer: Mag-Flo. 2016. Available from: http://www.fyne-dynamics.com/magflo_inhaler_trainer.htm.

36.

National Heart Lung and Blood Institute. Expert panel report 3: guidelines for the diagnosis and management of asthma. Bethesda, MD: National Institutes of Health; National Heart, Lung, and Blood Institute, 2007 Publication Number: 08–5846.

37.

Kamps AWA, van Ewijk B, Roorda RJ, Brand PLP. Poor inhalation technique, even after inhalation instructions, in children with asthma. Pediatr Pulmonol. 2000;29(1):39–42. doi:10.1002/(sici)1099-0496(200001)29:1<39::aid-ppul7>3.0.co;2-g.

38.

Carpenter DM, Lee C, Blalock SJ, Weaver M, Reuland D, Coyne-Beasley T, et al. Using videos to teach children inhaler technique: a pilot randomized controlled trial. J Asthma. 2015;52(1):81–7. doi:10.3109/02770903.2014.944983.

39.

Noar SM, Benac CN, Harris MS. Does tailoring matter? Meta-analytic review of tailored print health behavior change interventions. Psychol Bull. 2007;133(4):673–93. doi:10.1037/0033-2909.133.4.673.

40.

Skinner CS, Campbell MK, Rimer BK, Curry S, Prochaska JO. How effective is tailored print communication? Ann Behav Med. 1999;21(4):290–8. doi:10.1007/BF02895960.

41.

Skinner CS, Strecher VJ, Hospers H. Physicians' recommendations for mammography: do tailored messages make a difference? Am J Public Health. 1994;84(1):43–9.

42.

Carpenter DM, Alexander DS, Elio A, DeWalt D, Lee C, Sleath B. Using tailored videos to teach inhaler technique to children with asthma: results from a school nurse-led pilot study. J Pediatr Nurs. 2016;31(4):380–9. doi:10.1016/j.pedn.2016.02.005.

43.

Bandura A. Human agency in social cognitive theory. Am Psychol. 1989;44(9):1175–84.

44.

Bandura A. Social cognitive theory: an agentic perspective. Annu Rev Psychol. 2001;52:1–26. doi:10.1146/annurev.psych.52.1.1.

45.

DIS I. 9241-210: 2010. Ergonomics of human system interaction—part 210: human-centred design for interactive systems. International Standardization Organization (ISO) Switzerland. 2009.
Acknowledgements
This study was financially supported in part from the PharmAlliance, a three-way partnership between the schools of pharmacy at UNC, UCL, and Monash.
Ethics declarations
Conflict of Interest
Mr. Sage Ms. Roberts, and Dr. Carpenter declare no conflicts of interest relevant to this manuscript.
Dr. George has received in-kind support from Vitalograph in the form of devices (COPD-6; ASMA-1; AIM) for pilot testing.
Dr. Horne was supported by the National Institute for Health Research (NIHR) Collaboration for Leadership in Applied Health Research and Care (CLAHRC) North Thames at Bart's Health NHS Trust; has undertaken speaker engagements with honoraria with the following companies: Abbvie, Amgen, Biogen Idec, Gilead Sciences, GlaxoSmithKline, Janssen, Pfizer, Roche, Shire Pharmaceuticals, MSD, Astellas, Astrazeneca, DRSU, Erasmus, and Novartis; and is founder and shareholder of a UCL business spin out company (Spoonful of Sugar) providing consultancy on medication-related behaviors to healthcare policy makers, providers, and industry.
Human and Animal Rights and Informed Consent
This article does not contain any studies with human or animal subjects performed by any of the authors.
Additional information
This article is part of the Topical Collection on Allergies and the Environment
About this article
Cite this article
Carpenter, D.M., Roberts, C.A., Sage, A.J. et al. A Review of Electronic Devices to Assess Inhaler Technique. Curr Allergy Asthma Rep 17, 17 (2017). https://doi.org/10.1007/s11882-017-0684-3
Keywords
Inhaler

Metered dose inhaler

Dry powder inhaler

Inhaler competence

Inhaler technique

mHealth