Abstract
This study examined adult perceptions of dyslexia among US adults. Participants (n = 623) answered survey questions pertaining to characteristics, views, and possible causes of DYS. Exploratory factor analysis revealed five distinct factors: (1) psychosocial causes, (2) external causes, (3) biological causes, (4) consequences, and (5) controllability. Three-way ANOVA's were conducted to determine the effects of ethnicity, gender, and parental status on how DYS was perceived. The results revealed ethnic, gender, and parental status differences. Males endorsed psychosocial causes and external causes more often than females. Those who self-identified as Asian viewed DYS as more controllable in comparison to Whites. Results also revealed a three-way interaction regarding controllability. Understanding the public's perceptions about developmental disorders helps distinguish true from erroneous beliefs, and understanding differences that may exist in particular groups can help implement targeted actions to improve awareness, care, and interventions for families.
Access options
Buy single article
Instant access to the full article PDF.
USD 39.95
Price excludes VAT (USA)
Tax calculation will be finalised during checkout.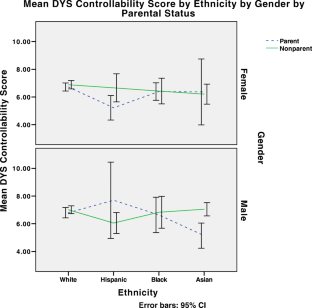 References
Boyle, M. P. (2016). The impact of causal attribution on stigmatizing attitudes toward a person who stutters. Journal of Communication Disorders, 60, 14–26.

Buhrmester, M., Kwang, T., & Gosling, S. D. (2011). Amazon's mechanical Turk: a new source of inexpensive, yet high-quality, data? Perspectives on Psychological Science, 6, 3–5.

Chin, R., Daiches, A., & Hall, P. (2011). Fathers' experiences of their transition to fatherhood: a metasynthesis. Journal of Reproductive and Infant Psychology, 29, 4–18.

Cortiella, C. (2014). The state of learning disabilities: facts, trends, and emerging issues. National Center for learning disabilities. Retrieved from: https://www.ncld.org/reports-and-studies/2014-state-of-ld /.

Dardennes, R. M., Al Anbar, N. N., Prado-Netto, A., Kaye, K., Contejean, Y., & Al Anbar, N. N. (2011). Treating the cause of illness rather than the characteristics: parental causal beliefs and treatment choices of autism spectrum disorder. Research in Developmental Disabilities, 32, 1137–1146.

Danseco, E. R. (1997). Parental beliefs on childhood disability: insights on culture, child development and intervention. International Journal of Disability, Development and Education, 44, 41–52.

Derguy, C., Bouvard, M., Michel, G., & M'Bailara, K. ( 2014). The gap between parents' knowledge and causal beliefs about etiology of autism: A key variable to understand parents' anxiety. European Psychiatry, 8, 598–599

Eckert, M. (2016). Neuroanatomical markers for dyslexia: a review of dyslexia structural imaging studies. The Neuroscientist, 10(4), 362–371.

Furnham, A. (2013). Lay knowledge of dyslexia. Psychology, 4, 940–949.

Furnham, A., & Sarwar, T. (2011). Beliefs about attention-deficit hyperactivity disorder. Counselling Psychology Quarterly, 24, 301–311.

Galaburda, A. M., LoTurco, J., Ramus, F., Fitch, R. H., & Rosen, G. D. (2006). From genes to behavior in developmental dyslexia. Nature Neuroscience, 9, 1213–1217.

Gibbs, S., & Elliott, J. (2015). The differential effects of labelling: how do 'dyslexia' and 'reading difficulties' affect teachers' beliefs. European Journal of Special Needs Education, 30, 323–337.

Gilmore, L. (2010). Community knowledge and beliefs about ADHD. The Australian Educational and Developmental Psychologist, 27, 20–30.

Goin-Kochel, R. P., Mire, S. S., & Dempsey, A. G. (2015). Emergence of autism Spectrum disorder in children from simplex families: Relations to parental perceptions of etiology. Journal of Autism and Developmental Disorders, 45, 1451–1463.

Goin-Kochel, R. P., & Myers, B. J. (2005). Congenital versus regressive onset of autism spectrum disorders: Parents beliefs about causes. Focus on Autism and Other Developmental Disabilities, 20, 169–179.

Graziano, A. M. (2002). Developmental disabilities: Introduction to a diverse field. Boston: Allyn and Bacon.

Griffiths, K. M., Carron-Arthur, B., Parsons, A., & Reid, R. (2014). Effectiveness of programs for reducing the stigma associated with mental disorders. A meta-analysis of randomized controlled trials. World Psychiatry, 13, 161–175.

Gwernan-Jones, R., & Burden, R. L. (2010). Are they just lazy? Student teachers' attitudes about dyslexia. Dyslexia, 16, 66–86.

Haft, S. L., Myers, C. A., & Hoeft, F. (2016). Socio-emotional and cognitive resilience in children with reading disabilities. Current Opinion in Behavioral Sciences, 10, 133–141.

Harrington, J., Patrick, P., Edwards, K., & Brand, D. (2006). Parental beliefs about autism. Autism, 10, 452–462.

Hebert, E. B., & Koulouglioti, C. (2010). Parental beliefs about cause and course of their child's autism and outcomes of their beliefs: a review of the literature. Issues in Comprehensive Pediatric Nursing, 33, 149–163.

Holmes, E. A. F., Hughes, D. A., & Morrison, V. L. (2014). Predicting adherence to medications using Health Psychology theories: a systematic review of 20 years of empirical research. Value in Health, 17, 863–876.

Holden, C. J., Dennie, T., & Hicks, A. D. (2013). Assessing the reliability of the M5-120 on Amazon's mechanical Turk. Computers in Human Behavior, 29, 1749–1754.

Hornstra, L., Denessen, E., Bakker, J., van B. L., & Voeten, M. (2010). Teacher attitudes toward dyslexia: effects on teacher expectations and the academic achievement of students with dyslexia. Journal of Learning Disabilities, 43, 515–529.

Hughes, S., Gabel, R., Irani, F., & Schlagheck, A. (2010). University students' explanations for their descriptions of people who stutter: an exploratory mixed model study. Journal of Fluency Disorders, 35, 280–298.

Johnson, D. R., & Borden, L. A. (2012). Participants at your fingertips: Using Amazon's mechanical Turk to increase student-faculty collaborative research. Teaching of Psychology, 39, 245–251.

Julian, T. W., McKenry, P. C., & McKelvey, M. W. (1994). Cultural variations in parenting: perceptions of Caucasian, African-American, Hispanic, and Asian-American parents. Family Relations, 43(1), 30.

Knibb, R. C., & Horton, S. L. (2008). Can illness perceptions and coping predict psychological distress amongst allergy sufferers? British Journal of Health Psychology, 13, 103–119.

Lawton, K. E., Gerdes, A. C., Haack, L. M., & Schneider, B. (2014). Acculturation, cultural values, and Latino parental beliefs about the etiology of ADHD. Administration and Policy in Mental Health, 41, 189–204.

Lin, C. C., & Fu, V. R. (1990). A comparison of child-rearing practices among Chinese, immigrant Chinese, and Caucasian-American parents. Child Development, 61, 429–433.

Lyon, G. R., Shaywitz, S. E., & Shaywitz, B. A. (2003). A definition of dyslexia. Annals of Dyslexia, 53, 1–14.

Macdonald, S. J. (2010). Towards a social reality of dyslexia. British Journal of Learning Disabilities, 38, 271–279.

Mason, W., & Suri, S. (2012). Conducting behavioral research on Amazon's mechanical Turk. Behavior Research Methods, 44, 1–23.

Meyers, S., & Lester, D. (2016). An attempt to change college students' attitudes toward individuals with disabilities. Comprehensive Psychology, 5, 1–7.

Moss-Morris, R., Weinman, J., Petrie, K. J., Horne, R., Cameron, L., & Buick, D. (2002). The revised illness perception questionnaire (IPQ-R). Psychology and Health, 17, 1–16.

Mukolo, A., Heflinger, C. A., & Wallston, K. A. (2010). The stigma of childhood mental disorders: A conceptual framework. Journal of the American Academy of Child and Adolescent Psychiatry, 49, 92–198.

Pennington, B. F. (1990). The genetics of dyslexia. Journal of Child Psychology and Psychiatry, 31(2), 193–201.

Puhl, R. M., & Heuer, C. A. (2009). The stigma of obesity: a review and update. Obesity, 17, 941–964.

Queirós, F. C., Wehby, G. L., & Halpern, C. T. (2015). Developmental disabilities and socioeconomic outcomes in young adulthood. Public Health Reports (washington, D.c. : 1974), 130, 3.

Ryan, A. S., & Smith, M. J. (1989). Parental reactions to developmental disabilities in Chinese American families. Child and Adolescent Social Work Journal, 6, 283–299.

Scior, K. (2011). Public awareness, attitudes and beliefs regarding intellectual disability: a systematic review. Research in Developmental Disabilities, 32, 2164–2182.

Sherman, A. C., Higgs, G. E., & Williams, R. L. (1997). Gender differences in the locus of control construct. Psychology & Health, 12, 239–248.

Sikorski, Claudia, Luppa, Melanie, Kaiser, Marie, Glaesmer, Heide, Schomerus, Georg, König, Hans-Helmut, & Riedel-Heller, Steffi G. (2011). The stigma of obesity in the general public and its implications for public health—a systematic review. BioMed Central Ltd.

Siperstein, G. N., Parker, R. C., Bardon, J. N., & Widaman, K. F. (2007). A national study of youth attitudes toward the inclusion of students with intellectual disabilities. Journal of the International Council for Exceptional Children, 73, 4–435.

Soriano-Ferrer, M., Echegaray-Bengoa, J., & Joshi, R. M. (2016). Knowledge and beliefs about developmental dyslexia in pre-service and in-service Spanish-speaking teachers. Annals of Dyslexia, 66, 91–110.

Stief, E. A. (2004). Parental perceptions of attention-deficit/hyperactivity disorder: etiology, diagnosis, and treatment. Unpublished master's thesis, The Virginia Consortium Program in Clinical Psychology.

Torgesen, J. K. (2002). The prevention of reading difficulties. Journal of School Psychology, 40, 7–26.

U.S. Census Bureau (2017). Quick facts. Retrieved from https://www.census.gov/quickfacts/fact/table/US/PST045216

U.S. Department of Education, Office of Special Education Programs, Individuals with Disabilities Education Act (IDEA) database, retrieved September 25, 2015, from http://www2.ed.gov/programs/osepidea/618-data/state-level-data-files/index.html#bcc. See Digest of Education Statistics 2015, table 204.30.

Washburn, E. K., Binks-Cantrell, E. S., & Joshi, R. M. (2014). What do preservice teachers from the USA and the UK know about dyslexia? Dyslexia, 20, 1–18.

Wadlington, E. M., & Wadlington, P. L. (2005). What educators really believe about dyslexia. Reading Improvement, 42(1), 16.

Yeh, M., Hough, R. L., McCabe, K., Lau, A., & Garland, A. (2004). Parental beliefs about the causes of child problems: exploring racial/ethnic patterns. Journal of the American Academy of Child & Adolescent Psychiatry, 43, 605–612.

Youman, M., & Mather, N. (2013). Dyslexia laws in the USA. Annals of Dyslexia, 63, 133–153.
Acknowledgments
We gratefully thank Jan Wallander, Linda Cameron, and Shana Cohen for their comments on drafts of this article.
Funding
This study was funded by the Carlston Cunningham Endowment and the University of California, Merced Graduate Division.
About this article
Cite this article
Castillo, A., Gilger, J.W. Adult perceptions of children with dyslexia in the USA. Ann. of Dyslexia 68, 203–217 (2018). https://doi.org/10.1007/s11881-018-0163-0
Received:

Accepted:

Published:

Issue Date:

DOI: https://doi.org/10.1007/s11881-018-0163-0
Keywords
Beliefs

Dyslexia

Ethnic differences

Perceptions

USA

Views