Abstract
There is increasing use of satellite data for environmental monitoring in data-sparse regions of the world. However, challenges such as cloud cover and swath area of satellite sensors necessitate the validation of satellite retrievals, particularly in regions where ground-based measurements or high-density coverage may be sparse. In this study, the performance of two NASA MODIS products—AQUA and TERRA—were compared with observational AERONET data over eight study sites in West Africa for the period 2000–2022. Results obtained showed a regression slope between 0.09 and 0.83 for TERRA data and 0.11 and 0.86 for AQUA data. The normalized root mean square error between AERONET and AQUA data was in the range of 0.097–0.517, while a range of 0.123–0.540 was reported for TERRA data. Although both AQUA and TERRA AOD products had similar aerosol trends across the eight AERONET study sites, AQUA has an overall better performance with lower error estimates. Generally, the satellite retrieved data performed well during the wet season but poorly in the dry season. The performance of both MODIS products over the region suggests they can be used at most locations with little error/adjustment.
Access options
Buy single article
Instant access to the full article PDF.
USD 39.95
Price excludes VAT (USA)
Tax calculation will be finalised during checkout.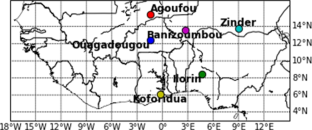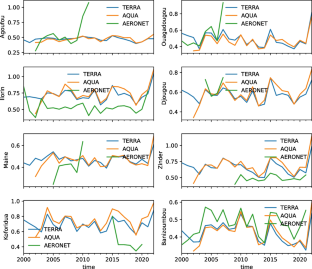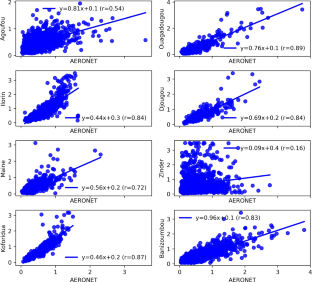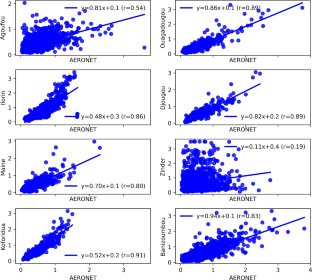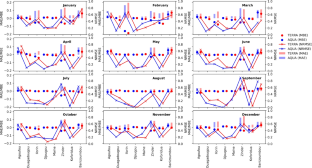 Data availability
Data used in this work is publicly available in repositories stated within the manuscript.
References
Alam K, us sahar N, Iqbal Y et al (2014) Aerosol characteristics and radiative forcing during pre-monsoon and post-monsoon seasons in an urban environment. Aerosol Air Qual Res 14(1):99–107

Aldabash M, BektasBalcik F, Glantz P (2020) Validation of MODIS c6. 1 and MERRA-2 AOD using AERONET observations: a comparative study over Turkey. Atmosphere 11(9):905

Ali MA, Assiri M, Shahid S, Dambul R (2015) MODIS dark target and deep blue aerosol optical depth validation over Bangladesh. Malaysian J Soc Space 11:74–83

Ångström A (1961) Techniques of determinig the turbidity of the atmosphere. Tellus 13(2):214–223

Antuña-Marrero JC, Cachorro Revilla V, GarcaParrado F, de Frutos BÁ, Rodrguez Vega A, Mateos D, Estevan Arredondo R, Toledano C (2018) Comparison of aerosol optical depth from satellite (MODIS), sun photometer and broadband pyrheliometer ground-based observations in Cuba. Atmospher Measure Tech 11(4):2279–2293

Bado N, Ouédraogo A, Guengané H, Ky TSM, Bazyomo SD, Korgo B, Dramé MS, Sall SM, Kieno FP, Bathiebo DJ et al (2019) Climatological analysis of aerosols optical properties by airborne sensors and in situ measurements in West Africa: case of the Sahelian Zone. Open J Air Pollut 8(04):118

Bilal M, Nichol JE, Nazeer M (2015) Validation of AQUA-MODIS c051 and c006 operational aerosol products using AERONET measurements over Pakistan. IEEE J Sel Top Appl Earth Obs Remote Sens 9(5):2074–2080

Boiyo R, Kumar KR, Zhao T (2017) Statistical intercomparison and validation of multisensory aerosol optical depth retrievals over three AERONET sites in Kenya, East Africa. Atmos Res 197:277–288

Bright JM, Gueymard CA (2019) Climate-specific and global validation of MODIS AQUA and TERRA aerosol optical depth at 452 AERONET stations. Sol Energy 183:594–605

Busco G, Yang SR, Seo J, Hassan YA (2020) Sneezing and asymptomatic virus transmission. Phys Fluids 32(7):073309

Che H, Yang L, Liu C, Xia X, Wang Y, Wang H, Wang H, Lu X, Zhang X (2019) Long-term validation of MODIS c6 and c6. 1 dark target aerosol products over China using CARSNET and AERONET. Chemosphere 236:124268

DeCarlo P, Dunlea E, Kimmel J, Aiken A, Sueper D, Crounse J, Wennberg P, Emmons L, Shinozuka Y, Clarke A et al (2008) Fast airborne aerosol size and chemistry measurements above Mexico City and Central Mexico during the Milagro Campaign. Atmos Chem Phys 8(14):4027–4048

Dobaczewski J, Nazarewicz W, Reinhard P (2014) Error estimates of theoretical models: a guide. J Phys g: Nucl Part Phys 41(7):074001

Doherty OM, Riemer N, Hameed S (2014) Role of the convergence zone over West Africa in controlling Saharan mineral dust load and transport in the boreal summer. Tellus b: Chem Phys Meteorol 66(1):23191

Dubovik O, King MD (2000) A flexible inversion algorithm for retrieval of aerosol optical properties from sun and sky radiance measurements. J Geophys Res: Atmospheres 105(D16):20673–20696

Farahat A (2019) Comparative analysis of MODIS, MISR, and AERONET climatology over the Middle East and North Africa. Ann Geophys, Copernicus GmbH 37:49–64

Filonchyk M, Hurynovich V (2020) Validation of MODIS AEROSOL products with AERONET measurements of different land cover types in areas over Eastern Europe and China. J Geovis Spat Anal 4(1):1–11

Flamant C, Knippertz P, Fink AH, Akpo A, Brooks B, Chiu CJ, Coe H, Danuor S, Evans M, Jegede O et al (2018) The dynamics–aerosol–chemistry–cloud interactions in West Africa field campaign: overview and research highlights. Bull Am Meteor Soc 99(1):83–104

García-Pando CP, Stanton MC, Diggle PJ, Trzaska S, Miller RL, Perlwitz JP, Baldasano JM, Cuevas E, Ceccato P, Yaka P et al (2014) Soil dust aerosols and wind as predictors of seasonal meningitis incidence in Niger. Environ Health Perspect 122(7):679–686

Gili S, Vanderstraeten A, Chaput A, King J, Gaiero DM, Delmonte B, Vallelonga P, Formenti P, Di Biagio C, Cazanau M et al (2022) South African dust contribution to the high southern latitudes and East Antarctica during interglacial stages. Commun Earth Environ 3(1):1–12

Guelle W, Schulz M, Balkanski Y, Dentener F (2001) Influence of the source formulation on modeling the atmospheric global distribution of sea salt aerosol. J Geophys Res: Atmospheres 106(D21):27509–27524

Hao W, Ward D, Susott R, Babbitt R, Nordgren B, Kaufman Y, Holben B, Giles D (2005) Comparison of aerosol optical thickness measurements by MODIS, AERONET sun photometers, and forest service handheld sun photometers in southern Africa during the SAFARI 2000 campaign. Int J Remote Sens 26(19):4169–4183

Hayes P, Ortega A, Cubison M, Froyd K, Zhao Y, Cliff S, Hu W, Toohey D, Flynn J, Lefer B et al (2013) Organic aerosol composition and sources in Pasadena, California, during the 2010 Calnex campaign. J Geophys Res: Atmospheres 118(16):9233–9257

Husar RB (2004) Intercontinental transport of dust: historical and recent observational evidence. Air Pollution pp 277–294. https://doi.org/10.1007/b94531

Hutauruk RC, Permana DS, Rangga IA, SucianingsihaC, Nuraini TA (2022) Performance of MODIS deep blue collection 6.1 Aerosol optical depth products over Indonesia: Spatiotemporal variations and aerosol types. Adv Meteorol 2022. https://doi.org/10.1155/2022/7544310

Jacobson MZ, Kaufman YJ (2006) Wind reduction by aerosol particles. Geophys Res Lett 33(24). https://doi.org/10.1029/2006GL027838

Johnson BT, Heese B, McFarlane SA, Chazette P, Jones A, Bellouin N (2008) Vertical distribution and radiative effects of mineral dust and biomass burning aerosol over West Africa during DABEX. J Geophys Res Atmos 113(D23). https://doi.org/10.1029/2008JD009848

Jones RM, Brosseau LM (2015) Aerosol transmission of infectious disease. J Occup Environ Med 57(5):501–508

Jung J, Lee H, Kim YJ, Liu X, Zhang Y, Gu J, Fan S (2009) Aerosol chemistry and the effect of aerosol water content on visibility impairment and radiative forcing in guangzhou during the 2006 Pearl River Delta campaign. J Environ Manage 90(11):3231–3244

Justice C, Giglio L, Korontzi S, Owens J, Morisette J, Roy D, Descloitres J, Alleaume S, Petitcolin F, Kaufman Y (2002) The MODIS fire products. Remote Sens Environ 83(1–2):244–262

Kassianov E, Cromwell E, Monroe J, Riihimaki LD, Flynn C, Barnard J, Michalsky JJ, Hodges G, Shi Y, Comstock JM (2021) Harmonized and high-quality datasets of aerosol optical depth at a US continental site, 1997–2018. Scientific Data 8(1):82

Khatri P, Hayasaka T, Holben BN, Singh RP, Letu H, Tripathi SN (2022) Increased aerosols can reverse twomey effect in water clouds through radiative pathway. Sci Rep 12(1):20666

Lamarque JF, Bond TC, Eyring V, Granier C, Heil A, Klimont Z, Lee D, Liousse C, Mieville A, Owen B et al (2010) Historical (1850–2000) gridded anthropogenic and biomass burning emissions of reactive gases and aerosols: methodology and application. Atmos Chem Phys 10(15):7017–7039

Lee J, Kim J, Song C, Kim S, Chun Y, Sohn B, Holben B (2010) Characteristics of aerosol types from AERONET sunphotometer measurements. Atmos Environ 44(26):3110–3117

Li X, Mauzerall DL, Bergin MH (2020) Global reduction of solar power generation efficiency due to aerosols and panel soiling. Nature Sustainability 3(9):720–727

Lu X, Mao F, Pan Z, Gong W, Zhu Y, Yang J (2020) Enhancement of atmospheric stability by anomalous elevated aerosols during winter in China. J Geophys Res: Atmospheres 125(4):e2019JD031734

Murphy DM, Froyd KD, Bian H, Brock CA, Dibb JE, DiGangi JP, Diskin G, Dollner M, Kupc A, Scheuer EM et al (2019) The distribution of sea-salt aerosol in the global troposphere. Atmos Chem Phys 19(6):4093–4104

Nébon B, Dramé M, Bruno K, Florent K, Sall S, Joseph D (2018) Optical and microphysical analysis of aerosols in Sahelian zone: case of the Ouagadougou City in Burkina Faso. Elixir Int J 119:50975–50982

Ogunjo S, Olaniyan O, Olusegun C, Kayode F, Okoh D, Jenkins G (2022) The role of meteorological variables and aerosols in the transmission of COVID-19 during Harmattan season. GeoHealth 6(2):e2021GH000521

Ogunjobi K, Awoleye P (2019) Intercomparison and validation of satellite and ground-based aerosol optical depth (AOD) retrievals over six AERONET sites in west africa. Aerosol Science and Engineering 3(1):32–47

Prasad AK, Singh RP (2009) Validation of MODIS Terra, AIRS, NCEP/DOE AMIP-II Reanalysis-2, and AERONET sun photometer derived integrated precipitable water vapor using ground-based GPS receivers over India. J Geophys Res Atmos 114(D5). https://doi.org/10.1029/2008JD011230

Prospero J, Glaccum R, Nees R (1981) Atmospheric transport of soil dust from Africa to South America. Nature 289(5798):570–572

Qi Y, Ge J, Huang J (2013) Spatial and temporal distribution of MODIS and MISR aerosol optical depth over northern China and comparison with AERONET. Chin Sci Bull 58(20):2497–2506

Ramanathan V, Crutzen PJ, Kiehl J, Rosenfeld D (2001) Aerosols, climate, and the hydrological cycle. Science 294(5549):2119–2124

Reeves C, Formenti P, Afif C, Ancellet G, Attié JL, Bechara J, Borbon A, Cairo F, Coe H, Crumeyrolle S et al (2010) Chemical and aerosol characterisation of the troposphere over West Africa during the monsoon period as part of AMMA. Atmos Chem Phys 10(16):7575–7601

Ridley D, Solomon S, Barnes J, Burlakov V, Deshler T, Dolgii S, Herber AB, Nagai T, Neely R III, Nevzorov A et al (2014) Total volcanic stratospheric aerosol optical depths and implications for global climate change. Geophys Res Lett 41(22):7763–7769

Santese M, De Tomasi F, Perrone M (2007) Aeronet versus modis aerosol parameters at different spatial resolutions over southeast Italy. J Geophys Res: Atmospheres 112(D10)

Spracklen DV, Logan JA, Mickley LJ, Park RJ, Yevich R, Westerling AL, Jaffe DA (2007) Wildfires drive interannual variability of organic carbon aerosol in the western US in summer. Geophys Res Lett 34(16). https://doi.org/10.1029/2007GL030037

Viana M, Pey J, Querol X, Alastuey A, De Leeuw F, Lükewille A (2014) Natural sources of atmospheric aerosols influencing air quality across Europe. Sci Total Environ 472:825–833

Wei J, Li Z, Peng Y, Sun L (2019) MODIS collection 6.1 aerosol optical depth products over land and ocean: validation and comparison. Atmos Environ 201:428–440

Zheng Y, Davis SJ, Persad GG, Caldeira K (2020) Climate effects of aerosols reduce economic inequality. Nat Clim Chang 10(3):220–224
Ethics declarations
Ethical approval
Not applicable
Consent to participate
Not applicable
Consent to publish
Not applicable
Conflict of interest
The authors declare no competing interests.
Additional information
Publisher's note
Springer Nature remains neutral with regard to jurisdictional claims in published maps and institutional affiliations.
Rights and permissions
Springer Nature or its licensor (e.g. a society or other partner) holds exclusive rights to this article under a publishing agreement with the author(s) or other rightsholder(s); author self-archiving of the accepted manuscript version of this article is solely governed by the terms of such publishing agreement and applicable law.
About this article
Cite this article
Okpalaonwuka, C., Olusegun, C.F., Olusola, A. et al. Validation of MODIS AOD retrievals in West Africa: a comparison with AERONET observations. Air Qual Atmos Health 16, 2085–2094 (2023). https://doi.org/10.1007/s11869-023-01391-4
Received:

Accepted:

Published:

Issue Date:

DOI: https://doi.org/10.1007/s11869-023-01391-4
Keywords