Abstract
Air pollution is continuing to be at a high level in China, which may lead to an increased risk of obesity and hypertension. In the study, we aimed to examine the association between air pollution and prevalence of hypertension and tested whether this air pollution and hypertension association was mediated by changes in body weight. We used a linkage dataset from China with nationwide city-level air quality data linked with individual-level health data from the China Health and Retirement Longitudinal Study among adults aged 45 or older. Air quality was assessed based on the daily air quality index (AQI), a standard sum index of multiple air pollutants. To be specific, air pollution was measured by number of polluted days according to AQI and monthly average AQI. We examined the association between air quality and hypertension and tested mediation effect of body weight using a four-step mediating regression model. Air pollution was a risk factor for obesity. Each exposure to one more polluted day for females predicted on 2.1% (OR 1.021; 95% CI 1.007–1.035) higher prevalence of hypertension without BMI adjusted. A significant mediation effect of body mass index on the association between AQI and hypertension was observed. However, the effect of air pollution on hypertension among males was not significant. These results provide further evidence of the potential risks of air pollution and suggest that reducing pollution could help control both obesity and blood pressure.
Access options
Buy single article
Instant access to the full article PDF.
US$ 39.95
Tax calculation will be finalised during checkout.
Subscribe to journal
Immediate online access to all issues from 2019. Subscription will auto renew annually.
US$ 79
Tax calculation will be finalised during checkout.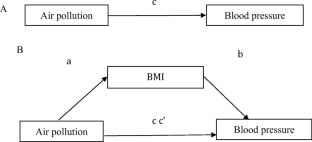 References
An R, Ji M, Yan H, Guan C (2018) Impact of ambient air pollution on obesity: a systematic review. Int J Obes 42:1112–1126

Brauner EV, Mortensen J, Moller P et al (2009) Effects of ambient air particulate exposure on blood-gas barrier permeability and lung function. Inhal Toxicol 21(1):38e47

Brook RD, Rajagopalan S (2009) Particulate matter air pollution blood pressure. J Am Soc Hypertension 3(5):332–350

Brook RD, Rajagopalan S, Pope CA et al (2010) Particulate matter air pollution and cardiovascular disease: an update to the scientific statement from the American Heart Association. Circulation 121(21):2331–2378

Clougherty JE (2010) A growing role for gender analysis in air pollution epidemiology. Environ Health Perspect 118(2):167e176

Devlin RB, Ghio AJ, Kehrl H, Sanders G, Cascio W (2003) Elderly humans exposed to concentrated air pollution particles have decreased heart rate variability. Eur Respir J Suppl 40:76–80

Feng XL, Pang M, Beard J (2014) Health system strengthening and hypertension awareness, treatment and control: data from the China health and retirement longitudinal study. B World Health Organ 92(1):29–41

Iacobucci D (2012) Mediation analysis and categorical variables: the final frontier. J Consum Psychol 22:582–594

Ibaldmulli A, Timonen KL, Peters A et al (2004) Effects of particulate air pollution on blood pressure and heart rate in subjects with cardiovascular disease: a multicenter approach. Environmen Health Perspect 112(3):369–377

MacKinnon DP (2008) Introduction to statistical mediation analysis. Lawrence Erlbaum Assoc Inc, NY 2008

Marr LC, Ely MR (2010) Effect of air pollution on marathon running performance. Med Sci Sports Exer 42(3):585–591

Prisby RD, Muller-Delp J, Delp MD, Nurkiewicz TR (2008) Age, gender, and hormonal status modulate the vascular toxicity of the diesel exhaust extract phenanthraquinone. J Toxicol Environ Health A 71(7):464e470

Sood A, Cui X, Qualls C et al (2008) Association between asthma and serum adiponectin concentration in women. Thorax 63(10):877e882

Urch B, Silverman F, Corey P et al (2005) Acute blood pressure responses in healthy adults during controlled air pollution exposures. Environmen Health Perspect 113(8):1052–1055

Wang B, Zhu Y, Pang Y, Xie J, Hao Y, Yan H et al (2018) Indoor air pollution affects hypertension risk in rural women in northern China by interfering with the uptake of metal elements: a preliminary cross-sectional study. Environmen Pollut 240:267–272

Wayne E, Cascio M, Gilmour I, Peden DB (2015) Ambient Air Pollution and Increases in Blood Pressure Role for Biological Constituents of Particulate Matter. Hypertension 66:469–471

Wei YJ, Zhang JF, Li ZG, Gow A et al (2016) Chronic exposure to air pollution particles increases the risk of obesity and metabolic syndrome: findings from a natural experiment in Beijing. FASEB J 30(6):2115–2122

WHO (2000) Obesity: preventing and managing the global epidemic. World Health Organization, Geneva

WHO (2018) Air pollution level, http://www.who.int/airpollution/en/. Accessed 28 Oct 2018

WHO (2013) A global brief on hypertension. http://apps.who.int/iris/bitstream/10665/79059/1/WHO_DCO_WHD_2013.2_eng.pdf?ua=1. Accessed 28 Oct 2018

Yang BY, Qian Z, Howard SW et al (2018) Global association between ambient air pollution and blood pressure: a systematic review and meta-analysis. Environmen Pollut 235:576–588

Zhao Y, Hu Y, Smith JP, Strauss J, Yang G (2014) Cohort profile: the China health and retirement longitudinal study (CHARLS). Int J Epidemiol 43(1):61
Funding
The study was carried out with the financial support from China Postdoctoral Science Foundation (No. 2018m630284); The Fundamental Research Funds of Shandong University (No.2019GN120); Clinical Special Funds of Shanghai health commission.
Additional information
Publisher's note
Springer Nature remains neutral with regard to jurisdictional claims in published maps and institutional affiliations.
About this article
Cite this article
Wang, Q., Gracely, E.J. & Liu, L. Evidence linking air pollution and blood pressure mediated by body weight in China. Air Qual Atmos Health 13, 585–592 (2020). https://doi.org/10.1007/s11869-020-00821-x
Received:

Accepted:

Published:

Issue Date:
Keywords
Air pollution

Blood pressure

Body weight

The air quality index

Suspended particulates