Abstract
The artworks that are preserved in museums can be damaged by fungi when the conditions of temperature and humidity are adequate to accelerate their growth. This is increased in Cuba by the climatic conditions of the country, characterized by high temperature and relative humidity during the all year. These fungi do not only cause the artworks biodeterioration but also affectations in the personnel's health. The aims of this work were to characterize the mycobiota in two microenvironments of the National Museum of Fine Arts, Cuba (1: three interior environments of repositories or storerooms and 2: six surfaces of artworks) and analyze its relationship with the conservation of artworks. Environmental samples were taken using a SAS Super 100 biocolector, while samples from the artworks surfaces were taken using sterile cotton swabs. Appropriate selective culture media were used to isolate fungi. The concentrations obtained in the indoor environments indicate that one storeroom was contaminated, while the other two were not. Fourteen filamentous genera, one genus of yeast, and two fungal mycelia were detected in the air of the storerooms, while four filamentous genera and one genus of yeast were obtained from the artworks studied. Aspergillus spp. was the predominant genus in the two microenvironments. Six species of the Aspergillus genus (A. glaucus, A. flavipes, A. niveus, A. proliferans, A. conjunctus, A. restrictus, A. janus) and three genera (Botryoderma, Hansfordia, Nodulisporium) detected in the repositories air as well as four isolated genera of artworks (Olpitrichum, Verticillium, Engyodontium, Tritirachium) are new findings for Cuban museums.
This is a preview of subscription content,
to check access.
Access this article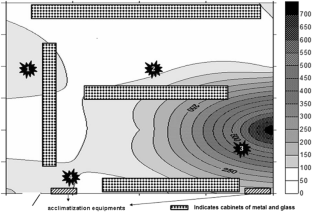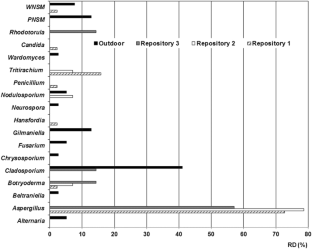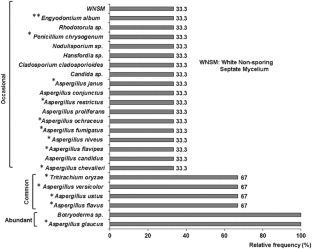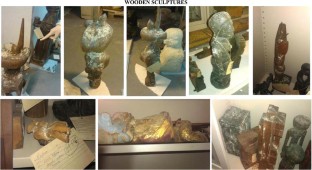 Similar content being viewed by others
References
Alfonseca A, Serrat M (2018) Aislamiento y selección de hongos lipolíticos de materiales contaminadas con desechos de aceite vegetal. Rev Cubana Quím 30(3):362–378

Almaguer M, Rojas TI (2013) Aeromicota viable de la atmósfera de La Habana, Cuba. NACC 20:35–45

Ashraf A, Rauf A, Abbas MF, Rehman R (2012) Isolation and identification of Verticillium dahliae causing wilt on potato in Pakistan. Pak J Phytopathol 24(2):112–116

Barnett HL, Hunter BB (1998) Illustrated genera of imperfect fungi. APS Press, St Paul

Borrego S, Molina A, Santana A (2017) Fungi in archive repositories environments and the deterioration of the graphics documents. EC Microbiol 11(5):205–226

Borrego S, Perdomo I (2016) Airborne microorganisms cultivable on naturally ventilated document repositories of the National Archive of Cuba. Environ Sci Pollut Res 23:3747–3757. https://doi.org/10.1007/s11356-015-5585-1

Cabral JPS (2010) Can we use indoor fungi as bioindicators of indoor air quality? Historical perspectives and open questions. Sci Total Environ 408(20):4285–4295. https://doi.org/10.1016/j.scitotenv.2010.07.005

Chen YP, Cui Y, Dong JG (2010) Variation of airborne bacteria and fungi at Emperor Qin's Terra-Cotta useum, Xi'an, China, during the "Oct. 1" gold week period of 2006. Environ Sci Pollut Res 17:478–485. https://doi.org/10.1007/s11356-009-0161-1

De Hoog GS, Guarro G, Gene J, Figueras MJ (2000) Atlas of clinical fungi. Universidad Rovira I Virgili Reus, España

Demirel R, Ilhan S, Asan A, Kinaci E, Oner S (2005) Microfungi in cultivated fields in Eskişehir provience (Turkey). J Basic Microbiol 45(4):279–293. https://doi.org/10.1002/jobm.200410526

Di Carlo E, Chisesi R, Barresi G et al (2016) Fungi and bacteria in indoor cultural heritage environments: microbial-related risks for artworks and human health. Environ Ecol Res 4(5):257–264. https://doi.org/10.13189/eer.2016.040504

Domsch KH, Gams W, Anders TH (eds) (1980) Compendium of soil fungi. Academic Press, London

Ellis MM (1976) More Dematiaceous Hyphomycetes. Commonwealth Mycological Institute, Kew

EMLab P & K (2018a) Tritirachium sp. In: Fungal library. https://www.emlab.com/resources/fungal-library/tritirachium-sp/. Accessed 4 December 2018

EMLab P & K (2018b) Non-Sporulating. In: Fungal library. https://www.emlab.com/resources/fungal-library/non-sporulating/. Accessed 4 December 2018

Environmental Guidelines (2013) Recommended by AIC Action on Environmental Guidelines for Loans. http://www.conservation-wiki.com/w/index.php?title=Environmental_Guidelines&oldid=11680. Accessed 13 October 2014

Esquivel PP, Mangiaterra M, Giusiano G, Sosa MA (2003) Microhongos anemófilos en ambientes abiertos de dos ciudades del nordeste argentino. Bol Micol 18:21–28

Gopinath SCB, Anbu P, Hilda A (2005) Extracellular enzymatic activity profiles in fungi isolated from oil-rich environments. Mycoscience 46(2):119–126. https://doi.org/10.1007/S10267-004-0221-9

Grabek-Lejko D, Tekiela A, Kasprzyk I (2017) Risk of biodeterioration of cultural heritage objects, stored in the historical and modern repositories in the Regional Museum in Rzeszow (Poland). A case study. Int Biodeterior Biodegradation 123:46–55. https://doi.org/10.1016/j.ibiod.2017.05.028

Grbić ML, Stupar M, Vukojević J, Maričić I, Bungur N (2013) Molds in museum environments: biodeterioration of art photographs and wooden sculptures. Arch Biol Sci Belgrade 65(3):955–962. https://doi.org/10.2298/ABS1303955G

Gutarowska B, Skora J, Zduniak K, Rembisz D (2012) Analysis of the sensitivity of microorganisms contaminating museums and archives to silver nanoparticles. Int Biodeterior Biodegradation 68:7–17. https://doi.org/10.1016/j.ibiod.2011.12.002

Ishizaka TD, Kawashima A, Hishida N, Hamada N (2019) Measurement of total volatile organic compound (TVOC) in indoor air using passive solvent extraction method. Air Qual Atmos Health 12(2):173–187

Klich MA, Pitt JI (1988) A laboratory guide to the common Aspergillus species and their teleomorphs, Division of Food Processing, Commonwealth Scientific and Industrial Research Organization, North Ryde

Li DW, Schultes NP, Vossbrinck C (2016) Olpitrichum sphaerosporum: a new USA record and phylogenetic placement. Mycotaxon 131:123–133

Micheluz A, Manente S, Tigini V, Prigione V, Pinzari F, Ravagnan G, Varese GC (2015) The extreme environment of a library: Xerophilic fungi inhabiting indoor niches. Int Biodeterior Biodegradation 99:1–7 https://doi.org/10.1016/j.ibiod.2014.12.012

Nair DN, Padmavathy S (2014) Impact of endophytic microorganisms on plants, environment and humans. Sci World J. https://doi.org/10.1155/2014/250693

Nevalainen A, Morawska L (2009) Biological agents in indoor environments. Assessment of health risks, work conducted by a WHO Expert Group between 2000 and 2003. Queensland University of Technology, Australia http://www.ilaqh.qut.edu.au/Misc/BIOLOGICAL_AGENTS_2009.pdf. Accessed 4 September 4 2009

Niesler A, Górny RL, Wlazło A, Łudzeń-Izbińska B, Ławniczek-Wałczyk A, Gołofit-Szymczak M, Meres Z, Kasznia-Kocot J, Harkawy A, Lis DO, Anczyk E (2010) Microbial contamination of storerooms at the Auschwitz-Birkenau Museum. Aerobiologia 26:125–133. https://doi.org/10.1007/s10453-009-9149-z

Nwuche CO, Ogbonna JC (2011) Isolation of lipase producing fungi from palm oil mill effluent (POME) dump sites at Nsukka. Braz Arch Biol Technol 54(1):113–116

Okpalanozie OE, Adebusoye SA, Troiano F, Cattò C, Ilori MO, Cappitelli F (2018) Assessment of indoor air environment of a Nigerian museum library and its biodeteriorated books using culture-dependent and -independent techniques. Int Biodeterior Biodegradation. https://doi.org/10.1016/j.ibiod.2018.03.003

Ortiz ML, Uribe D (2010) Determinación de la actividad lignocelulolítica en sustrato natural de aislamientos fúngicos obtenidos de sabana de pastoreo y de bosque secundario de sabana inundable tropical. CI. Suelo (Argentina) 28(2):169–180

Ortiz R, Navarrete H, Navarrete J et al (2014) Deterioration, decay and identification of fungi isolated from wooden structures at the Humberstone and Santa Laura saltpeter works: a world heritage site in Chile. Int Biodeterior Biodegradation 86:309–316. https://doi.org/10.1016/j.ibiod.2013.10.002

Paiva de Carvalho H, Mesquita N, Trovão J et al (2018) Fungal contamination of paintings and wooden sculptures inside the storage room of a museum: a recurrent norms and reference values adequate? J Cult Herit 34:268–276. https://doi.org/10.1016/j.culher.2018.05.001

Pinzari F (2011) Microbial ecology of indoor environments: the ecological and applied aspects of microbial contamination in archives, libraries and conservation environments. In: Abdul-Wahab SA (ed) Sick building syndrome in public buildings and workplaces. Springer, Berlin Heidelberg, pp 153–178

Rodríguez JC (2016) Microbiología aplicada: Una herramienta para la conservación del Patrimonio Cultural. Conservar Património 24:23–36

Rojas TI, Aira MJ, Batista A, Cruz IL, González S (2012) Fungal biodeterioration in historic buildings of Havana (Cuba). Grana 51(1):44–51 https://doi.org/10.1080/00173134.2011.643920

Roussel S, Reboux G, Millon L, Parchas MD, Boudih S, Skana F, Delaforge M, Rakotonirainy MS (2012) Microbiological evaluation of ten French archives and link to occupational symptoms. Indoor Air 22(6):514–522 https://doi.org/10.1111/j.1600-0668.2012.00781.x

Schultes NP, Murtishi B, Li DW (2017) Phylogenetic relationships of Chlamydomyces, Harzia, Olpitrichum, and their sexual allies, Melanospora and Sphaerodes. Fungal Biology 121:890–904. https://doi.org/10.1016/j.funbio.2017.07.004

Skóra J, Gutarowska B, Pielech-Przybylska K, Stępień L, Pietrzak K, Piotrowska M, Pietrowski P (2015) Assessment of microbiological contamination in the work environments of museums, archives and libraries. Aerobiologia 31:389–401. https://doi.org/10.1007/s10453-015-9372-8

Smith G (1980) Ecology and field biology. Harper and Row, New York

Sterflinger K, Pinzari F (2012) The revenge of time: fungal deterioration of cultural heritage with particular reference to books, paper and parchment. Environ Microbiol 14:559–566 https://doi.org/10.1111/j.1462-2920.2011.02584.x

Stryjakowska-Sekulska M, Piotraszewska-Pająk A, Szyszka A, Nowicki M, Filipiak M (2007) Microbiological quality of indoor air in university rooms. Pol J Environ Stud 16(4):623–632

Sullivan TS, Ramkissoon S, Garrison VH, Ramsubhag A, Thies JE (2012) Siderophore production of African dust microorganisms over Trinidad and Tobago. Aerobiologia 28(3):391–401. https://doi.org/10.1007/s10453-011-9243-x

Tuon FF, Costa SF (2008) Rhodotorula infection. A systematic review of 128 cases from literature. Rev Iberoam Micol 25:135–140

Umabala P, Lakshmi V, Murthy AR, Prasad VSSV, Sundaram C, Beguin H (2001) Isolation of a Nodulisporium species from a case of cerebral phaeohyphomycosis. J Clin Microbiol 39(11):4213–4218

Valentín N, Muro C, Montero J (2010) Métodos y técnicas para evaluar la calidad del aire en museos: Museo Nacional Centro de Arte Reina Sofía. 11 Jornada de Conservación de arte contemporáneo, pp 63-81
Acknowledgments
Although most of this investigation was carried out with the financing that the National Archive of the Republic of Cuba grants to its projects of technological innovation, the authors want to thank the help given by the National Museum of Fine Arts through the Contract CTTO-01/14.
Additional information
Publisher's note
Springer Nature remains neutral with regard to jurisdictional claims in published maps and institutional affiliations.
About this article
Cite this article
Borrego, S., Molina, A. Fungal assessment on storerooms indoor environment in the National Museum of Fine Arts, Cuba. Air Qual Atmos Health 12, 1373–1385 (2019). https://doi.org/10.1007/s11869-019-00765-x
Received:

Accepted:

Published:

Issue Date:

DOI: https://doi.org/10.1007/s11869-019-00765-x
Keywords