Abstract
Size-segregated ambient aerosols were collected by a five-stage impactor at a suburban Nanjing site during the winter of 2016–2017 to estimate the chemical composition and size distribution of particles deposited in different parts of the human respiratory tract. Chemical compositions of carbonaceous aerosols, water-soluble ions, and trace heavy metals were measured. Particulate matter (PM) mass deposited in nasopharyngeal (NOPL), tracheobronchial (TB), and pulmonary (P) was obtained by integrating the size-dependent deposition fractions. During the sampling period, the average PM10 and PM2.5 concentrations were 108.8 ± 30.8 and 77.2 ± 24.2 μg/m3, respectively. Organic matter and water-soluble ions were major components in fine particles. The fine particles had a significant contribution to the particulate pollution in winter Nanjing. The mass concentration of particles increases significantly from the clean days to the pollution days, especially for particles in 1–2.5 μm. The proportion of NO3− and undetected components in particulate matter increases on pollution days, while the proportion of elemental carbon (EC), SO42−, and NH4+ decreases. During the study period, the total particulate matter deposit per minute in the NOPL, TB, and P was 1.06 ± 0.35, 0.10 ± 0.03, and 0.42 ± 0.14 μg, respectively, assuming normal respiration of tidal volumes of 1450 cm3 per breath and 15 breaths per minute. Particles in 2.5–10 μm had the highest deposition mass in NOPL of 0.57 ± 0.16 μg, while particles in < 0.5 μm had the highest deposition mass in TB (0.03 ± 0.01 μg), and particles in 1–2.5 μm had the highest deposition mass in P (0.14 ± 0.06 μg). The total particulate matter deposited in the NOPL, TB, and P increased from 0.79 ± 0.25, 0.08 ± 0.02, and 0.30 ± 0.09 μg on the clean days to 1.23 ± 0.29 μg, 0.12 ± 0.03 μg, and 0.49 ± 0.11 μg on the pollution days. More secondary inorganic aerosol (SNA) and metals (especially Zn, Cr, and Cu) were in the PM deposited in TB and P than in the ambient PM, while more undetected components in the PM deposited in NOPL. The chemical composition fractions deposited in a specific region were different from those measured in the ambient atmosphere, indicating that health effect studies of PM should consider the deposition rates of PM in the human respiratory tract, in addition to the ambient size and chemical characteristics of ambient PM.
Access options
Buy single article
Instant access to the full article PDF.
US$ 39.95
Tax calculation will be finalised during checkout.
Subscribe to journal
Immediate online access to all issues from 2019. Subscription will auto renew annually.
US$ 79
Tax calculation will be finalised during checkout.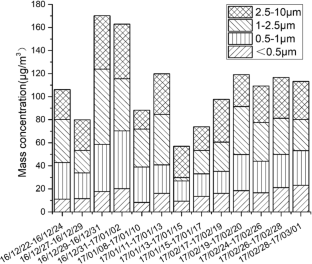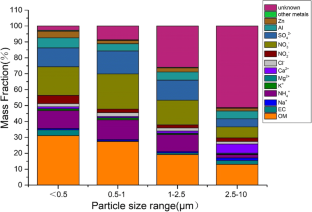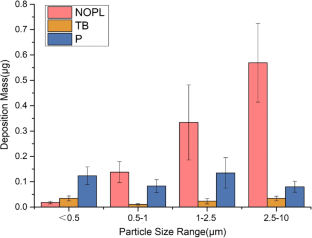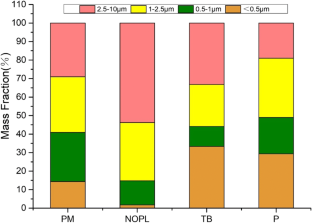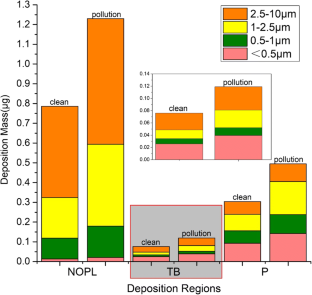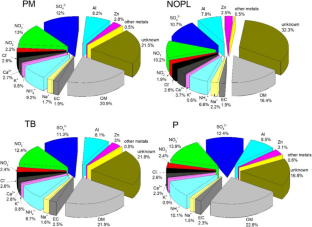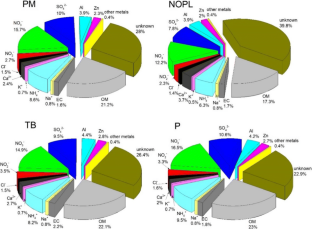 References
Brook RD, Brook JR, Urch BU, Vincent R, Rajagopalan S, Silverman F (2002) Inhalation of fine particulate air pollution and ozone causes acute arterial vasoconstriction in health adults. ACC Curr J Rev 11:32

Chan CK, Yao X (2008) Air pollution in mega cities in China. Atmos Environ 42:1–42

Chen Y, Xie SD (2013) Long-term trends and characteristics of visibility in two megacities in southwest China: Chengdu and Chongqing. J Air Waste Manage Assoc 63:1058–1069

Chow JC (1995) Measurement methods to determine compliance with ambient air quality standards for suspended particles. Air Repair 45:320–382

Chow JC, Cao JJ, Shun-Cheng LI, Wang XL, Watson JG (2012) A brief history of PM_(2.5), its measurement and adverse effects. J Earth Environ 5:1019–1029

Dan WU et al (2016) Characteristics of organic and elemental carbon in atmospheric aerosol in China: a review. Environ Sci Technol 39:23–32

Delfino RJ, Sioutas C, Malik S (2005) Potential role of ultrafine particles in associations between airborne particle mass and cardiovascular health. Environ Health Perspect 113:934–946

Ding XX, Kong LD, du CT, Zhanzakova A, Fu HB, Tang XF, Wang L, Yang X, Chen JM, Cheng TT (2017) Characteristics of size-resolved atmospheric inorganic and carbonaceous aerosols in urban Shanghai. Atmos Environ 167:625–641. https://doi.org/10.1016/j.atmosenv.2017.08.043

Francisco SS, Montse M, Vikas K, Joaquim R, Martí N, Marta S (2015) An approach to assess the particulate matter exposure for the population living around a cement plant: modelling indoor air and particle deposition in the respiratory tract. Environ Res 143:10–18

Ge X, Li L, Chen Y, Chen H, Wu D, Wang J, Xie X, Ge S, Ye Z, Xu J, Chen M (2017) Aerosol characteristics and sources in Yangzhou, China resolved by offline aerosol mass spectrometry and other techniques. Environ Pollut 225:74–85. https://doi.org/10.1016/j.envpol.2017.03.044

Guo Z, Shi L, Chen S, Jiang W, Wei Y, Rui M, Zeng G (2016) Sulfur isotopic fractionation and source appointment of PM 2.5 in Nanjing region around the second session of the Youth Olympic Games. Atmos Res 174-175:9–17

Gurman J, Lioy PJ, Lippmann M, Schlesinger R (1984) Particle deposition in replicate casts of the human upper tracheobronchial tree under constant and cyclic inspiratory flow. II Experimental model. Aerosol Sci Technol 3:253–257

Hu J, Wang Y, Ying Q, Zhang H (2014) Spatial and temporal variability of fine and coarse particulate matter in the North China Plain and the Yangtze River Delta. China Atmos Environ 95:598–609

Hu J, Huang L, Chen M, Liao H, Zhang H, Wang S, Zhang Q, Ying Q (2017) Premature mortality attributable to particulate matter in China: source contributions and responses to reductions. Environ Sci Technol 51:9950–9959

Jiang WJ, Guo ZB, Liu FL, Rui ML, Shi L, Zeng G, Guo ZY (2015) Characteristics and sources apportionment of OC and EC in PM1.1 from Nanjing. Environ Sci 36:774

Kondo Y et al (2006) Temporal variations of elemental carbon in Tokyo. J Geophys 111:2193–2214

Lelieveld J, Evans JS, Fnais M, Giannadaki D, Pozzer A (2015) The contribution of outdoor air pollution sources to premature mortality on a global scale. Nature 525:367–371

Li Z, Ma Z, Kuijp TJVD, Yuan Z, Huang L (2014) A review of soil heavy metal pollution from mines in China: pollution and health risk assessment. Sci Total Environ 468-469:843–853

Li H, Wang J, Wang Q, Qian X, Qian Y, Yang M, Li F, Lu H, Wang C (2015) Chemical fractionation of arsenic and heavy metals in fine particle matter and its implications for risk assessment: a case study in Nanjing, China. Atmos Environ 103:339–346

Li X, Yan C, Patterson RF, Zhu Y, Yao X, Zhu Y, Ma S, Qiu X, Zhu T, Zheng M (2016) Modeled deposition of fine particles in human airway in Beijing, China. Atmos Environ 124:387–395. https://doi.org/10.1016/j.atmosenv.2015.06.045.

Liu J, Han Y, Tang X, Zhu J, Zhu T (2016) Estimate adult mortality attributable to PM2.5 exposure in China with assimilated PM2.5 concentrations based on ground monitoring network. Sci Total Environ 568:1253–1262

Nirmalkar J, Deb MK (2016) Impact of intense field burning episode on aerosol mass loading and its possible health implications in rural area of eastern central India. Air Qual Atmos Health 9:1–9

Phalen RF, Cuddihy RG, Fisher GL, Moss OR, Schlesinger RB, Swift DL, Yeh HC (1991) Main features of the proposed NCRP respiratory tract model. Radiat Prot Dosim 38:179–184

Qian L, Yin Y, Tong YQ, Wang WW, Wei YX (2008) Characteristics of size distributions of atmospheric fine particles in the north suburban area of Nanjing. China Environ Sci 28:18–22

Rostami AA (2009) Computational modeling of aerosol deposition in respiratory tract: a review. Inhal Toxicol 21:262–290

Ruzer LS, Harley NH (2004) Aerosols handbook : measurement, dosimetry, and health effects. Scitech Book News 2:205–214

Simkhovich BZ, Kleinman MT, Kloner RA (2008) Air pollution and cardiovascular injury: epidemiology, toxicology and Mechanisms. J Am Coll Cardiol 52:719–726

Sun K, Qu Y, Wu Q, Han T, Gu J, Zhao J, Sun Y, Jiang Q, Gao Z, Hu M, Zhang Y, Lu K, Nordmann S, Cheng Y, Hou L, Ge H, Furuuchi M, Hata M, Liu X (2014) Chemical characteristics of size-resolved aerosols in winter in Beijing. J Environ Sci 26:1641–1650

Sun K, Liu X, Gu J, Li Y, Qu Y, An J, Wang J, Zhang Y, Hu M, Zhang F (2015) Chemical characterization of size-resolved aerosols in four seasons and hazy days in the megacity Beijing of China. J Environ Sci 32:155–167. https://doi.org/10.1016/j.jes.2014.12.020

Tian X, Zhu Y, Mu L, Zhang ZF, Liu S (2016) Pulmonary diseases induced by ambient ultrafine and engineered nanoparticles in twenty-first century. Nat Sci Rev 3:416–429

Vu TV, Delgado-Saborit JM, Harrison RM (2015) A review of hygroscopic growth factors of submicron aerosols from different sources and its implication for calculation of lung deposition efficiency of ambient aerosols. Air Qual Atmos Health 8:1–12

Wang YG, Ying Q, Hu JL, Zhang HL (2014) Spatial and temporal variations of six criteria air pollutants in 31 provincial capital cities in China during 2013-2014. Environ Int 73:413–422

Wang H, Zhu B, Zhang Z, An J, Shen L (2015) Mixing state of individual carbonaceous particles during a severe haze episode in January 2013, Nanjing, China. Particuology 20:16–23

Wu S, Deng F, Wei H, Huang J, Wang H, Shima M, Wang X, Qin Y, Zheng C, Hao Y, Guo X (2012) Chemical constituents of ambient particulate air pollution and biomarkers of inflammation, coagulation and homocysteine in healthy adults: a prospective panel study. Part Fibre Toxicol 9:49

Wu ML, Guo ZB, Liu FL, Liu J, Lu X, Jiang LX (2014) Size distributions of organic carbon and elemental carbon in Nanjing aerosol particles. Environ Sci 35:451

Xing L, Fu TM, Cao JJ, Lee SC (2013) Seasonal and spatial variability of the organic matter-to-organic carbon mass ratios in Chinese urban organic aerosols and a first report of high correlations between aerosol oxalic acid and zinc. Atmos Chem Phys, 13,8(2013-04-25) 13:4307–4318

Xue GQ, Zhu B, Wang HL (2014) Size distributions and source apportionment of soluble ions in aerosol in Nanjing. Huan jing ke xue= Huanjing kexue / [bian ji, Zhongguo ke xue yuan huan jing ke xue wei yuan hui "Huan jing ke xue" bian ji wei yuan hui] 35:1633

Yang C, Peng X, Huang W, Chen R, Xu Z, Chen B, Kan H (2012) A time-stratified case-crossover study of fine particulate matter air pollution and mortality in Guangzhou, China. Int Arch Occup Environ Health 85:579–585

Zhao J, Zhang F, Xu Y, Chen J, Yin L, Shang X, Xu L (2011) Chemical characteristics of particulate matter during a heavy dust episode in a coastal city, Xiamen, 2010. Aerosol Air Qual Res 11:299–308. https://doi.org/10.4209/aaqr.2010.09.0073

Zhou Y, Cheng Y (2005) Particle deposition in a cast of human tracheobronchial airways. Aerosol Sci Technol 39:492–500

Zwozdziak A, Gini MI, Samek L, Rogula-Kozlowska W, Sowka I, Eleftheriadis K (2017) Implications of the aerosol size distribution modal structure of trace and major elements on human exposure, inhaled dose and relevance to the PM2.5 and PM10 metrics in a European pollution hotspot urban area. J Aerosol Sci 103:38–52. https://doi.org/10.1016/j.jaerosci.2016.10.004
Funding
This work was supported by the National Key R&D Program of China (2016YFC0203500, Task No. 2); the National Natural Science Foundation of China (41675125, 91544221, and 41775154); Public Welfare Projects for Environmental Protection (201509001); Jiangsu Distinguished Professor Project (2191071503201); Jiangsu Six Major Talent Peak Project (2015-JNHB-010 and 2018-JNHB-057); and the Priority Academic Program Development of Jiangsu Higher Education Institutions (PAPD).
Additional information
Publisher's note
Springer Nature remains neutral with regard to jurisdictional claims in published maps and institutional affiliations.
Electronic supplementary material
About this article
Cite this article
Liu, X., Nie, D., Zhang, K. et al. Evaluation of particulate matter deposition in the human respiratory tract during winter in Nanjing using size and chemically resolved ambient measurements. Air Qual Atmos Health 12, 529–538 (2019). https://doi.org/10.1007/s11869-019-00663-2
Received:

Accepted:

Published:

Issue Date:
Keywords
Size distribution

Chemical components

Inhalable particles

Deposition

Respiratory tract