Abstract
Air quality remains a significant environmental health challenge in India, and large sections of the population live in areas with poor ambient air quality. This article presents a summary of the regulatory monitoring landscape in India, and includes a discussion on measurement methods and other available government data on air pollution. Coarse particulate matter (PM10) concentration data from the national regulatory monitoring network for 12 years (2004–2015) were systematically analyzed to determine broad trends. Less than 1% of all PM10 measurements (11 out of 4789) were found to meet the annual average WHO Air Quality Guideline (20 μg/m3), while 19% of the locations were in compliance with the Indian air quality standards for PM10 (60 μg/m3). Further efforts are necessary to improve measurement coverage and quality including the use of hybrid monitoring systems, harmonized approaches for sampling and data analysis, and easier data accessibility.
This is a preview of subscription content, log in to check access.
Access options
Buy single article
Instant access to the full article PDF.
US$ 39.95
Price includes VAT for USA
Subscribe to journal
Immediate online access to all issues from 2019. Subscription will auto renew annually.
US$ 99
This is the net price. Taxes to be calculated in checkout.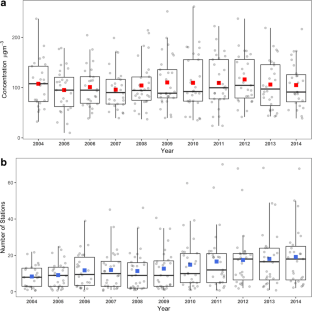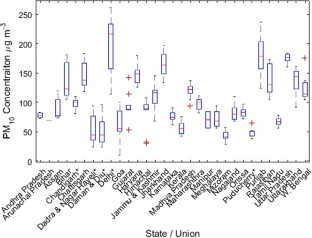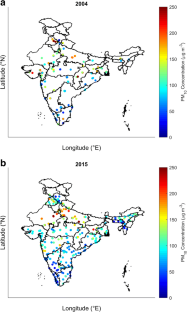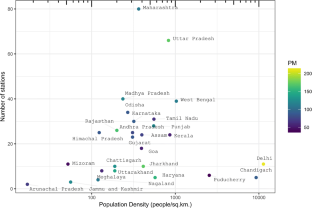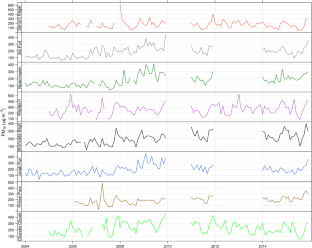 References
Balakrishnan K, Ganguli B, Ghosh S, Sambandam S, Roy S, Chatterjee A (2013) A spatially disaggregated time-series analysis of the short-term effects of particulate matter exposure on mortality in Chennai, India. Air Qual Atmos Health 6:111–121

Balakrishnan K, Cohen A, Smith K (2014) Addressing the burden of disease attributable to air pollution in India: the need to integrate across household and ambient air pollution exposures. Environ Health Perspect 122:A6–A7

Balakrishnan K, Sambandam S, Ramaswamy P, Ghosh S, Venkatesan V, Thangavel G, Mukhopadhyay K, Johnson P, Paul S, Puttaswamy N, Dhaliwal RS, Shukla DK, Team SRU-CAR (2015) Establishing integrated rural-urban cohorts to assess air pollution-related health effects in pregnant women, children and adults in southern India: an overview of objectives, design and methods in the Tamil Nadu air pollution and health effects (TAPHE) study. BMJ Open 5:e008090

Beig G, Chate DM, Sahu SK, Parkhi NS, Srinivas R, Ali K, Ghude SD, Yadav S, Trimbake HK (2015) System of Air Quality Forecasting and Research (SAFAR - India). GAW Report No 217. https://www.wmo.int/pages/prog/arep/gaw/documents/GAWSymp2017P3Beig.pdf. Accessed 12 Jan 2018. Migration and urban transition in India: implications for development. United Nations Expert Group Meeting on sustainable cities, human mobility and international migration

Bhagat RB (2017), UN/POP/EGM/2017/3. https://tinyurl.com/y82sb8zw. Accessed 18 Sep 2018

Brauer M, Freedman G, Frostad J, van Donkelaar A, Martin RV, Dentener F, Van Dingenen R, Estep K, Amini H, Apte JS, Balakrishnan K, Barregard L, Broday DM, Feigin V, Ghosh S, Hopke PK, Knibbs LD, Kokubo Y, Liu Y, Ma S, Morawska L, Texcalac Sangrador JL, Shaddick G, Anderson HR, Vos T, Forouzanfar MH, Burnett RT, Cohen A (2015) Ambient air pollution exposure estimation for the global burden of disease 2013. Environ Sci Technol 50(1):79–88

Brook RD, Rajagopalan S, Pope CA, Brook JR, Bhatnagar A, Diez-Roux AV, Holguin F, Hong Y, Luepker RV, Mittleman MA, Peters A, Siscovick D, Smith SC, Whitsel L, Kaufman JD (2010) Particulate matter air pollution and cardiovascular disease. Circulation 121:2331–2378

Chowdhury S, Dey S (2016) Cause-specific premature death from ambient PM2.5 exposure in India: estimate adjusted for baseline mortality. Environ Int 91:283–290

Chowdhury Z, Zheng M, Schauer JJ, Sheesley RJ, Salmon LG, Cass GR, Russell AG (2007) Speciation of ambient fine organic carbon particles and source apportionment of PM2.5 in Indian cities. J Geophys Res Atmos 112

Clements AL, Griswold WG, Abhijit RS, Johnston JE, Herting MM, Thorson J, Collier-Oxandale A, Hannigan M (2017) Low-cost air quality monitoring tools: from research to practice (a workshop summary). Sensors 17(11):2478

Cohen AJ, Brauer M, Burnett R, Anderson HR, Frostad J, Estep K, Balakrishnan K, Brunekreef B, Dandona L, Dandona R, Feigin V, Freedman G, Hubbell B, Jobling A, Kan H, Knibbs L, Liu Y, Martin R, Morawska L, Pope CA, Shin H, Straif K, Shaddick G, Thomas M, van Dingenen R, van Donkelaar A, Vos T, Murray CJL, Forouzanfar MH (2017) Estimates and 25-year trends of the global burden of disease attributable to ambient air pollution: an analysis of data from the global burden of diseases study 2015. Lancet 389:1907–1918

CPCB (2003) Guidelines for ambient air quality monitoring; series: NAAQMS/ ... /2003-04. Central Pollution Control Board. https://tinyurl.com/y8r54a3z. Accessed 12 Nov 2017

CPCB (2011) Guidelines for the measurement of ambient air pollutants volume-II. Central Pollution Control Board. https://tinyurl.com/ycjs4h8j. Accessed 12 Nov 2017

CPCB (2014) National Air Quality Index. Control of urban pollution series CUPS 82/2014–15. https://tinyurl.com/y78slqnq. Accessed 24 Jan 2018

Dey S, Di Girolamo L (2010) A climatology of aerosol optical and microphysical properties over the Indian subcontinent from nine years (2000–2008) of Multiangle Imaging SpectroRadiometer (MISR) data. J Geophys Res 115:D15204

Dey S, Di Girolamo L, van Donkelaar A, Tripathi SN, Gupta T, Mohan M (2012) Variability of outdoor fine particulate (PM2.5) concentration in the Indian subcontinent: a remote sensing approach. Remote Sens Environ 127:153–161

Dockery DW, Pope CA, Xu X, Spengler JD, Ware JH, Fay ME, Ferris BG, Speizer FE (1993) An association between air pollution and mortality in six U.S. cities. N Engl J Med 329:1753–1759

Dominici F, Peng RD, Bell ML, Pham L, McDermott A, Zeger SL, Samet JM (2006) Fine particulate air pollution and hospital admission for cardiovascular and respiratory diseases. JAMA 295:1127–1134

Doraiswamy P, Jayanty RKM, Rao ST, Mohan M, Dey S, Ganguly D et al. (2017) Combating air pollution in North India - the path forward. Environmental Manager (EM) April 2017. http://pubs.awma.org/flip/EM-Apr-2017/doraiswamy.pdf. Accessed 20 Jan 2018

Duncan BN, Prados AI, Lamsal LN, Liu Y, Streets DG, Gupta P, Hilsenrath E, Kahn RA, Nielsen JE, Beyersdorf AJ, Burton SP, Fiore AM, Fishman J, Henze DK, Hostetler CA, Krotkov NA, Lee P, Lin M, Pawson S, Pfister G, Pickering KE, Pierce RB, Yoshida Y, Ziemba LD (2014) Satellite data of atmospheric pollution for U.S. air quality applications: examples of applications, summary of data end-user resources, answers to FAQs, and common mistakes to avoid. Atmos Environ 94:647–662

Gargava P, Rajagopalan V (2015) Source apportionment studies in six Indian cities: drawing broad inferences for urban PM10 reductions. Air Qual Atmos Health (5):471–481

Gautam R, Hsu NC, Kafatos M, Tsay S (2007) Influences of winter haze on fog/low cloud over the Indo-Gangetic Plains. J Geophys Res Atmos 112

Gordon T, Balakrishnan K, Dey S, Rajagopalan S, Thornburg J, Thurston G, Agrawal A, Collman G, Guleria R, Limaye S, Salvi S, Kilaru V, Nadadur S (2018) Air pollution health research priorities for India: perspectives of the Indo-U.S. Communities of Researchers. Environ Int 119:100–108

Greenstone M, Nilekani J, Pande R, Ryan N, Sudarshan A, Sugathan A (2015) Lower pollution, longer lives: Life expectancy gains if India reduced particulate matter pollution. Econ Polit Wkly L 40–46

Gurjar BR, Ravindra K, Nagpure AS (2016) Air pollution trends over Indian megacities and their local-to-global implications. Atmos Environ 142:475–495

Guttikunda SK, Goel R (2013) Health impacts of particulate pollution in a megacity—Delhi, India. Environ Dev 6:8–20

Guttikunda SK, Gurjar BR (2012) Role of meteorology in seasonality of air pollution in megacity Delhi, India. Environ Monit Assess 184:3199–3211

Guttikunda SK, Goel R, Pant P (2014) Nature of air pollution, emission sources, and management in the Indian cities. Atmos Environ 95:501–510

HEI (2011) Public Health and Air Pollution in Asia (PAPA): coordinated studies of short-term exposure to air pollution and daily mortality in two Indian cities. Research Report Number 157. https://www.healtheffects.org/system/files/India-157-IR.pdf Accessed 23 Nov 2017

Hu Y, Yao L, Cheng Z, Wang Y (2017) Long-term atmospheric visibility trends in megacities of China, India and the United States. Environ Res 159:466–473

IIM (2010) Evaluation of Central Pollution Control Board (CPCB). IIM Lucknow. http://cpcbnicin/cpcbold/IIMLkopdf. Accessed 15 Nov 2017

Kandlikar M (2007) Air pollution at a hotspot location in Delhi: detecting trends, seasonal cycles and oscillations. Atmos Environ 41:5934–5947

Karagulian F, Belis CA, Dora CFC, Prüss-Ustün AM, Bonjour S, Adair-Rohani H, Amann M (2015) Contributions to cities' ambient particulate matter (PM): a systematic review of local source contributions at global level. Atmos Environ 120:475–483

Kothai P, Saradhi IV, Pandit GG, Markwitz A, Puranik VD (2011) Chemical characterization and source identification of particulate matter at an urban site of Navi Mumbai, India. Aerosol Air Qual Res 11:560–569

Levinson A (2012) Valuing public goods using happiness data: the case of air quality. J Public Econ 96:869–880

Lewis A, Edwards P (2016) Validate personal air-pollution sensors. Nature 535:29–31

Maji S, Ahmed S, Siddiqui WA, Ghosh S (2017) Short term effects of criteria air pollutants on daily mortality in Delhi, India. Atmos Environ 150:210–219

Mittal L, Fuller G (2017) London Air Quality Network, Summary Report 2016, King's College London. https://www.londonair.org.uk/london/reports/2016_LAQN_Summary_Report.pdf. Accessed 12 Jan 2018

Nagpure AS, Gurjar BR, Kumar V, Kumar P (2016) Estimation of exhaust and non-exhaust gaseous, particulate matter and air toxics emissions from on-road vehicles in Delhi. Atmos Environ 127:118–124

Nair VS, Moorthy KK, Alappattu DP, Kunhikrishnan PK, George S, Nair PR, Babu SS, Abish B, Satheesh SK, Tripathi SN, Niranjan K, Madhavan BL, Srikant V, Dutt CBS, Badarinath KVS, Reddy RR (2007) Wintertime aerosol characteristics over the Indo-Gangetic Plain (IGP): impacts of local boundary layer processes and long-range transport. J Geophys Res Atmos 112

Ostro BD, Hurley S, Lipsett MJ (1999) Air pollution and daily mortality in the Coachella Valley, California: a study of PM10 dominated by coarse particles. Environ Res 81(3):231–238

Pande P, Dey S, Chowdhury S, Choudhary P, Ghosh S, Srivastava P, Sengupta B (2018) Seasonal transition in PM10 exposure and associated all-cause mortality risks in India. Environ Sci Technol 52(15):8756–8763

Pandey A, Sadavarte P, Rao AB, Venkataraman C (2014) Trends in multi-pollutant emissions from a technology-linked inventory for India: II. Residential, agricultural and informal industry sectors. Atmos Environ 99:341–352

Pant P, Harrison RM (2012) Critical review of receptor modelling for particulate matter: a case study of India. Atmos Environ 49:1–12

Pant P, Baker SJ, Shukla A, Maikawa C, Godri Pollitt KJ, Harrison RM (2015a) The PM10 fraction of road dust in the UK and India: characterization, source profiles and oxidative potential. Sci Total Environ 530–531:445–452

Pant P, Shukla A, Kohl SD, Chow JC, Watson JG, Harrison RM (2015b) Characterization of ambient PM2.5 at a pollution hotspot in New Delhi, India and inference of sources. Atmos Environ 109:178–189

Pant P, Guttikunda SK, Peltier RE (2016) Exposure to particulate matter in India: a synthesis of findings and future directions. Environ Res 147:480–496

Pope CA, Dockery DW (2006) Health effects of fine particulate air pollution: lines that connect. J Air Waste Manage Assoc 56:709–742

Rai AC, Kumar P, Pilla F, Skouloudis AN, Di Sabatino S, Ratti C, Yasar A, Rickerby D (2017) End-user perspective of low-cost sensors for outdoor air pollution monitoring. Sci Total Environ 607–608:691–705

Ram K, Singh S, Sarin MM, Srivastava AK, Tripathi SN (2016) Variability in aerosol optical properties over an urban site, Kanpur, in the Indo-Gangetic Plain: a case study of haze and dust events. Atmos Res 174:52–61

Ramanathan V, Carmichael G (2008) Global and regional climate changes due to black carbon. Nat Geosci 1:221–227

Sadavarte P, Venkataraman C (2014) Trends in multi-pollutant emissions from a technology-linked inventory for India: I. industry and transport sectors. Atmos Environ 99:353–364

Saikawa E, Trail M, Zhong M, Wu Q, Young CL, Janssens-Maenhout G, Klimont Z, Wagner F, Kurokawa J, Nagpure AS, Gurjar BR (2017) Uncertainties in emissions estimates of greenhouse gases and air pollutants in India and their impacts on regional air quality. Environ Res Lett 12:065002

Shah ASV, Langrish JP, Nair H, McAllister DA, Hunter AL, Donaldson K, Newby DE, Mills NL (2013) Global association of air pollution and heart failure: a systematic review and meta-analysis. Lancet 382:1039–1048

Sharma M, Dikshit O (2016) Comprehensive Study on Air Pollution and Green House Gases (GHGs) in Delhi. http://delhi.gov.in/DoIT/Environment/PDFs/Final_Report.pdf. Accessed 12 Dec 2017

Shi Y, Matsunaga T, Yamaguchi Y, Li Z, Gu X, Chen X (2018) Long-term trends and spatial patterns of satellite-retrieved PM2.5 concentrations in South and Southeast Asia from 1999 to 2014. Sci Total Environ 615:177–186

Singh A, Bloss WJ, Pope FD (2017) 60 years of UK visibility measurements: impact of meteorology and atmospheric pollutants on visibility. Atmos Chem Phys 17:2085–2101

Skamarock WC, Klemp JB, Dudhia J, Gill DO, Barker DM, Wang W, Powers JG (2008) A Description of the Advanced Research WRF Version 3. NCAR Tech. Note NCAR/TN-475+STR

Snyder EG, Watkins TH, Solomon PA, Thoma ED, Williams RW, Hagler GSW, Shelow D, Hindin DA, Kilaru VJ, Preuss PW (2013) The changing paradigm of air pollution monitoring. Environ Sci Technol 47:11369–11377

Stieb DM, Chen L, Eshoul M, Judek S (2012) Ambient air pollution, birth weight and preterm birth: a systematic review and meta-analysis. Environ Res 117:100–111

Thurston GD, Burnett RT, Turner MC, Shi Y, Krewski D, Lall R, Ito K, Jerrett M, Gapstur SM, Diver WR, Pope IC (2016) Ischemic heart disease mortality and long-term exposure to source-related components of U.S. fine particle air pollution. Environ Health Perspect 124:785–794

Tiwari G (2002) Urban transport priorities: meeting the challenge of socio-economic diversity in cities, a case study of Delhi, India. Cities 19:95–103

Tiwari S, Hopke PK, Pipal AS, Srivastava AK, Bisht DS, Tiwari S, Singh AK, Soni VK, Attri SK (2015) Intra-urban variability of particulate matter (PM2.5 and PM10) and its relationship with optical properties of aerosols over Delhi, India. Atmos Res 166:223–232

Tonne C, Salmon M, Sanchez M, Sreekanth V, Bhogadi S, Sambandam S, Balakrishnan K, Kinra S, Marshall JD (2017) Integrated assessment of exposure to PM2.5 in South India and its relation with cardiovascular risk: design of the CHAI observational cohort study. Int J Hyg Environ Health 220:1081–1088

van Donkelaar A, Martin RV, Brauer M, Kahn R, Levy R, Verduzco C, Villeneuve PJ (2010) Global estimates of ambient fine particulate matter concentrations from satellite-based aerosol optical depth: development and application. Environ Health Perspect 118:847–855

van Donkelaar A, Martin RV, Brauer M, Boys BL (2015) Use of satellite observations for long-term exposure assessment of global concentrations of fine particulate matter. Environ Health Perspect 123:135–143

Venkataraman C, Brauer M, Tibrewal K, Sadavarte P, Ma Q, Cohen A, Chaliyakunnel S, Frostad J, Klimont Z, Martin RV, Millet DB, Phillip S, Walker K, Wang S (2018) Source influence on emission pathways and ambient PM2.5 pollution over India (2015–2050). Atmos Chem Phys 18:8017–8039

Wiedinmyer C, Yokelson RJ, Gullett BK (2014) Global emissions of trace gases, particulate matter, and hazardous air pollutants from open burning of domestic waste. Environ Sci Technol 48:9523–9530

Winijkul E, Yan F, Lu Z, Streets DG, Bond TC, Zhao Y (2015) Size-resolved global emission inventory of primary particulate matter from energy-related combustion sources. Atmos Environ 107:137–147

Yang X, Jiang L, Zhao W, Xiong Q, Zhao W, Yan X (2018) Comparison of ground-based PM2.5 and PM10 concentrations in China, India, and the US. Int J Environ Res Public Health 15:1382

Zhang X, Zhang X, Chen X (2017) Happiness in the air: how does a dirty sky affect mental health and subjective well-being? J Environ Econ Manag 85:81–94
Funding
This work was financially supported by NSF SRN# 1444745 & NSF PIRE Grant #1243535. Cesunica E. Ivey at UC-Riverside and James Hite at Georgia Tech assisted with data oversight. PM10 dataset used in this analysis is available via e-mail (pallavipnt@gmail.com).
Ethics declarations
Conflicts of interest
Dr. Sarath Guttikunda is one of the founders of Urban Emissions, organization releasing air quality forecasts for Indian districts on an open-access platform.
Electronic supplementary material
About this article
Cite this article
Pant, P., Lal, R.M., Guttikunda, S.K. et al. Monitoring particulate matter in India: recent trends and future outlook. Air Qual Atmos Health 12, 45–58 (2019). https://doi.org/10.1007/s11869-018-0629-6
Received:

Accepted:

Published:

Issue Date:
Keywords
India

Air quality monitoring

Air pollution policy

WHO Air Quality Guidelines

PM10
PM2.5