Abstract
In-vehicle pollution exposure has been linked to adverse health. We conducted a quasi-controlled panel study, the second Atlanta Commuters Exposures (ACE-2) study, to measure in-vehicle environmental exposures and corresponding changes in acute pulmonary and inflammatory response. ACE-2 was a randomized, crossover study of 60 adults (ages18–39 years) with or without asthma. Each participant conducted a scripted highway commute and either a surface street commute or a clinic exposure scenario, all followed by the same post-exposure health measurements. Exposures were conducted between 7 am–9 am. A range of mainly particulate matter measurements were sampled in-vehicle or indoors. Mixed effect models were used to examine time trends in health endpoints and associations between endpoints and pollutants. Participants were exposed to marginally higher pollutant concentrations during highway compared to surface street commutes. Cu was the only pollutant we measured that was significantly associated with increased eNO, lung function decrement, and increased levels of several cytokines. High-sensitivity C-reactive protein (hs-CRP) levels, soluble intracellular adhesive molecule-1 (sICAM-1) levels, and soluble vascular adhesion molecule-1 (sVCAM-1) levels immediately following exposure were positively associated with elemental carbon, organic carbon, and copper. Forced vital capacity (FVC) decreased relative to pre-commute levels at four repeated measurement time points following highway exposure scenarios (range,− 1.9 to − 2.2%, p < 0.05). Similarly, decrements in forced expiratory volume in 1 s (FEV1) were more pronounced following highway commutes than clinic sessions (− 2 vs. + 1.7%, p = 0.04). We observed transient increases in systemic inflammatory and acute respiratory response following on-road commutes, associated with several primary traffic pollutants, which we believe maybe indicative of exposures to a source or traffic pollutant mixture, namely road dust or brake wear.
This is a preview of subscription content, log in to check access.
Access options
Buy single article
Instant access to the full article PDF.
US$ 39.95
Price includes VAT for USA
Subscribe to journal
Immediate online access to all issues from 2019. Subscription will auto renew annually.
US$ 99
This is the net price. Taxes to be calculated in checkout.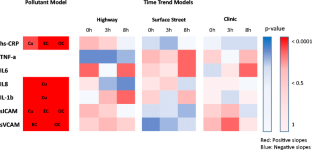 References
Adams HS, Nieuwenhuijsen MJ, Colvile RN, McMullen MAS, Khandelwal P (2001) Fine particle (PM2.5) personal exposure levels in transport microenvironments. Sci Total Environ 279(1–3):29–44

Alving K, Malinovschi A (2010) Basic aspects of exhaled nitric oxide. Eur Respir Monogr 49:1–31

Babisch W (2005) Noise and health. Environ Health Perspect 113(1):A14–A15

Barros R, Moreira A, Fonseca J, Delgado L, Graça Castel-Branco M, Haahtela T et al (2011) Dietary intake of α-linolenic acid and low ratio of n-6:n-3 PUFA are associated with decreased exhaled NO and improved asthma control. Br J Nutr 106(3):441–450. https://doi.org/10.1017/S0007114511000328

Boogaard H, Borgman F, Kamminga J, Hoek G (2009) Exposure to ultrafine and fine particles and noise during cycling and driving in 11 Dutch cities. Atmos Environ 43(27):4234–4242

Brook D, Rajagopalan S, Pope CA, Brook JR, Bhatnagar A, Diez-Roux AV et al (2010) Particulate matter air pollution and cardiovascular disease: an update to the scientific statement from the American Heart Association. Circulation 121(21):2331–2378

Brucker N, Moro AM, Charão MF, Durgante J, Freitas F, Baierle M et al (2013) Biomarkers of occupational exposure to air pollution, inflammation and oxidative damage in taxi drivers. Sci Total Environ 463–464:884–893. https://doi.org/10.1016/j.scitotenv.2013.06.098

Chen E, Schreier HMC, Strunk R, Brauer M (2008) Chronic traffic-related air pollution and stress interact to predict biologic and clinical outcomes in asthma. Environ Health Perspect 116:970–975

Chiu YH, Garshick E, Hart JE, Spiegelman D, Dockery DW, Smith TJ, Laden F (2016) Occupational vehicle-related particulate exposure and inflammatory markers in trucking industry workers. Environ Res 148:310–317. https://doi.org/10.1016/j.envres.2016.04.008.

Delfino RJ, Staimer N, Gille D, Tjoa T, Sioutas C, Fung K et al (2006) Personal and ambient air pollution is associated with increased exhaled nitric oxide in children with asthma. Environ Health Perspect 114(11):1736

Delfino RJ, Staimer N, Tjoa T, Polidori A, Arhami M, Gillen DL et al (2008) Circulating biomarkers of inflammation, antioxidant activity, and platelet activation are associated with primary combustion aerosols in subjects with coronary artery disease. Environ Health Perspect 116(7):898

Delfino RJ, Staimer N, Tjoa T, Gillen DL, Polidori A, Arhami M, Kleinman MT et al (2009) Air pollution exposures and circulating biomarkers of effect in a susceptible population: clues to potential causal component mixtures and mechanisms. Environ Health Perspect 117(8):1232–1238. https://doi.org/10.1289/ehp.0800194

Delfino RJ, Staimer N, Tjoa T, Arhami M, Polidori A, Gillen DL et al (2010) Association of biomarkers of systemic inflammation with organic components and source tracers in quasi-ultrafine particles. Environ Health Perspect 118(6):756

Dubowsky SD, Suh H, Schwartz J, Coull BA, Gold DR (2006) Diabetes, obesity, and hypertension may enhance associations between air pollution and markers of systemic inflammation. Environ Health Perspect 114:992–998

Ekpenyong CE, Ettebong EO, Akpan EE, Samson TK, Daniel NE (2012) Urban city transportation mode and respiratory health effect of air pollution: a cross-sectional study among transit and non-transit workers in Nigeria. BMJ Open 2(5):e001253

Furuyama A, Kanno S, Kobayashi T, Hirano S (2009) Extrapulmonary translocation of intratracheally instilled fine and ultrafine particles via direct and alveolar macrophage-associated routes. Arch Toxicol 83(5):429–437. https://doi.org/10.1007/s00204-008-0371

Geiss O, Barrero-Moreno J, Tirendi S, Kotzias D (2010) Exposure to particulate matter in vehicle cabins of private cars. Aerosol Air Qual Res 10(6):581–588

Ghio AJ, Hall A, Bassett MA, Cascio WE, Devlin RB (2003) Exposure to concentrated ambient air particles alters hematologic indices in humans. Inhal Toxicol 15(14):1465–1478

Greenwald R, Bergin MH, Yip F, Boehmer T, Kewada P, Shafer MM et al (2014) On-road way in-cabin exposure to particulate matter: measurement results using both continuous and time-integrated sampling approaches. Aerosol Sci Technol 48(6):664–675

Hankinson JL, Odencrantz JR, Fedan KB (1999) Spirometric reference values from a sample of the general US population. Am J Respir Crit Care Med 159(1):179–187

Happo MS, Salonen RO, Hälinen AI, Jalava PI, Pennanen AS, Dormans JA et al (2010) Inflammation and tissue damage in mouse lung by single and repeated dosing of urban air coarse and fine particles collected from six European cities. Inhal Toxicol 22(5):402–416. https://doi.org/10.3109/08958370903527908

HEI (2010) Traffic-related air pollution: a critical review of the literature on emissions, exposure, and health effects. (HEI Panel on the Health Effects of Traffic-Related Air Pollution). Health Effect Institute, Boston

Kennedy T, Ghio AJ, Reed W, Samet J, Zagorski J, Quay J et al (1998) Copper-dependent inflammation and nuclear factor-kappaB activation by particulate air pollution. Am J Respir Cell Mol Biol 19(3):366–378

Kharitonov SA, Gonio F, Kelly C, Meah S, Barnes PJ (2003) Reproducibility of exhaled nitric oxide measurements in healthy and asthmatic adults and children. Eur Respir J 21(3):433–438

Knaapen AM, Schins RPF, Steinfartz Y, Hohr D, Dunemann L, Borm PJA (2000) Ambient particulate matter induces oxidative DNA damage in lung epithelial cells. Inhal Toxicol 12(S3):125

Lanki T, Hampel R, Tiittanen P, Andrich S, Beelen R, Brunekreef B et al (2015) Air pollution from road traffic and systemic inflammation in adults: a cross-sectional analysis in the European ESCAPE project. Environ Health Perspect 123(8):785–791. https://doi.org/10.1289/ehp.1408224

Laumbach RJ, Kipen HM, Ko S, Kelly-McNeil K, Cepeda C, Pettit A, Ohman-Strickland P, Zhang L, Zhang J, Gong J, Veleeparambil M (2014) A controlled trial of acute effects of human exposure to traffic particles on pulmonary oxidative stress and heart rate variability. Part Fibre Toxicol 11(1):45

Lawin H, Agodokpessi G, Ayelo P, Kagima J, Sonoukon R, Mbatchou et al (2016) A cross-sectional study with an improved methodology to assess occupational air pollution exposure and respiratory health in motorcycle taxi driving. Sci Total Environ 550:1–5. https://doi.org/10.1016/j.scitotenv.2016.01.068

Lee K, Sohn H, Putti K (2010) In-vehicle exposures to particulate matter and black carbon. J Air Waste Manage Assoc 60(2):130–136

Mattes J, van's Storm Gravesande K, Moeller C, Moseler M, Brandis M, Kuehr J (2002) Circadian variation of exhaled nitric oxide and urinary eosinophil protein X in asthmatic and healthy children. Pediatr Res 51(2):190–194

McCreanor J, Cullinan P, Nieuwenhuijsen MJ, Stewart-Evans J, Malliarou E, Jarup L et al (2007) Respiratory effects of exposure to diesel traffic in persons with asthma. N Engl J Med 6;357(23):2348–2358.

Mirabelli MC, Golan R, Greenwald R, Raysoni AU, Holguin F, Kewada P et al (2015) Modification of traffic-related respiratory response by asthma control in a population of car commuters. Epidemiology 26(4):546–555

MSD. (2014). 'Proinflammatory Panel 1 (human) Kits'. https://www.mesoscale.com/%7E/media/files/product%20inserts/proinflammatory%20panel%201%20human%20insert.pdf. Accessed 11-25-17

Münzel T, Gori T, Babisch W, Basner M (2014) Cardiovascular effects of environmental noise exposure. Eur Heart J 35(13):829–836. https://doi.org/10.1093/eurheartj/ehu030

Ostro B, Feng WY, Broadwin R, Green S, Lipsett M (2007) The effects of components of fine particulate air pollution on mortality in California: results from CALFINE. Environ Health Perspect 115:13–19

Øvrevik J, Refsnes M, Låg M, Holme JA, Schwarze PE (2015) Activation of proinflammatory responses in cells of the airway mucosa by particulate matter: oxidant- and non-oxidant-mediated triggering mechanisms. Biomol Ther 5:1399–1440

Pardo M, Porat Z, Rudich A, Schauer JJ, Rudich Y (2015a) Repeated exposures to roadside particulate matter extracts suppresses pulmonary defense mechanisms, resulting in lipid and protein oxidative damage. Environ Pollut 210:227–237

Pardo M, Shafer MM, Rudich A, Schauer JJ, Rudich Y (2015b) Single exposure to near roadway particulate matter leads to confined inflammatory and defense responses: possible role of metals. Environ Sci Technol 49(14):8777–8785

Patton AP, Laumbach R, Ohman-Strickland P, Black K, Alimokhtari S, Lioy PJ, Kipen HM (2016) Scripted drives: a robust protocol for generating exposures to traffic-related air pollution. Atmos Environ 143:290–299

Peters A, vonKlot S, Heier M, Trentinaglia I, Hormann A, Wichmann HE et al (2004) Exposure to traffic and the onset of myocardial infarction. N Engl J Med 351(17):1721–1730

Pijnenburg MW, Floor SE, Hop WC, De Jongste JC (2006) Daily ambulatory exhaled nitric oxide measurements in asthma. Pediatr Allergy Immunol 17(3):189–193

Rahman I, Adcock IM (2006) Oxidative stress and redox regulation of lung inflammation in COPD. Eur Respir J 28(1):219–242

Riediker M, Cascio WE, Griggs TR, Herbst MC, Bromberg PA, Neas L et al (2004) Particulate matter exposure in cars is associated with cardiovascular effects in healthy young men. Am J Respir Crit Care Med 169(8):934–940

Sarnat JA, Marmur A, Klein M, Kim E, Russell AG, Sarnat SE et al (2008) Fine particle sources and cardiorespiratory morbidity: an application of chemical mass balance and factor analytical source-apportionment methods. Environ Health Perspect 116(4):459–466. https://doi.org/10.1289/ehp.10873

Sarnat JA, Golan R, Greenwald R, Raysoni AU, Kewada P, Winquist A et al (2014) Exposure to traffic pollution, acute inflammation and autonomic response in a panel of car commuters. Environ Res 133:66–76

Sauvain JJ, Rossi MJ (2016) Quantitative aspects of the interfacial catalytic oxidation of dithiothreitol by dissolved oxygen in the presence of carbon nanoparticles. Environ Sci Technol 50(2):996–1004

Sioutas C, Delfino RJ, Singh M (2005) 2005. Exposure assessment for atmospheric ultrafine particles (UFPs) and implications in epidemiologic research. Environ Health Perspect 113(8):947–955

Sørensen M, Schins RPF, Hertel O, Loft S (2005) Transition metals in personal samples of PM2.5 and oxidative stress in human volunteers. Cancer Epidemiol Biomarkers Prev 14(5):1340–1343

Stark H, Purokivi M, Kiviranta J, Randell J, Tukiainen H (2007) Short-term and seasonal variations of exhaled and nasal NO in healthy subjects. Respir Med 101(2):265–271

Sternbeck J, Sjödin Å, Andréasson K (2002) Metal emissions from road traffic and the influence of resuspension—results from two tunnel studies. Atmos Environ 36(30):4735–4744

Teichert T, Vossoughi M, Vierkötter A, Sugiri D, Schikowski T, Schulte T, Roden M, Luckhaus C, Herder C, Krämer U (2013) Association between traffic-related air pollution, subclinical inflammation and impaired glucose metabolism: results from the SALIA study. PLoS One 8(12):e83042

Tétreault LF, Perron S, Smargiassi A (2013) Cardiovascular health, traffic-related air pollution and noise: are associations mutually confounded? A systematic review. Int J Public Health 58(5):649s–6466

Thorpe A, Harrison RM (2008) Sources and properties of non-exhaust particulate matter from road traffic: a review. Sci Total Environ 400(1–3):270–282. https://doi.org/10.1016/j.scitotenv.2008.06.007

Wu W, Muller R, Berhane K, Fruin S, Liu F, Jaspers I et al (2014) Inflammatory response of monocytes to ambient particles varies by highway proximity. Am J Respir Cell Mol Biol 51(6):802–809

Zhao J, Gao Z, Tian Z, Xie Y, Xin F, Jiang R et al (2013) The biological effects of individual-level PM(2.5) exposure on systemic immunity and inflammatory response in traffic policemen. Occup Environ Med 70(6):426–431. https://doi.org/10.1136/oemed-2012-100864

Zhu Y, Fung DC, Kennedy N, Hinds WC, Eiguren-Fernandez A (2008) Measurements of ultrafine particles and other vehicular pollutants inside a mobile exposure system on Los Angeles freeways. J Air Waste Manage Assoc 58(3):424–434

Zuurbier M, Hoek G, Oldenwening M, Lenters V, Meliefste K, vanden Haze P et al (2010) Commuters' exposure to particulate matter air pollution is affected by mode of transport, fuel type, and route. Environ Health Perspect 118(6):783–789

Zuurbier M, Hoek G, Oldenwening M, Meliefste K, vandenHazel P, Brunekreef B (2011) Respiratory effects of commuters' exposure to air pollution in traffic. Epidemiology 22(2):219–227
Acknowledgements
The authors thank the ACE-2 participants for their collaboration. This work was supported by a Clean Air Environmental Protection Agency (US EPA, RD834799). R Golan acknowledges the support from the Environment and Health Fund, Jerusalem, Israel. The content of this publication is solely the responsibility of the authors and does not necessarily represent the official views of the National Institutes of Health or the US EPA. Further, US EPA does not endorse the purchase of any commercial products or services mentioned in the publication.
Ethics declarations
All participants in the study described in the manuscript completed and returned informed consent forms prior to their participation in the study. The study protocol and all aspects of human subjects' participation were approved and supervised by the Emory University Institutional Review Board.
Competing interests
The authors declare that they have no competing interests.
About this article
Cite this article
Golan, R., Ladva, C., Greenwald, R. et al. Acute pulmonary and inflammatory response in young adults following a scripted car commute. Air Qual Atmos Health 11, 123–136 (2018). https://doi.org/10.1007/s11869-017-0530-8
Received:

Accepted:

Published:

Issue Date:
Keywords
Car commuters

In-vehicle air pollution

Lung function

Inflammation