Abstract
The aim of this study is to determine exposure levels as well as compliance status on respirable dust and respirable crystalline silica (RCS)-quartz exposure among crusher operators at Malaysian quarries. The exposure level at each crushing process was compared. Monitoring was performed among 70 crusher operators at nine quarries. Eight hours long-term personal samples were collected according to the National Institute of Occupational Safety and Health (NIOSH) Manual Analytical Method (NMAM) 0600 for respirable dust and NMAM 7500 for respirable crystalline silica (RCS-quartz). A questionnaire on silica dust monitoring and control was also sent to all granite quarries in Malaysia. The results indicated that the mean percentage of RCS-quartz in silica dust was 23.7 %. The mean value for crusher operators' exposure was 0.426 mg m−3 for respirable dust and 0.091 mg m−3 for RCS-quartz. Around 30.5 % of crusher operators were exposed to RCS-quartz levels above the permissible exposure limit (PEL) based on Malaysian's Occupational Safety and Health Regulations 2000. Operators in charge of combined secondary and tertiary crusher plants were exposed to 0.116 mg m−3 of RCS-quartz, which was higher compared to those operating individual plants. Results on posted questionnaire indicate that Malaysian quarries are more preferred to perform respirable dust monitoring (37 %) instead of specific RCS-quartz monitoring (22.6 %). Low exposure to respirable dust may conceal the need to justify comprehensive crystalline silica dust monitoring and lead to underestimation of RCS-quartz exposure. A high percentage of non-compliance exposure on personal RCS-quartz exposure should establish the need for quarry management to focus on better implementation of dust control systems.
We're sorry, something doesn't seem to be working properly.
Please try refreshing the page. If that doesn't work, please contact support so we can address the problem.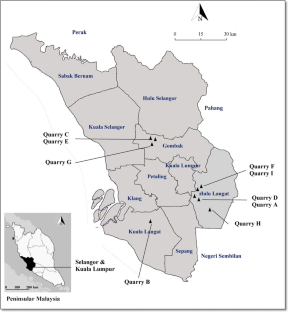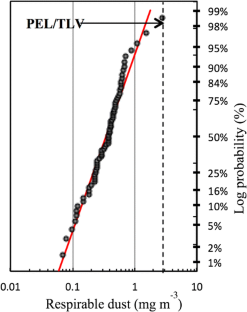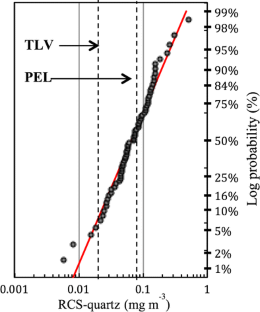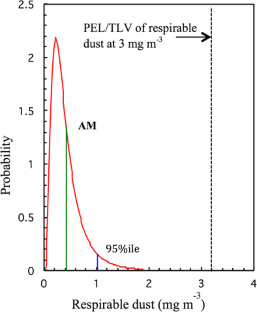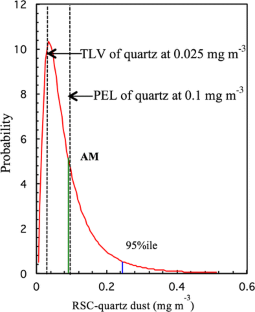 References
Abdul-Wahab SA, Fgaier H, Elkamel A, Chan K (2014) Air quality assessment for the proposed Miller Braeside quarry expansion in Canada: TSP. Air Qual Atmos Health 8:573–589

ACGIH (2015) TLVs and BEI. Threshold limit value for chemical substances and Physical Agent & Biological Exposure Indices. American Conference of Governmental Industrial Hygiene (ACGIH), Cincinnati

ALS, 2016. American Lung Association. Learn About Silicosis. Link: http://www.lung.org/lung-health-and-diseases/lung-disease-lookup/silicosis

Bahrami AR, Golbabai F, Mahjub H, Qorbani F, Aliabadi M, Barqi M (2008) Determination of exposure to respirable quartz in the stone crushing units at Azendarian-West of Iran. Ind Health 46:404–408

Bratviet M, Moen BE, Mashalla YJS, Maalim H (2003) Dust exposure during small-scale mining in Tanzania: a pilot study. Ann Occup Hyg 47:235–240

Brown TP, Rushton LAP (2005) Mortality in the UK industrial silica sand industry: 1. Assessment of exposure to respirable crystalline silica. J Occup Environ Med 62:442–445. doi:10.1136/oem.2004.017715

DOSH (2000) Occupational safety and health (Use and standard of exposure chemical hazardous to health) regulations 20000. Department of Occupational Safety and Health, Kuala Lumpur

DOSM (2011) Economic census 2011 mining and quarrying. Stone quarrying sub sector. Department of Statistics, Kuala Lumpur

Gautam S, Kumar P, Patra AK (2016) Occupational exposure to particulate matter in three Indian opencast mines. Air Qual Atmos Health 9:143–158

Gholami A, Fani MJ, Sadeghi N (2012) Occupational exposure determination to silica dust in an iron-stone ore and comparison with standard. Int J Collab Res Intern Med 4:1141–1149

Goh E, Lazim AT (2010) Advance in industrial dust control management. In: Goh E, Lazim AT, Lin CN, Lip MM, Fat LK, Devi N (eds) Quarries and Quarrying: Sustainable Developement, Green Technology and Best Practice Institute of Quarrying Malaysia, Selangor, pp 243–262

Green DA, McAlpine G, Semple S, Cowie H, Seaton A (2008) Mineral dust exposure in young Indian adults: an effect on lung growth? Occup Environ Med 65:306–310. doi:10.1136/oem.2007.032797

Hayumbu P, Robins TG, Key-Schwartz R (2008) Cross-sectional silica exposure measurements at two Zambian copper mines of Nkana and Mufulira. Int J Environ Res Public Health 5:86–90

IARC (1997) Silica, some silicates, coal dust and para-aramid fibrils: IARC monographs on the evaluation of carcinogenic risks to humans vol 68. International Agency for Research Cancer (IARC), World Health Organization(WHO), Lyon

IARC (2012) International Agency for Research on Cancer. Silica dust, crystalline, in the form of quartz or cristobalite in silica, some silicate, coal dust and para-aramid fibril, IARC Monographs Evaluation Carcinogen Risk to Human. Link: http://monographs.iarc.fr/ENG/Monographs/vol100C/mono100C.pdf

Kane F (1997) The campaign to end silicosis. Job Safety Health. Link: http:/www.osha.gov

Kumar CHK, Reddy MN, Singh MSB, Krishna B, Sasikala P, ShravyaKeerthi G, Kumar SAV, Kareem S (2014) Deterioration of pulmonary function in stone quarry workers. Biomed Res 25:261–266

Lin CN, Goh E, Devi N (2012) Quarry directory Malaysia 2012. IQM, Puchong, Selangor

Liu Y, Steenland K, Rong Y, Hnizdo E, Huang X, Zhang H, Shi T, Sun Y, Wu T, Chen W (2013) Exposure-response analysis and risk assessment for lung cancer in relationship to silica exposure: a 44-year cohort study of 34,018 workers. Am J Epidemiol 178:1424–1433

Mohamad ET, Noor MM, Saad R (2010) Potential effects of quarry operations on workforce safety. In: Goh E, Lazim AT, Lin CN, Lip MM, Fat LK, Devi N (eds) Quarries and quarrying: sustainable development, green technology and best practices. Institute of Quarrying Malaysia, Selangor

Mulhausen JR (2013) Multilingual IHSTAT+ v. 235. American Industrial Hygiene Association (AIHA), link: www.aiha.org

Musa R, Naing L, Ahmad Z, Nordin R (2002) Respiratory symptom and pulmonary function among male quarry workers in Kelantan. Malays J Public Health Med 2(1):54–57

NIOSH, 1998. Particulate not otherwise regulated, respirable. Method 0600, National Institute on Occupational Safety and Health. Manual of analytical method (NMAM). link: http://www.cdc.gov/niosh/docs/2003-154/pdfs/0600.pdf

NIOSH, 2003. National Institute on Occupational Safety and Health. Manual Analytical Method No 7500: Silica, Crystalline, by X-ray difractometer (XRD) via filter deposition. National Institute on Occupational Safety and Health. link: http://www.cdc.gov/niosh/docs/2003-154/pdfs/7500.pdf

Samimi B, Ziskind M, Weill H (1978) The relation of silica dust to accelerated silicosis. Ecotoxicol Environ Saf 1:429–436

Scarselli A, Corfiati M, Marzio DD, Iavicoli S (2014) Evaluation of workplace exposure to respirable crystalline silica in Italy. Int J Occup Environ Health 20:301–307

SKC (2014) GS-3 Respirable dust cyclone, listed in OSHA proposed silica rule: product catalog SKC. Inc., Dorset

Smith DK (1992) Issue and controversy: the measurement of crystalline silica. Paper presented at the International Symposium

Ugbogu OC, Ohakwe J, Foltescu V (2009) Occurrence of respiratory and skin problems among manual stone quarrying workers. Afr J Resp Med 2009:23–26

Workplace Health and Safety Quensland (2011) Silica-identifying and managing crystalline silica dust exposure. PN 10121 version 2. Department of Justice and Attorney-General, Queensland
Acknowledgment
The authors would like to thank National Institute of occupational Safety and Health (NIOSH) of Malaysia for providing research grant (06/NIOSH/03-06/NG 0018), laboratory facilities and manpower for this study. Also, thanks to Malaysian Ministry of Higher Education for Fundamental Research Grant (FRGS/1/2015/WAB03/UKM/01/1). Special thanks to Dr. Rose Norman for the assistance with the proofreading of this manuscript.
Ethics declarations
Research protocol was approved by NIOSH Malaysia ethics committee.
About this article
Cite this article
Amran, S., Latif, M.T., Khan, M.F. et al. Underestimation of respirable crystalline silica (RCS) compliance status among the granite crusher operators in Malaysian quarries. Air Qual Atmos Health 10, 371–379 (2017). https://doi.org/10.1007/s11869-016-0439-7
Received:

Accepted:

Published:

Issue Date:
Keywords
Respirable crystalline silica

Quartz

Respirable dust

Compliance

Quarries