Abstract
Each summer period, ozone concentrations surpass the legislation limits in the north of Portugal, more precisely at the Douro Norte monitoring station. To solve/mitigate this air pollution problem, and respond to the EU requirements, air quality plans were studied and designed. An air quality numerical modelling system was applied, with a source apportionment technique (to the most relevant ozone episodes) to identify the major source regions and the main activity sectors responsible for the ozone values at this site. Modelling results pointed out that the background values contribute with more than 50 % to the ozone concentration measured, followed by transport and residential sectors—the main anthropogenic activities. More regional and transboundary strategies are needed to reduce the background concentrations, besides local actions on road transport and residential combustion at urban regions (e.g., the Porto area).
Access options
Buy single article
Instant access to the full article PDF.
USD 39.95
Price excludes VAT (USA)
Tax calculation will be finalised during checkout.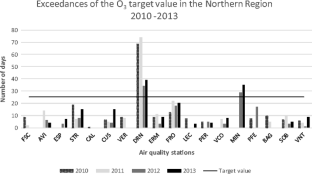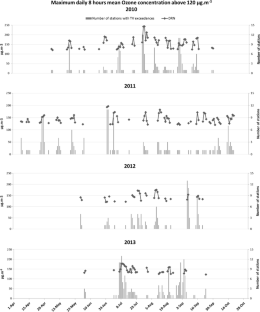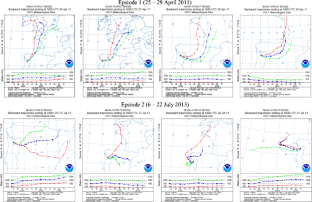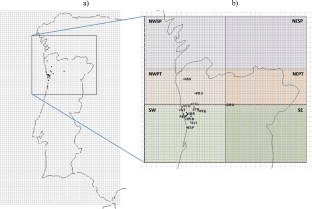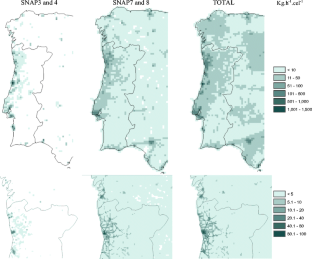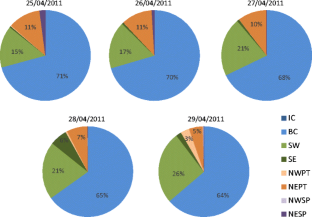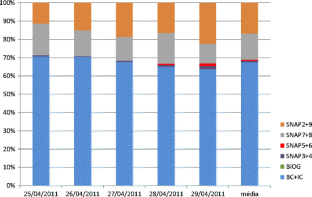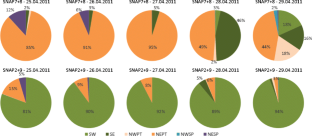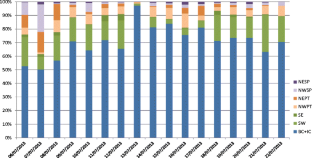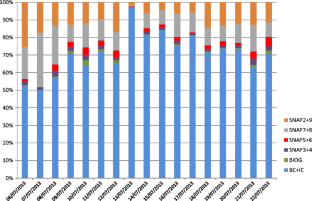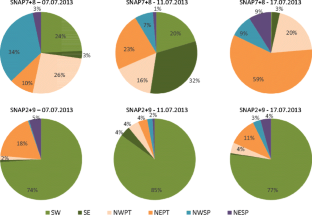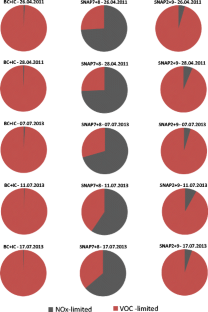 References
APA (Agência Portuguesa do Ambiente) (2011) Emissões de Poluentes Atmosféricos por Concelho 2009: gases acidificantes e eutrofizantes, precursores de ozono, partículas, metais pesados e gases com efeito de estufa. Agência Portuguesa do Ambiente (ed) Amadora, Novembro 2011

APA (Agência Portuguesa do Ambiente) (2014a) Portuguese informative inventory report 1990–2012. Submitted under the unece convention on longrange transboundary air pollution. Agência Portuguesa do Ambiente (ed), Amadora, Março 2014

APA (Portuguese Environmental Agency) (2014b) National strategy for air. ENAR 2014-2020. Synthesis Report. Available at: http://sniamb.apambiente.pt/infos/geoportaldocs/Planos/ENAR2020/ENAR_III_Projecoes.pdf. Accessed Nov 2014

Baldasano JM, Guereca LP, López E, Gassó S, Jimenez-Guerrero P (2008) Development of a high-resolution (1 km × 1 km, 1 h) emission model for Spain: the High-Elective Resolution Modelling Emission System (HERMES). Atmos Environ 42:7215–7233. doi:10.1016/j.atmosenv.2008.07.026

Borrego C, Carvalho A, Sá E, Sousa S, Coelho D, Lopes M, Monteiro A, Miranda AI (2011) Air quality plans for the northern region of Portugal: improving particulate matter and coping with legislation. In: Nejadkoorki F (ed) Advanced air pollution. InTech, Rejika

Borrego C, Monteiro A, Sá E, Carvalho A, Coelho D, Dias D, Miranda AI (2012) Reducing NO2 pollution over urban areas: air quality modelling as a fundamental management tool. Water Air Soil Pollut 223:5307–5320. doi:10.1007/s11270-012-1281-7

Borrego C, Souto JA, Monteiro A, Dios M, Rodríguez A, Ferreira J, Saavedra S, Casares JJ, Miranda AI (2013) The role of transboundary air pollution over Galicia and North Portugal area. Environ Sci Pollut Res 20:2924–2936. doi:10.1007/s11356-012-1201-9

Carvalho A, Monteiro A, Ribeiro I, Tchepel O, Miranda AI, Borrego C, Saavedra S, Souto JA, Casares JJ (2010) High ozone levels in the Northeast of Portugal: analysis and characterization. Atmos Environ 44:1020–1031. doi:10.1016/j.atmosenv.2009.12.020

Draxler RR, Hess GD (1997) Description of the HYSPLIT 4 modeling system. NOAA Technical Memorandum ERL ARL-224, 24. NOAA, Maryland

Draxler RR, Hess GD (1998) An overview of the HYSPLIT 4 modelling system for trajectories, dispersion, and deposition. Aust Meteorol Mag 47:295–308

ECORYS (2014) Services to assess the reasons for non-compliance of ozone target value set by Directive 2008/50/EC and potential for air quality improvements in relation to ozone pollution. Final report. January 2014. ECORYS, the Netherlands

Emmons LK, Walters S, Hess PG, Lamarque J-F, Pfister GG, Fillmore D, Granier C, Guenther A, Kinnison D, Laepple T, Orlando J, Tie X, Tyndall G, Wiedinmyer C, Baughcum SL, Kloster S (2010) Description and evaluation of the model for ozone and related chemical tracers, version 4 (MOZART-4). Geosci Model Dev 3:43–67. doi:10.5194/gmd-3-43-2010

EEA (European Environment Agency) (2012) Air quality in Europe – 2012 report. EEA technical report No 4/2012. Copenhagen, 102 pages. ISBN 978-92-9213-328-3. doi: 10.2800/55823. Available at: http://www.eea.europa.eu/publications/air-quality-in-europe-2012. Accessed Nov 2014

EEA (European Environment Agency) (2014a) Air pollution by ozone across Europe during summer 2013. EEA technical report No 3/2014. Copenhagen, 54 pages. ISBN 978-92-9213-422-8. doi: 10.2800/11810. Available at: http://www.eea.europa.eu/publications/air-pollution-by-ozone-across-1. Accessed Oct 2014

EEA (European Environment Agency) (2014b) Air quality in Europe – 2014 report. EEA technical report No. 5/2014. Copenhagen, 84 pages. ISBN 978-92-9213-490-7. doi: 10.2800/22847. Available at: http://www.eea.europa.eu/publications/air-quality-in-europe-2014. Accessed Oct 2014

Evtyugina MG, Nunes T, Pio CA, Costa CS (2006) Photochemical pollution under sea breeze conditions, during summer, at the Portuguese West Coast. Atmos Environ 33:6277–6293. doi:10.1016/j.atmosenv.2006.05.046

Evtyugina MG, Nunes T, Alves C, Marques MC (2009) Photochemical pollution in a rural mountainous area in the northeast of Portugal. Atmos Res 92(2):151–158. doi:10.1016/j.atmosres.2008.09.006

Fann N, Risley D (2013) The public health context for PM2.5 and ozone air quality trends. Air Qual Atmos Health 6(1):1–11

Gouveia C, Liberato MLR (2008) Local circulations over complex terrain in the Northeast of Portugal - modelling O3 transport. Geophys Res Abs 10 EGU2008-A-09628

Guevara M, Martínez F, Arevalo G, Gasso S, Baldasano JM (2013) An improved system for modelling Spanish emissions: HERMESv2.0. Atmos Environ 81:209–221. doi:10.1016/j.atmosenv.2013.08.053

Dentener F, Keating T, Akimoto H (eds) (2011) HTAP (hemispheric transport of air pollution) (2010): part A: ozone and particulate matter air pollution studies Nr. 17. United Nations Publication, New York, 304 p

Miranda AI, Silveira C, Ferreira J, Monteiro A, Lopes D, Relvas H, Borrego C, Roebeling P (2015) Current air quality plans in Europe designed to support air quality management policies. Atmos Pollut Res 6. doi: 10.5094/APR.2015.048

Monteiro A, Miranda AI, Borrego C, Vautard R, Ferreira J, Perez AT (2007) Long-term assessment of particulate matter using CHIMERE model. Atmos Environ 41:7726–7738. doi:10.1016/j.atmosenv.2007.06.008

Monteiro A, Strunk A, Carvalho A, Tchepel O, Miranda AI, Borrego C, Saavedra S, Rodriguez A, Souto J, Casares J, Elbern H (2012) Investigating a high ozone episode in a rural mountain site. Environ Pollut 162:176–189. doi:10.1016/j.envpol.2011.11.008

Monteiro A, Ribeiro I, Tchepel O, Carvalho C, Martins H, Sá E, Ferreira J, Martins V, Galmarini S, Miranda AI, Borrego C (2013a) Ensemble techniques to improve air quality assessment: focus on O3 and PM. Environ Model Assess 19(3):249–257

Monteiro A, Ribeiro I, Tchepel O, Sá E, Ferreira J, Carvalho A, Martins V, Strunk A, Galmarini S, Elbern H, Schaap M, Builtjes P, Miranda AI, Borrego C (2013b) BIAS correction techniques to improve air quality ensemble predictions: focus on O3 and PM over Portugal. Environ Model Assess 18:533–546. doi:10.1007/s10666-013-9358-2

Morris RE, Yarwood G, Emery C, Koo B (2004) Development and application of the CAMx regional one-atmosphere model to treat ozone, particulate matter, visibility, air toxics and mercury. Presented in 97th annual conference and exhibition of the A&WMA, Indianapolis, 22–25 June 2004

Pay MT, Valverde V, Baldasano JM, Kwok R, Napelenok S, Baker K (2014) Photochemical modeling to attributing source and source regions to ozone exceedances in Spain. 13th Annual CMAS Conference, Chapel Hill, NC, October 27–29, 2014. Available at: https://www.cmascenter.org/conference/2014/slides/maria_pay_photochemical_modeling_2014.pptx. Accessed Sept 2014

The Royal Society (2008) Ground-level ozone in the 21st century: future trends, impacts and policy implications. Science Policy Report 15/08. The Royal Society, London, UK

Saavedra S, Rodríguez A, Taboada JJ, Souto JA, Casares JJ (2012) Synoptic patterns and air mass transport during ozone episodes. Sci Total Environ 441:97–110

Seinfeld J, Pandis S (2006) Atmospheric chemistry and physics: from air pollution to climate change, 2nd edn. Wiley, New Jersey, 1232 pp

Sillman S (1999) The relation between ozone, NOX and hydrocarbons in urban and polluted rural environments. Atmos Environ 33:1821–1845. doi:10.1016/S1352-2310(98)00345-8

Skamarock WC, Klemp JB (2008) A time-split nonhydrostatic atmospheric model for weather research and forecasting applications. J Comput Phys 227:3465–3485

Soret A, Guevara M, Baldasano JM (2014) The potential impacts of electric vehicles on air quality in the urban areas of Barcelona and Madrid (Spain). Atmos Environ 99:51–63. doi:10.1016/j.atmosenv.2014.09.048

EU (European Union) (2008) Directive 2008/50/EC of the European Parliament and of the Council of 21 May 2008 on ambient air quality and cleaner air for Europe (OJ L 152, 11.6.2008, pp. 1–44). European Union, Brussels

Wilson RC, Fleming ZL, Monks PS, Clain G, Henne S, Konovalov IB, Szopa S, Menut L (2012) Have primary emission reduction measures reduced ozone across Europe? An analysis of European rural background ozone trends 1996–2005. Atmos Chem Phys 12:437–454. doi:10.5194/acp-12-437-2012
Acknowledgments
The authors acknowledge the financial support of the Commission for Coordination and Development of North Region (CCDR-N) and also Fundação para a Ciência e a Tecnologia (FCT) for the PhD grants of A. Fernandes (SFRH/BD/86307/2012) and the post-doctoral grants of A. Monteiro (SFRH/BPD/63796/2009), J. Ferreira (SFRH/BPD/40620/2007) and H. Martins (SFRH/BPD/6874/2009). The authors would like to acknowledge the financial support of FEDER through the COMPETE Programme and the national funds from FCT—Science and Technology Portuguese Foundation—within project PEst-C/MAR/LA0017/2013 for the MAPLIA Project (PTDC/AAG-MAA/4077/2012)
About this article
Cite this article
Borrego, C., Monteiro, A., Martins, H. et al. Air quality plan for ozone: an urgent need for North Portugal. Air Qual Atmos Health 9, 447–460 (2016). https://doi.org/10.1007/s11869-015-0352-5
Received:

Accepted:

Published:

Issue Date:

DOI: https://doi.org/10.1007/s11869-015-0352-5
Keywords
Ozone

Numerical modelling

Source apportionment

Air quality plans

Mitigation measures