Abstract
In a population with type 2 diabetes mellitus (T2DM), we examined the associations of short-term air pollutant exposures with pulmonary inflammation, measured as fraction of exhaled pulmonary nitric oxide (FeNO). Sixty-nine Boston Metropolitan residents with T2DM completed up to five biweekly visits with 321 offline FeNO measurements. We measured ambient concentrations of particle mass, number, and components at our stationary central site. Ambient concentrations of gaseous air pollutants were obtained from state monitors. We used linear models with fixed effects for participants, adjusting for 24-h mean temperature, 24-h mean water vapor pressure, season, and scrubbed room NO the day of the visit, to estimate the associations between FeNO and interquartile range (IQR) increases in exposure. Interquartile increases in the 6-h averages of black carbon (BC) (0.5 μg/m3) and particle number (PN) (1000 particles/cm3) were associated with increases in FeNO of 3.84 % (95 % CI = 0.60 to 7.18 %) and 9.86 % (95 % CI = 3.59 to 16.52 %), respectively. We also found significant associations of increases in FeNO with increases in 24-h moving averages of BC, PN, and nitrogen oxides (NOx). Recent studies have focused on FeNO as a marker for eosinophilic pulmonary inflammation in asthmatic populations. This study adds support to the relevance of FeNO as a marker for pulmonary inflammation in diabetic populations, whose underlying chronic inflammatory status is likely to be related to innate immunity and proinflammatory adipokines.
This is a preview of subscription content, log in to check access.
Access options
Buy single article
Instant access to the full article PDF.
US$ 39.95
Price includes VAT for USA
Subscribe to journal
Immediate online access to all issues from 2019. Subscription will auto renew annually.
US$ 99
This is the net price. Taxes to be calculated in checkout.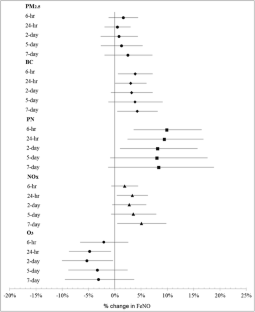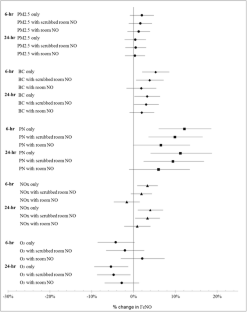 References
Adamkiewicz G et al (2004) Association between air pollution exposure and exhaled nitric oxide in an elderly population. Thorax 59:204–209

Adar SD, Adamkiewicz G, Gold DR, Schwartz J, Coull BA, Suh H (2007) Ambient and microenvironmental particles and exhaled nitric oxide before and after a group bus trip. Environ Health Perspect 115:507–512. doi:10.1289/ehp.9386

American Thoracic S, European Respiratory S (2005) ATS/ERS recommendations for standardized procedures for the online and offline measurement of exhaled lower respiratory nitric oxide and nasal nitric oxide, 2005. Am J Respir Crit Care Med 171:912–930. doi:10.1164/rccm.200406-710ST

Barath S, Mills NL, Adelroth E, Olin AC, Blomberg A (2013) Diesel exhaust but not ozone increases fraction of exhaled nitric oxide in a randomized controlled experimental exposure study of healthy human subjects. Environ Health: Glob Access Sci Source 12:36. doi:10.1186/1476-069X-12-36

Bogdan C (2001) Nitric oxide and the immune response. Nat Immunol 2:907–916. doi:10.1038/ni1001-907

Brook RD et al (2004) Air pollution and cardiovascular disease: a statement for healthcare professionals from the expert panel on population and prevention science of the American heart association. Circulation 109:2655–2671. doi:10.1161/01.CIR.0000128587.30041.C8

De Groote MA, Fang FC (1995) NO inhibitions: Antimicrobial properties of nitric oxide. Clin Infect Dis 21(Suppl 2):S162–S165

Delfino RJ et al (2006) Personal and ambient air pollution is associated with increased exhaled nitric oxide in children with asthma. Environ Health Perspect 114:1736–1743

Dubowsky SD, Suh H, Schwartz J, Coull BA, Gold DR (2006) Diabetes, obesity, and hypertension may enhance associations between air pollution and markers of systemic inflammation. Environ Health Perspect 114:992–998

Dupont LJ, Demedts MG, Verleden GM (2003) Prospective evaluation of the validity of exhaled nitric oxide for the diagnosis of asthma. Chest 123:751–756

Dweik RA et al (2011) An official ATS clinical practice guideline: interpretation of exhaled nitric oxide levels (FENO) for clinical applications. Am J Respir Crit Care Med 184:602–615. doi:10.1164/rccm.9120-11ST

Ghio AJ, Kim C, Devlin RB (2000) Concentrated ambient air particles induce mild pulmonary inflammation in healthy human volunteers. Am J Respir Crit Care Med 162:981–988. doi:10.1164/ajrccm.162.3.9911115

Gold DR (2008) Vulnerability to cardiovascular effects of air pollution in people with diabetes. Curr Diab Rep 8:333–335

Gurgueira SA, Lawrence J, Coull B, Murthy GG, Gonzalez-Flecha B (2002) Rapid increases in the steady-state concentration of reactive oxygen species in the lungs and heart after particulate air pollution inhalation. Environ Health Perspect 110:749–755

Hoffmann B et al (2012) Opposing effects of particle pollution, ozone, and ambient temperature on arterial blood pressure. Environ Health Perspect 120:241–246. doi:10.1289/ehp.1103647

Jones SL, Kittelson J, Cowan JO, Flannery EM, Hancox RJ, McLachlan CR, Taylor DR (2001) The predictive value of exhaled nitric oxide measurements in assessing changes in asthma control. Am J Respir Crit Care Med 164:738–743. doi:10.1164/ajrccm.164.5.2012125

Kharitonov SA, Barnes PJ (2001) Exhaled markers of inflammation. Curr Opin Allergy Clin Immunol 1:217–224

Kharitonov SA, Wells AU, O'Connor BJ, Cole PJ, Hansell DM, Logan-Sinclair RB, Barnes PJ (1995) Elevated levels of exhaled nitric oxide in bronchiectasis. Am J Respir Crit Care Med 151:1889–1893. doi:10.1164/ajrccm.151.6.7767536

Linn WS, Avila M, Gong H Jr (2004) Exhaled nitric oxide: sources of error in offline measurement. Arch Environ Health 59:385–391. doi:10.3200/AEOH.59.8.385-391

Liu L et al (2009) Acute effects of air pollution on pulmonary function, airway inflammation, and oxidative stress in asthmatic children. Environ Health Perspect 117:668–674. doi:10.1289/ehp11813

Maniscalco M, Palladino F, Mormile M, Sofia M (2009) Exhaled nitric oxide and other major exhaled compounds for the diagnosis of metabolic diseases. Expert Opin Med Diagn 3:547–556. doi:10.1517/17530050903104072

Mar TF, Jansen K, Shepherd K, Lumley T, Larson TV, Koenig JQ (2005) Exhaled nitric oxide in children with asthma and short-term PM2.5 exposure in Seattle. Environ Health Perspect 113:1791–1794

Maziak W, Loukides S, Culpitt S, Sullivan P, Kharitonov SA, Barnes PJ (1998) Exhaled nitric oxide in chronic obstructive pulmonary disease. Am J Respir Crit Care Med 157:998–1002. doi:10.1164/ajrccm. 157.3.97-05009

Olin AC, Andersson E, Andersson M, Granung G, Hagberg S, Toren K (2004) Prevalence of asthma and exhaled nitric oxide are increased in bleachery workers exposed to ozone. Eur Respir J 23:87–92

Pope CA 3rd, Burnett RT, Thurston GD, Thun MJ, Calle EE, Krewski D, Godleski JJ (2004) Cardiovascular mortality and long-term exposure to particulate air pollution: Epidemiological evidence of general pathophysiological pathways of disease. Circulation 109:71–77. doi:10.1161/01.CIR.0000108927.80044.7F

Schwartz J, Dockery DW, Neas LM (1996) Is daily mortality associated specifically with fine particles? J Air Waste Manag Assoc 46:927–939

Sexton P, Metcalf P, Kolbe J (2014) Respiratory effects of insulin sensitisation with metformin: a prospective observational study. COPD 11:133–142. doi:10.3109/15412555.2013.808614

Shore SA (2008) Obesity and asthma: possible mechanisms. J Allergy Clin Immunol 121:1087–1093. doi:10.1016/j.jaci.2008.03.004, quiz 1094–1085

Sioutas C, Delfino RJ, Singh M (2005) Exposure assessment for atmospheric ultrafine particles (UFPs) and implications in epidemiologic research. Environ Health Perspect 113:947–955

Tarantini L et al (2009) Effects of particulate matter on genomic DNA methylation content and iNOS promoter methylation. Environ Health Perspect 117:217–222. doi:10.1289/ehp.11898

Thurston GD, Laird NM (1985) Tracing aerosol pollution. Science 227:1406–1407. doi:10.1126/science.227.4693.1406

Van Amsterdam JG, Verlaan BP, Van Loveren H, Elzakker BG, Vos SG, Opperhuizen A, Steerenberg PA (1999) Air pollution is associated with increased level of exhaled nitric oxide in nonsmoking healthy subjects. Arch Environ Health 54:331–335. doi:10.1080/00039899909602496

Vogel CF, Sciullo E, Wong P, Kuzmicky P, Kado N, Matsumura F (2005) Induction of proinflammatory cytokines and C-reactive protein in human macrophage cell line U937 exposed to air pollution particulates. Environ Health Perspect 113:1536–1541

Yalcin AD, Gorczynski RM, Cilli A, Strauss L (2014) Omalizumab (anti-IgE) therapy increases blood glucose levels in severe persistent allergic asthma patients with diabetes mellitus: 18 months follow-up. Clin Lab 60:1561–1564

Zanobetti A, Schwartz J (2002) Cardiovascular damage by airborne particles: are diabetics more susceptible? Epidemiology 13:588–592. doi:10.1097/01.EDE.0000020321.67963.7B

Zanzinger J (1999) Role of nitric oxide in the neural control of cardiovascular function. Cardiovasc Res 43:639–649

Zhu Y, Hinders WC, Kim S, Sioutas C (2002) Concentration and size distribution of ultrafine particles near a major highway. J Air Waste Manag Assoc 52:1032–1042
Acknowledgments
This study is funded by NIEHS PO1 ES-09825, NIEHS R21 ES-020194-01, US EPA RD-83241601, and US EPA RD-83479801. The contents of this publication are solely the responsibility of the grantee and do not necessarily represent the official views of the US EPA. Further, US EPA does not endorse the purchase of any commercial products or services mentioned in the publication. The authors are grateful to all participants of the study and the staff responsible for data collection.
Conflict of interest
None of the authors has any actual or potential competing financial interests.
About this article
Cite this article
Peng, C., Luttmann-Gibson, H., Zanobetti, A. et al. Air pollution influences on exhaled nitric oxide among people with type II diabetes. Air Qual Atmos Health 9, 265–273 (2016). https://doi.org/10.1007/s11869-015-0336-5
Received:

Accepted:

Published:

Issue Date:
Keywords
Air pollution

Fraction of exhaled nitric oxide

Diabetes mellitus

Epidemiology

Particles